Ray Clayton Stairs
(1895-1924)

Ray C. Stairs
Ray Clayton Stairs was born on April 12, 1895 near Mt. Pleasant, Westmoreland County, PA, the son of Lehman G. and Mattie (Minerd) Stairs. A veteran and survivor of World War I, he tragically lost his life at a young adult age of burns suffered in a gasoline explosion.
When World War I broke out, Ray joined the U.S. Army on May 25, 1918. He is pictured in the book Westmoreland Towns in the World War, which says that he "was sent to Camp Greenleaf. He was attached to Base Hospital No. 61, later assigned to the Infantry officers' School Infirmary at Camp Lee and was honorably discharged April 29, 1919."
On April 20, 1920, when he was 25 years of age, Ray married 28-year-old Myrtle Anna Begonia (1892-1980), the daughter of John and Flora Belle (Burke) Begonia.
The couple dwelled in Mount Pleasant and produced two sons -- George Ray Stairs and Donald Clyde Stairs.
Ray was employed as a truck driver, delivering gasoline for Freedom Oil Company in Mount Pleasant.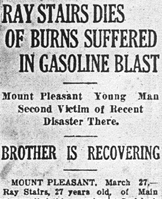 Daily Courier, 1924
Tragedy struck in mid-March, 1924. Ray and his brother Earl and another co-worker were burned "in the Freedom Oil Company's gasoline explosion," reported the Connellsville Daily Courier. They were rushed to the nearby Frick Memorial Hospital. Sadly, two weeks after the accident, on March 27, 1924, Ray died of his injuries. Fortunately, said the Courier, brother Earl was "getting along nicely at the hospital," and survived.
Myrtle was left alone with her two young sons, but lived another 56 years after her husband's death. She moved back into the home of her parents by 1930, when the federal census shows her and the boys living under the Begona roof. She was a member of the United Brethren Church in Mt. Pleasant.
When the census again was taken in 1940, Myrtle headed her own household and earned a living providing housekeeping services for a government project. Her address in 1944 was 15 Morewood Street.
Both of Myrtle's sons served in the U.S. Army during World War II, and both received wounds.
Circa 1968, Myrtle resided in Greensburg, Westmoreland County. Sadly, in 1975, she endured the death of grandson Donald R. Stairs.
Myrtle passed away at the age of 88 on Christmas Eve 1980. She was buried at Mount Lebanon Cemetery in Tarrs, PA.
~ Son George Ray Stairs ~
Son George Ray Stairs (1921-2014) was born on Dec. 6, 1920 in Mount Pleasant.
During World War II, he is believed to have served as a lieutenant with the 110th Infantry, Company E and later at Camp Shelby, MS, where he trained a unit comprised entirely of soldiers from Hawaii, all of Japanese ancestry, "the only outfit of its kind in the United States," noted the Connellsville Daily Courier. "All are anxious to take up arms against an enemy of the Nation." Then in June 1944, he was sent to the European Theatre, with activity in Italy as a member of the 442nd Regimental Combat Team, Company L, said to have been the most decorated unit of the war. Said the Greensburg Tribune-Review, George "was in four major battles, Rhineland, Po Valley, Appennine and Rome-Arno and earned the following: Silver Star, two Purple Hearts, European-African-Middle Eastern Service Ribbon with Four Battle Stars, two Unit Presidential Citations and one Combat Infantry Badge. He was also named an "honorary Texan" for rescuing the Texas Lost Battalion."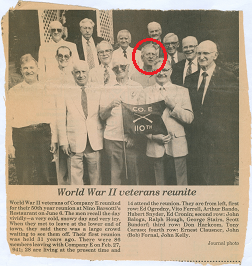 Mount Pleasant Journal news clipping

Courtesy Eugene F. Podraza
George received a slight wound in action in Italy in the spring of 1945, with the War Department telegraphing the news to his mother. He recovered and received an honorable discharge.
On Jan. 24, 1946, at the age of 24, George was united in holy matrimony with Evelyn Crouse ( ? - ? ), daughter of Mr. and Mrs. Frank Crouse of Ruffsdale, Westmoreland County. The marriage service was performed by Rev. Luther E. Fackler in the parsonage of the Lutheran Church in Ruffsdale. In noting the wedding, the Daily Courier said that Evelyn "wore a poudre ensemble with brown accessories, and a corsage of gardenias. Miss Edna Crouse, her sister's maid of honor, also was attired in poudre blue, and wore a corsage of American Beauty roses." The marriage lasted for 68 years until the separation of death.
They produced four known children, Virginia A. Prue, Constance "Connie" Baluh, George "Roger" Stairs and Lori Ball.
The newlyweds first made their home on Mullin Avenue and Smithfield Street. By 1954, they had relocated to 1026 West Washington Street, in 1961 were in Norvelt and by 1968 were in Morrell and then by 1972 back in Norvelt. They were members of the Christian and Missionary Alliance Church of New Stanton. George was employed for more than 33 years by Greensburg's I-T-E, later acquired by ABB. In retirement, he enjoyed fishing and fly tying, hunting, woodworking, wine-making and gardening. He was said to be a true scholar of the Bible and a godly man.
Said the Tribune-Review, "Throughout his life, Lt. Stairs always spoke with utmost respect for the Nisei, Japanese-Americans, with whom he served. He was a genuine war hero, but was never eager to speak about his war experiences and would say something like, 'The good old days are not always the good old days. I lost many good buddies in the war.' Then he would follow it with, 'I prefer to look at life through the windshield rather than the rearview mirror'." When his former regiment celebrated its 50th anniversary, George was included in a group photograph published in the Mount Pleasant Journal.
George passed away at the age of 93 in Latrobe Hospital on Aug. 27, 2014. Burial was in Westmoreland County Memorial Park.
Daughter Virginia Stairs (1946- ? ) was born in about 1946. She married Harry Franklin Prue (Aug. 4, 1945-2013), and the marriage spanned 46 years until death. They dwelled in Mount Pleasant and had three sons, Randy Prue, Scott Prue and Brook Prue. As the children celebrated birthdays over the years, their photographs were printed in the Daily Courier, as were those of their Baluh cousins. Harry was employed by Charley Brothers Food and Distribution of Carbon and Potoka's Towing and Service of Mount Pleasant. Then, in about 1977, he and Virginia opened an Open Pantry store in Norvelt, which they operated together for 36 years. Harry was a longtime member of the Lyman Boat Owners Association, Norvelt Volunteer Fire Department and Norvelt Golf Club. On the fateful day of June 6, 2013, while at work, Harry died suddenly, at the age of 67. His funeral service was conducted by Rev. Donald C. Simpson, with his remains escorted by the Norvelt Fire Department to St. Clair Cemetery in Greensburg. An obituary was published in the Greensburg Tribune-Review.
Grandson

Randy Prue

married Tracy and they reside in Norvelt.
Grandson Scott Prue

was wedded to Heather and make their home in Greensburg.
Grandson Brook Prue

lives in Mount Pleasant.
Daughter Constance R. "Connie" Stairs ( ? - ? ) was born in (?). She was joined in wedlock with Dennis "Dennie" Baluh ( ? - ? ), son of Joseph Baluh, and lived in Mount Pleasant. The Baluhs'a ddress in 1977 was 131 North Diamond Street. Their three offspring were Jeremy Shane Baluh, Brandon Baluh and Bethany Black.
Son George "Roger" Stairs ( ? - ? ) was born in (?). In November 1972, he enlisted in the U.S. Navy as part of its occupational specialty program and underwent basic training in Great Lakes, IL. Then by 1975, he was stationed in Jacksonville, FL, where he was an aerographer at Cecil Field Naval Air Station. In November 1975, in a ceremony held in Scottdale, Westmoreland County, Roger married Debra Marie Kadylak ( ? - ? ), daughter of Mr. and Mrs. John A. Kadylak of Mammoth. At the time, Debra was substitute teaching in Florida, having received a bachelor's degree in health and physical education from Slippery Rock State College. Rev. John H. Salko officiated at the nuptials, held in St. John's Byzantine Catholic Church.
Daughter Lori Stairs ( ? - ? ) married David Ball. Their home in 2014 was in Irwin, Westmoreland County.
~ Son Donald Clyde Stairs ~
Son Donald Clyde Stairs (1923- ? ) was born on Jan. 26, 1923 in Mount Pleasant.
Donald served in the U.S. Army during World War II and held the rank of technical sergeant. He was assigned to a flight crew on the "Buckeye Boomerang," a P-38 bomber, with duties as a gunner and radio operator. On March 20, 1944, while returning from a mission to Frankfurt, Germany, the airplane was shot down over Dieppe, France, with the crew bailing out safely. Donald was captured as a prisoner of war. Back home, he was reported as missing in action, with the news published in the Connellsville Daily Courier, but shortly after he sent a letter to his mother assuring her he was safe and "interned in a neutral country." He eventually was shipped back to the United States for medical treatment in Geneva, NE.
Upon recovering, Donald returned to Mount Pleasant and was married to Varlee R. (Feb. 12, 1933-2007). The couple had three known children, Donald Ray Stairs, David Stairs and Deborah "Debbie" Stairs.
Their address in 1953 was 1026 West Washington Street.
Donald passed away on June 8, 1965. His remains were placed into eternal rest in St. Paul Lutheran Cemetery in Latrobe, Westmoreland County.
Varlee survived him by a remarkable 42 years. He joined him in death on Aug. 20, 2007.
Son Donald Ray Stairs (1953-1975) was born on Aug. 28, 1953. He died at the age of 22 on Feb. 10, 1975.
Copyright © 2001-2002, 2009-2010, 2017 Mark A. Miner