Home

Judge Martin Welker
(1819-1902)
Martin Welker, from an engraving
Judge Martin Welker (1819-1902) was born in 1819 in Union Township, Knox County, the son of John and Elizabeth (Gaumer) Welker Sr. He was one of the first lawyers, U.S. congressmen and federal judges in the extended family.
On March 4, [year?], he married Maria Armor ( ? - ? ), a native of Millersburg, Holmes County and the daughter of Professor S.G. Armor of Brooklyn Medical College. Maria has been described as "a lady of great refinement, sweetness of disposition and excellent culture, and [who] was highly esteemed by her many friends and acquaintances in Washington City."
Martin is profiled in the Albert Adams Graham book History of Knox County, Ohio: Its Past and Present, which reads as follows:
...Martin Welker, born in Union in 1819, left the farm in 1831, and went with his brother, John, jr., to clerk in his store at Millwood, where he remained several years. He intended to make a merchant of himself, but an incident occurred, which changed his plans of life. In the store one day, a man offered him a bank bill which, on inspection he found to be counterfeit, and so informed the man. It was passed on another individual, and he prosecuted, and Martin was subpoened as a witness, before the grand jury at Mt. Vernon. He attended, and was compelled to remain several days. He had never seen a court, or a live judge. He there saw judge Dean, then in the prime of life on the bench, and who seemed to him a much greater man than General Jackson, of whom he had heard. He also there saw Brown, the Curtises, Delano and other lawyers engaged in court matters, and he concluded it would be a great thing himself to be a lawyer. Sitting beside another boy of his acquaintance, he informed him that he would be a lawyer and a judge, and some day take the place of Judge Dean. He kept that resolve before him, and worked for that aim and purpose, and within twenty years, with their great changes, he became a lawyer, and was elected in 1851, judge of the district over Judge Dean, who was his opponent at the election. He sat upon the same bench, held the same court at Mt. Vernon, the holding which by Judge Dean had inspired his youthful ambition.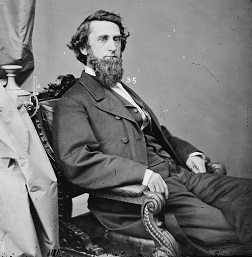 Martin Welker - Library of Congress
After deciding to leave his brother's store, Martin began to study law with Hon. William R. Sapp at Millersburg, Holmes County. In the spring of 1844 he formed a three-lawyer partnership with his former mentor and William McClelland, doing business as Sapp, Welker & McClelland, with offices in Mount Vernon, Knox County.
Then in 1851, he ran for and was elected judge of the 6th District. Six years later, in 1857, on the Republican ticket, he was elected lieutenant-governor when Salmon P. Chase ran for governor. Martin served one term, and then in 1864 was elected to Congress to represent the 14th District. Re-elections followed in 1866 and 1868.
When the Civil War erupted, he served as aid-de-camp to Governor Dennison, and also as an assistant adjutant general with Governor David Tod, bearing the rank of colonel. At some point, he is said to have been named captain of a steamship named Emma Duncan which ferried some 400 wounded men to safety following the bloody battle of Shiloh, and was present when Corinth was evacuated. Later, he became a member of the 188th Ohio Volunteer Infantry, Company I. He is said to have been garrisoned in Tennessee at Murfreesboro, Tullahoma and Nashville.
From 1865 through 1871, Martin served as a U.S. Congressman representing Wayne County, OH. Eight years after the war's end, President Ulysses S. Grant appointed him In November, 1873 as district judge for the United States, for the Northern District of Ohio, with chambers in Cleveland. He retired on July 31, 1889. He was president of the Wooster National Bank, vice president of the Wayne County Fair Association, and a member of the Grand Army of the Republic post no. 133, a Union veterans organization.
Once, former President Rutherford B. Hayes was a guest in the Welkers' home in Wooster.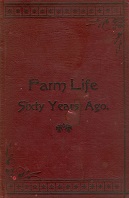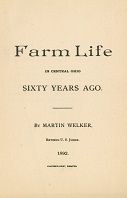 Cover and title page of Martin's 1892 book
In retirement, in 1895, Martin authored the 88-page book Farm Life in Central Ohio Sixty Years Ago (Wooster: Clapper's Print), also published as tract no. 66, volume IV of the Western Reserve Historical Society. He is profiled and pictured in Ben Douglas' book History of the Lawyers of Wayne County, Ohio, from 1812 to 1900 (Wooster: Clapper Printing Company, 1900) -- and also in William H. Barnes' 1869 book The Fortieth Congress of the United States Historical and Biographical, Vol. 1 -- and John Brandt Mansfield's History of the Great Lakes, Vol. 2. Martin also donated to the Wooster College Library a complete set of the Congressional Record.
Martin died on March 15, 1902. A memorial eulogy of the Ohio Bar Association said that he "died at an advanced age, a well-preserved man, intellectually and physically, up until nearly the time of his death."
Copyright © 2000, 2015-2017 Mark A. Miner
Many thanks to Ken Moffitt for sharing his family's history compilations.