Home

Samuel Welker
(1805-1860s?)
Samuel Welker was born in about 1805 in Southampton Township, Somerset County, PA, the son of John and Elizabeth (Gaumer) Welker Sr. As a young boy, he accompanied his parents to Knox County, OH.
Samuel was married to Sophia Darling (1807- ? ), a native of Virginia. Their known children were Milan Welker, Claborne (or "Clayborne" or "Clayburn") Welker, Normanda Welker, Sherman Welker, Nora M. Welker, Wilson "Shannon" Walker and Lybrand Welker, plus several who died in infancy.
Census records of 1850-1860 show Samuel as a grocery keeper in Millwood and Union Townships, Knox County. The 1862 History of Knox County, Ohio states that Samuel operated a tavern. He "kept his tavern in the old style... always had plenty to eat and drink of the substantial kind, his table literally groaning under its load...and all felt they were at liberty to wait upon themselves.... Sam was a jovial fellow, and his house was a favorite with wayfaring men and those disposed to be joyful. The students of Kenyan College occasionally navigated the waters of Owl Creek to Welker's port." The sign over his bar read: "As many a man has trusted to his sorry, Pay today; and I will trust tomorry."
Dr. Robert Moffit of Millwood served as the family physician in the years before the Civil War.
Samuel is believed to have passed away during the decade of the 1860s. By 1870, the widowed Sophia led a Union Township household including her unmarried sons Shannon (age 24) and Lybrand (17).

Sleepy Millwood, Ohio, early 1900s
~ Son Milan Welker ~
Son Milan Welker (1830- ? ) was born in about 1830. At the age of 20, in 1850, he was unmarried and made his home with his parents. He has not yet been located on the 1880 federal census.
~ Son Claborne Welker ~

Claborne's signature
Son Claborne (or "Clayborne" or "Clayburn") Welker (1831-1902) was born on June 26, 1831 in Millwood, Knox County. As a young adult, he stood 5 feet, 4 inches tall, with a fair complexion, brown hair and blue eyes. On July 13, 1856, when he was age 25, he was united in marriage with 20-year-old Almira Strong Pasco (1836-1913). Knox County justice of the peace William Walker -- apparently no relation -- officiated the nuptials, held in Millwood. The couple produced one known daughter -- Temperance L. "Tempie" Burris. Claborne was a farmer and often worked with neighbor Ransom Lydick. During the Civil War, at the age of 30, Claborne in company with his fourth cousin Oscar D. Welker and others enlisted in the Union Army as privates on Oct. 8, 1861. They were assigned to the 65th Ohio Infantry, Company A. Their company was commanded by Capt. Alex Cassil. The regiment was ordered to Camp Buckingham in Mansfield, OH for training, which included drilling, standing guard and cooking poor quality mutton. After about 10 days in camp, he and a number of fellow soldiers contracted chronic diarrhea, which led to hemorrhoids and what Claborne claimed to be disease of the rectum. The health problems lingered when the regiment went to Camp Bull in Louisville, KY. Fellow soldier Jasper R. Lybarger remembered seeing him "going to the sink" eight or 10 times a day. Claborne remained behind in a regimental hospital in Louisville when the 65th Ohio moved again to Bardstown, KY. He rejoined his regiment in Bardstown and received an honorable discharge on Dec. 23, 1861, after just two-and-a-half months of service. He returned home to Millwood, and while one friend Constant C. Gamble said he "looked pretty bad" upon arriving, Dr. John C. Winteringer, who had known Claborne before the war, said he saw him "going around as usual. Couldn't say that I saw any difference in him." Then in 1863, Claborne was offered a $525 bounty by Bethlehem Township if he and 11 other local men would re-enlist. The men went to Newark, OH for a medical examination, and while five were accepted, Claborne and six others were rejected due to poor health.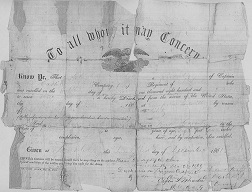 Claborne's Civil War discharge certificate
In December 1863, Claborne accepted a job as a clerk in Gamble's dry goods store in New Castle, OH. He later earned a living as a carpenter, farmer but primarily paper hanger and inside painter, residing in Danville, Knox County. They moved to New Castle, Coshocton County, OH in 1871, only eight miles from Millwood, where Claborne clerked in another dry goods store. After four years, in 1875, they left New Castle and relocated to Mt. Vernon, Knox County, with Claborne accepting another clerking position. But his health was so poor, he said, that within a year he had to quit the job. On Sept. 6, 1877, he began receiving a military pension as compensation for his wartime ailments. [Invalid App. #241.604 - Cert. #321.322] A number of family members, neighbors and fellow veterans consented to provide written affidavits in support of his (and later Almira's) efforts to receive a pension increase, among them were Enoch Trimble, Barnett Tucker, second cousin Simon Welker, Constant C. Gamble, fourth cousin Oscar D. Welker, Jonathan Hammond, Professor H. Lockhart, Dr. John C. Winteringer, Levi Frost, George Logsdon, cousin in law Ransom Lydick, Alex Cassil, Jasper R. Lybarger, Zachariah Hibbets and John Tucker. They resided in 1880 in New Castle, Coshocton County, OH, with Claborne earning a living as a laborer and Almira as a dress maker. He was a member of the Leroy Baker Post of the Grand Army of the Republic, a Union veterans organization. When examined by military physicians in March 1894, they reported this description: "body spare, beard white, hair dark, skin dark but moist, tongue clean, eyes clear." In 1900, the family lived in Union Township, Knox County. During his final months, he was "entirely helpless and was obligred to have the constant attention of a nurse," said his physician, Dr. C.R. Bradfield. "Hemorrhoidal tunors as large as hen's egg protruded from the anus." Claborne died on Nov. 8, 1902 at the age of 71. Almira outlived her husband by more than a decade. On Nov. 17, 1902, she was awarded a the widow's pension and began receiving payments of $12 per month. [Widow App. #773.425 - Cert. #558.619] She passed away on April 14, 1913 and was placed into eternal repose beside her husband in Workman Cemetery in Danville, Knox County. [Find-a-Grave]
Daughter Temperance Lucretia "Tempie" Welker (1862-1895) was born on Jan. 22, 1862. She grew up learning the trade of clothing making and in 1880, unmarried at age 18, worked as a milliner in New Castle, Coshocton County, OH. At the age of 20, on Nov. 30, 1882, she married druggist Chaney V. Burris (1861-1929), son of Nelson and Fannie (Clow) Burris. The ceremony took place in Knox County and was led by Rev. J.T. Hoak. They produced two known daughters -- Pearl S. Lybarger and Letha Shaw Tritsch Borden Snyder Bader. Heartache enveloped the family in 1895 when Temperance died at the age of 33. Her remains were placed into rest in Workman Cemetery in Danville, Knox County. Chauncey married a second time, on June 24, 1908, to Gertrude Whittier ( ? - ? ) in a ceremony held in Knox County. He apparently married again to Alice Murray (1867-1916). Alice died in 1916 with burial in Workman Cemetery. Chaney lived for another 13 years and, as his health failed, was admitted to White Cross Hospital in Columbus, Franklin County. There, he passed into eternity at the age of 67 on March 22, 1929 due to heart failure. Daughter Pearle (1884-1926) married Robert B. Lybarger ( ? - ? ), son of Clinton E. and Ida (Parsons) Lybarger in 1906. They lived in Columbus, where, suffering from fibroids of the uterus, Pearl died at age 42 on July 2, 1926. Daughter Letha (1892-1974) was married five times -- to Furnas Shaw, John G. Tritsch (circa 1912), Bernard D. Borden (1898- ? ) in 1928, Raymond J. Snyder (in 1941, a salesman in Worthington, OH) and (?) Bader and had one known son, John B. Tritsch. Letha died under the name "Bader" on April 11, 1974.
~ Daughter Normanda Welker ~
Daughter Normanda Welker (1835- ? ) was born in about 1835. In 1860, at age 15, she lived under her parents' roof in Union Township, Knox County.
~ Son Sherman Welker ~
Son Sherman Welker (1839-1843) was born on July 28, 1839 in Knox County. Sadly, he died at the age of four years, two months and 21 days, on Oct. 18, 1843, of causes not yet known. His precious remains were buried in the Millwood Cemetery in Millwood, Knox County.
~ Daughter Nora M. Welker ~
Daughter Nora M. Welker (1841- ? ) was born in about 1841 in Knox County. When she was 19 years of age, in 1860, she lived at home. Her paper trail ends here.
~ Son Wilson "Shannon" Welker ~
Son Wilson "Shannon" Walker (1844-1931) was born in about 1844 in Millwood, Knox County. He never married and spent his career as a painter. At age 24, in 1870, he was unmarried and lived at home with his widowed mother and younger brother Lybrand, and earned a living as a painter. In later years, he was admitted to the Knox County Home in Liberty Township. On the fateful day of May 16, 1931, at age 82, standing in an open window on the fourth floor of the Home, he fell to the ground, fracturing the base of his skull and dying instantly. The county coroner viewed the corpse and ruled it an accident, writing "Never saw him alive." Burial was in Millwood, with C.F. Colwell of Mt. Vernon, Knox County signing the death certificate. A newspaper reported that he had suffered a heart attack and that "No close relatives survive."
~ Son Lybrand Welker ~
Son Lybrand Welker (1853- ? ) was born in about 1853. He grew up in Union Township, Knox County. On April 9, 1888, when he was age 35, he married Ora E. Hobler ( ? - ? ). Justice of the peace Harrison Atwood led the nuptials.
Copyright © 2000, 2015-2017 Mark A. Miner
Many thanks to Ken Moffitt for sharing his family's history compilations.