Maud (Wortman) Lewis
(1883- ? )
Maud (Wortman) Lewis was born in December 1883 in Dunbar, Fayette County, PA, the daughter of Moses "Ross" and Hester Ann (Minerd) Wortman. The family name also has occasionally been misspelled as "Workman."
Little is known about her life. As a girl or young teenager, Maud and her parents and siblings moved to Cumberland, Allegany County, MD.
Maud married a man named Lewis ( ? - ? ). Nothing about him is known.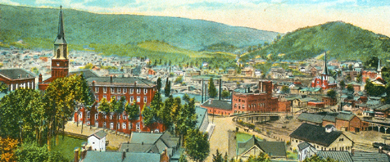 Bird's-eye view of Cumberland as seen from the county courthouse
Circa 1939, at the death of her elderly mother, Maud resided in Cumberland, Alleghany County, MD. Maud is mentioned in her mother's obituary in the Cumberland Evening Times newspaper.
More will be reported here when learned.
Copyright © 2006 Mark A. Miner