Hester (Minerd) Wortman
(1854-1939)
Hester Ann (Minerd) Wortman was born in June 1854 in Dunbar, near Uniontown, Fayette County, PA, the daughter of William and Elizabeth (Rankin) Minerd.
When the federal census was taken in 1870, Hester was recorded as a 14-year-old, residing in the household of her mother in Dunbar Twp., near Connellsville, Fayette County. The census-taker noted that she could neither read or write.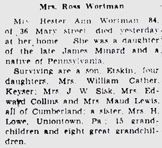 Hester's obituary, 1939
In 1875, when Hester was age 21, she married Moses "Ross" Wortman (1853- ? ) (also occasionally misspelled as "Workman").
Together, they produced a family of five children -- Daisy Belle Cather, Elizabeth Purinton Sisk, Erskin Wortman, Ada Collins and Maud Lewis.
The census of 1880 shows Hester and Ross living in Dunbar with their two eldest daughters, Daisy and Elizabeth. Ross's occupation was listed as "stationery engineer."
At some point, the Wortmans moved to Cumberland, Allegany County, MD. They are listed there in the Cumberland City Directory of 1895-1896. Ross became the proprietor of a hotel at 36 Mary Street in the Humbird Addition. In 1900, they employed three servants in the hotel, and had approximately four boarders living there semi-permanently.
In October 1907, Harriet's sister Harriet Louise Lowe of Hopwood, Fayette County, traveled to Hester's home in Cumberland for a visit. The news was reported in the Hopwood Chronicle newspaper, published by cousins William A. and Bertha (Ingles) Stone.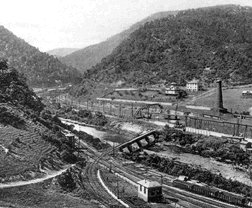 Famed "Narrows" gap near Cumberland with a criss-crossing of railroad tracks
The hotel arrangement apparently did not work out. By 1910, the Wortmans made their home on Lafayette Street in Cumberland, with Ross having no occupation, as recorded by the census-taker. Also living under their roof that year were unmarried son ERskin and daughter Maud, married daughter and son in law Ada and Edward Collins, and the Collins' infant son.
Sadly, Ross died sometime during the decade of the 1910s. Details are not yet known. She lived as a widow with her married daughter and son in law, the Collinses, in Cumberland
In 1921, Hester was mentioned in the Uniontown Morning Herald newspaper obituary of her sister Mary Belle Dean, and again in 1923 was named in the Connellsville (PA) Courier obituary of her brother, James Valentine Minerd, of Dunbar, Fayette County.
Hester made her home with her 49-year-old unmarried son Erskin in 1930 on Arch Street in Cumberland. He worked that year as a trucker for the railroad.
At the age of 84, on the Fourth of July 1939, Hester passed away at her home. Funeral arrangements were handled by L. Stein. She was laid to rest in the Rose Hill Cemetery in Cumberland. The Cumberland Evening Times said that she was survived by 15 grandchildren and eight great-grandchildren. The article also erroneously gave her father's name as "James" Minard, rather than "William," but correctly pointed out that she was "a native of Pennsylvania." Old issues of the Evening Times are on file at the Lewis J. Ort Library at Frostburg State University in Maryland.
Copyright © 2000, 2006-2007, 2021 Mark A. Miner