Home

Mary 'Belle' (Minerd) Dean
(1864-1921)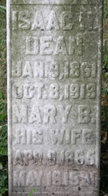 Cove Run Cemetery

Mary "Belle" Minerd Dean was born on April 6, 1864 in Dunbar Township, Fayette County, PA, the daughter of William and Elizabeth (Rankin) Minerd. Tragically, her husband was killed in an accident in the coal mining industry during the heyday of the industry in Fayette County.
Belle and her sister Emma (Minerd) Geiger were twins. When the federal census was taken in 1870, Belle and Emma were recorded as six-year-olds residing in their mother's household in Dunbar Township, Fayette County. Belle's name on the census is shown as "Mary B."
In 1880, at age 16, Belle resided in the household of her brother, James Valentine Minerd, in Dunbar, Fayette County.
On Aug. 20, 1890, at the age of 26, Belle married a step-cousin, 29-year-old coal miner Isaac N. Dean (1861-1913). He was the son of William P. and Mary Ann (Turner) Dean, and the stepson of Catherine (Minerd) Nesmith Dean. At the time of marriage, Isaac's occupation was "laborer." The ceremony was performed by P.T. Conaway. As Isaac's parents also have been named as James William and Mary (Gordon) Dean, he may well have been raised by the latter couple and considered them as his parents.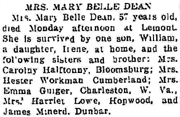 Obituary, 1921

Belle apparently could not write, and signed her name on the marriage license with an "X." Her surname on the license is given as "Minor" rather than "Minerd."

The Deans had three known children -- James W. Dean, William Dean and Irene Edna Dean.

(Several of Belle's cousins married into the Dean family, including Catherine (Minerd) Nesmith who wed William P. Dean; Rachel Minerd, who married Ivan Dean, and Lela Minerd, who married David Ray Dean, all of Uniontown.)

They are thought to have been connected with the Methodist Episcopal Church in Yauger Hollow. The Deans resided in various "patch towns" in and around Uniontown, the county seat of Fayette County. Isaac is known to have worked at the Youngstown Mine and later at the Lemont Furnace Mine.

While in Lemont, Belle enjoyed visiting with friends and relatives. The gossip column of the Hopwood Chronicle, edited by her cousins' husbands William A. Stone and Simeon T. Goff, reported in late 1907 that Belle and daughter Irene, along with Miss Mary Belle Mitts of Lemont, had spent a day with cousin Maude Goff in Hopwood. Demonstrating how many of them lived in and and were active in the Hopwood community at the time, other Minerd cousins mentioned in the same issue of the Chronicle were Anna (Lowe) Beckett, Mr. and Mrs. Jefferson Lowe, Mr. and Mrs. Wallace Logsdon (Logston), Wendell Stone and Harry Ashby.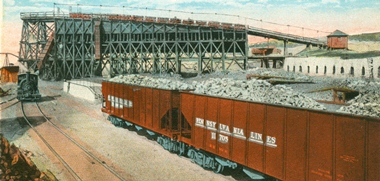 Lemont Furnace Mine, circa 1913
While working at Youngstown early in their marriage, Isaac suffered the first of three freak injuries, the last of which took his life. He "was run down by a train ... and dragged some distance before the train could be stopped. It was thought that this accident would be fatal, but the man recovered," said the Uniontown Morning Herald. About 1910, he was "supposed to have been fatally injured when he was run down by a trip in the Youngstown mine. Several cars ran over his body. Little hope was entertained for the man's recovery, but he rallied and seemed little the worse for the narrow escape he had experienced."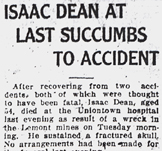 Uniontown Morning Herald

In October 1913, Isaac labored at the Lemont Mine. Tragically, he was caught in a wreck of coal cars in the mine, and "sustained a fractured skull," said the Morning Herald. He was taken to the Uniontown Hospital for treatment. "Because Dean had recovered so miraculously from the other accidents, members of his family entertained high hopes of his recovery," the newspaper said.

Sadly, though, the third injury was fatal to Isaac. He passed away at age 54 on Oct. 8, 1913. His remains were laid to rest at the Cove Run Cemetery. The examining physician wrote that the cause was "accidental death in mine. Crushed by mine car on runaway trip."

Belle outlived her husband by eight years, remaining in her house at Lemont Furnace. At Thanksgiving in 1919, when Mary Belle was age 53, she was re-united with her older sister Caroline Halfpenny, age 72. The two had not seen each other for 48 years, following Caroline's marriage and move some 240 miles away when Belle was but a girl of age five. The reunion was held as a holiday dinner arranged at the home of D.L. Miller in Orangeville, Columbia County. By that time, both sisters were widowed, and Belle was in failing health. The story was published in the local newspaper in Columbia County, and in turn was printed in the Philadelphia Inquirer newspaper. The article erred in stating that the sisters lived only 60 miles apart, but otherwise is a fascinating account.

Suffering from breast cancer, Belle died at age 57 at Lemont Furnace on May 22, 1921. Her obituary was published by the Connellsville (PA) Daily Courier, and named her surviving siblings -- Caroline Halfpenny, Hester Workman, Emma Geiger, Harriet Lowe and James Minerd. At the time, her unmarried daughter Irene still lived at home. Belle was buried beside her husband, with the funeral services handled by her cousin, Rev. David E. Minerd.

Ironically, the Deans' nephew, Charles William Dean, also was killed in a coal mine accident, in 1933, and is buried at Cove Run.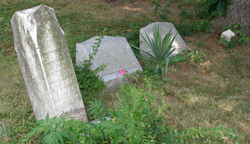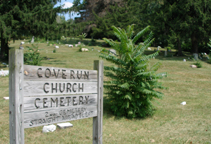 The Deans' grave marker (at far left), off its base and tilting, when photographed in August 2006 at Cove Run.

Copyright © 2000, 2006-2007, 2011-2012, 2014, 2022 Mark A. Miner