Ada (Wortman) Collins
(1887- ? )
Ada J. (Wortman) Collins was born in 1887 in Dunbar, Fayette County, PA, the daughter of Moses "Ross" and Hester Ann (Minerd) Wortman. The family name also has occasionally been spelled "Workman."
In 1907, when she was age 20, Ada married railroader Edward L. Collins (1883- ? ). They had at least three children, Elwood L. Collins and Catherine Collins and one who died in infancy circa 1907-1910.
The federal census of 1910 shows Ada and Edward and newborn son Elwood making their home with Ada's parents on Lafayette Street in Cumberland. Edward's occupation was recorded as "engineer - steam railroad."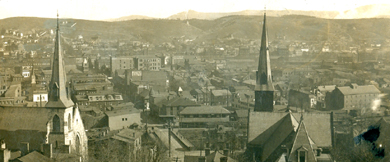 Famed church steeple landmarks in Cumberland
When the federal census was enumerated in 1920, the family lived in Cumberland, where Edward was employed as an engineer with the Baltimore and Ohio Railroad. Also residing under their roof that year were Ada's widowed mother Hester, brother Erskin Wortman and fatherless nephew, Raymond Purinton.
The 1930 census shows the family making its home on Humbird Street in Cumberland, and Edward continuing his longtime work as a railroad engineer.
Circa 1939, at the death of her elderly mother, Ada resided in Cumberland. Her fate after that is unknown.
Son Elwood L. Collins (1910- ? ) was a machinist's apprentice or "helper" with the railroad in Cumberland in 1930.
Daughter Catherine Collins (1912- ? ) has faded from view for now.
Copyright © 2006, 2009 Mark A. Miner