Delilah 'Hila' (Younkin) Faidley
(1835-1894)
Hila's grave, Timber Creek
Courtesy Connie Langvardt
Delilah "Hila" (Younkin) Faidley was born on Feb. 19, 1835 in Turkeyfoot Township, Somerset County, PA, the daughter of Henry F. and Mary (King) Younkin.
At the age of 19, in 1854, in Somerset County, she was united in marriage with 20-year-old John Peter Faidley (1834-1918), from the nearby village of New Centerville. He was the son of John William and Barbara (Kreider) Faidley of Salisbury, Somerset County.
The Faidleys went on to produce a dozen children -- Barbara Bartell, Alexander Faidley, Catherine Maud "Kate" Davis, Cornelia Hartzell, Emma Maxwell, Curtin "Curt" Faidley, Edward Faidley, Charles Faidley, Jennie Roether Young, John "Jack" Faidley and two others who are not yet identified.
They lived in Turkeyfoot Township for many years before migrating in 1879 to a farm six miles east of Wakefield, near Myersdale, Clay County, KS. A history of pioneers of the Bluestem Prairie states that they traveled "in a covered wagon" and that their year of settlement may have been closer to 1856 or 1857.
While in Kansas, John was a stock raiser and was praised as "a rustler when it comes to buying cattle," said the Clay Center Times. "He is one of the best judges of cattle in the county, a reputation he has earned by his many years experience." He often took his herd of cattle via rail to sell in Kansas City. He also raised rye on his farm. In October 1893, John and his friend A.W. Schenberger traveled to attend the World's Fair.
In May 1880, from afar, John provided supporting testimony so that his widowed sister Delilah Younkin, living back in Turkeyfoot, could obtain a military pension on the basis of her late husband's Civil War service and disabilities.
Sadly, Hila's health began to fail several years before her death. Their family of adult children held a reunion at the family home in October 1893, with John delayed in returning from Kansas City due to illness. In early 1894, news reports were that she was getting better. But she passed away in Wakefield at the age of 59 on Oct. 22, 1894. Burial was in Timber Creek Cemetery near Wakefield.
John Peter lived for another 24 years. The year after Hila's death, he is believed to have married again, to Anna M. ( ? -1923). Said the Clay Center Times in August 1895, "Ed Jones and Mrs. Vandistitt were married in Junction City, and some timid people have grave apprehensions that Uncle John Faidley will not come back from Kansas City alone."
In February 1905, the Times noted that John and W.H. Myers, "who have been at Kansas City during the past few weeks, assisting Uncle Sam in sentencing his law breakers, are once more home with smiling faces and fat pocket books." John retired from active farming in about 1912 and spent his final years residing with his adult chyildren.
Tragically, John joined Hila in death at age 84 on April 12, 1918, killed by a moving M.K.&T Railroad train near White City, KS. Said the Clay Center Times:
He left Wakefield on the morning train for Alta Vista and had to wait for several hours at White City, so started to walk to Alta Vista. When four miles on his way he sat down on a tie to rest and it was then the train hit him. He was taken back to White City and lived an hour.
John's broken remains were laid to eternal rest in Timber Creek Cemetery, with Rev. N. Sherman leading funeral services held at the Congregational Church.
Anna survived for another five years after her husband's death. Friends were worried about her frame of mind, and the Clay Center Times observed that she "was lonely and was afraid she would soon be without a place to stay. In early February, 1923, reported the Junction City Daily Union, she covered herself in bed, "connecting a hose leading from the bed to a gas jet and turning the gas on, slowly dying of asphyxiation." The Times noted in an obituary that she was survived by two nieces in Indiana and would be buried in a cemetery in Topeka.
John Peter and Hila are profiled in the book Pioneers of the Bluestem Prairie, published by the Riley County (KS) Genealogical Society in Manhattan in 1976 and 1991.

Unpaved street in Wakefield
~ Son Alexander Faidley ~
Son Alexander "Aleck" Faidley (1855-1911) was born in 1855 in Ursina, Somerset County.
At age 30, in 1885 in Kingwood, wed 24-year-old Sarah J. Kreger (1861-1943), daughter of Christopher and Catherine Kreger of Kingwood. By 1911, they moved to Clay County, KS and made their home in or near Wakefield.
Their nine children were James "Jim" Faidley, Ross Faidley, Jennie Faidley, Clarence Faidley, Alvin Faidley, Hila Faidley, George Faidley, Warren Faidley and Alexander Faidley.
They lived about four and a half miles northwest of Wakefield, where they farmed. The Clay Center Times considered Alexander as "well known all over Clay county, an excellent farmer and very well thought of."
At the age of 56 in 1911, Alexander worried about his increasingly ill health and financial problems. And so in late March 1911, the despondent man hanged himself in the hayloft of his barn. Reported the Times, "About noon his lifeless body was found in the barn on the home place. It was discovered by members of the family when he was called to dinner and did not respond.... It was a great shock to the friends when the news was learned." Burial was in Wakefield. [Find-a-Grave]
Sarah lived for another 32 years. In 1937, sons Clarence (living at Oak Hill) and Warren (Clay Center) drove cross country back to Somerset County to attend the fifth annual Younkin National Home-coming Reunion, and their names were printed in the Younkin Family News Bulletin. She passed into eternity on April 30, 1943 at the age of 82.
Alexander and Sarah are profiled in the book Pioneers of the Bluestem Prairie, published by the Riley County (KS) Genealogical Society in Manhattan in 1976 and 1991.
Son James "Jim" Faidley (1886- ? ) was born in 1886 in Wakefield.
Son Ross Faidley (1887-1921) was born in 1887 in Wakefield. He died in 1921 in Colorado.
Daughter Jennie Faidley (1889-1936) was born in 1889 in Wakefield. She wedded A.B. Hagans in about 1936.
Son Clarence Faidley (1891- ? ) was born in 1891 in Wakefield. In 1924, He was joined in matrimony with Martha Hildenbrand.
Son Alvin Faidley (1894- ? ) was born in 1894 in Wakefield. In 1927, He was united in wedlock with Phoebe Boone.
Daughter Hila Faidley (1897- ? ) was born in 1897 in Wakefield. She married G.L. Yarrow in 1922.
Son George Faidley (1899- ? ) was born in 1899 in Wakefield. He died in 1962 in Topeka, KS.
Son Warren Faidley (1901- ? ) was born in 1901 in Wakefield. At the age of 35, in 1936, he wed Emma (Mall) Bushell ( ? - ? ), daughter of Jacob and Eva Mall. Emma is believed to have provided information about this family for the 1976 book Pioneers of the Bluestem Prairie, published by the Riley County (KS) Genealogical Society in Manhattan. At the time, she lived in Clay Center, KS.
Son Alexander Faidley Jr. (1902- ? ) was born in 1902 in Wakefield. He was married twice, first in 1927 to Esther Sanford ( ? - ? ), daughter of Charles and Ina Sanford. His second wife was Edra (Roles) Moody ( ? - ? ), daughter of Olin and Ida Roles.
~ Daughter Emma (Faidley) Maxwell ~
Daughter Emma Faidley (1857 - ? ) was born in May 1857.
In 1875, when she was age 18, Emma wed 25-year-old Joseph F. Maxwell (1850- ? ). They apparently chose not to migrate to Kansas two years later when Emma's parents and siblings relocated in about 1877.
They had six children, among them Lottie M. Fisher, Grace Maxwell and Alice Maxwell.
Joseph worked as a brickyard superintendent circa 1900, with the family living in Fairhope, Somerset County.
In 1893, they dwelled in Pennsylvania but traveled to Kansas to visit their ailing mother and enjoy a family reunion. They returned to Wakefield for a visit in July 1915. By 1918, they had relocated to Cumberland, Allegany County, MD, and traveled once more to Wakefield for the funeral of Emma's father who had been killed in a railroad accident.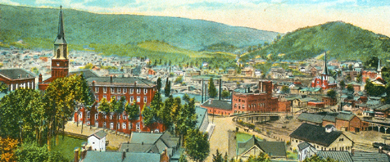 Bird's-eye view of Cumberland, MD
When the federal census was taken in 1920, the Maxwells were shown in Cumberland, on Park Street, with Joseph working for a brick manufacturer.
Nothing more about them is known.
Daughter Lottie M. Maxwell (1888- ? ) was born in March 1887 in Pennsylvania. She was married to Floyd Fisher (1886-1955?), a West Virginia native and the son of Sanford S. and Florence V. Fisher. They had one known daughter, Marian Fisher. In 1920, the Fishers lived under the roof of Lottie's parents in Cumberland, with Floyd earning a living as a clerk in a retail store. By 1930, the Fishers had divorced, with Floyd moving back home with his parents in Cumberland, and Lottie relocating to Pittsburgh. There, she and Marian lived in a rented home on Chateau Street, and earned income as a sales lady in a department store. Her fate after that is unknown. Floyd may have died in Cumberland on Sept. 15, 1955, with burial in Rose Hill Cemetery.
Granddaughter Marian Fisher (1907- ? ) was born in about 1907 in Pennsylvania. At age 23, in 1930 she lived with her mother in Pittsburgh.
Daughter Grace H. Maxwell (1889-1959) was born in June 1889 in Pennsylvania. At age 30 in 1920, not married, she resided with her parents in Cumberland. In about 1922, she became employed with the Georges Creek Coal company in Cumberland, and spent a 30-year career there, including a position as secretary-treasurer. Her home was at 212 Schley Street. She was a longtime member of St. Mark's Evangelical and Reformed Church, the Order of Eastern Star and the Business and Professional Women's Club. Grace died in mid-January 1959. Her pastor, Rev. Carl H. Clapp, officiated at her funeral. Her remains were placed into repose in Rose Hill Cemetery, and an obituary was printed in the Cumberland Evening Times.
Daughter Alice Maxwell (1894- ? ) was born in May 1894 in Somerset County. As a girl, she moved to Cumberland, MD with her parents and sisters. When she was age 13, in August 1907, she visited friends in Somerset, which generated coverage in the gossip columns of the Cumberland Evening Times.
~ Daughter Barbara Ellen (Faidley) Bartell ~

YFNB, 1937
Daughter Barbara Ellen Faidley (1859 -1937) was born on March 3, 1861 in Turkeyfoot Township, Somerset County.
She married Henry W. Bartell (1856-1938). He was born in Milford Township, Somerset County, or in Iowa.
Their three offspring were Gertrude "Gertie" Airesman, Marcus Oren "Mark" Bartell and Ralph Bartell. They migrated to Kansas in about 1880 and established a home in Milford, Clay County. They remained in Milford for 55 years, until old age caused them to relocate.
Henry was an expert carpenter and obtained good jobs where he could get them. In March 1895, the Clay Center Times near Milford reported that he was "back from Arkansas, where he has been working at the carpenter trade the past four months." He returned to Arkansas that year but was back home again by Christmas. Among his local projects was a new church in 1900 for the German Methodist congregation, where he won the work with a low bid of $11,139.40.
Barbara was a member of the Royal Neighbors Order. In 1935, they moved to Topeka.
YFNB, 1938
Barbara died in Topeka on April 1, 1937. She was buried in Milford following services preached by Rev. Jack Oliver of the Congregational Church. Many of her kinfolk from Wakefield attended the funeral, among them her brother Ed Faidley and his wife, Sarah Faidley, Ella Clark and Mrs. L.M. Ferguson. In December of that year, her obituary was printed in the Younkin Family News Bulletin. [Find-a-Grave]
Henry died the following year, on Feb. 2, 1938, at the home of his son Mark in Topeka, at the age of 82. His newspaper obituary, reprinted in the Younkin Family News Bulletin, said that he was "a pioneer resident of the Milford community" and was survived by seven grandchildren. Funeral services were held in the Milford church with Rev. Jack Oliver officiating. His pallbearers included Ed Tressin, Clayton Seeley, Byron Badger, Earl Chambers, Faye Whitmore and John Mellinger.
Daughter Gertrude "Gertie" Bartell (1883-1966) was born in 1883 in Kansas. As a young woman she joined the Methodist Church of Milford, KS, but eventually returned to Western Pennsylvania. She wed Harry D. Airesman ( ? - ? ). The couple had one daughter, Ruth Graham. They made their home in 1937-1938 in New Castle, Lawrence County, PA. In about 1950, they relocated to Cumberland, Allegany County, MD, where Gertrude operated a floral shop. She was a member of the Royal Neighbors of America. At the age of 83, Gertrude died near Kemp's Mill on the outskirts of Hagerstown, Washington County, MD. An obituary was published in the Hagerstown Daily Mail, and burial was in Rest Haven Cemetery. [Find-a-Grave]
Son Marcus Oren "Mark" Bartell (1888-1941) was born in 1888. He lived in Topeka in 1937.
Son Ralph Bartell (1889-1960) was born in 1889. He made his home in 1937 in Junction City, KS.
~ Daughter Catherine Maud "Kate" (Faidley) Davis ~
Daughter Catherine Maud "Kate" Faidley (1857- ? ) was born in February 1857 in Somerset County.
In 1877, at the age of 20, she married William H. Davis (1855- ? ), age 22.
Their four children were Florence Maude Davis, Bessie M. Davis, William J. Davis and Warren C. Davis. All of the children were born in Kansas except child no. 2, who was born in Pennsylvania in 1882.
In 1893, they lived in Wakefield. When the federal census enumeration was made in 1900, the family lived in Shawnee near Kansas City, Wyandotte County, KS, where William was the overseer for a ranch. During the decade between 1900 and 1910, they moved to a farm in Wakarusa, Douglas County, KS.
Sadly, Kate passed away during the 1910s. Details are being sought.
In 1920, the widowed William and son Warren, age 21, lived together on the farm in Wakarusa.
Daughter Florence Maude Davis (1880- ? ) was born in May 1880 in Kansas.
Daughter Bessie M. Davis (1882- ? ) was born in May 1882 in Pennsylvania, likely in Somerset County. She grew up in Kansas.
Son William J. Davis (1883- ? ) was born in September 1883 in Kansas.
Son Warren C. Davis (1897- ? ) was born in August 1897 in Kansas.
~ Daughter Cornelia (Faidley) Hartzell ~
Daughter Cornelia Faidley (1869-1904) was born on Christmas Day 1869.
She married a cousin, Howard L. Hartzell (1867-1949), son of Stephen Decatur and Hannah (King) Hartzell, who had migrated to Clay County in 1860. See their bio for more.
~ Son Curtin Faidley ~
Son Curtin "Kurt" Faidley (1864-1928) was born on Oct. 10, 1864 in Ursina, Somerset County, during the Civil War. He may have been named for popular Pennsylvania Governor Andrew Curtin who was in office at the time of his birth. But his name often has been misspelled as "Curtis."
In the 1880s, Curtin made his way to Kansas, where he met and married Elizabeth Larr (1863-1945), originally from Bryan, OH. They were wed in Junction City, Geary County, KS on Feb. 22, 1884 when he was age 19 and she 20.
Their six children were Ellen Clark, Theodosia "Dosha" Jevons, Vernon Faidley, Hazel Printz and twins who died in infancy.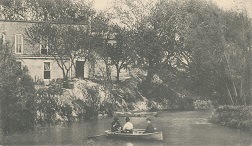 River canoeists, Clay Center waterworks
In addition to his farm in Wakefield, Curt explored other business opportunities in nearby states. Several May 1893 articles in the Clay Center Times noted that he and Urias Myers, Dan Hostetter, Howard Hartsell and A.R. Hand had begun an overland trip to Oklahoma "to view the promised land of Cherokee." The following year, in March 1894, the family moved to the farm of Mrs. Little, and Hall Alexander moved in to the former Faidley place. They traded farms again in November 1895 with Mr. Sparrowhawk, closer to the town of Wakefield. He also is known to have traded Ed Little for a team of grey horses in the first month of 1899. In April 1909, he and Ed Gaston went into a partnership of buying and selling horses.
Elizabeth was known to go fishing with her daughters, and in July 1914 made news in the gossip columns of the Clay Center Times by spending a an unsuccessful day at Gatesville in company with Mrs. George Kerby, Mrs. Will Marshall, Gladys Pocock and Edna and Fern Gaston. In August 1920, she and daughter Dosha left for a month's visit in Ohio and Michigan with one of Elizabeth's sisters who hadn't seen each other in 36 years.
Curtin died in Wakefield on April 3, 1928 at age 63.
Elizabeth survived him by 17 years. She passed away in Clay Center on July 7, 1945 at age 81.
Daughter Ellen Faidley ( ? - ? ) was born in (?). On June 22, 1910, she was wedded to Walter E. Clark ( ? - ? ), son of Israel T. and Mary E. (Smith) Clark of Wakefield, with the Clay County probate judge performing the ceremony. Then they "returned to Wakefield in the evening where a reception was given for them by the bride's parents," reported the Clay Center Times. "They are among our best young people and have the best wishes of their many friends. They will make this their home." They produced several children and were farmers. When time permitted, the Clarks enjoyed traveling to Nebraska for visits with relatives.
Son Vernon T. Faidley ( ? - ? ) married Gladys Babst ( ? - ? ) of Wakefield. The nuptials were held in Wakefield on April 7, 1915. In reporting on the happy event, the Clay Center Times said: "The marriage was solemnized at the home of the bride's parents and immediately after the ceremony a reception was given at the bride's home, where friends and relatives were received to extend congratulations to the bride and groom. Mr. and Mrs. Faidley are members of well known Wakefield families and being exceedingly popular in a wide circle of friends, have the best wishes from many for the happy and prosperous future that is due them." Gladys was a member of the Ladies' Country Club in Wakefield. In the fall of 1921, they prepared to relocate to Campus in western Kansas, and friends gathered for a farewell party at the C.E. Babst home.
Daughter Hazel Faidley ( ? - ? ) resided in Wakefield and enjoyed visits with her cousin Lillian Faidley of Manhattan, KS. In August 1920, she became a bookkeeper for the Jevons Hardware Company, filling a vacancy created with Bernice Fleming resigned to begin college studies. Hazel underwent an attack of appendicitis in October 1920 but recovered following surgery in the Junction City hospital. Pursuing additional education, she and Helen Walter and Judith Cornell took summer classes in Manhattan in 1923. She married (?) Printz.
Daughter Theodosia "Dosha" Faidley (1892-1941) was born on July 3, 1892 at Wakefield. As a young unmarried woman, she was a member of the N. and N. Club which was a group of friends who enjoyed camping. On Sept. 21, 1921, at Wakefield, when Dosha was age 29, she was united in holy wedlock with 29-year-old Frederick Jevons (1892-1974). The couple produced one known daughter, Lois LaVone Johnson. Sadly, Dosha died at Halstead, KS on Nov. 22, 1941, after two decades of marriage.
Granddaughter Lois LaVone Jevons (1922- ? ) was born on Oct. 29, 1922 at Republican, KS. At the age of 31, on June 7, 1953, at Clay Center, she was joined in matrimony with Raymond Henry Johnson (1922- ? ), a native of New Cambria, KS. Circa 1985, Lois and Raymond made their home in Wakefield, with an address of 303 Fourth Street. That year, she was accepted into membership of the Daughters of the American Revolution based upon the service of her direct ancestor Johannes Heinrich Junghen, a.k.a. Henry Younkin.
~ Son Edward Faidley ~
Son Edward Faidley (1868-1949) was born in about 1868 in Somerset County.
He moved to Kansas with his parents, likely in about 1882, when he would have been age 14.
In November 1889, he wed Bessie Gregwire (1870-1946), daughter of Peter and Jane (Herl) Gregwire.
Their five children were Floyd Faidley, Earl Faidley, Edna Joy Faidley, Florence Faidley and Jay Faidley. They also adopted a niece, Edra Ruth Young, after the death of the girl's mother.
The Faidley home in 1893 was in Gill, KS and in 1914 in Wakefield. In January 1894, local newspapers reported that Bessie had been seriously injured when kicked by a cow.

Old mill along the Smoky River in Junction City, Kansas
The couple celebrated their 20th wedding anniversary in November 1909, and due to "inclement weather only eighteen guests were present" at the celebration, said the Junction City Weekly Union.
Bessie died in 1946.
Edward outlived her by only three years. He succumbed in 1949. They rest together in Wakefield's Highland Cemetery. [Find-a-Grave]
Son Floyd E. Faidley (1890-1973) - [Find-a-Grave]
Son George E. Faidley (1891-1960) - [Find-a-Grave]
Daughter Edna Joy Faidley (1895-1911) was born on Feb. 27, 1895 in Wakefield. She spent her entire short live in the Wakefield community. In her mid-teens, she suffered from heart problems. One day in August 1911, Edna and her mother were in Clay Center visiting at the home of an aunt, Mrs. John Green. Tragically, Edna was felled with an apparent heart attack and died on Aug. 5, 1911, at the age of 16 years and nine months. Rev. John Endacott conducted "short funeral services" in the Green residence, said the Clay Center Times, before the body was moved to Wakefield for services by Rev. M.M. Eaton in the Methodist Church.
~ Son Charles Faidley ~
Son Charles Faidley (1872-1935) was born in about 1872 in Somerset County. Having come to Kansas with his family, he resided in Wakefield in 1893.
In 1895, when Charles was age 23, he was married to 24-year-old Iowa native Jessie Draper (1871-1942). They apparently never reproduced.
In 1910, the couple dwelled on a farm in Liberty Township, Geary County, KS. They kept a nephew and niece that year, 16-year-old Leslie Draper and 11-year-old Jessie Draper.
The Faidleys relocated during the decade of the 1910s to Alta Vista, Wabaunsee County, KS. Their home was along Main Street. There, in 1920, census records show that he worked as a merchant in a feed store. They remained in Alta Vista during the 1920s and in 1930 Charles worked there as manager of a produce house.
Charles died in 1935 at the age of 63. The specific facts are not yet determined. His remains were interred in Alta Vista Cemetery. [Find-a-Grave]
As a widow, Jessie remained in Alta Vista. The federal census-taker recorded in 1940 that eight-year-old Kent W. Kistler lived in her home -- as he had done for the previous five or more years -- and was her "grandson." Sadly, Jessie passed away in 1942, and rests beside her husband.
Nothing more is known.
~ Daughter Jennie (Faidley) Roether Young ~
Daughter Jennie Faidley (1876-1918) was born on Nov. 15, 1876 in Somerset County and came to Kansas as a three-year-old girl in 1879.
At the age of 24, on March 25, 1900, she married her first spouse, Benjamin Franklin "Ben" Roether (1860-1916), a native of Lancaster, PA who had come to Kansas in 1871. The groom was 16 years older than the bride.
They had four children, Esther Roether and Daniel Roether and two who died in infancy circa 1901-1902.
Benjamin operated a hardware and implements business and later formed his own firm, B.F. Roether & Co., selling general merchandise. Said the Junction City Daily Union, "During the Harrison administration he was postmaster at Milford. His genial good nature made him many friends." He also was a member of the Odd Fellows and Woodmen of the World lodges.
In late 1914, he suffered a stroke which left him paralyzed. He lingered for about a year and a half and was additionally burdened by heart illness. He died on April 6, 1916, at the age of 56. Rev. A.L. Tainter of Wakefield and Revs. Switzer and Tanner of Milford officiated at the funeral, which the Daily Union said was "attended by the largest concourse of people ever assembled in Milford."
A year later, in June 1917, when she was now age 40, Jennie married widower Levi E. Young (1859-1936). He was married previously and brought a daughter to the marriage, Nellie Estel Emrich. They produced a daughter of their own, Edra Ruth Young.
Jennie attended the Methodist Episcopal Church for many years without joining, but became a member in the late summer of 1918.
Tragedy compounded upon this family on Sept. 14, 1918 when Jennie died at the age of 41 years, nine months and 24 days. Rev. A.L. Tainter of Wakefield and Rev. F.L. Marcy of Milford officiated at her funeral, with burial in Milford Cemetery. A detailed obituary was printed in the Junction City Daily Union. [Find-a-Grave]
Her passing left her husband and five-month-old daughter alone. A few months after Jennie's death, her brother Edward was named legal guardian for her children.
Levi survived for another 18 years. He died in 1936.
~ Son John L. "Jack" Faidley ~
Son John LeRoy"Jack" Faidley (1874-1931) was born on July 25, 1874.
On Feb. 23, 1902, he was united in wedlock with Ruby Juliette Stuart (1881-1917). She had come to Riley, KS as a girl and later was a school teacher. For six years, they resided on a farm in the Elbow community near Manhattan, KS and had one daughter, Lillian Faidley.
The Shadow of Death swept away Ruby at the age of 36 on Nov. 23, 1917, in Charlotte Swift Hospital, "after a brief illness," reported the Junction City Daily Union.
Jack survived for 14 years as a widower. He died in Manhattan, Riley County, KS on June 2, 1931, and is buried in Sunset Cemetery in Manhattan. [Find-a-Grave]
He is named in family history notes collected in the 1930s by researcher and Younkin National Home-coming Reunion president Otto Roosevelt Younkin.
Copyright © 2014-2017 Mark A. Miner
Research for this page graciously shared by the late Donna (Younkin) Logan