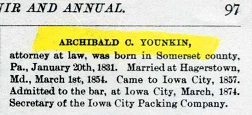 Holiday Souvenir and Annual, Iowa City
Archibald Campbell Younkin was born on Jan. 20, 1831 in Milford Township, Somerset County, PA, the son of Dr. Jonas and Martha (Pringey) Younkin. He is believed to have been named for Archibald Campbell of the prominent family of Rev. Thomas Campbell and Rev. Alexander Campbell who were instrumental in founding the Disciples of Christ (Christian) Church of that era in Somerset County and throughout the nation.
Whether with his parents or not, he migrated west circa 1850. But on March 1, 1854, he apparently had returned east, when he married Mary Catherine Jones (April 26, 1835-1936), of Chambersburg, Franklin County, PA. The wedding ceremony took place over the state line in Hagerstown, Washington County, MD. She was the daughter of William Jones.
Their seven children were William Melville Younkin, Howard Ellis Younkin, Lulu J. Anderson, Edgar C. Younkin, Estelle Younkin, Helen Byers "Nellie" Younkin and Arthur Jones Younkin.
After the birth of their first child, the couple migrated west to Iowa in 1857, taking the train as far as it would go at that time, which was Iowa City.
The family grieved at the death of son Howard in infancy about 1858 and daughter Estelle of measles at age seven in 1870, both in Iowa City.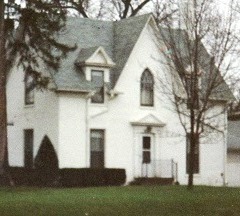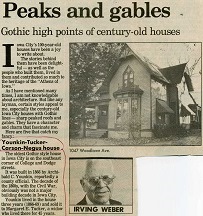 House built by Archibald Younkin in Iowa City, 1866.
Photo by Robert J. Libby
In 1866, Archibald and Mary built a house in Iowa City at the address of what today is 701 East College Street. The Gothic revival style dwelling featured peaked roofs that were in vogue after the war. The house was sold to Margaret E. Tucker, who owned it for 45 years, thence to Hayes and Lillian Carson, who kept it for 11 years, and then to Lewis and Lorna Negus (56 years). It was still standing 116 years after its construction, in 1982, and was featured as a historic property in an Iowa City Press news story circa 1990.
Archibald was elected county treasurer circa 1866 and served for three terms. Having pursued a legal career, he was admitted to the Iowa State Bar in Iowa City in March 1874. He then was engaged as secretary of the Iowa City Packing Company. He was listed in the 1882 Holiday Souvenir and Annual.
They remained in Iowa City there until 1887, when they and their married son William and daughter in law relocated together to San Diego, CA. Now established in San Diego, Archibald practiced law with his partner in business, Judge Hendricks.
Business section of San Diego
Archibald died in San Diego, CA on Nov. 12, 1898. An obituary in the San Diego Union called him "a well known attorney of this city." The funeral was attended by 35 members of the local bar association. His remains initially were placed in repose in Mount Hope Cemetery but in 1928 were exhumed, cremated and relocated to the Greenwood Mausoleum.
His widow outlived her husband by almost four decades. Circa 1900, when the federal census was made, she lived with her married son Arthur and family in Iowa City. At some point she relocated back to San Diego.
She joined the San Diego Floral Association in 1911 and was involved with the San Diego Rose Society. She enjoyed working in her garden, planting annual and perennial flowers and roses.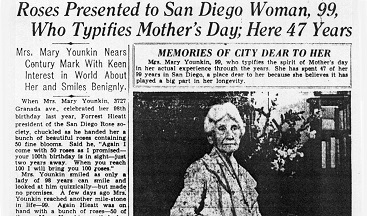 Mary Catherine pictured in the San Diego Union, 1934
When Mary Catherine celebrated her 98th birthday, she received 50 roses from the San Diego Rose Society, with a promise from society president Forrest Hieatt that if she reached her 100th birthday, he would bring her 100 roses as a gift. And in fact she did, and he did as well. She was photographed for the San Diego Union. She was quoted in a 1935 birthday article, stating that "The first 100 years are the hardest," and that her daughter Helen "watches over her tenderly every hour." The Union described her as follows:
If appearances are any criterion Mrs. Younkin's 100 years have been beautiful ones. Her face is clear and pleasing in outline with fine blue eyes. Her hair is pure white, arranged in quite a modish knot a little to one side. She wore, yesterday, an up-to-date dress of black transparent velvet, a present for which she gracefully thanked her daughter Helen.... Books are a little tiring for Mrs. Younkin, her daughter says, but she regularly enjoys the daily newspaper, especially the local items and stories of Mrs. Franklin Roosevelt. She has these read to her along with The California Garden, the Floral association's magazine.
Suffering from senility and pneumonia, she died in San Diego on Oct. 11, 1936. She rests in Greenwood Mausoleum in San Diego. Her obituary was published in the inaugural edition of the Younkin Family News Bulletin, Christmas 1937 issue, reprinted from the Union, noting that she "was active until a short time before her death, although she stopped going downtown alone when she was 90. Since her 100th birthday, April 26, 1935, she had become gradually weakened. Prior to that time her memory was almost perfect."
~ Son William Melville Younkin ~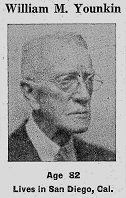 William Melville Younkin
Younkin Family News Bulletin
Son William Melville Younkin (1856-1949) was born on Jan. 3, 1856 in Lavansville, Somerset County, PA. As a newborn, he was brought overland by his parents to Iowa City, where he grew to adulthood.
William was united in matrimony with Susan G. Lefevre (Jan. 1858-1913), also a native of Pennsylvania.
They were the parents of three children -- William Lefevre Younkin, Parke Russell Younkin and Sarah Gladys "Sadie" Nelson.
William received a degree from the University of Iowa in 1877.
Then in 1887, he and Susan, in company with his parents, relocated to San Diego, CA. Over the years, William was employed as a bookkeeper. In 1891, their address was 126 State Street. Sadly, the family lost young son Parke at the age of 3 years, 4 months on Jan. 26, 1891. A brief death notice in the San Diego Union reported that the boy's death ended 10 days of suffering and that the funeral would be private, led by Rev. Dr. Noble. Inscribed on his grave marker is this biblical verse from Isaiah 1:11 -- "He shall gather the lambs with his arm and carry them to his bosom."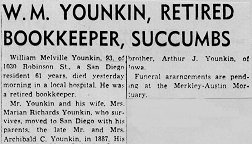 William's San Diego Union obituary
Adding to the heavy blanket of sadness, Susan passed away just a few weeks before her 55th birthday on Jan. 11, 1913. The Union published a short obituary, stating that funeral services would be officiated by Rev. E.F. Hallenback, and that she was survived by her brother Isaac L. Lefevre of San Diego and Elizabeth Lefevre of Lancaster, PA.
William married again, to Marian Richards (July 13, 1868-1954), daughter of John and Katherine Richards of London, England. Their address in the late 1940s was 1030 Robinson Street in San Diego.
William was pictured in the Aug. 5, 1938 edition of the Younkin Family News Bulletin and then again in the June 30, 1941 issue. Their address in 1949 was 1030 Robinson Street.
Suffering from hardening of the arteries and an enlarged heart, William was admitted to Edgemoor Geriatric Hospital at the Edgemoor Farm in Santee, San Diego County. After a stay of just 20 days, he succumbed, at the age of 93, on Jan. 12, 1949. Interment was in Mt. Hope Cemetery in San Diego. The San Diego Union noted in an obituary that he had been a resident of the city for a remarkable 61 years.
Marian outlived her husband by five years. In early 1954, burdened with chronic heart problems, she entered the Marvel Sanitarium in El Cajon, San Diego County, and died there eight months later, on Dec. 8, 1954. A brief death notice in the Union said that she was survived by her sisters Katherine Richards and Mrs. F.R. Small..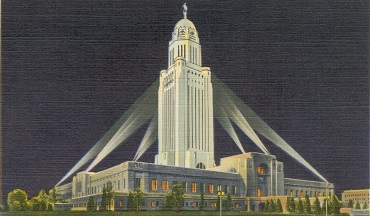 Nebraska's state capitol building in Lincoln, with construction supervised by architect William Lefevre Younkin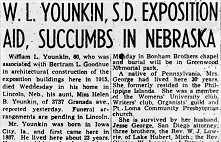 William Lefevre Younkin and San Diego Union obituary
Photo courtesy Nebraska Board of Engineers and Architects
Son William Lefevre Younkin (1885-1946) was born on Nov. 20, 1885 in Iowa City. On Aug. 29, 1918, in a ceremony held in Tucson, AZ, he wedded Lucy Eleanor Pettit ( ? -1919). During their brief marriage, they produced a daughter, Margaret Pettit Little. Tragically, Lucy died in 1919, leaving behind her husband and an infant daughter. Then on March 12, 1921, in nuptials celebrated in Stamford, CT, he married a second time, to Marion Lincoln Hussey ( ? - ? ). They produced two children of their own -- Robert Lefevre Younkin and Bertram Younkin. After high school, William was employed as a draftsmen with architectural firms in San Diego and San Francisco. Later, he attended Columbia University in New York to refine his architectural interests. He practiced in New York for several years until about 1922, when he undertook his largest, best known project is the Nebraska State Capitol Building in Lincoln. He supervised construction on the structure over the span of a decade. Circa 1930-1931, he served as president of the American Institute of Architects (AIA), Nebraska Chapter. Then during the Great Depression, he worked as a landscape engineer for the Nebraska Department of Roads and Irrigation. He died in Lincoln on Dec. 18, 1946. Burial was in Wyuka Cemetery in Lincoln. [Find-a-Grave] His death was front-page news in the Lincoln (NE) Star. Circa 1946, son Bertram lived in Lincoln and son Robert in Berkeley, CA.
Granddaughter Margaret Younkin was united in wedlock with J.D. Little. Their home in 1946 was in Bell, CA.
Grandson Robert Lefevre Younkin (1922-2007) was born on Feb. 10, 1922 in Stamford, CT. He grew up in Lincoln, NE. During World War II, he served in the U.S. Armed Forces. He received bachelor's and master's degrees in physics from the University of California at Berkeley, and went on to earn his doctoral degree in astrophysics from the University of California at Los Angeles (UCLA). Based on his experiences at Mount Wilson Observatory, his doctoral thesis was entitled Spectrophotometry of the Moon, Mars and Uranus. He married Pauline Twilling ( ? - ? ), whom he had met at UC-Berkeley. They resided for many years in Fountain Valley, CA and produced four offspring -- William Younkin, Richard Younkin, Nancy Younkin and Robert Younkin. Reported the Los Angeles Times, Robert "began his professional career at TRW in Los Angeles, and later worked at the Jet Propulsion Laboratory in Pasadena, where he designed optical experiments for spacecraft, and conducted planetary research. He later worked at McDonnell-Douglas in Huntington Beach, where his projects included the optical tracking of spacecraft. In 1981 Robert began a rewarding career in teaching. He taught courses in physics and astronomy at the California State Universities at Fullerton and Long Beach. Robert was a member of the American Association of Physics Teachers, and the American Association for the Advancement of Science." Over the years, he published 14 papers and abstracts of presentations made a scientific conferences. Robert was interested in his Younkin roots and was a correspondent over the years with Donna (Younkin) Logan, organizer of the Younkin Reunion East and editor/publisher of the Younkin Family News Bulletin. Some of their correspondence today is preserved in the Minerd.com Archives. Sadly, Robert died on Feb. 1, 2007, just nine days shy of his 85th birthday. An obituary was published in the Times.
Granddaughter Sarah Gladys "Sally" Younkin (1892-1979) was born on Oct. 24, 1892 in San Diego. She married Arthur H. Nelson ( ? - ? ), also of San Diego. The couple produced one known daughter, Jean Elizabeth Ballantyne. Their home in 1946 was in Englewood, CA. Sally died in Pasadena, Los Angeles County on Sept. 20, 1979. Burial was in Mt. Hope Cemetery in San Diego.
~ Daughter Lulu (Younkin) Anderson ~
Daughter Lou J. "Lulu" Younkin (1859-1898) was born on March 4, 1859 in Iowa City, Johnson County.
In 1880, at the age of 21, she received a bachelor of philosophy degree at the University of Iowa at Iowa City, one of the first women in the extended family to do so. For five years, from 1882 to 1887, she taught in the Iowa City Public Schools. One of her supervisors noted that "Miss Lou Younkin, teacher of literature, history, and German in the English Department; she has devoted much time to the study of German; she is a very fine English and German scholar, and a good teacher."
At the age of 28, in 1887, she relocated to San Diego with her parents and brothers William and Edgar. Not long after arrival, Lulu was appointed to the prestigious position of Librarian of the San Diego Public Library. The library occupied five rooms in the Commercial Bank building, on the second floor, which later was re-christened the Consolidated National Bank. Wrote family historian Robert Lefevre Younkin, "The single 'Librarian' was effectively a clerk whose primary function was to check the books on hand in and out.. On Sept. 6, 1887, the library boar of trustees officially hired her at a $70 monthly salary."
One of Lulu's first accomplishments was to organize the 7,800-book collection by the Dewey Decimal system and produce the first printed reference catalog, published in April 1889. In the 212 page document, she reported that average monthly circulation was 4,000 volumes and that the library had "grown to a leading position among the public libraries of the State, being now second only to that of San Francisco. The institution is now an honor to the public spirit, taste and culture of San Diego."
It is said that her portrait hangs on the wall of the main library at 8th and E streets to this day.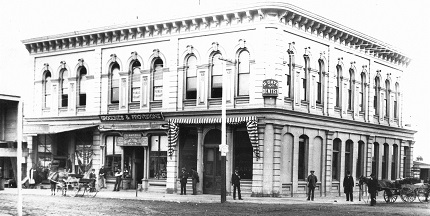 Original San Diego Public Library on the second floor of the Commercial Bank building. Below: Lulu's published catalogue of the library's 7,800 titles.
Courtesy Special Collections, San Diego Public Library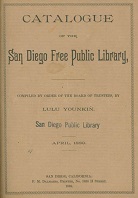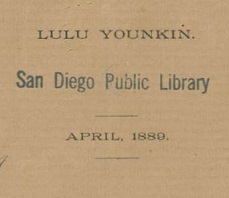 In the fall 1895, while on an extended visit with her sister Helen in Denver, she met an friend from Iowa City school days, Dr. Horace G. Anderson ( ? - ? ). To the great shock of her relatives and friends, they decided to marry immediately. She resigned from her librarian position and relocated to Pitkin, Gunnison County, CO, a mining town of about 2,000 residents located 100 miles southwest of Denver, where Horace had a medical practice.The couple wed on Nov. 6, 1895, and produced one daughter, Belle Gilcrest Anderson.
Tragically, after a little more than two years of marriage, Lulu suffered what would probably be diagnosed today as a nervous breakdown or post-partum reaction. A story in the San Diego Union called her affliction a "mental aberration" which had occurred "since the birth of her child a few weeks ago. Mrs. Anderson has been in a critical condition, resulting in her mind becoming unbalanced. Her many friends hope for her speedy recovery."
In reality, she had attempted suicide, by means which are not yet learned. She was admitted to what today is Patton State Hospital in Highlands, San Bernardino County, CA, where she succumbed at the age of 39 on April 25, 1898. The remains initially may have been interred in hospital cemetery but later were placed in the Cathedral Mausoleum Corridor at Greenwood Memorial Park in San Diego. Horace's fate is not known, but he apparently died not long afterward.
Some three decades after Lulu's death, the remains of her daughter Belle -- also a suicide -- were placed next to her's in the mausoleum.

Tablet marking the final resting place of Lulu and daughter Belle in
Greenwood Memorial Park in San Diego.

Courtesy Lot Lzrd, Find-a-Grave
Daughter Belle Gilcrest Anderson (1897-1927) was born on Oct. 27, 1897 in San Diego. She was named in honor of a beloved friend and college classmate of her mother's. She was just a few months old when her mother died. The motherless girl was taken into the home of her uncle and aunt, Arthur J. and Loie Younkin in Iowa City, and is shown there in the 1900 federal census. Then by June 1903, her father also is believed to have died or disappeared, rendering her an orphan at a young age. On July 1, 1903, when Belle was age five, her grandmother Mary Catherine (Jones) Younkin filed a petition in Iowa City to formally adopt the girl. A related story in the Iowa City Press-Citizen observed that "The mayor of Denver, Robert R. Wright, Jr., sanctions the adoption." The petition was approved, and Belle relocated into her grandmother's home in San Diego. After high school graduation, Belle "showed promise of a brilliant career as a chemist," reported the Oakland (CA) Tribune, and enrolled in the University of California. She obtained a bachelor's degree in 1921 and a master's degree in 1923, leading to an instructor's position in the university's department of bacteriology in Berkeley. While at UC-Berkeley, she was a member of the Al Khalail Sorority on Prospect Avenue. She placed a very high degree of pressure on herself to perform, and aimed to become a doctor of philosophy. Her ambitious drive led to a terrible mental or emotional collapse in December 1926. Determined to earn a third degree, she relocated to San Francisco in January 1927. Under the direction of Dr. K.F. Meyer, she secured a position as a research associate in chemistry as part of the Hooper Foundation of Affiliated Colleges and boarded with colleagues in the residence of Ane J. Campbell. But when she took an oral examination for the Ph.D. degree, she failed to pass. Friends heard her say that "I'd rather be dead than a failure." She apparently tried to take her own life, but somehow escaped death. She confided to friends that "she was losing control of the brilliant mind which had brought eminence in her chosen profession," said the Petaluma Argus-Courier, and that since her mother had committed suicide, she thought she was destined to the same end. On the fateful day of May 19, 1927, she told co-workers that she was going to correct some test papers in an upstairs laboratory at the office. But instead the 30-year-old mixed a lethal dose of poison with water in a 2 lb. can and took a walk to a lonely spot on the Old Trocadero Road near Sloat Boulevard. Drinking the mixture from a bottle, she died instantly, with her body discovered in an underbrush an hour later by a gardener. Authorities discovered a letter in her coat pocket, sent from Polly Newgin, a school teacher from Petaluma, CA. The tragedy was news in the Tribune, which stated "In this manner she ended a brilliant career as a chemist," and with her photograph illustrating the story. The news was published also by the San Francisco Chronicle and Woodland Daily Democrat, among other California newspapers. Her remains were placed into eternal repose with her mother's in the Cathedral Mausoleum Corridor at Greenwood Memorial Park in San Diego. [Find-a-Grave] In a grief-stricken newspaper column, Dr. Frank Crane of the McClure Newspaper Syndicate wrote that the death was "Another one of those 'rashly importunate.' Why hurry? Why not see what time will do? Time solves more problems than all our wit.... It is a long road that has no turning. Keep trudging along and surely some opportunity will come to you to get away from the hated routine." Further heartache compounded the tragedy a few months later in September 1927 when Belle's uncle Edgar Younkin, overcome by the sadness of it all, shot himself in the head.
Busy corner of D Street and Plaza, San Diego, early 1900s
~ Son Edgar C. Younkin ~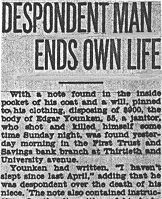 Edgar's obituary, 1927
Son Edgar C. Younkin (1861-1927) was born on July 18, 1861 in Iowa City.
He relocated with his parents to San Diego, CA in the 1880s, when he would have been in his early 20s. Edgar never married.
He obtained employment as a stenographer with the firm of Klauber and Levi in San Diego circa 1887. He also provided part-time assistance in business and maintenance at the San Diego Public Library, where his sister Lulu was serving as head librarian.
After the death of their father and sister Lulu in 1898, Edgar and his brother Arthur moved back to Iowa, settling in Iowa City, Lucas Township, Johnson County. His work in 1900 was as a grocery salesman, and he boarded with his brother. Circa 1904, his address was 909 East Burlington in Iowa City.
Edgar returned to San Diego in about 1907, when he would have been 36 years of age. He apparently bought a house at 1931 Essex Street and obtained employment as a gardener.
Edgar received a profound shock in May 1927 when he learned of the suicide of his niece Belle G. Anderson, a brilliant chemist in San Francisco and the only daughter of his beloved, deceased sister Lulu. The tragedy weighed on his mind for days which turned into weeks and then months.
On the fateful day of Sept. 26, 1927, the 66-year-old Edgar went to work as a night janitor at the First Trust and Savings Bank building at the corner of University and 30th Street. Unable to deal with his grief, and having decided to end his life, he placed a gun against his head and pulled the trigger. His body was found by a bank teller the next morning. He left a suicide note in the pocket of his coat, stating that he had not slept for five months and bequeathed his life savings of $900 to his aged mother. A report of his passing was published in the San Diego Union. Per his instructions, burial of his cremated remains was in San Diego's Mount Hope Cemetery.
~ Daughter Helen Byers "Nellie" Younkin ~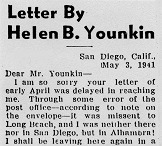 Younkin Family News Bulletin
Daughter Helen Byers "Nellie" Younkin (1865-1955) was born on Dec. 29, 1865 in Iowa City, where she grew into womanhood.
She never married over her 90 years of life. As a teenager, she began studies at the University of Iowa but was forced with withdraw after contracting a case of spinal meningitis.
Circa 1930, federal census records show her residing under her mother's roof in San Diego and earning a living as a stenographer.
Helen primarily resided in San Diego circa 1935-1940, on 3737 Granada Avenue, as shown in the federal census enumeration of 1940 (when she was age 74). In 1941, she may have resided briefly in New York City but by the spring of that year, she had returned to her home in San Diego.
On May 3, 1941, she wrote a letter to Charles Arthur "Charleroi Charley" Younkin, publisher of the Younkin Family News Bulletin and secretary of the Younkin National Home-coming Reunion of Somerset County, PA. In the letter, published in the family newspaper, she wrote:
I am so sorry your letter of early April was delayed in reaching me. through some error of the post office -- according to note on the envelope -- it was missent to Long Beach, and I was neither there nor in San Diego, but in Alhambra! I shall be leaving here again in a few days, but still keep my permanent address as 3737 Granada Ave., San Diego. Am sorry i do not have any news of interest for your Bulletin. My brother Will was born January 3, 1856. (Alhambra, Calif., address: 24 South Sixth Street)
Helen returned to San Diego and spent her final years at 3737 Granada Avenue, eventually losing her eyesight. She died in San Diego at the age of 90 on Nov. 10, 1955. Her remains rest for all time in San Diego's Greenwood Mausoleum.

Iowa Avenue Bridge in Iowa City
~ Son Arthur Jones Younkin ~
Son Arthur Jones Younkin (1868- ? ) was born on Jan. 6, 1868 in Iowa City.
After trying life in San Diego with his family, he returned to Iowa City and remained there on his farm for the balance of his life.
Circa 1893, he clerked in a grocery store owned by kinsman John Leaman LeFevre in Iowa City. With a head for business, Arthur was elected in April 1899 as president of an association of retail grocers which had met at Des Moines.
That same year, on Aug. 11, 1899, the 31-year-old Arthur was joined in wedlock with Loretta M.F. "Loie" Thompson (Jan. 1871- ? ), daughter of Ezra Thompson of Iowa City. News of their nuptials was published in the Daily Iowa State Press, which stated that "The groom, Mr. Younkin, is one of Iowa City's rising business men and is rapidly gaining for himself a strong position in the business world of this city. He recently purchased the Grocery business of J. L. LeFevre and has by close application to business gained for himself a large and increasing trade. The bride, Miss Thompson, has for a number of years been connected with the W. F. Main office and has by her pleasing disposition made for herself many friends in business and social circles who unite with the Press in extending congratulations."
They did not reproduce.
When the United States Census enumeration was made in 1900, the newlyweds lived in Iowa City, providing a home for Arthur's aged mother, unmarried brother Edgar (age 38) and lodger Tilman Smith. In March 1900, they made news in the gossip columns of the Iowa City Press-Citizen for hosting a 50th wedding anniversary dinner for Loie's parents. Active socially, Loie served as organist and installing officer for the Jessamine Chapter of the Order of Eastern Star, and Arthur was a longtime member of the Iowa City Elks Lodge. Among Arthur's grocery customers circa 1904 was the county poor farm. The 1910 census shows that the couple had no others under their roof, with Arthur working as a grocer and Loie as a bookkeeper in the grocery store. By 1912, he had changed jobs and was working as a shipping clerk for Economy Advertisement Company. His home in 1936 was in Iowa City.
Arthur is believed to have died in the mid-1950s.