Benjamin Franklin Younkin
(1861-1937) and
Cora Etta Swarner (1869-1937)
Cora Etta Swarner was born on Aug. 9, 1869 in Kingwood, Somerset County, PA, the daughter of Henry S. and Barbara Jean (Younkin) Swarner. She migrated to Kansas at a young age with her parents and siblings.
On Feb. 15, 1884, when Cora was only 14 years of age, she married a double cousin, 22-year-old Benjamin Franklin "Frank" Younkin, son of Frederick J. and Delilah (Faidley) Younkin, also of Kingwood. The nuptials were celebrated in Junction City, Geary County, KS.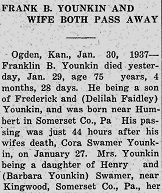 Double obituary, YFNB, 1937
The couple produced a family of eight children -- Frederick Younkin, Walter Younkin, Henry "Allen" Younkin, Robert Andrew Younkin, Gladys Sohns, Frank Younkin and Hazel Parkhurst. They also raised at least three grandchildren -- Lucille Younkin, Alene Younkin and Frank Sohns.
Even though Cora's parents eventually returned to their native Somerset County, Cora and Frank remained in Kansas for the balance of their long lives. They earned a living as tenant farmers.
The Younkins were in Milford in 1900. In June 1902, Cora traveled back to Pennsylvania to visit with her parents, "whom she had not seen for sometime," reported the Junction City Union. Her father "came here twenty-five years ago and was one of our substantial farmers."
Their marriage was troubled, and in May 1905 Cora sued for divorce, citing "drunkenness." The case was dismissed in court and noted in the Junction City Republic. The couple stayed together for the rest of their lives.
By 1910, the family was in Junction City. At that time, 64-year-old Richard Crum boarded in their household. They are known to have traveled to Kansas City at times to visit with relatives. A local newspaper reported in January 1916 that Frank and "two sons of this city will farm the Rait place. The Rait place has some mighty good bottom land on it, and raises some mighty good crops."
They migrated again during the decade of the 1910s to a farm in Seven Mile, Riley County, KS.
By 1930, the family had returned to Junction City.
Sadly, Franklin and Cora died within 44 hours of each other in Ogden, KS in 1937 -- she on Jan. 27 aged 67 years, five months and 18 days -- and he on Jan. 29, at the age of 75 years, four months and 28 days.
A distant cousin living in Wichita, Grover Cleveland Younkin -- son of Thaddeus A. Younkin -- who was president of the Kansas Younkin Reunion, clipped the obituaries from a local newspaper. Grover then sent them east to Charles Arthur "Charleroi Charley" Younkin of Charleroi, PA, organizer and secretary of the Younkin National Home-coming Reunion, and publisher of the Younkin Family News Bulletin. With the clippings in hand, Charley wrote to reunion president Otto Roosevelt "Pete" Younkin in Masontown, PA: "Just to break the news of the death of two more dear old Younkins who have died quite recently in Kansas. Frank and his wife of Junction City Kan. this being a brother of Wm. L. Younkin of Kingwood Pa. They died the latter part of Jan., both died within 30 hrs. of each other, there being a double funeral, this being sent by cousin Grover of Wichita."
Charley re-published their joint obituary in the Christmas 1937 issue of the family newspaper, the first edition ever published. They are named in the 1938 book Descendants of Barbara Hochstedler and Christian Stutzman, authored by Rev. Harvey Hostetler (Gospel Book Store, Berlin, OH).
~ Son Frederick Younkin ~
Son Frederick Younkin (1885- ? ) was born in Aug. 1885 in Kansas.
In 1937, he lived in Wichita.
~ Son Walter Younkin ~
Son Walter Younkin (1891- ? ) was born in March 1891 in Kansas.
He married Willana Fincher (Oct. 21, 1894-1917).
The family lived in Kansas City, where Walter was employed with Armour Packing Company.
The two children born to this union were Lucille Younkin and Alene Younkin.
Willana was known as "a truly good woman, faithful to her family and greatly beloved by her associates," said the Junction City Daily Union. "She was a member of the Christian church and when the Billy Sunday meetings opened in Kansas City she and her husband took a great interest and they enjoyed the love of Christ more than ever because of this revival."
Grief cascaded over the family on July 19, 1917 when Walter's wife died in the home of Walter's parents at the age of only 23.
Walter married again October 1922 to Mildred Steppe.
His home in 1937 was in Junction City.
Daughter Lucille Younkin (1911- ? ) was born on Dec. 3, 1911. She was but five years of age when her mother died, and she was raised by her Younkin grandparents.
Daughter Alene Younkin (1917- ? ) was born on May 22, 1917.
~ Son Henry "Allen" Younkin ~
Son Henry "Allen" Younkin (1892- ? ) was born in January 1892 in Kansas.
The Junction City Daily Union in 1915 called him "one of the hustling young Junction City men" and reported that he had purchased a restaurant in Wichita. In June 1915, he also had business interests in Blackwell, OK.
He dwelled in 1937 in Wichita.
~ Son Robert Andrew Younkin ~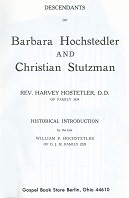 Book naming Robert
and Mary Younkin
Son Robert Andrew Younkin (1893- ? ) was born on Aug. 16, 1893 in Milford, KS.
On Jan. 21, 1921, in a ceremony held in Junction City, he was wedded to Mary C. Nickelson ( ? - ? ). Rev. Oliver C. Bronston officiated. Their marriage is noted in the 1938 book Descendants of Barbara Hochstedler and Christian Stutzman, authored by Rev. Harvey Hostetler (Gospel Book Store, Berlin, OH).
The couple produced these children -- Robert Oren Younkin, Reuben Alvin Younkin and Merilyn Enid Younkin.
In 1937, at the death of his father, Robert made a home in Monument, KS.
Nothing more is known.
Son Robert Oren Younkin was born on Sept. 25, 1921.
Son Reuben Alvin Younkin was born on April 2, 1925.
Daughter Merilyn Enid Younkin was born on Sept. 8, 1929.
~ Daughter Gladys (Younkin) Sohns ~
Daughter Gladys Younkin (1895- ? ) was born in January 1895 in Kansas.
In 1911, when she was age 16, she married Archie Sohns ( ? - ? )
Two known sons were born to this union, Frank Sohns and Lester Sohns.
After 11 years of marriage, Archie filed for divorce in January 1922, alleging cruelty and gross neglect of duty.
In 1923, Gladys made her residence in Denver. That year, in September, changes were made in her divorce decree over aliminy and permanent custody of the children.
She wedded again by 1937 to Milo Argubright ( ? - ? ) of Newton, KS.
Circa 1946, she may have been married to Will Riley of Kingman, AZ?
Son Frank Sohns (1913- ? ) was born in 1913 in Kansas.
Son Lester Sohns ( ? - ? )
~ Son Frank Younkin ~
Son Frank Younkin (1897- ? ) was born in March 1897 in Kansas.
Circa 1937, he resided in Ogden, KS and provided care for his aging parents.
~ Daughter Hazel M. (Younkin) Parkhurst~
Daughter Hazel Younkin (1900- ? ) was born in January 1900 in Milford, KS.
She is believed to have wedded J.G. Hodges ( ? - ? ) and to have dwelled in Wichita in 1923.
By 1946, she had married C.F. Parkhurst and was living in San Diego. They may have been the parents of Lucille Parkhurst and Kenneth Parkhurst.
Copyright © 2013, 2016-2017, 2020 Mark A. Miner
Research for this page graciously shared by the late Olive (Rowan) Duff and the late Donna (Younkin) Logan