Edwinna Canallas (Younkin) Glotfelty
(1851-1905)
Ursina Cemetery
Edwinna Canallas (Younkin) Glotfelty was born on Dec. 19, 1851 near Kingwood, Somerset County, PA, the daughter of Frederick J. and Delilah (Faidley) Younkin. She sometimes went by the shortened name "Edna."
When she was age 24 on March 30, 1876, Edwinna was married to 25-year-old Samuel Wirsing Glodfelty (1851-1927), with this fact scribbled into the family Bible. Samuel was the son of John and Elizabeth (Wirsing) Glodfelty, also spelled "Glotfelty," of Somerset County.
The couple had six known offspring -- Elizabeth Hughes, Mary King, John Glotfelty, Ella Dixon, Julia Anna Ryan and Lola Taylor.
They were farmers and resided in Lower Turkeyfoot Township in 1880 when the federal census was taken, next door to 64-year-old John Glotfelty and his 57-year-old wife Elizabeth.
Sadly Edwinna died at the age of 54 on March 31, 1905 in Lower Turkeyfoot. Her remains were placed into eternal repose in the Ursina Cemetery.
Within five years of Edwina's death, two of their daughters went to Iowa and were married in Des Moines.
In 1910, Edwinna and Samuel and their adult children were named in a genealogical book by Noah Miller Glatfelter, Record of Casper Glattfelder of Glattfelden, Canton Zurich, Switzerland, immigrant, 1743, and of his descendants, in part, comprising 861 families.
Circa 1924, the children made their home in South Dakota, but little more about that is known. That year, they were to have received an inheritance from their deceased grandmother Delilah (Faidley) Younkin, but the estate administrator was unable to secure their post office address, showing how far removed from the family they had become.
Samuel lived for another 22 years after Edwinna's passing. His whereabouts during that time are not known. He joined her in eternity on Nov. 4, 1927.
~ Daughter Elizabeth "Lizzie" (Glotfelty) Hughes ~
Daughter Elizabeth "Lizzie" Glotfelty (1877-1900) was born in about 1877.
She married Richard J. Hughes ( ? - ? ), also spelled in a family history as "Hues."
They produced one known daughter, Catherine E. Johnson.
While one sources states that Elizabeth died in 1900 at the age of 23, another suggests that in 1910 she was alive and living in Cuba.
Evidence suggests that circa 1935-1936, her offspring made their home in Hartford, CT.
Daughter Catherine Hughes wed Giles M. Johnson.
~ Daughter Mary (Glotfelty) King ~
The Kings' graves, Ursina Cemetery, reunited in death after 37 years
Daughter Mary Glotfelty (1879-1902) was born in about 1879.
She married William J. King (1876-1939), son of Manias and Joann (Hyatt) King.
Their two offspring were Norma Barnett and Chalmers M. King.
Sadly, Mary died at the age of 23 on May 13, 1902. The cause of her untimely passing is not known. Burial was in Ursina Cemetery. Her grave marker was still highly legible when photographed in July 2016, but had toppled off of its base.
After two years of widowerhood, William remarried in about 1904 to Isabella G. (Fowler) Williams (1873-1933), an immigrant from Scotland and the daughter of John and Catherine (McEwen) Fowler. She had been married before and brought two children to the union -- Margaret G. Williams and John F. Williams.
The couple went on to have several more children of their own -- Wallace King and William J. King Jr.
The family relocated to Braddock near Pittsburgh, where he obtained employment as a steel worker. Sadly suffering from chronic heart disease and bronchitis at the age of 60, Isabella died just five days before Christmas in 1933. Burial was in Monongahela Cemetery in Braddock Hills. W
illiam spent his final years at his home Lincoln Place in the Pittsburgh area in the late 1930s. He retired or stopped working on April 1, 1939 at the age of 63. While in Somerset on the fateful day of June 30, 1939, possibly visiting at the home of married daughter Norma Barnett, William suffered a heart attack and died. His remains were interred beside his first wife and mother in law in the Ursina Cemetery.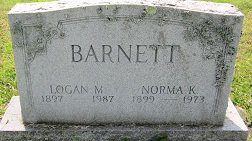 Grave of the Barnetts, Christ Casebeer Cemetery
Daughter Norma King (1899-1973) was born on Nov. 7, 1899 in Ursina. She was wedded to Logan M. "Pete" Barnett (1897-1987), son of William Henry and Clara Elizabeth (Miller) Barnett of Lincoln Township, Somerset County. Their two children were Mary Jane Aiona and Logan M. Barnett Jr. In 1939, they lived at 313 South Edgewood in Somerset. That year, Norma signed the death certificate of her father. Norma was a school teacher and active in the local community as a member of the Wymodausis Rebecca Lodge of Somerset. In about 1948, the family relocated to central Pennsylvania in or around Harrisburg, Dauphin County. There, Norma was employed with the Pennsylvania State Teachers Retirement Board, and joined the St. Paul's Lutheran Church. Logan was a longtime service manager and mechanic for Chrysler automobile dealerships. He was a member of the Odd Fellows lodge and United Commercial Travelers. Upon retirement, the Barnetts moved to Florida, with a home in Naranja Lake. Norma died on Christmas Day 1973 in James Archer Smith Hospital in Homestead, FL. Her remains were brought back to Somerset County for burial in Christ Casebeer Evangelical Lutheran Church Cemetery, with Rev. Robert Clark officiating, and an obituary appearing in the Somerset Daily American. Logan survived his wife by 14 years, maintaining his home in Naranja Lake. He died in Homestead, FL at age 89 on Sept. 23, 1987. His body also was brought back home for interment beside his wife in Christ Casebeer Cemetery, with the funeral officiated by Pastor George W. Walton
~ Son John H. Glotfelty ~
Son John H. Glotfelty (1883- ? ) was born in Oct. 1883.
He had a son.
In 1910, at the age of 28, his name was recorded in the 1910 historical work prepared by Noah Miller Glatfelter and published in St. Louis, Record of Casper Glattfelder of Glattfelden, Canton Zurich, Switzerland, immigrant, 1743, and of his descendants, in part, comprising 861 families.
Research is underway to determine if he may have migrated to South Dakota and, in 1910, was an unmarried farmer living in Owanka, Pennington County.
~ Daughter Ella "Ellen" (Glotfelty) Dixon ~
Daughter Ella "Ellen" Glodfelty (1886- ? ) was born in Jan. 1886 in or near Ursina. As a young woman, she migrated west to Iowa and settled in Des Moines, Polk County.
At the age of 21, on July 17, 1906, she was united in holy wedlock in Des Moines with Herbert Dawson Dixon (1880- ? ). Herbert was the son of Benjamin N. and Anna E. (Irons) Dixon and was a native of Brooklyn, NY.
They produced three children -- Helen Galliger, Herbert James Dixon and Warren E. Dixon.
The Dixons moved east from Iowa to a rented home in Brooklyn, Kings County, NY in about 1907 or 1908. They are shown in Brooklyn in the 1910 federal census. Herbert's occupation that year was as a railroad clerk.
By 1920, Herbert had obtained new employment as a shipping clerk with a cotton mill, and the Dixons had relocated again to New Jersey, making a home on Somerset Place in Clifton, Passaic County. They remained on Somerset Place through the decade of the 1920s and 1930s, with Herbert earning a living in 1930 as a foreman of a building material company and in 1940 as a shipping clerk with an electric appliances firm.
Daughter Helen Dixon (1907- ? ) was born in Iowa, presumably Des Moines, in 1907. As a very young girl, she moved with her parents to Brooklyn, NY.
Son Herbert "James" Dixon (1908- ? ) was born in about 1908 in Brooklyn, NY. He also may have gone by the name "Charles," and if so, he lived at home in 1930 at the age of 23 and worked as an airplane mechanic.
Son Warren E. Dixon (1924- ? ) was born in about 1924 in Clifton, Passaic County, NJ.
~ Daughter Julia Anna (Glodfelty) Ryan ~
Daughter Julia Anna Glodfelty (1888-1957) -- also spelled "Juliann" -- was born on Aug. 7, 1888 in Ursina.
On Feb. 1, 1911, in Des Moines, Polk County, IA, she married John Patrick Ryan (1879-1939), a native of Greenwood, NE, and the son of Irish immigrants James and Margaret (Burke) Ryan.
Only one child is known -- Julia Ann Ryan.
During World War I, John served as a first lieutenant in the U.S. Army. Julia made her home in El Paso, TX in 1920, where at age 31 -- marked as married -- she headed a household on Mountain Avenue with her two-year-old daughter.
By 1930, the family had moved to a new home on Jackson Avenue in El Paso, with John employed as as a traffic officer with the city police department.
Sadness swept through the family when John died on Sept. 24, 1939. His remains were placed into rest in Fort Bliss National Cemetery in El Paso.
Julia survived her husband by nearly two decades. She succumbed on Feb. 19, 1957, and rests with him at Fort Bliss. [Find-a-Grave]
Daughter Julia Ann Ryan (1917- ? ) was born in about 1917 in Texas.
~ Daughter Lola (Glotfelty) Taylor ~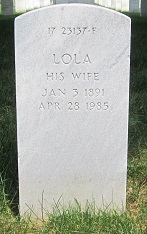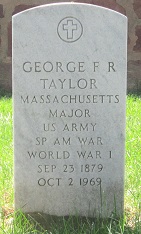 Taylor graves at Arlington
Daughter Lola Glotfelty (1891-1985) was born on Jan. 3, 1891 in Ursina, Somerset County.
She married George Frederick Robert Taylor (1879-1969), a native of England. The nuptials were held in Hamilton County, TN on July 20, 1910. Bride and groom were a dozen years apart in age.
The couple produced two children, George Robert Taylor and Alice Elizabeth Taylor.
George was a career officer in the U.S. Army, and the family moved frequently. He was a veteran of both the Spanish American War of World War I. Evidence suggest that he served in Cuba circa 1909-1910.
Circa 1912, when daughter Alice was born, they were stationed in the Philippine Islands, and then in 1920, when son George was born, they resided in Georgia. His focus over the years was with the quartermaster corps.
Their home in 1935 was in Atlanta, DeKalb County, GA, In 1940, this family lived on West Minnesota Avenue in Deland, Volusia County, FL, with George employed as an Army officer. George retired later in 1940 with the rank of Major, and they transferred to McComb, MS.
George died on Oct. 2, 1969. He was buried with military honors at Arlington National Cemetery.
Nearly 16 years later, Lola joined him in death on April 28, 1985 and rests beside her husband (Section 17, Site 23137-F).
Daughter Alice Elizabeth Taylor (1912- ? ) was born in 1912 in the Philippine Islands.
Son George Robert Taylor (1920- ? ) was born in about 1920 in Georgia.
Copyright © 2016-2018, 2020 Mark A. Miner
Research for this page graciously shared by the late Olive (Rowan) Duff, the late Donna (Younkin) Logan and Linda Marker.