Mary Ann (Younkin) Kane McCarthy Corbett
(1871-1942)
Mary Ann (Younkin) Kane McCarthy Corbett was born on Dec. 7, 1871 in Kingwood, Somerset County, the daughter of Frederick J. and Delilah (Faidley) Younkin.
She was twice married, with her second husband going by two different surnames.
Her first husband was Simon Fred Kane (1868-1939), a native of Mount Pleasant, Westmoreland County, PA. They were wed on Feb. 26, 1891, at the home of Mary Ann's mother, when Mary Ann was 18 years of age and Simon 21. Rev. J.C. Cunningham, of the local Church of God, officiated. Mary Ann's sister Hila King and friend Rebecca Leer are known to have attended the ceremony.
Simon was employed as a railroad conductor and the couple relocated to Everson, Fayette County.
They produced one son, George Washington Kane, born in 1892.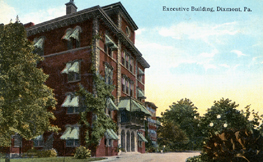 Dixmont Hospital for the Insane
Unfortunately, the marriage was troubled over the span of just a few years. Simon left the household in Everson on Feb. 10, 1894, when his son was only 16 months old. Friends noted that he was tired. His behavior purportedly was "so cruel, so malicious, so wilful, so unnecessary a desertion." He began keeping intimate company with other women. Within a few years, his mental health deteriorating, and in the words of an observer having "sinned away his day of grace," Simon was admitted to the Hospital for the Insane at Dixmont, near Pittsburgh.
Mary Ann later wrote that the separation left her "utterly destitute, without a dollar in the word. I knew nobody there except Mrs. Gove, a Somerset Co. lady, because we had just moved in there, and I went to her house and staid until I could get home."
The couple's divorce decree was handed down in Somerset on Aug. 24, 1898 (No. 262, May Term 1898). A.J. Faidley assisted her in obtaining the legal judgment. Simon lived for many decades in Everson after the divorce and died on March 11, 1939 in Wernersville State Hospital, with burial in Mount Pleasant.
When the census was taken in 1900, Mary Ann and her son made their home with her widowed mother and brother George Washington Younkin on the family farm in Hexebarger.
Later that year, on Aug. 30, 1900, the 29-year-old Mary Ann wedded her second spouse, 34-year-old Jeremiah Jeremiah "Jerry" McCarthy (Feb. 4, 1862-1930), an immigrant from County Cork, Ireland. The nuptials were held in Cumberland, Allegany County, MD, with Rev. J.M. Yingling officiating. At the time of marriage, Jeremiah lived in Kingwood. He stood 5 feet, 6¾ inches tall, with a fair complexion, brown hair and blue eyes.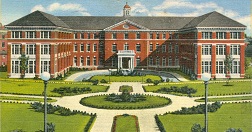 Walter Reed Army Hospital, where Jeremiah died
Jeremiah had come to the United States at age 16 and earned a living as a boiler maker. At some point he joined the U.S. Army, under the alias of "John J. McCarthy," allegedly taking part in the Indian Wars. He enlisted in the 6th Regiment, U.S. Cavalry, Troop L on March 10, 1887 and that hear contracted typhoid fever. He re-enlisted on these dates -- March 29, 1892 - March 29, 1897 - March 29, 1900 - March 29, 1903 - March 29, 1906 - and March 20, 1909. At his first re-enlistment, in 1892, he was re-assigned to the 2nd U.S. Cavalry, Troop A, and remained with that unit for the balance of his military career. Circa 1897, he was stationed at Fort Riley, KS and in 1909 was based at Fort Des Moines, Iowa. On July 3, 1911, while at Fort McDowell, CA, he retired with the rank of commissary sergeant and received an honorable discharge.
In 1910, with Jeremiah away on deployment Mary Ann lived under her mother's roof. According to family lore, Jeremiah lent $300 to Mary Ann's mother, to pay certain debts, and the loan was never repaid. Jeremiah also went under the names "George" McCarthy, and his mother in law referred to him as "John" McCarthy in her will, showing that he inter-mingled his identities.
Mary Ann and Jeremiah migrated south to Atlanta, Fulton County, GA, in about 1914. She is shown there in 1920 when the census enumeration was made, with Jeremiah employed as a commissary clerk with the government. Married son George, his wife Annie and their four children resided in the Corbett home, which they owned and was along Van Buren Avenue.
Toward the end of his life, Jeremiah was burdened with cystitis, chronic kidney problems, leukemia of the lymph nodes and prostate enlargement. In August 1930, he was admitted on an emergency basis to Walter Reed General Hospital in the District of Columbia, where he succumbed at the age of 58 on Nov. 25, 1930. His remains were shipped to Atlanta for burial in Greenwood Cemetery.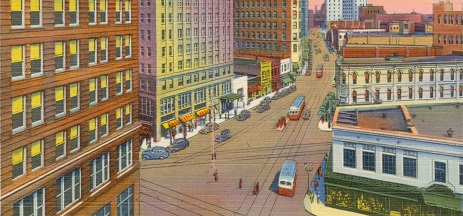 Bird's eye view of Five Points in Atlanta
Applying under her late husband's alias of John J. McCarthy, Mary Ann received a federal government pension for his military service in 2nd U.S. Cavalry, Company A and 6th U.S. Cavalry, Companies G and L. [Widow App. #1.683.388 - Cert. #A-6-1-31 - XC 2.637.445]. In order to confirm her lawful marriage to the soldier, Mary Ann enlisted the help of friends Elizabeth G. Hughes of Hartford, CT, Lola Taylor of Brooklyn, NY and Mary Heffron of Fulton County, GA, and Jeremiah's sister Julia McCarthy, who signed affidavits on her behalf.
Her address in 1931-1942 was 1200 Van Buren Street SW in Atlanta, and circa 1933 her annual income was about $250. In honor of her husband's memory, she was affiliated with the Lee-Roosevelt Camp No. 6 of the United Spanish War Veterans.
Mary Ann died on Jan. 23, 1942, at the age of 70. She rests in the Greenwood Cemetery in Atlanta. Her son George was the sole heir of her estate and served as its executor. He resided in her former residence in 1942.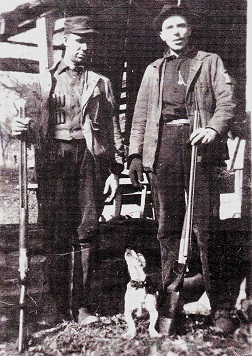 George W. Kane Sr. with William Wakefield
Kreger (left), 1905.

Courtesy Linda Marker.
~ Son George Washington Kane ~
Son George Washington Kane (1892- ? ) was born in October 1892 in Upper Turkeyfoot Township, Somerset County, PA.
He was united in the bonds of holy matrimony with Annie Mildred Kreger (1893-1978), daughter of William Henry and Mary Malinda (Schrock) Kreger of Kingwood.
In an interesting twist, Annie's brother William Wakefield Kreger married George's cousin Pearl Clevenger.
The four known children born to this union were George Washington Kane Jr., Catherine Kane, Mary Kane and Louise Kane.
George and Annie made their home in Atlanta in 1920, with George working as a house painter.
Circa 1923, at the death of his grandmother Delilah (Faidley) Younkin, he received a special bequest from the estate in the amount of $300.
When the federal census enumeration again was made in 1930, the pair lived under the roof of George's mother and stepfather on Atlanta's Van Buren Street. The census-taker recorded their last names as "Corbett" at that time. George's employment was marked as "yard-master" for a "Rail-road."
The 1940 United States Census shows the Kanes remaining on Van Burean Street West in Atlanta, with George's 68-year-old widowed mother in the household. His occupation continued as before, as assistant yardmaster for a steam railroad company.
Annie passed into eternity in 1978.
Their descendant, Linda (Robinson) Squires, has done research on this branch of the Younkin family.
Son George Washington Kane Jr. (1912-2005) was born in about 1912 in Atlanta. He married Everett Elmer Good. He was a veteran of World War II, having survived the Bataan Death March in 1942 in the Philippine Islands. He was held as a prisoner of war for about a year, and endured jungle rot of the feet which left scars. He once expalined that on the death march, if someone fell or languished, he would be shot, and if one tried to help, he too would be killed. George died in 2005 with burial in St. Simons Island, GA.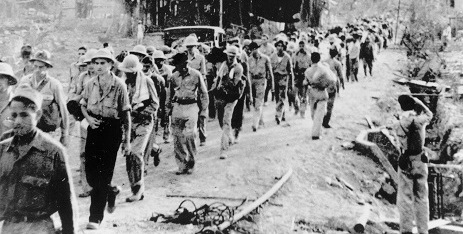 American POWs on the Bataan Death March, a Japanese war crime event which George W. Kane Jr. survived.
Daughter Catherine Delilah Kane (1915- ? ) was born in about 1915 in Atlanta.
Daughter Mary Malinda Kane (1916-1984) was born in about 1917 in Atlanta. In 1940, living at home with her parents in Atlanta, she was employed as a stenographer for a tire engineering plant. She wedded (?) Robinson.
Daughter Anna Louise Kane (1918-2008) was born in about 1918 in Atlanta. When she was 21 years of age, in 1940, she and her sister Mary held jobs as stenographers at a local tire engineering plant.
Copyright © 2016-2018, 2020-2022 Mark A. Miner
Research for this page graciously shared by Linda Marker and the late Olive (Rowan) Duff and the late Donna (Younkin) Logan.