Home

'Burgh Nation
The Pittsburgh Region's Enduring Legacy of Creativity and Innovation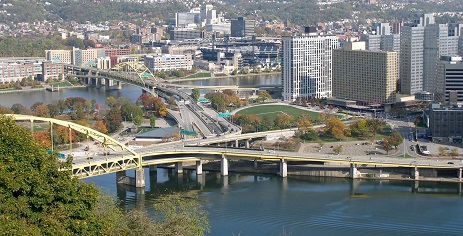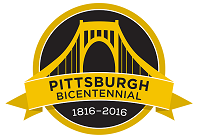 For more than 250 years, since its founding as a frontier military outpost, Pittsburgh and Southwestern Pennsylvania have been an epicenter for world-changing creation and innovation.
Through this page, Minerd.com seeks to celebrate the unique contributions Pittsburghers have made to mainstream Americana in ways that have led to lasting impact on the arts, culture and business.
This page is not primarily devoted to celebrity popularity or extraordinary talent alone. Rather, it marks those initiatives which led to a standing permanent, institutional presence or social/cultural treasures and movement.
It has been inspired by and adapted from a prototype study popularly known as "How Pittsburgh Changed the World," produced by Pittsburgh's award-winning historical museum, the Senator John Heinz History Center, an affiliate of the Smithsonian Institution. The History Center was the site of our national family reunion in 2008, "Pittsburgh 250."
Andrew Mellon, Mellon Bank and the National Gallery of Art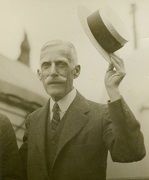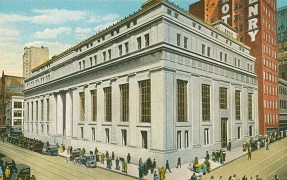 After amassing a fortune in the family-owned T. Mellon Sons (Mellon Bank, above) in Pittsburgh, and investing in world-class masterpiece art, Andrew W. Mellon served as Secretary of the Treasury under Presidents Harding, Coolidge and Hoover and as U.S. Ambassador to the Court of St. James. In 1937, with his financial support and donation of hundreds of priceless original artworks, the nation broke ground for the National Gallery of Art (below) in Washington, D.C. His son Paul Mellon, a philanthropist, served as trustee of the gallery from 1937 to 1999. The bank is now part of Bank of New York Mellon.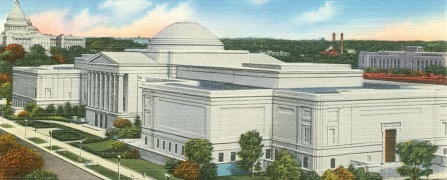 H.C. Frick, Frick Coke and The Frick Collection, New York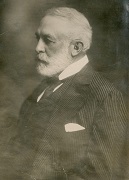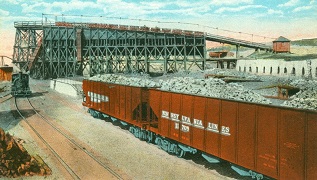 Henry Clay "H.C." Frick, born in West Overton near Pittsburgh in 1849, began buying and building low-cost coke ovens in southwestern Pennsylvania and was a millionaire before the age of 30. He later became business partner with Andrew Carnegie and their coke and steel empire became United States Steel. (His Lemont Furnace mine, above.) Frick also was an avid collector of original masterpiece paintings, and one banker visited his operation and noted that he "may be a little too enthusiastic about pictures, but not enough to hurt." He later amassed one of the greatest collections in the country, culled from European sources, which today are on display in his former homes Clayton in Pittsburgh and the Frick Collection in New York (below).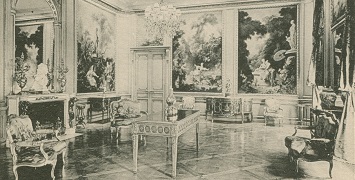 St. Louis Arch, Iconic Symbol of the Gateway to the West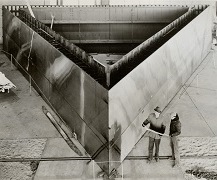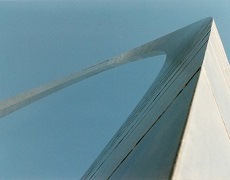 Left, a test assembly of the first of 142 stainless steel sections forming the 630-ft. high St. Louis Arch under fabrication by the Pittsburgh-Des Moines Steel Company. The triangular shaped section, 54 feet long on each side, serves as the base of one of the arch's legs. Each section was shipped from Pittsburgh to St. Louis on special railcars. Photo courtesy of Pittsburgh-Des Moines Steel. Right: the soaring landmark defines the image of St. Louis today as the gateway to the west.
John Roebling, Wire Rope and the Brooklyn Bridge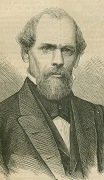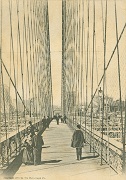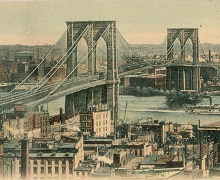 Prussian immigrant John A. Roebling, a civil engineer who settled in Saxonburg near Pittsburgh, solved the problem of how to support great weights through his invention of wire rope which led to the development of suspension bridges. He used his experience with bridges in Pittsburgh, New Jersey and Cincinnati to help design the Brooklyn Bridge in New York, which opened in 1883.

Portrait from Harper's Weekly, Aug. 7, 1869.
Edgar Kaufmann, Frank Lloyd Wright and Fallingwater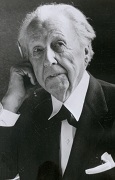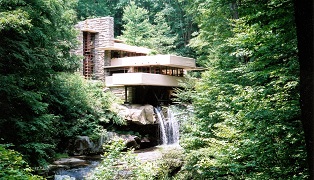 Widely acknowledged as the nation's most famous modern house, and designed in the 1930s over a waterfall by Frank Lloyd Wright (left) for the Edgar J. Kaufmann Sr. family, Fallingwater® is a property of the Western Pennsylvania Conservancy. It's a 90-minute drive from Pittsburgh in Fayette County.

Wright image courtesy PBS.
KDKA - Pioneering Radio Station
The first commercial radio station in the country, KDKA-AM, began broadcasting the Harding-Cox presidential election returns on Nov. 2, 1920. Pictured here is the entire personnel and equipment from that historic evening, showing the station engineer, announcer and two assistants collection news reports. Left to right: R.S. McClelland, licensed operator William Thomas, announcer L.H. Rosenberg and John Frazier. Today KDKA is the Pittsburgh affiliate of CBS Radio.

Courtesy Westinghouse.
Andrew Carnegie, Carnegie Steel and the Carnegie Libraries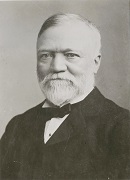 Above: Scottish immigrant Andrew Carnegie, who came to Pittsburgh in 1848 as a lad of 12. He went on to found a steel empire that helped gird the nation's rapidly expanding infrastructure. As a philanthropist, he funded 2,509 Carnegie libraries across the nation and overseas, including one in Dunkirk, NY (right). Below left: Carnegie Steel's Duquesne Furnaces. In 1901, he sold Carnegie Steel to a group headed by J.P. Morgan and Elbert H. Gary, thus forming "United States Steel," the world's first "billion dollar corporation," comprising American Steel & Wire, National Tube, American Tin Plate, American Steel Hoop and American Sheet Steel. Below right: molten steel at the Gary Works in Indiana. Today U.S. Steel is the largest integrated steel producer headquartered in the United States.
Molten steel image courtesy U.S. Steel.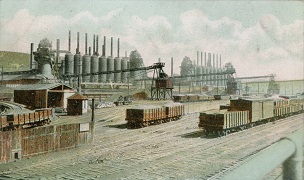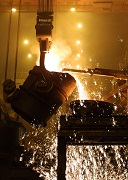 Birth of Czechoslovakia -- the 1918 "Pittsburgh Agreement"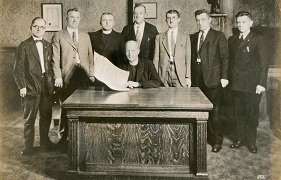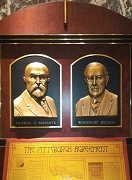 Left: the nation of Czechoslovakia was formed in Pittsburgh in 1918 with the "Pittsburgh Agreement" signed by Dr. Thomas G. Masaryk, first president of the new republic, and American leaders. In this image, Pittsburgh district Czecho-Slovak leaders in 1926 stand behind Msgr. Andrew Hlinka, who holds a copy of the pact. Right: plaque today in Pittsburgh's CNG Tower featuring the bas relief portraits of Masaryk and President Woodrow Wilson.
George Westinghouse and the Railroad Air Brake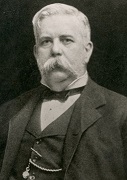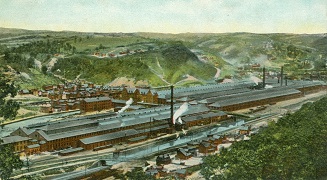 Entrepreneur George Westinghouse patended nearly 400 inventions and founded some 60 companies in his lifetime. Among his innovations was the railroad air brake -- using compressed air with much greater effect -- and an electrical system utilizing alternating current, leading to creation of the continuous- filament tungsten light bulb. The air brake revolutionized rail transportation by making longer, heavier and faster train travel possible while enhancing safety. Among his companies were Westinghouse Electric, Westinghouse Air Brake (today's

WABTEC

) and Union Switch & Signal (today's Ansaldo STS). Right: the sprawling air brake plant in East Pittsburgh.
Birthplace of Professional Football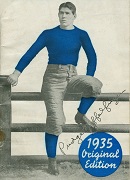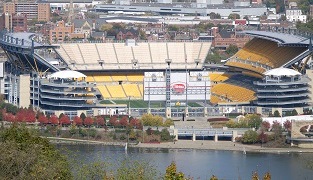 On Nov. 12, 1892, the Allegheny Athletic Association football team in Pittsburgh paid one of its players -- Yale graduate William "Pudge" Heffelfinger, seen here -- the sum of $500 to compete in a game against the Pittsburgh Athletic Club. Not only did the AAA team win the contest, but the act marked the Steel City as the birthplace of professional football. Today the six-time Super Bowl champion Pittsburgh Steelers are one of the most successful and respected franchises of the National Football League with a worldwide following.
H.J. Heinz Company and His "57 Varieties"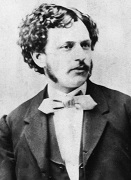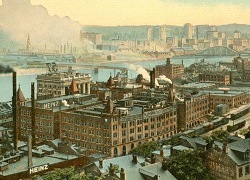 Pittsburgh's Henry J. Heinz. founded the forerunner to H.J. Heinz Company in 1869 and turned its ketchup and other condiments into worldwide brands, touting the slogan "57 Varieties." Having founded the company in Sharpsburg, PA, he maintained a manufacturing plant on Pittsburgh's North Side for decades. The company was purchased by Warren Buffett's Berkshire Hathaway in 2013.
Portrait and bottle images courtesy of H.J. Heinz Company.
Forbes Field: the Pirates' Steel and Concrete Home
Built in 1909 by owner Barney Dreyfuss as the new home of the Pittsburgh Pirates of the National Baseball League, Forbes Field was the nation's first three-tiered steel and concrete ballpark, setting a precedent for other team owners over the next few years, among them Boston's Fenway Park and Chicago's Wrigley Field.
WQED Public TV & Mister Rogers Neighborhood
Going on the air for the first time on April 1, 1954, Pittsburgh's WQED-TV was the first community supported television station in the United States. In 1955 it was the first to telecast classes to elementary schools. From 1968-1976 and 1979-2001, WQED produced the widely acclaimed half-hour Mister Rogers Neighborhood series for children hosted by Fred Rogers and featuring such puppet characters as King Friday XIII, Lady Elaine Fairchilde, X the Owl and Daniel Striped Tiger. Mister Rogers set a national standard for quality children's TV programming.
Andy Warhol and the Pop Art Movement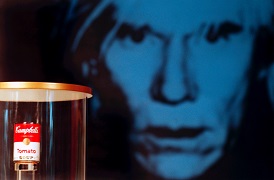 Born in Pittsburgh in 1928, Andy Warhol studied at what is now Carnegie Mellon University before moving to New York to begin his career as a commercial illustrator and later in the visual arts, widely known as the "pop art movement." His multi-color paintings of Marilyn Monroe and Campbell's Soup cans are considered icons of the genre, and today Pittsburgh's Andy Warhol Museum is a world-renowned repository of his work and legacy.

Courtesy Pittsburgh Regional Alliance.
Jonas Salk and the Cure for Polio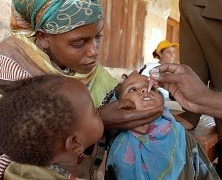 Left: Dr. Jonas Salk, researcher at the University of Pittsburgh, was instrumental in developing a preventive vaccine for the crippling polio disease.

National Foundation-March of Dimes.

Right: aided by the vast resources of the Bill and Melinda Gates Foundation and the Rotary International Foundation, children have been inoculated around the world, and today only pockets of polio cases are reported each year in a handful of Third World nations.

Rotary International.
The Ferris Wheel and Big Mac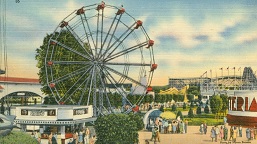 For the 1893 Chicago World's Columbian Exposition, and with the goal of outdoing France's Eiffel Tower as a technical challenge, Pittsburgh engineer George W.G. Ferris Jr. invented an amusement park ride that today bears his name -- the "Ferris Wheel." The owner of Pittsburgh's Ferris & Co., he tragically died in Pittsburgh at the age of 37 on Nov. 22, 1896.
In 1967, enterprising McDonald's franchise owner Jim Deligatti in Pittsburgh placed two beef patties together with fixings in one sandwich and created the Big Mac. It was so popular that the company rolled it out to a national audience the following year. Today it remains a staple of McDonald's menus. Courtesy McDonald's Newsroom.
Center for Organized Labor Unions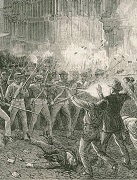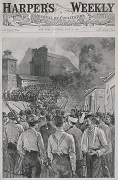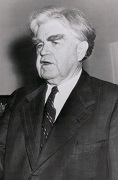 Pittsburgh was the scene of the founding of labor organizations which today widely represent American working men and women. Among these was the Federation of Organized Trades and Labor Unions of the United States and Canada, created on Nov. 15, 1881, later renamed the American Federation of Labor (AFL). In 1896, the International Association of Bridge, Structural, Ornamental and Reinforcing Iron Workers was formed. And on Nov. 14, 1935, in the heart of the Great Depression, based on an idea proposed by John L. Lewis (right), Pittsburgh also was the site of the founding of the Congress of Industrial Organizations (CIO). An exceptionally violent confrontation between management and labor took place in Pittsburgh -- the 1877 Railroad Strike, which caused millions of dollars in damages (left); and the 1892 Homestead Steel strike, in which 12 picketing steel laborers and company-hired Pinkerton Detectives were killed, and 23 wounded (center). Today the combined AFL-CIO represents 1.25 million workers among 56 unions.
Pittsburgh Plate Glass Company (PPG Industries)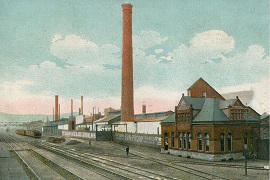 Pittsburgh Plate Glass Company, known today as PPG Industries, was founded in 1883 and became the first commercially successful plate glass maker in the country while adding paints to its product line. Among its founding team were Capt. John B. Ford and John Pitcairn, with offices on Fourth Street in Pittsburgh, and local plants in Charleroi (above), Creighton and Ford City. Among its innovations in the 1920s was development of 500 colors for the automotive industry; in the 1930s of heat-absorbing glass and tempered glass; in the 1940s of laminated aircraft glass and optical products; in the 1950s of lead-free house paints and fiberglass; and in the 1960s of rust-proof paints. Today PPG Industries has more than 42,000 employees and is a Fortune 500 producer of paints, coatings, optical products, specialty materials, glass and fiber glass. Below: the historic first glass casting on Feb. 20, 1883, at Creighton by PPG's forerunner New York City Plate Glass Company.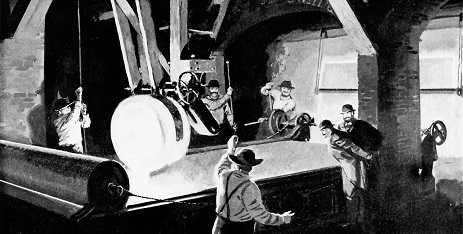 Gulf Oil and the First Drive-In Gasoline Service Station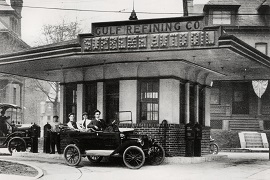 In 1913, Pittsburgh-headquartered Gulf Oil Corporation opened the world's first drive-in gasoline service station in the city's East Liberty neighborhood. It was to entirely change the concept of the marketing of gasoline, establish an enduring format and style for similar stations, and permanently change the name of such outlets to "service" from "filling." Gulf's office building, at right, served as headquarters for decades until the company was purchased by Chevron in 1984.
Shippingport: Nation's First Atomic Power Station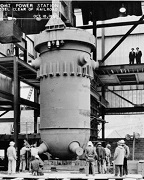 Constructed by Pittsburgh's Duquesne Light Company, the Shippingport Atomic Power Station was the first large-scale central station nuclear power generating facility in the world in peacetime. It is said to have "personified America's high hopes for peaceful nuclear power" and went on-line on Dec. 2, 1957. The plant was featured on the front page of the New York Times and in the Sept. 21, 1957 edition of Life Magazine.
Edwin Drake and Titusville - Launch of the Modern Oil Industry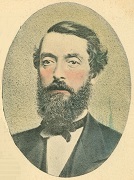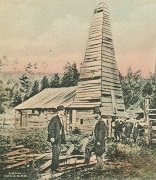 Circa 1859, Col. Edwin L. Drake, left, pioneered new techniques to systematically drill for and extract oil in the Oil Creek region of Titusville, Franklin and Oil City, 90 miles northeast of Pittsburgh. His successes helped launch a national oil frenzy which drew the interest of a young John D. Rockefeller who quickly leveraged the opportunity during the Civil War to build Standard Oil Company and become what author Ron Chernow calls "the undisputed king" of the world of commerce.
The Courier, the Nation's Most Influential Black Newspaper
| | |
| --- | --- |
| | Under the three-decade leadership of publisher Robert Vann, the weekly Pittsburgh Courier newspaper grew in influence to become what has been called "the country's largest and most politically important black newspaper." Located in the city's Hill District, the Courier was a forceful advocate for civil rights and economic empowerment. The paper's national sports coverage provided important coverage for the integration of minority players into professional athletics. |
Meadowcroft - Earliest Known Human Habitation

Meadowcroft -- Archaeology of a rock overhang near Avella, PA, demonstrating the earliest known human habitation dating back 16,000 years, an excavation led by James M. Adovasio, Ph.D.

Courtesy Senator John Heinz History Center, an associate of the Smithsonian Institution. Ph

oto by Ed Massery.
Gertrude Stein and Avant-Garde Paris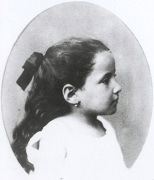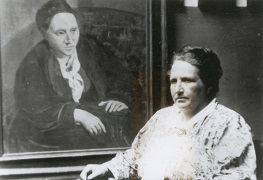 Born in Pittsburgh's North Side in 1874, Gertrude Stein went on to become a writer and art collector who surrounded herself with avant-garde artists and the "Lost Generation." In the salon she kept in Paris in the 1910s and '20s, and throughout her travels, she cultivated relationships with and promoted the talent of such luminaries as Bernard Berenson, Paul Cézanne, F. Scott Fitzgerald, Ernest Hemingway, James Joyce, Henri de Toulouse-Latrec, Henri Matisse, Pablo Picasso, Ezra Pound, Pierre-August Renoir and others.

Photos courtesy Beinecke Rare Book and Manuscript Library, Yale University, in association with the book Gertrude Stein: In Words and Pictures.
Rachel Carson and the Environmental Movement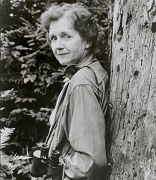 Rachel Carson helped birth the modern

American environmental management movement with publication of her

1962 book Silent Spring about the dangers of pesticides. Dust jacket courtesy Wikiped

ia.
Photo courtesy Rachel Carson Council and the Corporation for Public Broadcasting.
Barney Dreyfuss and Baseball's World Series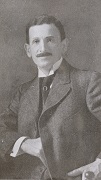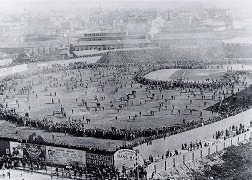 In 1909, after winning baseball's National League championship, the Pittsburgh Pirates faced off against the Boston Red Six in the first ever World Series, led by team owner Barney Dreyfuss (left) and future hall of famer Honus Wagner, inaugurating what has become the beloved "Fall Classic" of Major League Baseball.
Crowd image courtesy Wikipedia.
Artificial Ice Rinks and the Popularity of Hockey
Pittsburgh was the site of the first artificial ice surface in North America, dating to 1895 in the Schenley Park Casino, where public skating and organized hockey took place. The original rink was said to have had an elliptical shape, measuring 225 ft. by 70 ft. The Casino's successor rink in Pittsburgh, the Duquesne Gardens, is seen here. Artificial ice has underpinned the growth of hockey's popularity around the globe, as evidenced by such institutions as the National Hockey League and the Winter Olympics.
Inspiration for Iconic World War II Imagery
"We Can Do It!"

-- This iconic poster, created by graphic artist J. Howard Miller of Pittsburgh-based Westinghouse Electric Company, portrayed the strength of women working in factories and shipyards during World War II. Nicknamed "Rosie the Riveter," the image of this tough, hard-working woman in overalls and bandanna became a widespread symbol of patriotic womanhood. Produced by Westinghouse for the War Production Co-Ordinating Committee.

Courtesy National Archives, Still Picture Branch (NWDNS-179-WP-1563).
John Harris and the World's First Motion Picture Theatre
| | |
| --- | --- |
| Entrepreneur John P. Harris opened the world's first all-motion picture theatre in Pittsburgh in June 1905 at what today at 433-435 Smithfield Street. Seating 96 people, it was coined "Nickelodeon" ("nickel" for the 5 cent admission and "odeon" which is Greek for "theatre"). It marked the beginning of the motion picture theatre industry. | |
Dr. Thomas Starzl and Kidney Transplants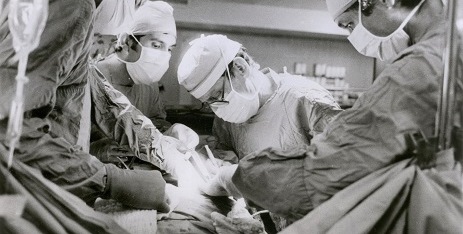 The University of Pittsburgh Medical Center, led by the late Dr. Thomas Starzl (shown here), is world renowned for its innovations in solid organ transplant procedures and was among the first to utilize breakthrough medicines to prevent rejection of new organs by patients' immune systems. UPMC also has helped create anti-rejection therapies that have proven to be more effective with fewer side effects.
Among its world's firsts are transplants of several organs at a time and simultaneous intestine, lung and pancreas transplants.
Courtesy PBS, "The Health Century."
Stephen Foster and 19th Century Popular Songwriting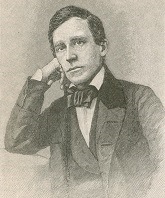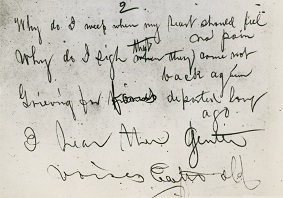 Born in Pittsburgh, Stephen Foster Collins is known as a "father of American music" and one of the best-known writers of popular songs in the mid-1800s. Among his classics are "My Old Kentucky Home," the official state song of Kentucky, and "Swanee River/Old Folks At Home." Others are "Beautiful Dreamer" - "Camptown Races" - "Jeanie with the Light Brown Hair" - and "Oh! Susanna!". His manuscripts were collected by Josiah Kirby Lilly Sr. Lilly's research made "great advances in American musical bibliographical technique, and [has] thrown much light on publishers' methods," said David A. Randall's book, Dukedome Large Enough.
Lilly donated the collection in 1937 to the University of Pittsburgh, today housed in the Foster Memorial Building. Much of his work has been adapted over the years in songs, film and television. Some contain racial overtones which have lessened his following today, and in 2018 a controversial statue depicting him with a Black banjo player was removed from Pittsburgh's Schenley Park. Left: Harper's New Monthly, Vol. LXII, No. 367, 1880. Right: University of Pittsburgh.
Martha Graham and Modern American Dance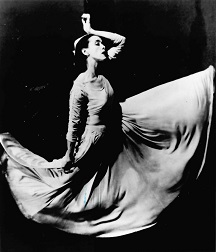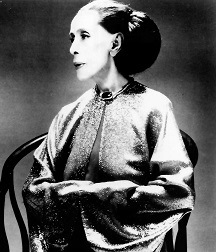 Martha Graham - Born on Pittsburgh's North Side in 1894, she is known as the "mother of modern dance" for forever changing the rules of what dance could be in form and technique. Also a choreographer and instructor, she developed ways of the art still utilized around the globe.
Courtesy Public Broadcasting System.
Aviation Firsts and Innovations
Above: When the Greater Pittsburgh International Airport opened in 1952, it featured the world's first airport movie theater, public observation decks to view the field and a restaurant. It replaced the Allegheny County Airport, which when opened in 1931 contained the country's only hard-surface airport and the first with a fully lighted airfield. Earlier still, in 1927, the West Mifflin airstrip known as Bettis Field was the departure site for the first U.S. air mail route. Below: Today's airport is known for its unique X-shaped midfield terminal that still makes it one of the world's most innovative in aviation..
Courtesy Allegheny County Airport Authority.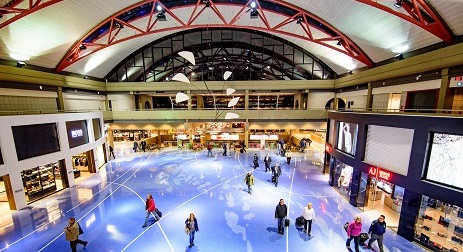 Among the Globe's Greatest Bridges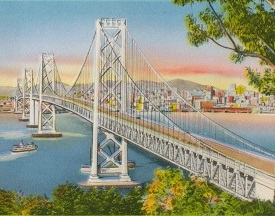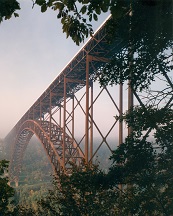 Fabricated in the Pittsburgh suburb of Ambridge, the American Bridge Company furnished steel for some of the globe's greatest and most innovative bridges, among them the San Francisco-Oakland Bay Bridge (left, one of the longest in the USA), West Virginia's New River Gorge Bridge (right, at the time, the world's longest single-span arch) and the Verrazano Narrows Bridge in New York (the longest suspension bridge in the world).

New River photo courtesy the late William J. Boyd Jr.
The Banana Split
The legendary banana split dessert was invented by apprentice pharmacist David Strickler in 1904 in the Tassell Pharmacy in Latrobe, 40 miles from Pittsburgh. He combined bananas cut lengthwise with ice cream and fruit and served his concoction in a boat-shaped glass dish. While two other American towns claim credit, Strickler's is the first and best-documented. Edward Allen Lim, Flickr


Alcoa, the Aluminum Company of America
The Aluminum Company of America Incorporated was founded on Oct. 1, 1888 as Pittsburgh Reduction Company using technology developed by co-founder Charles Martin Hall (seen here) to create aluminum through the process of electrolysis. Today, Alcoa is a global industry leader in bauxite, alumina and aluminum products used in the world's lightest airplanes, fuel efficient cars and sleekest mobile phones. The company employs more than 12,200 people with operations in nine countries. Below, Alcoa's manufacturing plant in New Kensington, PA.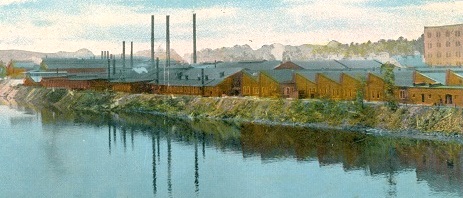 The Army Jeep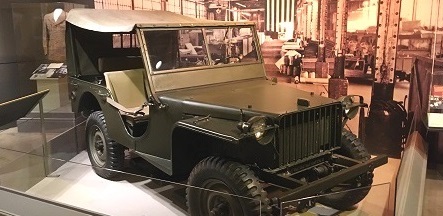 The very first Jeep prototype was manufactured by the American Bantam Car Company of Butler, PA in 1941 under a very tight 49-day turnaround. The Army wanted the vehicle to serve a "reconnaissance" purpose to replace the need for motorcycles. Courtesy Heinz History Center

Coming in the Future
Koppers Company, Inc. - Founded by German engineer Heinrich Koppers, the company developed new coke oven technology and in 1914 became established in Pittsburgh. In 1988, following its purchase by a British conglomerate, Koppers became focused on railroad and utility products, coal tar distillation and specialty chemical production.
Copyright © 2014-2023 Mark A. Miner. This page is strictly for use as a free educational resource for the public.