Today's 12-hour motor race at Sebring, FL is world-renowned for speed and endurance, mirroring the European version at LeMans, France. USA Today readers twice have voted Sebring the top motorsports event in North America.
The very first Sebring race, held 70 years ago on New Year's Eve 1950, was won by a Crosley Hot Shot model bearing number "19," owned by Vic Sharpe. Years later, the #19 car was saved from oblivion by racing enthusiast Barry Seel and skillfully restored by Timothy Wayne Freshley – former husband of Nila Diane Osborne of the family of Walter Herbert and Lucinda Katherine "Kate" (Martin) Skinner of Clarksburg, WV.
Considered by experts as "a stunning, as raced, restoration," Tim completed his work in his garage in Randolph, OH. He brought #19 back to Sebring for display in the Gallery of Legends. Today the vehicle is owned by collector Bill Cunningham and housed in his "Bill's Garage" in Lakeland, TN.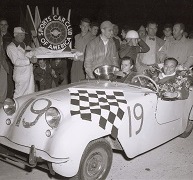 The original #19 Crosley Hot Shot in action and in the winner's circle

Courtesy Crosley Automobile Club, Palm Bay, FL
The first track was on an airport runway at Hendricks Field and is considered American endurance racing's birthplace. On that day, there were no grandstands, ticketing booths or public-address system for spectators, and only a small number of restrooms. Bales of hay marked the track outlines, and the pit rows were shaped by folding tables held together with planks of wood. The winning drivers of the first race – which lasted for six hours -- were Bobby "Ralph" Deshon and Frits Koster.
To outperform cars with larger, more powerful engines, Deshon and Koster ran that first race entirely in high gear without shifting. A history authored by Seel and Louis Rugani says that "It was Bobby's first time in an endurance race, and he had made a couple of mistakes that cost them some distance. He tried to shift the non-synchro transmission in the turns and lost a lot of speed. It was because of Frits's great driving ability that they were able to make up the lost distance. Frits kept the little car in high gear and just let it scream on the straightaways. Going into the corners they would just sit up and let the air resistance blowing against their body slow them down for the turn, once through the turn they would slide back down in the seat. Vic had figured that the little engine ran about 7500 rpm all the way..."
Today, the race is branded as "Mobil 1 Twelve Hours of Sebring." Past winners include legends such as Mario Andretti, Dan Gurney, Phil Hill, A.J. Foyt, Stirling Moss and Bobby Rahal, among many others. Celebrity actors who have raced there have been Steve McQueen (circa 1970) and James Brolin, Gene Hackman and Paul Newman. For more, visit: SebringRaceway.com – CrosleyAutoClub.com – and BillsGarage.com.
Copyright © 2021 Mark A. Miner