Home

THE DAY BEFORE HER 100TH BIRTHDAY in 1911, several hundred relatives and friends turned out at a dinner honoring Rachel (Gaumer) Bell at New Hope Evangelical Lutheran Church, a congregation her grandparents, parents, uncles and aunts had co-founded a century before in the wilds of Muskingum County, Ohio. "On account of the chilly atmosphere she remained at the bounteous repast, spread upon tables out of doors, only long enough for her pastor to invoke a blessing," said a 1913 history of the church. "In the afternoon a poem, dedicated to her, was read by the author, E.C. Jordan, Esq., a suitable address was made by the pastor, and remarks by others. Vocal and instrumental music composed a good part of the program, all of which was highly appreciated and enjoyed by Mrs. Bell." The following day, the actual birthday, her pastor Rev. J.J.S. Rumbarger served her with holy communion.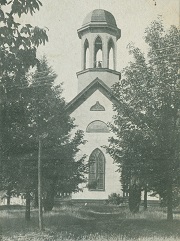 New Hope Church
The church history went on to say that:
Never before in the history of this section of the county, perhaps the state, did any one reach the remarkable age of one hundred and one years. She lived here almost from the time this neighborhood was settled. She was a descendant of one of the pioneer families of this vicinity, her parents having emigrated from Pennsylvania a few years before she was born. Although she was the first in a family of eleven children to come into this world, she is the last to depart. That she can remember an event that occurred over nine-eight years ago seems almost incredible.
She was born on Nov. 5, 1811 in Gilbert, Muskingum County, five years after her grandparents Johann "Jacob" and Maria "Catharina" (Sowash) Gaumer and parents Jacob and Elizabeth (Sturtz) Gaumer Jr. had migrated there. The Zanesville Signal once said that in their move, they came first to Zanesville, "thence cutting a road through the primeval forest to near the site of Gilbert." At the age of eight weeks, she was baptized by church pastor Rev. Anthony Weyer. Said the 1913 history book: "Having been baptized at the age of two months shows that, in those days of inconveniences and hardships, her parents were neither unmindful nor neglectful of their sacred duties." At the age of 17, she was confirmed in the church by Rev. Samuel Kaemmerer, in May 1829, and was a member for the remainder of her long life.
Rachel married William Bell and had eight children, with his death in 1876 ending their marital union of 45 years. She survived her husband by more than three and a half decades. She told others that efforts had been made to draw her away from her home church and "to undermine her faith, but she replied that these grounds were sacred to her and that her faith in the Lutheran Church was as firmly established as a house built upon a rock." At the age of 99, the Past and Present book said she was "yet a hale and hearty woman ... whose mind is clear and bright and she is remarkably well preserved for one of her years." More>>>

VisitPITTSBURGH is the promotional sponsor of this page. Be sure to get your copy of the Greater Pittsburgh Convention & Visitors Bureau's Official Visitor's Guide
Copyright © 2015 Mark A. Miner. Images originally published in History of the New Hope Evangelical Lutheran Church of Adamsville, Ohio, by Rev. J.J.S. Rumbarger, 1913.