Home

It's Aug. 12, 1978, and American tourists Gordon and Marjean (Miner) Jones -- of the family of Odger and Monalea (Ullom) Miner -- arrive in Rome for a long-awaited vacation. With anticipation, they look forward to the opportunity to visit the grand sites and, especially, see the famed ceiling of the Sistine Chapel painted by Michelangelo. Marjean, a fifth grade teacher at Margaret Ross Elementary School in the Hopewell School District in Aliquippa, PA, plans to use their travel photographs as an educational tool with her students.
But fate intervenes. Just six days before Gordon and Marjean arrive in Rome, Pope Paul VI dies of a heart attack. To the Joneses' dismay, just about everything in Rome shuts down -- museums, restaurants, even hotel bookings -- in homage to the late Holy Father. Even tours of the Sistine Chapel are canceled. The American travelers are able to keep their hotel reservation but are faced with few options on how to spend their time. Fortunately, they decide to pay their respects at St. Peter's Basilica at the Vatican. Illuminated only by faint light from candles and windows, Gordon takes this historic image of the Pope lying in state, wearing his crimson cassock and surrounded by Vatican Swiss guards clad in yellow and purple uniforms.
Within a short weeks, John Paul I (Albino Luciani) is elected Pope, but he is not long for this world. He too suffers a heart attack and dies on Sept. 28, 1978 after just 33 days in office, one of the shortest terms in all of papal history. The selection process begins again, and Cardinal Karol Józef Wojtyła is elected Pope -- the first non-Italian and first Pole in 455 years to achieve this distinction -- and chooses the name "John Paul II" to honor his ill-fated predecessor. For the next 26 years, John Paul II presides over the Roman Catholic Church and is widely credited with helping to end Communist domination in his native Poland, the Soviet Union and eventually all of Europe.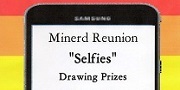 Mark your calendar -- Our next national reunion of the Minerd-Minard-Miner-Minor family -- devoted to "SELFIES" -- will be held the weekend of June 23-25 at Donegal, PA. Everyone will be engaged in creative selfie-taking and being part of our first-ever, historic national broadcast via Facebook Live. Your best selfie will be uploaded to a reunion selfie collage on award-winning Minerd.com for posterity. You'll have more than your 15 seconds of fame -- your legacy photo will live forever! Depending on the turnout, it may be our last reunion.


VisitPITTSBURGH is the promotional sponsor of this page. Be sure to get your copy of the Greater Pittsburgh Convention & Visitors Bureau's Official Visitor's Guide, a 25-page workbook to help event organizers stay on track, no matter what type of reunion or meeting they are planning to hold. The booklet features a page of ideas by the founder of this website, headlined "Take It from a Professional."
Full text>>>
Copyright © 2017 Mark A. Miner