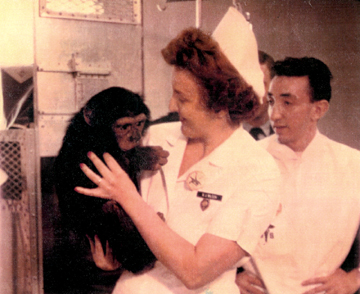 31 JANUARY 1961 -- Lt. Col. Betty Jo (Workman) Wilson Canter and an unidentified colleague prepare "Ham the Astrochimp" for a historic space mission -- the first hominid to be launched into outer space. Having been trained for the rigors of space flight, Ham completed his mission in a Project Mercury capsule, launched from Cape Canaveral, FL, and lasting just under 17 minutes. (Click for Wikipedia and official NASA reports about Ham.) The success and results from this mission led directly to Alan Shepard's Freedom 7 mission into space in May 1961, becoming the first man to orbit the Earth.
Betty Jo, the daughter of Howard and Phoebe (Thorpe) Workman, and granddaughter of Edwin and Clara Jane (Freed) Thorpe, is a native of Connellsville, Fayette County, PA. Her interest in our reunion and website has been critical for our understanding of the family branch of her great-grandparents, Christian S. and Esther (Barnhouse) Freed, who were active in the founding of the first Minerd Reunion in 1913.
Of her space mission experience, Betty Jo writes:
Being one of the first four nurses to be assigned to this top secret organization made this small group pioneers as we attempted to provide medical support for the first dangerous attempts of man to fly in space. Since no one knew what might happen to humans in this foreign element, chimpanzees were first to fly. My first duty was to observe the effects of post flight sub-orbital pressures at their debriefing at Grand Bahama Island Medical Units. thus when it was deemed safe for humans to fly in space my Grand Bahama and Grand Turk aerospace hospital team was the first to see and debrief the first Mercury astronauts Sheppard, Grissom, Glenn, etc. as soon as they were recovered from their sea landings. Fortunately none of the medical/surgical supplies was needed for either the astro-chimps or the astronauts as all returned to Earth safely.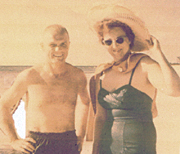 Seen at right, Betty Jo relaxes with astronaut John Glenn at Grand Turk Island on Feb. 20, 1962, just after his medical debriefing following the completion of his first space flight.
When Betty Jo retired, the Connellsville Daily Courier published a feature article about her, reporting that: "A World War II veteran, she was assigned in Italy from 1945 to 1947, and also has served in Saudi Arabia and Germany... [She was] one of the first Air Force nurses assigned to the National Aeronautics and Space Administration manned space flight program [and] has retired after 22 years of continuous active duty... She was honored at Lackland Air Force Base, Texas, upon her retirement. She had been nursing supervisor for operating room and anesthesiology services at the 1,100 bed Wilford Hall Hospital there, the Air Force's largest medical facility."

This is one in a series of photographic images published on Minerd.com in 2007-2008 to promote our 2008 "Pittsburgh 250" reunion and to acknowledge the family's collective, long-term contributions to Western Pennsylvania as the city celebrates its 250th birthday. Be sure to see the profile of our reunion and website on VisitPittsburgh.com.
Copyright © 2008 Mark A. Miner