Home

Only one known member of our extended family has played Major League Baseball -- Roger Wesley Miller -- of the Albert Ward and Ada (Whipkey) Minerd branch of Mill Run, Fayette County, PA. His career spanned two games for the Milwaukee Brewers in September 1974, pitching 2.1 innings, striking out two (including future hall of famer Carl Yastrzemski), hitting one batter and giving up three runs on three hits.
In his first big league game, at Boston's Fenway Park on Sept. 8, 1974, with Bernie Carbo on base, Roger surrendered a two-run home run to Dwight Evans. In his second and final game, he again faced the Red Sox, this time in Milwaukee County Stadium.
Most of Roger's career was spent in the minor leagues, with the Newark Co-Pilots of the New York Pennsylvania League (1972); Danville Warriors of the Midwest League (1973); and Sacramento Solons (1974-1975) and Spokane Indians (1977) of the Pacific Coast League. Baseball Digest once called him "stocky, a good pitching prospect in his third year of organized ball. In one game last June, he did something nobody else had done all season -- allowed no homers" in Sacramento's Hughes Stadium, where the left-field fence was only 232 feet away from home plate. An entry featuring Roger in the Brewers' 1975 media guide says he was an "All-Pacific Coast League performer in 1974 ... tied teammate Tom Hausman for league lead in most complete games with 11 for Sacramento ... 4.48 earned run average was low on Sacramento club ... struckout 101 batters in 185 innings pitched in '74 ... was 8-4 with 3.32 ERA at Danville in 1973..."
Following retirement from baseball, Roger returned to Mill Run and pursued a career as a welder. Tragically, he was killed in an industrial accident in Connellsville on April 26, 1993, leaving behind his wife and several children.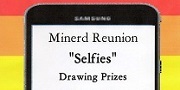 Mark your calendar -- Our next national reunion of the Minerd-Minard-Miner-Minor family -- devoted to "SELFIES" -- will be held the weekend of June 23-25 at Donegal, PA. Everyone will be engaged in creative selfie-taking and being part of our first-ever, historic national broadcast via Facebook Live. Your best selfie will be uploaded to a reunion selfie collage on award-winning Minerd.com for posterity. You'll have more than your 15 seconds of fame -- your legacy photo will live forever! Depending on the turnout, it may be our last reunion.


VisitPITTSBURGH is the promotional sponsor of this page. Be sure to get your copy of the Greater Pittsburgh Convention & Visitors Bureau's Official Visitor's Guide, a 25-page workbook to help event organizers stay on track, no matter what type of reunion or meeting they are planning to hold. The booklet features a page of ideas by the founder of this website, headlined "Take It from a Professional."
Full text>>>
Copyright © 2017 Mark A. Miner