A Mother's Lamentation
Over the Heroin Overdose of a Beloved Step-son
By Linda L. Marker
Somerset (PA) Daily American
April 7, 2016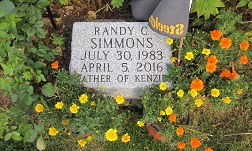 Mt. Union Cemetery, Somerset County, PA
Randy C. Simmons, 32, lost his battle with heroin April 5, 2016, at the home of his stepmother, Linda Marker, in Rockwood. Born in Pittsburgh July 30, 1983, son of Craig J. and the late Sharon (Wallace) Simmons. Survived by daughter Kenzie E. Simmons, father, and brother Robin. Memorial service will be held later.
Somerset (PA) Daily American
Letter to the Editor - April 14, 2016
Last week, on Friday, you saw a short obituary for Randy Simmons, who died of a heroin overdose. He grew up in nearby Westmoreland County. He was the son of professionals: the mother was an RN, and his father received two Purple Hearts from Vietnam, and was a social worker. Many of you may have been shocked to see the cause of death so overtly stated. There was a reason: We in Somerset County are so "insulated" from such "nasty" problems, except for those that are directly touched by the drug epidemic. I have been weary of well-intentioned friends who treat addiction as a "choice" and not as a disease. We need major education in this area, regarding the research, which shows actual physical changes to the brain once the drug is first used. My step-son had made many attempts to get clean and stay clean. His failure was not for lack of desire or lack of trying. And, look at the verbiage I've just used: It implies the user is "dirty." And, indeed, I would compare the disease of addiction to the leprosy of Biblical times. Some question why I would take this man-child back into my home (I met and bonded with him when he was a needy four-year-old), but he told me he was tired, cold, and hungry. He'd been homeless for about 2 ½ months. So, I take comfort in knowing that in his last days, he had a warm bed, a full tummy, and love. Let me just say, that this man was not a statistic, but somebody's son, brother, cousin, father, and friend. And, except for the grace of God, it could be yours. It's happening to "nice people" everywhere, but the "dirty secret" is kept just that, secret. Families suffer in silence. I did a very public "exposure" of the humanoid who picked this man up, from his safe location here, and enabled him with money and access to the poison, from which he died two hours after he was delivered home. People need to know. People need to act. But most of all, people need to be non-judgmental. What would Jesus do? I will close with the words of the wife of the manager of the mission in Latrobe: "I am beyond sick to hear about my friend Randy...he died of a drug overdose ...a heroin overdose...my god did he struggle. I just talked to him the day before he went to rehab...he got out and a so called friend gave him 10 stamp bags of heroin...w[hat] is wrong with people. He was crying out for help. He made horrible mistakes in his life but deep down was a good man. Randy I hope you are now at peace."
Linda Marker
Rockwood, PA
Copyright © 2016 Linda L. Marker. Reproduced with consent.
Linda Marker is a longtime volunteer, planning committee member and secretary of the Junghen-Younkin Reunion held each July in Somerset County, PA, and has unselfishly and generously contributed significant content to this website.