Home

The Civil War Battle of
White Sulphur Springs, WV
Also known as Dry Creek, Rocky Gap and Howard's
Creek, It Claimed 350 Casualties in August 1863
Three of our cousins are known to have fought -- with one killed and one taken prisoner -- at the Civil War Battle of White Sulphur Springs, WV. The battle took place on August 26, 1863, with 350 casualties on both sides. Andrew Minerd, blacksmith of the 14th Pennsylvania Infantry, survived unscathed.Burkett M. Fawcett of the 3rd West Virginia Infantry, was not so fortunate, and was killed in battle by an enemy gunshot. David L. Hall, of the family of Elizabeth (Rowan) Hall, was captured and later died as a prisoner of war.
This page contains rare, unique photograph and sketch images of the battlefield and the nearby world-famous resort, The Greenbrier. The sepia toned photographs originally were published in the 1916 volume, The White Sulphur Springs, authored by William Alexander MacCorkle, former Governor of West Virginia. The book was reprinted in 1924.
We are grateful to Dr. Robert Conte, the Greenbrier's official historian, for his personal tour in May 2006 and for opening the resort's substantial archives to us.

Looking over the battlefield toward the Greenbrier. In the far center is the intersection of two roads where the hardest fighting took place.

On the extreme left was the seat of Confederate batteries. The house next to the hill at the far end was the seat of federal batteries.

Looking toward the road by which the Confederates approached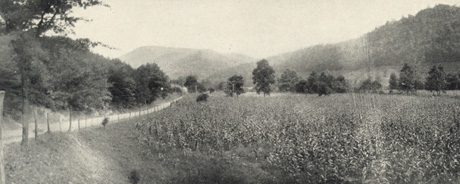 The gorge by which the Union forces approached the battlefield

Junction of Anthony's Creek Road and the James River and Kanawha Turnpike. The road in center was filled with dead and wounded, and likely is where Burkett was killed or lay dying.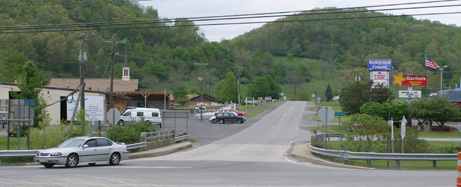 Site of the battle today, looking north from the intersection of
U.S. Route 60 and WV Route 92

Site of the battle today, looking south toward the intersection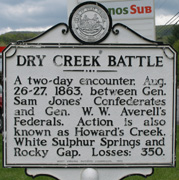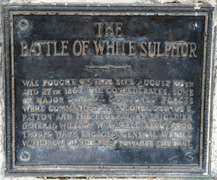 Monuments to Union and Confederate troops at the highway intersection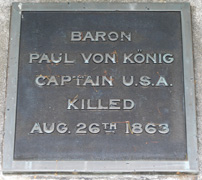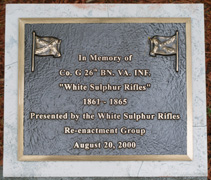 More monuments at the battlefield site

Dr. Conte near the cluster of monuments, two miles from The Greenbrier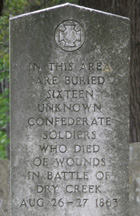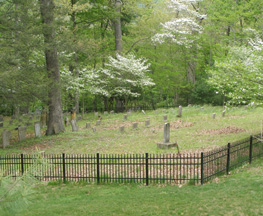 Grave of 16 unknown Confederate dead in the cemetery behind Cottage 9 on the grounds of The Greenbrier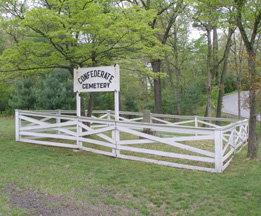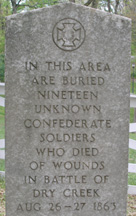 Grave of 19 unknown Confederate dead in the hillside "Confederate Cemetery" near Greenbrier stables -- a marker dedicated on the 100th anniversary of the battle in 1963

Headline from the Roanoke (VA) Times on the battle's centennial in 1963

The entrance to the magnificent Greenbrier resort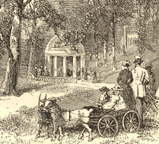 The domed covering to the mineral springs of yesteryear, and today
Copyright © 2006, 2017 Mark A. Miner
Sepia toned photographs originally published in The White Sulphur Springs, authored by William Alexander MacCorkle (1916). Sketch of the domed mineral springs originally published in August 1878 edition of Harper's New Monthly Magazine.