Heinrich 'Henry' Gaumer
(1780-1846)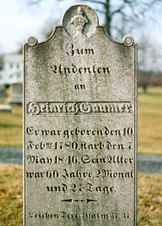 German-text inscription
on Henrich's grave
Heinrich "Henry" Gaumer was born on Feb. 10, 1780, the son of Johann Heinrich and Anna Margaretha (Meitzler) Gaumer.
He was joined in holy wedlock with Susanna Mory (1793-1878).

They lived in or near Alburtis, Lehigh County, PA and were the parents of Aaron Gaumer.

Henry passed away in May 1846 at the age of 66. [Find-a-Grave]

Susanna outlived him by more than three decades. When the 1860 federal census enumeration was made, she lived in the home of her son Aaron in Lower Macungie Township, Lehigh County.

The Grim Reaper swept her away at the age of 85 on Sept. 30, 1878.

Demonstrating that German language and customs were passed down several generations in this branch, Heinrich's grave marker is inscribed in German, using the old gothic script. The well-preserved gravestone is found at the cemetery of the Zion Lutheran Church in Alburtis, PA.

~ Son Aaron Gaumer ~

Son Aaron Gaumer (1821-1908) was born on Oct. 7, 1821. He appears to have spent his entire life farming in the Alburtis/Macungie area.

He was united in matrimony with Amanda Schmoyer (Oct. 1, 1829-1911), daughter of Daniel and Maria (Paule) Schmoyer.

The couple produced these known children -- Henry Wilkison Gaumer, Cecilia Gaumer, Catharine S. "Cassa" Schmoyer, Daniel Nathan Gaumer, Victor M. Gaumer, Lewis Oscar Gaumer, Ellen Jane Seifert, Jonas Gaumer and Minnie A. Meyer.

After the death of Aaron's father in the 1850s, the widowed mother came to live in their home, and was there circa 1860-1870.

Suffering from heart valve disease, gastritis and nephritis, Aaron died on Dec. 3, 1908, at the age of 87, in South Bethlehem, Northampton County. Interment was in the Lehigh Church Cemetery, with W.M. Weiesbach of South Bethlehem signing the death certificate.

Amanda outlived her spouse by three years and went to live with her youngest daughter Minnie Meyer at at 516 South Bishopthorpe Street in Bethlehem. She fell and fractured her hip and femur in late 1910, and lived for another five months, until the Grim Reaper swept her away on April 13, 1911.

Son Henry Wilkison Gaumer (1850- ? ) was born in about 1850.

Daughter Cecilia Gaumer (1851- ? ) was born in about 1851.

Daughter Catharine S. "Cassa" Gaumer (1854-1936) was born on Aug. 23, 1854. She married Alvin Schmoyer ( ? - ? ). When the couple was first married, circa 1880, they made a home with Cassa's parents in Lower Macungie. In later years, they dwelled at 742 North 17th Street in Allentown. She suffered a heart attack and died at the age of 82 on Dec. 12, 1936. Interment was in Lehigh Church Cemetery.

Son Daniel Nathan Gaumer (1857- ? ) was born in about 1857.

Son Victor M. Gaumer (1861- ? ) was born in about 1861.

Son Lewis Oscar Gaumer (1863-1943) was born on Dec. 29, 1863 in Alburtis. He learned the trade of blacksmithing, and in about 1893 relocated to Allentown, Lehigh County. He was married and widowed. His address in 1943 was 324½ North Jefferson Street in Allentown. He was felled by a cerebral hemorrhage and died a wekk later, at the age of 79, on Sept. 25, 1943. Burial was in Greenwood Cemetery, with Liston S. Gaumer providing details for the official Pennsylvania certificate of death.

Daughter Ellen Jane Gaumer (1865- ? ) was born on July 11, 1865 in Macungie. She was joined in marital union with (?) Seifert ( ? - ? ). Her final years were spent living at 643 North 11th Street in Allentown. As her health declined from heart disease and senile dementia, she was admitted to the Lehigh County Home in South Whitehall Township. She succumbed there at age 87 on Aug. 3, 1952. Her remains were placed into rest in Grandview Cemetery in Allentown.

Son Jonas Gaumer (1872-1945) was born on Aug. 24, 1872 in Macungie. He never married. In the 1940s, he dwelled in rural Wescoesville, Lehigh County. After breaking his left femur, he was admitted to Sacred Heart Hospital in Allentown and died there at the age of 74 on April 26, 1945.

Daughter Minnie Gaumer (1873-1949) was born on Feb. 19, 1873 in Berks County. She married (?) Meyer. For years, she made a home at 516 South Bishopthorpe Street in Bethlehem. She was stricken with colon cancer and endured the illness for 18 months before she passed away at home on Aug. 24, 1949 at the age of 76.
Copyright © 2000, 2009, 2017-2018 Mark A. Miner