James Harbaugh
(1871-1920)
James Harbaugh was born on Nov. 3, 1871, in or near Nicolay, on the mountainous border of Fayette and Somerset Counties, PA, the youngest son of Joseph and Jane (Williams) Harbaugh. He is one of a disturbingly high number of cousins to be killed in railroad accidents over the years.
At the age of 29, James married 21-year-old Sarah "Ellen" Sands (1879-1952), the daughter of John and Catherine (Linderman) Sands of Stewart Township. The ceremony was held on Nov. 29, 1900, at Maple Summit, officiated by Rev. James Topping. At the time, James' primary occupation was as a farmer.
The Harbaugh and Sands families were close. James' brother Marshall Harbaugh married Ellen's sister Mary Elizabeth Sands; and as well, James' cousin Alma Ream married Robert "Cricket" Sands.
James and Ellen had five children -- Evans Harbaugh, Russell R. Harbaugh, Wallace Harbaugh, Bertha Stull and Donald C. Harbaugh.
B&O Railroad station and tracks at Confluence
In about 1912, James obtained employment as a track laborer with the Baltimore and Ohio Railroad. Tragically, eight years later, he was killed on Jan. 16, 1920 when, said the Connellsville Courier, he stepped "on the eastbound track to let a freight train pass [and] was struck yesterday morning at Huston station, near Confluence, by train No. 6... he was thrown about 20 feet from the track and was dead when picked up by the train crew." He was 49 years of age. His mangled remains were prepared for burial by the E.A. Humbert funeral parlor and laid to rest in the Maple Summit Church graveyard.
Ellen outlived him by more than three decades. She passed away at the age of 73 on Feb. 27, 1952 at the home of her son Evans Harbaugh. She was buried beside her husband. The Daily Courier reported that she "lived all of her life in the Maple Summit community. She was a member of the former Christian Church near Maple Summit." At the time of her death, she was survived by 17 grandchildren and eight great-grandchildren.
The railroader's grave at Maple Summit Church

James and Ellen's family has an entry in the 1947 book, Harbaugh History (Evansville, IN), authored by Cora Bell and J.L. Cooprider. They also are mentioned in the 1970 book, A History of Mill Run.
~ Son Evans Harbaugh ~
Son Evans Harbaugh (1902-1971) was born in 1902.
He married Faye Hixenbaugh (1902-1984), the daughter of William Richard Hixenbaugh. They resided in Mill Run in the 1940s and at Maple Summit circa 1970.
They are believed to have had five sons --Willis E. Harbaugh, Kenneth Ronald "Ronnie" Harbaugh, William "Ray" Harbaugh, Warren Harbaugh and Alvin J. Harbaugh. Sadly, son Warren died in infancy.
Evans passed away in August 1971, at the age of 69.
Faye outlived him by 13 years, and died in February 1984.
Son Willis Eugene Harbaugh Sr. (1924-1994) was born on Sept. 4, 1924 in Maple Summit. In October 1943, in a ceremony held at Cumberland, MD, the 19-year-old Willis married 19-year-old Audrey "Jean" Ohler (1924-1993), daughter of Dillion and Dora (Steyer) Ohler of Maple Summit. They had seven children -- Marlene Metheney, Marjorie 'Margie" Younkin, Fay Jean Jenkins, Dara Haines, Benjamin Harbaugh, Willis Eugene Harbaugh Jr. and Robert J. Harbaugh. Willis Sr. served in the U.S. Armed Forces during World War II, and was a member of the Confluence Post of the Veterans of Foreign Wars. They attended the Maple Summit Church. Audrey passed away at the age of 68 at home on April 26, 1993. Interment was in the Jersey Baptist Church Cemetery with Rev. Rick Gamble and Rev. Steve Kontaxes officiating. Willis survived his wife by a little more than a year. He died at the age of 69, on June 4, 1994, in Pittsburgh's Allegheny General Hospital. Interment was in the Jersey Church Cemetery, with his obituary was published in the Meyersdale New Republic.
Grandson Willis Eugene Harbaugh Jr. (1949-2016) was born on March 4, 1949 in Confluence. He married Mary K. Miller ( ? - ? ). Their children were James Crosley, Earl Crosley, Tammy Rounds, Barbara Volk and Donna Birmingham. The Harbaughs resided in Fort Hill, Somerset County. Willis served in the U.S. Navy during the Vietnam War and made a career as a stone mason. He passed away at the age of 67 on July 5, 2016, while at Select Specialty Hospital in Johnstown, PA. An obituary was published in the Somerset Daily American. He was survived by six grandchildren and two great-grandchildren. His remains were placed into burial in the Jersey Baptist Church Cemetery near Ursina.
Granddaughter Marlene Harbaugh ( ? - ? ) married Roger D. Metheney Sr. ( ? - ? ), son of Alvin Metheney. They lived in Confluence and had three known sons -- Roger D. Metheney Jr., Richard Dale Metheney and Robert D. Metheney.
Granddaughter Marjorie "Margie" Harbaugh wed (?) Younkin. Their home in 2016 was in Confluence.
Granddaughter Dara Ruth Harbaugh (1962- ? ) was born in January 1962. She was united in wedlock with (?) Haines.
Grandson Benjamin "Ben" Harbaugh dwelled in Confluence.
Grandson Robert J. Harbaugh made his home in 2016 in Confluence.
Granddaughter Faye Jean Harbaugh was wedded to (?) Jenkins. She lived in Markleysburg, PA.
Granddaughter Dora Harbaugh married (?) Haines and resided in Farmington, Fayette County.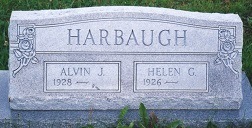 Maple Summit Cemetery
Son Alvin J. Harbaugh Sr. (1928-2005) was born in 1928. He married Helen G. Rugg (1926- ? ), daughter of Harvey and Viola Rugg of Confluence. (The Harbaughs and Ruggs were close, and Alvin's brother William Ray wed Helen's sister Phyllis.) They resided in Mill Run, Fayette County, and had two children -- Shirley Fabian and Alvin J. Harbaugh Jr. Said the Daily Courier, Alvin Sr. "retired from the Ohiopyle State Park in 1990 and was a member of the Ohiopyle-Stewart Volunteer Fire Department." He died on June 3, 2005, as he neared his 77th birthday, with burial in the Maple Summit Cemetery.
Granddaughter Shirley Harbaugh married John Fabian and dwelled in Normalville in 2005.
Grandson Alvin J. Harbaugh was wedded to Christine and lived in Berlin, Somerset County.
Son William "Ray" Harbaugh (1931-2016) was born on June 29, 1931 in Mill Run. During the Korean, War, he served with the U.S. Army. He married Phyllis A. Rugg (1933-2014), daughter of Harvey and Viola Rugg of Confluence. They made their home in Mill Run and had three children -- Sandy Siar, Sharon Groh and Stacy Harbaugh. Ray was employed for many years bb Sandusky Lumber Company as a carpenter. Phyllis died at age 81 on Feb. 12, 2014. Burial was in the Maple Summit Cemetery following a funeral led by Rev. Dr. Marvin Watson. Ray survived his wife by two years and two days and was admitted to South Connellsville Personal Care Home. He passed away on Valentine's Day 2016, at the age of 84, in Select Specialty Hospital in Latrobe, Westmoreland County.
Son Kenneth Ronald "Ronnie" Harbaugh ( ? - ? ) married June (?). They lived in Mill Run for many years.
~ Son Russell R. Harbaugh ~
Son Russell R. Harbaugh (1903- ? ) was born in 1903.
He married Anna Tissue ( ? - ? ). They are believed to have been the parents of five children -- James Austin Harbaugh, Vaughn Harbaugh, Gerald Harbaugh, Russell Scott Harbaugh and Eleanor Harbaugh.
The Harbaughs moved from Bear Run to Rices Landing, Greene County, PA, where Russell was employed as a track laborer and section worker on the railroad. When son James was age two, in about 1925, he became emotionally attached to his invalid grandparents, Mr. and Mrs. Austin Tissue, and to an uncle, Harry Tissue, and was permitted to spend most of his time at their home in Bear Run.
Tragedy struck in late November 1936, however, when the 11-year-old James was killed by a hit-and-run motorcyclist on the Connellsville- Farmington Highway. Authorities speculated that after the collision, the driver carried the mangled corpse to a spot where he knew relatives would find it. The body was deposited in a lane about 100 feet from the Levi Tissue farmhouse. A headline in the Waynesburg Democrat Messenger said he had died of a broken neck. Reported the Democrat Messenger, he "had been missing from his home all Sunday night and his whereabouts were not known until yesterday morning as Madeline Tissue found the body as she was starting for the school where she is a teacher. The mystery into the boy's death deepened last night after searchers found his shoes along a lonely path the child sometimes took to the Tissue home. The shoes were unlaced." A distant cousin, Wilbert Regis "Patsy" Minerd, was among county detectives who investigated the case.
In July 1937, the Harbaughs moved back to Bear Run, occupying the "Harry Tissue house" formerly occupied by the Richard Stark family. Their fates are unknown.
Son James Austin Harbaugh
Son Vaughn Harbaugh
Son Gerald Harbaugh
Son Russell Scott Harbaugh
Daughter Eleanor Harbaugh
~ Son Wallace Harbaugh ~
Son Wallace Harbaugh (1904-1983) was born on Sept. 20, 1904.
He never married and spent his life in Mill Run. He is named in the Harbaugh History book was published in 1947.
Wallace died on March 15, 1983, at the age of 79, in Somerset Community Hospital. Interment was in Maple Summit Cemetery, with Rev. Jesse Dinsmore preaching the funeral sermon.
~ Daughter Bertha C. (Harbaugh) Stull ~
Daughter Bertha C. Harbaugh (1907-1951) was born in 1907.
She married Paul L. Stull Sr. (1890-1971), the son of William H. and Martha (Linderman) Stull of Bear Run. They lived on Murphy Street in South Connellsville.
Despite the fact that Bertha suffered from a heart condition since birth, she went on to have five or six children -- Wallace E. Stull, Paul L. Stull Jr., Esther Riser, Margaret Crise, Bertha Koontz and Wilma Stull.
Bertha, said the Daily Courier, "was a member of the Falls City Baptist Church at Ohiopyle for 21 years and the Ladies Missionary Circle at Ohiopyle while living there... Her life was spent in the Mill Run and Ohiopyle communities with the exception of the last nine years during which time she resided at South Connellsville."
Anchor Hocking plant, Connellsville
Sadly, Bertha died on March 2, 1951, at the age of 43, at Connellsville State Hospital, after having "collapsed on the street near her home while going to a neighbor's house for a visit," said the Courier. She was laid to rest in the cemetery of the Hickman Chapel Church at Mill Run.
Paul apparently never married. He worked for Anchor Hocking Corporation in South Connellsville, and retired from there. (The plant is seen here in a postcard view.) In about 1965, he moved to Vanderbilt, Fayette County, possibly to be nearer to his married daughter Bertha Koontz.
He died at the age of 81 in the Guilford Convalescent Home in Chambersburg, PA, on Aug. 29, 1971, near where his son Paul Stull Jr. lived.
~ Son Donald C. Harbaugh ~
Son Donald C. Harbaugh (1914-1980) was born in 1914.
He married Bertha Pearl Johnson ( ? - ? ). They resided in Mill Run.
Sadly, Donald died of a heart attack in 1980 at age 66 while excavating for a Texas Eastern Gas pipeline over the mountains near Mill Run.
Copyright © 2007-2009, 2012, 2014, 2016Mark A. Miner