'SELFIES'
June 23-25, 2017
National Family Reunion to Capture Selfie
Photos to Post for Posterity on Minerd.com Website - Saturday Picnic to Be Broadcast on Facebook Live
Who hasn't taken a "selfie" photo at one time or another? Seems like everyone everywhere has caught the popular craze.
At our 2017 national Minard-Minerd-Miner-Minor family reunion, everyone will be engaged in creative selfie-taking and being part of our first-ever, historic national broadcast via Facebook Live.
Everyone's best selfie will be uploaded to a reunion selfie collage on our award-winning Minerd.com website for posterity. You'll have more than your 15 seconds of fame -- your legacy photo will live forever!
What could be more fun?
Many of our activities will be held in and around the Day's Inn Hotel in Donegal, PA, located just a few hundred yards from from Exit 91 of the Pennsylvania Turnpike and a two-hour drive from the Pittsburgh International Airport.
Attendance has been spotty the past few years. We're hoping for a crowd of 75 to 100. If not, given the amount of work involved to make these every-other-year reunions happen, this could be our last one.
Hope you can join us!
~ Friday Evening Dinner, June 23 ~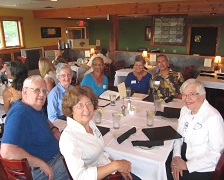 Friday evening dinner and visiting to meet long-lost (and never known) cousins
On Friday evening, we'll gather together for a group meal. Whoever wants to join in can carpool to Out of the Fire, a local restaurant.
Afterward, we'll return to Days Inn to enjoy socializing in the lobby along with snacks and cold drinks.
If you want to stay overnight at Days Inn, the hotel has reserved 10 sleeping rooms for us at a discounted rate of $88 plus tax per night. Be sure to contact the hotel to reserve your room soon -- tell them you're with the "Minerd Reunion" -- as they're already becoming booked. Telephone 724.593.7536 - Email info@daysinndonegal.com -- or book online. All unsold rooms will be released to the public a month ahead of time, on
~ Traditional Saturday Picnic, June 24 ~
Days Inn Hotel in Donegal, PA - below: the open air picnic area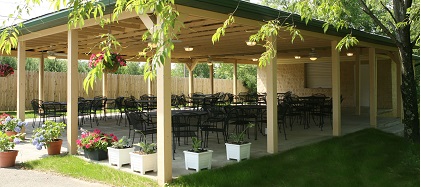 Our traditional Saturday picnic will begin at 10 a.m. and conclude in late afternoon.
At intervals during the afternoon, we'll broadcast the reunion on Facebook Live. We'll interview cousins and watch the selfie-taking.
For anyone who brings vintage family heirloom photos, we'd like to have the opportunity to scan them to add to the extended family collection.
Noon Meal - If you live nearby, please bring a meat dish, side dish or a dessert to share. We will provide cold soft drinks, hot coffee and mid-afternoon snacks. No alcoholic beverages, please. A freewill donation will be taken to offset costs. We will have drawings for keepsake prizes, such as four rainbow placemats, 12 potted plants and 12 crocheted doilies as well as signed copies of the books Well At This Time and Forged in Steel. Tables will be set up against the walls so you may display keepsake heirlooms old photo albums, letters, artifacts — for all to enjoy.
Evening Supper - For those who are interested, we will plan to gather for an evening supper at a nearby restaurant. Details to come.
Some of the attractive door prizes fashioned by cousin Doris Hawker
~ Sunday Morning, June 25 ~
Plans are still in the works for Sunday morning activities.
~ Why the Pittsburgh Region? ~
Southwestern Pennsylvania and Pittsburgh are the epicenter of our clan's founding in the United States of America following the American Revolution. In 1791, patriot and war veteran Jacob Minerd Sr. and his wife Maria (Nein) Minerd settled there near Maple Summit on the mountainous border of Fayette and Somerset Counties. They had a dozen children, who in turn spawned 87 grandchildren, 469 great-grandchildren and 1,344 great-great grandchildren, for a total of 1,912 lives, virtually all born before the year 1900. Today, their descendants and spouses number an estimated 50,000 or more, and are scattered all over the world -- but regardless of a cousin's homeplace today, their roots are here.
Your Reunion Committee:
President: Mark A. Miner, Beaver, PA
Treasurer: Doris (Sands) Hawker, Morgantown, WV
Secretary: Rosella (Resh) Miner, Grantsville, MD
At Large: Sharon (Sheldon) Hershey Kern, Findlay, OH
At Large: Jill (Channing) Aird, Williamsburg, VA
Past Reunions
See recaps of reunions in 2015 - 2013 - 2011 - 2009 - 2008 - 2007 - 2006 - 2005 - 2004 - 2003 - 2002 - 2001 - 2000 - 1990s - 1980s - 1910s-1930s

VisitPittsburgh.com is the promotional sponsor of this page
Copyright © 2017 Mark A. Miner