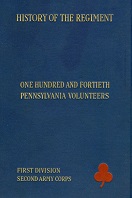 Some 46 years after the end of the Civil War, survivors of the 140th Pennsylvania Volunteer Infantry gathered on Sept. 12, 1911 for a reunion at the home of J.B. Johnson in Canonsburg, Washington County, PA. All dressed in suits and ties and wore special commemorative ribbons on their lapels. This group photograph was taken that day.
It may include cousin Henry "Foxy" McKnight of Company E, who was still alive at that time. Cousin Cyrus Lindley of Company D had died a few years earlier.
The image was taken by Weller Studio and published in the 1912 book authored by Robert Laird Stewart, entitled History of the Regiment: One Hundred and Fortieth Pennsylvania Volunteers.