Home

Emma (Blythe) Hoy
(1861-1942)
Emma A. (Blythe) Hoy was born in November 1861 in Henry County, OH or in Indiana, the daughter of Henry and Isabelle (Van Horn) Blythe.
She married Albert Hoy (Jan. 17, 1858-1941) in Henry County on New Year's Day 1881. She was age 19 at the time, and he was 22.
They produced a brood of eight children, of whom six lived to adulthood -- Orla "Orlie" Hoy, Harry Albert Hoy, Alva Hoy, Louise Hoy, Carl Blythe "Rube" Hoy and Edna A. Lake. Only the eldest son Orla was born in Ohio.
Albert's cousin, baseball player Dummy Hoy.
Library of Congress
As a youngster, during the 1860s, Albert was a sandlot baseball player in the Napoleon area. He is known to have played in games with his cousin, William Ellsworth "Dummy" Hoy, who went on to become an outfielder with the Cincinnati Redlegs, Chicago White Sox and Louisville Colonels. While in Louisville in the late 1890s, in the years before the franchise relocated to Pittsburgh, Dummy's teammates were legends Honus Wagner, Rube Waddell and Nick Altrock.
Mirroring Emma's brother Jay and his family, Emma and Albert migrated from Ohio to South Dakota in 1881. They settled near the town of Huron in Antelope Township, Spink County, and began to cultivate their homestead property. Emma told the children how " living conditions remained difficult" and that the only vehicles on their farm "were a stone-boat to haul rocks from the fields and a hayrake." The same stone-boat at times carried the family to church.
The Hoy children attended a country school about two-and-a-half miles away in the community of LaDell. Classes were only held for three months during the winter. They walked to and from each day except on days with heavy snow, when Albert would "hitch a horse to a home-made sled," wrote their son Carl. "In the gallon syrup buckets that we carried for lunch pails were likely to be found chicken (prairie or domestic), bread, and hard-boiled eggs."
Among the children's activities were sandlot baseball games, pitching horseshoes and hockey on the frozen small creek near the school, using brooksticks and tin cans for pucks.
The federal census of 1900 shows Albert's occupation as farmer in Antelope.
By 1910, the family had relocated again, to Lake Byron, Beadle County, SD. Albert's livelihood that year was as a thrasher and a farmer. Son Harry, age 26, was a farmer and school teacher, and son Alva, age 24, also a teacher. Emma is known to have traveled back home to Napoleon in January 1911 at the death of her mother.
In 1920, still living in Lake Byron, Albert continued to labor a farmer, while daughter Louise, age 27 and remaining at home, a music teacher, and son Carl, age 25, also at home, was involved with a local college.
Sreetscape in Huron, South Dakota
The 1930 census of Lake Byron shows Emma, Albert and 38-year-old daughter Louise living together under one roof. Their married son Harry and family lived next door.
When they suffered the loss of their married daughter Edna Lake in 1933, they were residing in LaDelle, Spink County. Emma is known to have traveled to Wisconsin for the funeral.
Albert and Emma appear to have retired by 1940 and relocated to Huron, Beadle County. That year, with him at age 82 and her at 79, their unmarried daughter Louise continued to resided under their roof, at the age of 53.
Albert passed away in Huron at the age of 83 on Feb. 8, 1941. Burial was in Huron's Riverside Cemetery. His fellow Odd Fellow lodge members published a resolution of bereavement in the Huron Daily Plainsman and Huron Evening Huronite.
Emma only outlived her spouse by a year. Death cut her away in Wessington, Beadle County on July 20, 1942.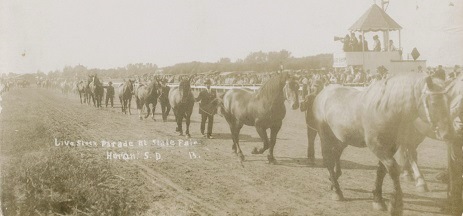 Livestock parade at the South Dakota State Fair in Huron
~ Son Orla J. "Orlie" Hoy ~
Son Orla J. "Orlie/Orley" Hoy (1881- ? ) was born in Sept. 1881 in Ohio..
He dwelled in LaDelle, Spink County, MD in manhood.
At age 30, on May 18, 1912, he entered into marriage with Margaret Helen McNerney (1892-1935). Rev. D.F. Desmond officiated their wedding held in Huron, Beadle County.
Three sons born in this family were Eugene Hoy, McDennis "Mac" Hoy and Terry Hoy.
The 1920 United States Census shows the family in the Lake Byron community of Beadle County. At that time, Orla's brother Harry, and Margaret's brother Leo McNerney and wife Mollie, lived in the household. Orla's occupation in 1920 was farming.
The Hoys separated in the late 1920s, sometime after the birth of their son Terry.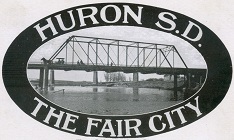 Greetings - a wagon bridge
over the James River
In 1930, the federal census shows Orla married but separated from his wife, and boarding in the home of his married brother Harry in Lake Byron, Beadle County. In turn, Margaret lived in Huron, on Iowa Avenue Southeast, and took in a boarder to help generate income.
Orla is known to have dwelled in Huron in 1933 at the death of his married sister Edna Lake, and in Wessington, SD in 1935 at the suicide of his brother Harry.
Sadly, Margaret is known to have died on March 11, 1935, at the age of about 42, in Hand County, SD. A funeral mass was held in St. Martins Catholic Church and burial in the church cemetery in Huron. Her sons Eugene and Mac, Orla's brothers Alva and Carl, and Margaret's brothers Leo McNerney and William McNerney all were pallbearers at the funeral. A brief notice of her passing was published a month later in the Huron Daily Plainsman.
The widowed Orla moved to Rose Hill, Hand County, SD. There, he boarded in 1940 with William and Hannah McGillorey and earned a living as a carpenter who specialized in repair work.
Son Eugene Hoy (1917- ? ) was born in about 1917 in South Dakota
Son McDennis "Mac" Hoy (1918-1997) was born in about 1918 in Huron, Beadle County. As a young man, he graduated from a business college in Mankato, MN, trained in accounting. He was united in wedlock with Bernita Elizabeth ( ? -2006). Their five offspring were Patricia Pierce, Colleen Hoy, Michael Hoy, Kevin Hoy and Terry Hoy. McDennis went on to employment as an accountant/controller for Napco Industries and Delano Granite Works in Minnesota and then for Grossman Chevrolet in Minneapolis. At his move to Delano in April 1959, , he was pictured in the Minneapolis Star. Then in 1967, he founded Nantucket Leasing in Minnetonka, MN, operating it until the late 1980s. His son Kevin also went into the field of business equipment leasing in California. Sadly, McDennis passed away at the age of 79, in their home in Chanhassen, MN, on Jan. 18, 1997. His death generated a headline obituary in the Minneapolis Star Tribune, which quoted his son saying that McDennis had been doing business leasing 10 years before anyone else. The obituary asked that any memorial donations be made to St. Joseph's Home for Children. His funeral mass was sung at St. Theresa Catholic Church in Deephaven, MN. Bernita lived for another nine years as a widow. She died in Chanhassen on Aug. 6, 2006. An obituary appeared in the Star Tribune. Interment was in St. Michael Cemetery.
Granddaughter Patricia Hoy entered into marriage with Michael Pierce. Circa 1997, she was in Mequon, WI and in 2006 in Escelsior.
Son Terry Hoy (1924-2007) was born on March 2, 1924 in Huron, Beadle County. He was about 11 years of age when his mother died. He was taken into the farm home of an uncle, Leo A. McNerney, in Hulbert, Hand County, SD and was there in 1940. Eager to escape the hardships of his growing-up years, he joined the U.S. Army during World War II. He was deployed to Burma with Merrill's Marauders, considered an elite fighting force, and was a radio operator. He received a Bronze Star for his heroic or meritorious service in a combat zone. Upon his return home, he enrolled in the University of South Dakota, where he studied government. He then obtained a masters degree at the University of Washington followed by his doctorate at the University of California at Berkeley. He envisioned a career in college teaching and first worked at the University of Arkansas and then the overseas program of the University of Maryland. In 1960, he became a political science professor at Simpson College in Indianola, IA and there achieved tenure. A friend once wrote:
Terry was a true renaissance scholar, with interests ranging from the ancient Greeks and John Dewey to evolutionary biology and the intersection of political structures and social justice. More recently, Terry centered his attention on the works of scholars and thinkers from various fields, such as Martha Nussbaum, Amartya Sen, and Muriel Rukeyser. Philosophy was his true love, and he could apply it to any subject.
Upon retirement in 1986, he continued to be involved with research and publishing and was named emeritus professor. He authored three books, among them The Resurgence of Evolutionary Biology and The Political Philosophy of John Dewey. Toward the end, he went to live in Kavanagh House in Des Moines, IA. Death swept him away into eternity on May 2, 2007. He is not known to have had immediate survivors.
~ Son Harry Albert Hoy ~
Son Harry Albert Hoy (1884-1935) was born in May 1884 in South Dakota.x
He grew to manhood and resided in 1925 in Carpenter, Beadle County, SD,
On May 29, 1925, when he was age 40, and she 34, Harry was united in matrimony with Blanche Babbitt (1891- ? ) of Huron, Beadle County. Rev. Benjamin H. Burtt officiated.
They together produced at least three children -- Hubert L. Hoy, Sharon "Oakley" Hoy and Janet Lucille Hoy and perhaps two others.
Grandstand, horses and buggies at the fairgrounds in Huron, SD
The 1930 census shows this family living in LaDelle/Lake Byron, Beadle County, SD. Boarding under their roof that year was Harry's brother Orlie Hoy, who was separated from his wife. They all were farmers. The Hoys' residence in 1933, at the death of Harry's married sister Edna Lake, was in Huron.
Sadly, at the age of 51, Harry made the decision to end his life. Having selected a shotgun, he pulled the trigger on Oct. 23, 1935 and instantly died. The news was printed in the Huron (SD) Daily Plainsman. His funeral service was held in the local Congregational Church, officiated by Rev. W.H. Wiley. Interment of the remains was in Riverside Cemetery.
The widowed Blanche remained in Huron for the rest of the 1930s and into 1940 with her children in Huron. She supported herself as a cook with a school lunch program of the Works Progress Administration. The WPA is widely considered one of the Roosevelt's largest and most ambitious undertakings of his "New Deal" to get the nation back on sound economic footing. Over the years, the WPA hired millions of out-of-work individuals to build public works projects and assist in other public programs.
Blanche passed away in Yankton, SD at age 64 on March 8, 1954.
Son Hubert L. Hoy (1927-1961) was born on March 19, 1927 in South Dakota. At the age of 13 in 1940, he dwelled with his widowed mother in Huron, Beadle County. Then after the outbreak of World War II, he joined the U.S. Armed Forces' Engineering-Training Center and attained the rank of sergeant. He received an honorable discharge on Dec. 3, 1946. On March 6, 1954, Hubert was united in holy matrimony with M. Leatrice "Lea" Rask (Dec. 19, 1926-2010), daughter of Almer and Lauretta (Murphy) Rask. The pair did not reproduce. Leatrice had studied for a year at Dakota Wesleyan University, and then left to work at the stockyards and hatchery in Sioux Falls. She also moonlighted at the Town and Country Cafe. The couple made ther home in Sioux Falls and then moved to Huron, with an address of 1538 Wisconson Street Southwest. For 26 years, Leatrice earned a living with KIJV-AM Radio. She held memberships in the Daughters of the Nile and the Order of Eastern Star. Sadly, Hubert died on March 3, 1961 at the age of 33. Burial was in Riverside Cemetery in Huron. Leatrice outlived him by almost half a century. Her final home was in Emery, SD. She was gathered away by the spectre of death at age 84, two days after Christmas 2010, in Diamond Care Center in Bridgewater, McCook County, SD.
Son Sharon "Oakley" Hoy (1929-1999) was born on Oct. 11, 1929 in Hitchcock, SD. When young, he moved with his family to Huron. He was a 1947 alumnus of Huron High School and then joined the U.S. Army, with a posting to Korea. After he completed military service, he returned home and earned a degree in biology and wildlife management from South Dakota State University in Brookings. On June 11, 1951, at the age of 22, he was joined in wedlock with Ardelle Steen ( ? - ? ), daughter of Edward and Amanda (Hillestad) Steen. Together, the couple produced three children -- Steven Hoy, Douglas Hoy and Mary Jo Moseley. Over the years the family lived in Custer County and later in Sioux Falls. Early in his career, he earned a living with the South Dakota Game, Fish and Parks Fisheries Division. Then for 34 years, Oakley was employed as a soil conservationist with the U.S. Department of Agriculture. At one time he was a Custer County Commissioner (1991) and a justice of the peace and caretaker for Custer City Cemetery. The family belonged to Hope Lutheran Church, and he was active with the Boy Scouts, Kiwanis Club and National Association of Retired Federal Employees as well as the Mile High Snowmobile Club. The couple's final home was at 910 South Charlotte Avenue. Sadly, at the age of 69, Oakley suffered a heart attack at home and died on Feb. 13, 1999. An obituary was printed with his photograph portrait in the Sioux Falls (SD) Argus-Leader. Interment of the remains was in First Lutheran Cemetery in Brookings.
Grandson Steven Hoy entered into marriage with Roberta. They migrated to Falcon Heights, MN.
Granddaughter Mary Jo Hoy wedded Clark Moseley. Their residence circa 1999 was in Dallas.
Grandson Douglas Hoy was united in matrimony with Jean. They made a home in Sioux Falls, SD.
Daughter Janet Lucille Hoy (1930-2013) was born on Oct. 27, 1930 in Spink County, SD. She was a 1948 graduate of Huron High School. Janet forewent marriage and a family to focus on a remarkable career. In about 1954, at the age of 23, she joined the United States Civil Service and was deployed to posts in Paris, Tokyo (1957) and Seoul, South Korea (1961), where she made many friends. In 1964, she was employed by Civil Service attached to the U.S. Armed Forces in Korea, and paid a visit to her brother Oakley who was stationed there. She retired in 1995 and spent the rest of her life in Sioux Falls. She beonged to the Order of Eastern Star, Royal Asiatic Society and National Association of Retired Federal Employees as well as the First Congregational Church. She was carried away by the spectre of death at age 82 on Oct. 25, 2013. Burial was with her parents in Huron's Riverside Cemetery.
~ Son Alva N. Hoy ~
Son Alva N. Hoy (1886- ? ) was born in June 1886 in Hitchcock, SD and in boyhood moved to Huron, Beadle County, SD.
Evidence suggests he was married at least twice. At the age of 25, he was joined in wedlock with 23-year-old Elizabeth (1891- ? ).
They became the parents of at least two children, Elizabeth Hendricksen and Allen N. Hoy.
The family's home in 1920 and 1930 was in Huron, Beadle County, SD. Alva earned wages in 1920 as a salesman and in 1930 in the machinery field.
By 1935, Alva entered into marriage with Evea J. (1906- ? ), who was 17 years younger than he.
Circa 1935-1940, they lived on Illinois Avenue in Huron, Beadle County, SD. He earned a living as manager of a retail grocery store.
After their grown children moved to Seattle, Alva and Evea came for a three-week vacation in August-September 1966, a tidbit printed in the gossip columns of the Huron (SD Daily Plainsman.
Daughter Elizabeth Hoy (1917- ? ) was born in about 1917 in South Dakota. Evidence suggests that she married Donald Hendricksen ( ? - ? ) and relocated to Washington State. The couple was in Seattle in 1966 when her parents came for a visit. Elizabeth made her home circa 1999 in Burien, WA..
Son Allen N. Hoy (1919- ? ) was born in about 1919 in Huron, SD. He received his college education at Chillicothe (MO) College. Allen entered into marriage with Helen ( ? - ? ). Two offspring produced by this marriage were Nancy A. Inlow and Roger Hoy. Allen was considered a "pioneer in the frozen food industry," reported the Tacoma (WA) News Tribune. He was employed early in his career with Diamond Ice and Pacific Frozen Foods and became their general manager. When the two firms were acquired in 1977 by West Coast Grocery Company, he stayed at its frozen food division in Auburn, WA and in time was elevated to vice president. Active in the community and profession, he served as president of the Auburn Chamber of Commerce, co-founder of the Washington State Frozen Food Council and board director of the International Association of Refrigerated Warehousemen, National Frozen Food Association and the Northwest Chapter of the American Logistics Association. In about 1969, the Hoys relocated from Seattle to nearby Federal Way, King County, WA. The family held a membership in the Servants of Christ Reformed Church in Federal Way. Sadly, he died in Federal Way, WA at the age of 71 on May 29, 1990. Following funeral services held in the family church, burial was in Mountain View Cemetey in Auburn.
~ Daughter Louise Hoy ~
Daughter Louise Hoy (1893- ? ) was born in Dec. 1893 in South Dakota.
She built her life around her calling as a private-homes music teacher. In 1920, living in Lake Byron, Beadle County, SD, the 27-year-old Louise was single, lived at home and earned a living as a teacher of music.
She continued in this occupation during the decade of the 1920s, '30s and '40s. By 1940, she and her retired parents dwelled together in Huron, Beadle County.
~ Son Carl Blythe "Rube" Hoy ~

Carl "Rube" Hoy
University of South Dakota
Son Carl Blythe "Rube" Hoy (1893-1973) was born on Oct. 17, 1893 on a homestead near Huron in Antelope Township, Spink County, SD.
The Sioux Falls Argus Leader called him "one of South Dakota's finest citizens" known for his sportsmanship and campus work at the University of South Dakota.
His friend Elbert W. Harrington once wrote that Carl was born in "the long sweep of the prairies" and "grew to young manhood in an atmosphere of horses and cattle, prairie grass and wheat, scarce money and hard work."
In his autobiography According to Hoy, Carl wrote that his ancestry was a combination of Pennsylvania Dutch and Scotch-Irish on his father's side and English on his mother's.
Carl grew up on the family farms in Spink and Beadle Counties. As such, his parents did not aspire for him to achieve anything more than an eighth-grade education. But he continued into ninth grade, and a friend convinced him to try out for the Huron High School football squad. The experience was so enjoyable that Carl decided to stay in high school and play other sports such as track and basketball. He graduated from Huron in 1915.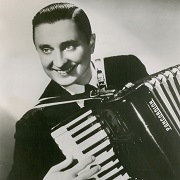 Carl and Hazel went to a dance on their 1st date featuring bandleader Lawrence Welk
He then pursued higher education at the University of South Dakota and graduated in 1919 with a degree in business administration and law. In one summer history class at the University of Minnesota, he was horrified when his professor criticized the Union Army's approach to winning the war. Wrote Carl: "As the professor began disclosing the real truth about the Civil War, I discovered some surprising things. One of them was that my two grandfathers who had marched with Sherman from Atlanta to the sea must have been the greatest vandals of all times! I was not too happy about that situation, and I could see that I might be in for trouble" with his professor.
He made money with side jobs, including chauferring former South Dakota Governor Andrew E. Lee every Sunday to his large ranch near the town of Centerville. From 1920 to 1926, Carl was a social studies teacher and boys' athletic instructor at Gregory, SD.
One of the keys to his success, wrote friend Harrington, was an ability to "mix his home-spun philosophy into his coaching. Opponents were always impressed by his friendliness and his sense of fairness. Many spectators came to games to watch a unique exhibition of empathy in the writhings and contortions of the coach who played as vigorous a game within himself as the playeers did on the court or field."
While in Gregory, he met his future wife, Hazel Bergeson ( ? - ? ) of Sioux City. An alumna of Morningside College, she was teaching girls' athletics and English at the time in Gregory, having done so when the school first opened in 1922. Their first date was to a dance in the town of Winner, featuring the orchestra of a young Lawrence Welk, on his way to international stardom.
The couple tied the knot in 1923 and stayed together for 50 years.
Three children born to this union were Carleton R. "Tex" Hoy, Lt. Col. Richard P. "Dick" Hoy and Nancy McCahren.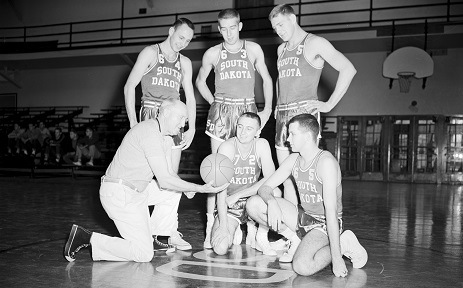 Above: with returning lettermen in 1954. Below: outlining plays with Dan Lennon and J. Dutcher circa 1955-1956.
Images courtesy Archives and Special Collection, University Libraries, University of South Dakota.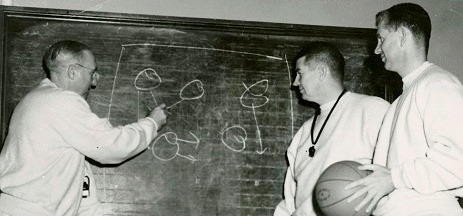 Carl accepted the position of principal at a school in Platte, SD in 1926. A year later, he moved to his university alma mater in Vermillion, Clay County to coach basketball. His record with the South Dakota Coyotes over 24 seasons was 167 wins and 190 losses. He was named athletic director for the university in 1934 and served until 1959. He also coached track during the World War II years, from 1941 to 1946.
Carl's autobiography

Minerd.com Archives
While at South Dakota, he is known to have hired Dwane "Cloddy" Clodfelter in 1953 as head basketball coach. Clodfelter led the Coyotes to the national championship in 1958, the only one in school history. In 1956, Carl hosted his own weekly radio show, "According to Hoy." Then in 1960, the university published his autobiography, entitled According to Hoy: Memoirs of an Athletic Director. He was inducted into the university's hall of fame in 1972, a year before he died.
Carl was quoted in a June 1961 article in the Argus-Leader article, reminiscing about his father's childhood baseball-playing in Ohio with a cousin and future major leaguer, William Ellsworth "Dummy" Hoy.
Sadly, Carl passed away on Nov. 4, 1973. In an editorial, the Argus-Leader said that "... he was an inspiration to thousands of Coyote athletic students. And for the fans, whether they followed the Red and White, or the Yellow and blue of their arch rivals at South Dakota State, "Rube" Hoy as basketball coach provideed some hardcourt spectaculars that became a legend. To "Rube" Hoy the game was the thing -- and his fans were seldom disappointed."
In his memory, an annual Carl "Rube" Hoy Award was established at the university to honor outstanding achievment in both athletics and academics. His archives are housed in USD's Archives and Special Collections.
Son Carleton R. "Tex" Hoy ( ? - ? ) was born in (?). Circa 1947, he was a student-athlete at the University of South Dakota and played basketball for his father, the head coach. He went on to earn his law degree from USD and was elected president of the student law association. During the Korean War, he served in the U.S. Armed Forces. Carleton married Joan Eva Ary ( ? - ? ), daughter of Lester C. Ary. Their wedding was held at St. Paul's Methodist Church, presided over by Rev. J.E. Fuller. Reported the Sioux Falls Argus-Leader, she wore "embroidered nylon net over satin, fashioned with fitted bodice having off-the-shoulder effect and net yoke. The bouffant skirt fell entrain. Her veil of illusion was attached to a fitted cap trimmed with seed pearls." Prior to marriage, Joan had attended the Christian College for Women and then graduated from Iowa State College. Circa 1956, they lived in Sioux Falls, SD, where he had established his law practice. During the mid-1950s, Carleton held a seat on the USD Board of Law Review, served as a clerk to U.S. District Judge George Theodore Mickelson, U.S. District Judge for the District of South Dakota.
In response to the Soviet Union's branding of May 1 as "May Day," he and other lawyers helped organize a local celebration of "Law Day-USA" in Sioux Falls in 1958. He is known to have been elected president of the South Dakota Junior Bar Association in 1961, and in 1969 to have completed a term as president of the South Dakota Trial Lawyers Association. In 1973-1974, he was a Special Assistant to the U.S. Attorney. He received the honor in 1973 of making featured remarks at USD's annual spring sports banquet, held in Lincoln Hall. One of his higher profile cases, in which he was pictured in the Argus Leader, was his court-appointed representation of a client who had shot her lover in the Badlands after he had threatened to kill her. Carleton and two of his grandchildren were named in the Argus-Leader in 2001 when, after a 50-year delay, he received a military recognition medal from the Republic of South Korea. In time he launched Hoy Trial Lawyers, specializing in representing injured clients ni South Dakota, Iowa and Minnesota. Scott G. Hoy and James L. Hoy have joined him in the firm. The Hoys remained in Sioux City in 2020.
Son Lt. Col. Richard P. "Dick" Hoy (1931-2020) was born on Jan. 18, 1931. After graduation from Vermillion (SD) High School in 1949, he attended the University of South Dakota, where his father was head basketball coach and athletic director. Richard then was accepted to the United States Military Academy at West Point, where he graduated in 1954. While in New York, he met his future wife Jane Todd ( ? - ? ). They were wed in 1954 and remained together for an extraordinary 66 years. Three children produced by the couple were Cindy Cathey, Sharon Stevenson and Steven Hoy. Richard went on to a military career spanning two decades, including postings in Germany, Korea and Vietnam before retiring in 1974. He took additional education at the Army Command and General Staff College (1970). He had the opportunity to serve in two positions at West Point, on the Commandment's Staff and in time as the Deputy Athletic Director for the Army Athletic Association. Once they retired in 1974, the couple relocated to Montana, settling in Helena, and remaining for three decades. There, he was employed from 1974 to 1981 in the city's Department of Parks and Recreation, and held a membership in the Rotary Club of Helena, including a term as president. Then in 2001, they migrated to the Pacific Northwest to be near their daughter Sharon in the Spokane Valley. Richard liked to fish, ski, garden, swim, golf and take daily walks. He followed the fortunes of the University Titans, Gonzaga Bulldogs and Seattle Mariners. Sadly, Richard died in Spokane Valley at the age of 89 on Aug. 15, 2020. His remains were interred in the Pines Cemetery. His survivors included eight grandchildren and six great-grandchildren. An obituary was printed in the Spokane Spokesman-Review.
Grandson Steven Hoy was joined in marriage with Peggy. They have put down roots in Tw

in Falls, ID.
Daughter Nancy Hoy ( ? - ? ) grew up in Vermillion, SD. As young womanhood she attended the Univesity of South Dakota. While at USD, she met her future husband, Lee Michael "Mick" McCahren (Jan. 28, 1936-2016), son of Lee Frank and Margaret (Babcock) McCahren. The pair tied the knot on Sept. 26, 1959. The couple bore two children -- Lee Christopher "Kit" McCahren and Julie Blythe McCahren. A 1953 graduate of Washington High School, Lee spent a year studying at Iowa State University and then transferred to USD. He graduated from the university in 1957. Nancy and Lee both were high school teachers in Illinois for two years and then in 1961 enrolled in graduate school at their alma mater. Nancy in 1962 was named to the faculty of USD's English department. In 1986, she earned her doctorate in educational administration. Reported the Sioux City (IA) Journal, Nancy "worked in the department of modern languages at USD for more than 25 years before becoming executive director of the USD Alumni Association in 1990, a position she held until her retirement in 2004. As one of USD's most ardent boosters, McCahren was the first woman to serve on the USD Athletic Board of Control and she continues her involvement with the school as a volunteer on the Coyote Athletics Sports Hall of Fame Committee." In 2007, she was honored by delivering the commencement address at the university's 78th summer commencement before some 270 students.
In 1962, Lee earned his master of arts degree in Spanish and in 1965 his law degree. Armed with his law degree, Lee relocated to Aberdeen, SD, where he served as a clerk for the Hon. Axel John Beck, District Judge of the United States District Court for the District of South Dakota. He also held a seat on a Law Review Board. In about 1966, the McCahrens migrated back to Vermillion, where Lee launched his private law practice. Among his professional accomplishments were more than 42 years on the South Dakota Board of Minerals and Environment, attorney for the City of Vermillion and as the chief counsel at the founding of the South Dakota Lottery. He held a leadership post with the Friends of Bill. In the community, Lee was active with the Rotary Club, Masons and Clay-Union County Bar Association. The family was plunged into mourning when Lee passed away on Sept. 16, 2016. His memorial service was held at the Vermillion United Church of Christ Congregational. His obituary was published in the Argus-Leader. The widowed Nancy dwelled in 2020 in Sioux Falls, SD. She endowed the Nancy Hoy McCahren Scholarship at USD, to be awarded to students who graduated from a South Dakota high school and to students enrolled in the College of Arts & Sciences.
~ Daughter Edna A. (Hoy) Lake ~
Daughter Edna A. Hoy (1896- ? ) was born in June 1896 in South Dakota.
She was a graduate of Huron High School.
On Aug. 6, 1918, when she would have been 22 years of age, she wedded 19-year-old Ivan Clyde Lake (1898- ? . Their nuptials were held in Beadle County, SD, led by Rev. Benjamin H. Burtt. At the time of marriage, Ivan made his residence in Marshall, WI.
The couple together bore two children -- Danton Clyde Lake and Edith E. Lake.
The newlyweds established their home in Dearfield, Dane County, WI, and are shown there in the 1920 federal census enumeration. In 1920, Ivan owned his own printing shop in Dearfield.
Then during the decade of the 1920s, Ivan pursued a career in Christian ministry, in the Janesville District of the Methodist Episcopal Church. Census records for 1930 show the family in Minocqua, Oneida County, WI, with a residence on Milwaukee Street. Edna assisted her husband in the work of the church.
Grief cascaded over the family in early 1933, when Edna became seriously ill. After taking what the Huron (SD) Daily Plainsman called"a turn for the worse," she died in late May 1933 in Minocqua.
Son Danton "Clyde" Lake (1918- ? ) -- also known as "Clyde D. Lake" and "Icy Lake" -- was born on Aug. 10, 1918 in South Dakota. During World War II, he served in the U.S. Navy as a lieutenant commander. After the war, in 1945, he is believed to have fathered a son with Dorothy Elizabeth Snowden (1913-1978). The boy was raised by Dorothy and her future husband, Charles V. Hansen. Clyde in turn came back home to Minneapolis. In 1945, when he was about age 26, he was joined in wedlock with Joan Taylor (Feb. 14, 1923-2004), a native of Rhindlander, Oneida County, WI. The couple's union endured for a remarkable 55 years. The children born into this family were Bradley Taylor Lake, Lisa Taylor Lake, Gretchen Blank, Julie Lake, Margi MacMurdo-Reading and Casey Lake. Sadly, son Bradley died in infancy. Joan held an English and art history degree from the University of Wisconsin. For a time, he was manager of WOBT-AM radio station in Rhinelander, WI. He then pursued a career in public relations and advertising. For seven years, he held a position with the Minneapolis ad agency Nelson-Willis Inc.. Then in 1956 he joined the Twin Cities office of renowned firm Batten, Barton, Durstine & Osborne Inc. After a year, he left BBDO to become merchandising director for the Minnesota Dairy Industries Committee of the American Dairy Association, overseeing merchandising, advertising and PR. In this role, he was elected to the board of directors of the Minneapolis Ad Club. He made another career move in 1959 by leaving the dairy organization to become an account executive with the Minneapolis ad agency Graves & Associates. He then was hired in 1961 as sales promotion and advertising manager with Franklin Creamery Inc. In her own right, Joan was a writer who liked to read, sew, knit, golf, play bridge and Scrabble and listen to Dixieland jazz. Clyde died on July 11, 2000. His remains are at rest in Minneapolis' Fort Snelling National Cemetery. Joan followed him to the grave four years later on Sept. 1, 2004, while in St. Louis Park in Hennepin County. Her obituary was printed in the Minneapolis Star Tribune.
Grandson Philip H. Lake Hansen (1945-2009) was born on May 25, 1945 in Portland, Multnomah County, OR. He settled in or near Oakland, Alameda County, CA. Philip wedded San Francisco native Susan Ann Pennington (May 31, 1946-1998). Susan Ann died at age 51 on March 12, 1998. She rests for all time in Plymouth Memorial Cemetry in Amador County, CA. He passed away in Oakland at the age of 64 on Aug. 5, 2009. His remains are in eternal repose in Mount Olivet Catholic Cemetery in San Rafael, Marin County, CA.
Granddaughter Margi Lake was twice married. Her first husband was (?) MacMurdo. Together they bore two sons, Walker MacMurdo and Rory MacMurdo. Later, she was united in matrimony with Mark Reading.
Daughter Edith E. Lake (1921- ? ) was born in about 1921 in Wisconsin.
Copyright © 2011, 2021-2022 Mark A. Miner
Select Carl Blythe "Rube" Hoy images courtesy Archives and Special Collection, University Libraries, University of South Dakota.