Isabelle (Van Horn) Blythe
(1839-1911)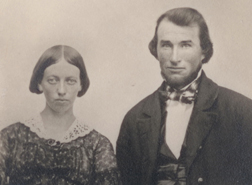 Isabelle and Henry Blythe
Isabelle (Van Horn) Blythe was born on March 11, 1839 near Grand Rapids, Wood County, OH, the daughter of Samuel and Sophia (Minard) Van Horn. Her husband was a Civil War veteran.
On March 22, 1856, at the tender age of 17, Isabelle married 27-year-old Henry Blythe (1828-1905). The ceremony took place in Perrysburg, Wood County, and was performed by D. Ross, a justice of the peace. The bride was a decade younger than the groom.
Henry was a native of either Amsterdam, Jefferson County, OH or Stark County, OH. He stood 5 feet, 11 inches, and had blue eyes and light brown hair.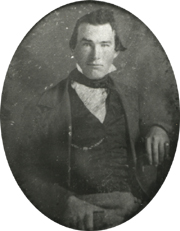 Henry Blythe
The Blythes together produced a family of five children -- Jay Orlando Blythe, Ella Sophia Duffy, Emma Hoy, Ida E. Blythe and Henry "Ross" Blythe.
Sadly daughter Ida died in 1865 at she approached her third birthday.
They moved early in their married life to near Toledo, Lucas County, OH, where their eldest son Jay was born in 1857. They then moved to DeKalb County, IN, where their middle child Emma was born in 1860. However, two years later, when daughter Ida was born, the family was back in Ohio in Henry County. Eighteen years passed until the birth of their last child, Henry, in 1880.
During the Civil War, on Nov. 1, 1864, Henry was drafted as a private in the 67th Ohio Infantry, Company B, commanded by Capt. Ansold.
Little is known of the nature and extent of Henry's military service. As a soldier, he suffered from hemorrhoids, chronic diarrhea and a "sore mouth." His regiment presumably did not see any battle action.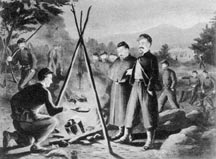 "Camp Life" -- Currier & Ives
A newspaper once reported that "He served one year in the 67th O.V.I, just at the close of the war, and at his death was a member of the Oscar P. Randall Post G.A.R. of [Napoleon]."
Henry was honorably discharged after one full year of service, at Richmond, VA, on Nov. 2, 1865.
The Blythes are believed to have spent most if not all of their remaining years farming in Harrison Township, near Napoleon, Henry County. They owned a 40-acre tract in Section 15, Township 5, Range 7. This tract was located five miles east of Napoleon.
In January 1885, Henry wrote a will filed at the courthouse of Henry County. He left everything to his "beloved wife," and directed that no sale of his personal property be made after his death.
When examined by a government surgeon in 1891, for purposes of assigning a value to his Civil War pension, Henry was found to have no teeth. Unfortunately, he could not wear dentures because his gums were "very red and tender," according to the physician.
Napoleon, Ohio, circa 1887.
Howe's Historical Collections of Ohio
Three generations
The photographic portrait seen here is circa 1890 and shows three generations in the family, with grandfather Henry at left, son Jay Orlando at right, son Henry standing in the back, and grandson Henry Ross Blythe (born 1884) seated in front. This undated image was taken at Gardner's Studio in Napoleon. In the image, Henry proudly wears a medal of the Grand Army of the Republic, a Civil War veterans group.
He had a well-known reputation as "one of the most highly respected citizens of Harrison township," said a newspaper, "always honest and straightforward in his dealings with his fellow men."
Yet Henry battled demons he could not control. This may have involved difficult relationships with his adult sons.
In about 1904, his health became poor, and his mind began to slip. Said a newspaper, "It has been feared that he would so far lose his mind as to do himself harm, therefore a constant watch had to be maintained over his actions."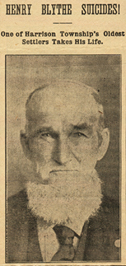 Sensational obituary
Their son Ross Blythe came to live with them during that era. What was happening in the family dynamic at that time is not known.
One Saturday morning during the winter of 1905, when Ross traveled to town on some business, Henry hung himself in the family barn. Said a newspaper:
[Henry] went to the barn, secured a rope halter, climbed up into a manager where one end of the halter was fastened on to a studding, with the other end a slip knot was formed and placed over his head and sliding from the manger on which he was sitting his life went out by strangulation. Mrs. Blythe, noticing his absence, went to the barn where she was horrified to find his body hanging still warm but without life; she ran to the house, procured a butcher knife with which she severed the rope, letting the body down, after which help was hastily summoned and the lifeless body carried to the house. Justice of the Peace Pontious as acting Coroner was sent for and after an examination rendered a verdict of death by strangulation.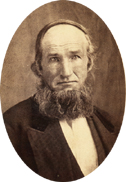 Henry Blythe
The date of Henry's death was Feb. 18, 1905. He was age 76. The funeral services were held at the Sharon Church, led by Rev. Constine and Rev. J. Atkinson. Henry was laid to rest in eternal peace in the Hoy Cemetery.
At the time, he owned a horse, cow, buggy, harness and $100 worth of household furniture, as well as about 60 chickens.
Isabelle outlived her husband by six years. She derived her annual income from the sale of farm products, including from $60 to $70 from the sale of butter and eggs, $25.50 from oats and $3.50 from hay.
She passed away on Jan. 29, 1911.
Copyright © 2003-2005, 2008, 2011, 2019 Mark A. Miner
Research graciously provided by great-great-great grandson Rich Bagioli. Sketch of Napoleon from an 1887 photograph by Gardner & Son. Civil War sketch by Currier & Ives.