Ella Sophia (Blythe) Duffy
(1858-1963)
Ella Sophia (Blythe) Duffy was born on July 31, 1858 in Henry County, OH, the daughter of Henry and Isabelle (Van Horn) Blythe. She was named in part for her maternal grandmother, Sophia (Minard) Van Horn.
When she was age 19, on Sept. 29, 1878, she entered into marriage with 19-year-old Frederick Duffy (1857-1945). Their wedding was held in Henry County. Frederick was a native of Akron, OH, and the son of Joseph and Elizabeth (Frisby) Duffy.
Together, the pair bore a family of at least five children -- Blanche I. Bowers, Perry Ray Duffy, Edith Erma Hefflinger Cludy Hayward, Alta M. Ross and Orwanda "Wanda" Morey. Another son in this family is thought to have been Dale Duffy.
The Duffys made their home for decades in Napoleon, Harrison Township, Henry County, OH. The 1910 and 1920 censuses show them living on Yeager Street, with Frederick's occupation as a driver for a grocery (1910) and laborer in a seed house (1920).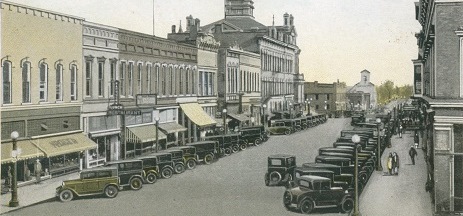 Napoleon, Ohio, 1920s
Their address later was at 419 Filmore in Napoleon. The family were members of the Napoleon Evangelical United Brethren Church.
Fred passed away on March 20, 1945 in Napoleon, Henry County, at the age of 88 years. Burial was in Glenwood Cemetery.
Ella outlived Fred by 18 years. She went to live with her married daughter Wanda Morey in Ecorse, MI. There, she surrendered to death at the remarkable age of 103 on Jan. 10, 1963. Her remains were returned to Napoleon for funeral services held at the family church and thence to rest for eternity beside her husband's.
~ Daughter Blanche I. (Duffy) Bowers ~
Daughter Blanche Duffy (1879-1899) was born in August 1879 in Henry County, OH.
She was united in matrimony with Willis Hanawalt Bowers (Jan. 11, 1875-1926), son of William and Naomi (Barner) Bowers.
Their marriage was tragically short. Blanche died at the age of 20 years, two months and 24 days on Oct. 24, 1899. Her youthful remains were laid to rest in Napoleon's Forest Hill Cemetery. Her horizontal, cylindrical grave marker is fashioned of red barre granite, with her maiden name spelled "Duffey."
The grieving Willis endured for another 27 years. He married again in 1908 to Della Mae Newell (1887-1941).
The Bowerses established a home in or near Adrian, Lenawee County, MI.
Sadly, Willis was diagnosed in about 1924 with a rare blood disorder known as pernicious anemia. He suffered for two years before death swept him away in Adrian on Aug. 6, 1926. His remains were shipped to Napoleon where they too were lowered under the sod in Forest Hill Cemetery.
~ Son Perry "Ray" Duffy ~
Son Perry "Ray" Duffy (1882-1969) was born on Nov. 1, 1882 near Napoleon.
He was of medium height and build, with blue eyes and brown hair. As a young man, Ray was a farmer and lived in Flatrock Township, Henry County.
On Nov. 2, 1902, he married Nellie Hefflinger (1885-1966), the daughter of John and Columbia (Riggs) Hefflinger.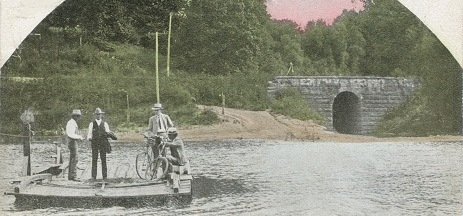 Maumee River ferry at Girty's Island near Napoleon
Seven known offspring produced by this marriage were Viola R. Bowles, Mertle Duffy, Perry Elsworth Duffy, Hazel Chotar, Kenneth E. Duffy, Fredrick J. Duffy and Dorothy Sluder.
Daughter Mertle is believed to have been born on July 29, 1904 and died two months later on Sept. 28, 1904.
The Duffys dwelled in Napoleon, Henry County in 1910, with Perry working as an oil merchant, selling his goods by wagon.
During the World War I era, when Ray was required to register for the military draft, the Duffys lived in Wauseon, OH at 240 Clinton Avenue. At that time, Ray was employed as an assistant sterilizer with Van Camp Packing Company.
The U.S. Census of 1920 shows the Duffys remaining in Wauseon, with Ray working as a laborer for a "condensory."
Sadly, Nellie died in Toledo's Parkview Hospital at the age of 81 in 1966. Burial was in Hoy Cemetery in Shunk, Henry County.
Ray survived as a widower for another three years. He succumbed to death in 1969.
Daughter Viola R. Duffy (1904- ? ) was born in about 1904. When both she and he were age 18, she entered into marriage with Truman Bowles (1903- ? ). They were the parents of Donald Bowles, Lucille Bowles and Nathan Bowles. The federal census enumeration of 1930 shows the family in Maumee, Lucas County, OH. There, Truman was employed as a machinist with an automobile factory. By 1940, Truman had changed jobs in Maumee and was now a sheet metal worker in a furnace factory. Viola is known to have remained in Maumee in 1966. Truman is believed to have died on Aug. 14, 1993 in Lake Havasu City, Mohave County, AZ.
Granddaughter

Lucille Bowles

(1933- ? ) was born in about 1933 in Maumee, Lucas County, OH.
Grandson Nathan Bowles

(1936- ? ) was born in about 1936 in Maumee, Lucas County, OH.
Son Perry Elsworth Duffy (1906-1991) was born on Feb. 8, 1906, in Napoleon, Henry County. He married Lois A. Schumaker (1907- ? ), daughter of George and Minnie (Clements) Schumaker. The nuptials were solemnized on June 18, 1931. At the time, he was employed as a salesman, and made his home in Toledo, OH. Elsworth is known to have remained in Toledo as of 1966. He died in Fort Worth, Tarrant County, TX on Feb. 19, 1991.
Daughter Hazel Duffy (1911-2006) was born on Jan. 23, 1911 in Napoleon. On May 10, 1929, she was united in matrimony with Czechoslovak immigrant Rudolph "Rudy" Chotar ( ? - ? ). They lived in Rossford, Wood County, OH for decades. Five children born into this family were Arthur Chotar, Robert Chotar, Anna Ruth Redieck and twins who died in infancy. They enjoyed dancing, family barbecues and membership in the Old Solko Club. The family belonged to St. Mary Magdalene Church in Rossford, later renamed All Saints Catholic Church. In time they joined St. Cyril & Methodius Church, where Hazel served communion and assisted with bingo. Hazel was known for crocheting afghans and daily walks through town. She surrendered to the spirit of death in her home on April 25, 2006, at the age of 95. A funeral mass of Christian burial was held in the family church, led by Rev. Jonathan Wight, followed by burial in Calvary Cemetery. Her obituary was printed in the Toledo Blade.
Grandson

Arthur Chotar was deceased by 2006.
Grandson Robert Chotar (1934- ? ) was born in about 1936. He was deceased by 2006.
Granddaughter Anna Ruth Chotar (1935-2011) was born on July 1, 1935 in Toledo. She entered into marriage with Joseph C. Redieck

(May 17, 1931-2019). Their marriage endured the ups and downs of 57 years. They made a home in Oregon, OH and were the parents of Colleen Smith, Kathy Stripling, Robert Redieck and David Redieck.

Rudolph earned a living as a glass cutter for three decades with Libbey Owens Ford Glass Company.

Among their favorite things to do was to entertain at local nightspots, with her on the keyboard and him on the drums.

Joseph also enjoyed bowling. She passed away in Orchard Villa at the age of 75 on Jan. 19, 2011. Her survivors included seven grandchildren and nine great-grandchildren. Rev. Jerry Craig led the funeral service. Interment of the remains was in Lake Township Cemetery. The

Toledo Blade

printed an obituary. Joseph lived for exactly eight years as a widower. He died on the eighth anniversary of her death on Jan. 19, 2019 as a patient in St. Charles Mercy Hospital in Oregon.
Great-granddaughter Colleen Redieck married (?) Smith.
Great-granddaughter Kathy Redieck wedded Jack Stripling.
Great-grandson Robert Redieck was united in marriage with Paula.
Great-grandson David Redieck
Son Kenneth E. Duffy (1913-1995) was born in about 1913. He married Ethel ( ? - ? ). Five children in the Duffy family were Michael Duffy, Stephen Barnes, Mary Ellen Tull, Marlin Jean Covey and Barbara Ann Lorton. The Duffys resided in Toledo and in 1959 relocated to Lake Park, FL in the Palm Beach area. They stayed for good, with Kenneth earning a living as a machinist for Pratt & Whitney for 16 years. He retired in 1979. Kenneth passed away in a Lake Park hospital at the age of 82 on May 23, 1995. His obituary was printed in the Palm Beach Post, which said he was survived by 16 grandchildren and 37 great-grandchildren. Interment was in Royal Palm Memorial Gardnes, West Palm Beach.
Grandson

Michael Duffy

dwelled in Lake Park, FL.
Grandson Stephen Barnes

lived in Lake Park, FL.
Granddaughter Mary Ellen wedded Jinx Tull

. They established a home in South Lancaster, MA.
Granddaughter

Marlin Jean married (?) Covey. She too migrated to South Lancaster, MA.
Granddaughter

Barbara Ann was joined in wedlock with (?) Lorton

. She settled in Brunswick, OH.
Son Fredrick J. Duffy (1919-1995) was born on Nov. 30, 1919 in Wauseon, OH. During World War II, he joined the U.S. Army Air Corps. His first bride was Lillian Spiess ( ? - ). After Lillian's passing, Fredrick wedded again to Marceil (Smith) Westfall. In all, he was the father of Martha Schlechty, Roseann Hall, Brian Duffy and a son who was deceased by 1995. His stepchildren were Phyllis Westfall and a stepson who was deceased by 1995. Their home in 1966 was in Jenera, Hancock County, OH. Fredrick spent the early part of his career managing the elevator at Green Springs. When the elevator burned, he then joined Ohio Farmers where he managed the Pleasant Hill Farm Center from 1979 to retirement on Oct. 16, 1981. Later, he moved to West High Street in Pleasant Hill, OH. The family attended Greenville Creek United Church of Christ in Bradford, OH even as he held a membership in the Zion United Methodist Church of Wauseon. As his health declined, he was admitted to Stouder Memorial Medical Center in Troy, OH. He passed away there as a patient at the age of 75 on May 13, 1995. An obituary was published in the Fremont (OH) News-Messenger, and a funeral service was held at Zion United Methodist Church.
Granddaughter

Martha Duffy wedded (?) Schlechty

and lived in Greenville, OH in 1995.
Grandson Roseann Duffy married (?) Hall

. She was in Tiffin, OH in 1995.
Granddaughter Brian Duffy

dwelled in Harrod, OH.
Step-granddaughter Phyllis Westfall was joined in wedlock with (?) Wyan. She resided in 1995 in Bradford, OH.
Daughter Dorothy Duffy (1924-2012) was born in on Sept. 15, 1924 in Wauseon, OH. She was joined in wedlock in 1942 with Orville D. Sluder (May 13, 1923-2012), son of Offie and Cora (Rupp) Sluder. The couple's marriage endured for an extraordinary 68 years. Orville served in the U.S. Army during World War II. The pair bore a family of four offspring -- Ricky Sluder, Larry Sluder, Coralee Fenner and Londa Donuk. They dwelled in Wauseon in 1966, where both she and he worked for McCord Corporation. Orville belonged to the Wauseon post of the American Legion. Sadly, their son Ricky died in 1967. They moved to Florida and put down roots in St. Cloud, FL, where Orville operated Sluder Mail Contracting, a mail carrying firm. They attended the Cornerstone Baptist Church of St. Cloud. Their final years were spent with daughter Coralee in Groesbeck, TX. Grief blanketed the family when Orville died without warning on New Year's Day 2012. Then just 19 days later, the spectre of death whisked away Dorothy in Groesbeck at the age of 87 on Jan. 20, 2012. Their obituaries were published in the Osceola News-Gazette, stating that their survivors were counted as seven grandchildren and eight great-grandchildren. Their remains were shipped to Ohio for burial in Pettisville Cemetery.
Grandson

Larry Sluder married Gloria. They have lived in Blairsville, GA.
Granddaughter Londa Sluder was joined in marriage with (?) Donuk

. She was in St. Cloud, FL in 2012.
~ Daughter Edith "Erma" (Duffy) Hefflinger Cludy Hayward ~
Daughter Edith "Erma" Duffy (1884- ? ) was born on Feb. 7 or 25, 1884 in Harrison Township, Henry County, OH.
At the age of 19, she lived in Flatrock Township.
On Dec. 27, 1903, when she was age 19, she married 22-year-old Robert Hefflinger (1882- ? ), the son of John and Columbia (Riggs) Hefflinger of Henry County. Rev. W.J. Dempster officiated. Edith was 14 years younger than her husband.
One son borne to this union was Richard Hefflinger.
Edith and Robert were farmers.
The federal census enumeration of 1910 shows the family living on a farm in Freedom, Henry County.
The couple divorced in the early part of the decade of the 1910s. Edith is known to have dwelled in Wauseon, Fulton County, OH in 1914.
When she was age 29, Edith married again on Sept. 1, 1914 to 33-year-old Jesse L. Cludy (May 31, 1881-1937), son of John J. and Maria (Grosscup) Cludy of Seneca County, OH. Jesse was a laborer at the time of marriage and a resident of Napoleon. The ceremony was held by justice of the peace L.H. Deyo in Wauseon. News of their marriage license was printed in the Fulton County (OH) Tribune.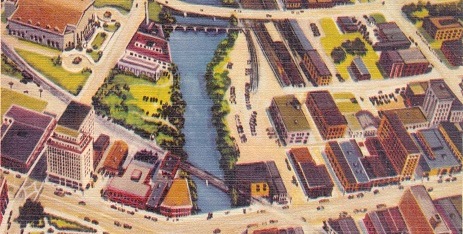 Flint, MI as seen from the air
Now primarily using the name "Erma," she and Jesse relocated to Flint, Genesee County, MI. The United States Census of 1920 shows them in Flint, with Jesse employed in an automobile factory as a machine operator. Erma's 10-year-old son Richard was in the household at that time.
Flint is known to have been General Motors' founding city and over the years became a manufacturing center for GM's Buick and Chevrolet divisions,
The 1930 census shows the Cludys remaining in Flint, with both Jesse and his stepson Richard Hefflinger working as machinists in an auto factory.
Grief cascaded the family when Jesse died in Flint at the age of 56 on Nov. 26, 1937. Burial of the remains was in Flint's Sunset Hills Cemetery.
Ex-husband Robert at age 60 wedded a second time, on Oct. 13, 1942, to 62-year-old Bertha (Ward) Schall (July 22, 1880- ? ). She was the daughter of Amos and E. (Starkey) Ward. At the time of marriage, she was a seamstress living in Liberty Center, OH. Rev. Martin Zachoche officiated the nuptials held in Napoleon. He died of stomach cancer at the age of 64 on Sept. 30, 1944, in Liberty Center, Henry County. Burial was in the Hoy Cemetery in or near Napoleon.
Edith married a third time to (?) Hayward. She was still in Flint in 1963.
More about her life will be added when learned.
Son Richard D. Heflinger (1909-1984) was born on June 14, 1909 in Napoleon, Henry County. He was a boy when his parents divorced. He then moved to Michigan with his mother and stepfather and in 1920-1930 lived in Flint, MI. Circa 1930, he and his stepfather Jesse Cludy both earned a living as machinists in a Flint automobile factory. When he was 39 years of age, on July 16, 1948, he was united in holy wedlock with 36-year-old Wilma Geraldine (Holdridge) Mason (1912- ? ), daughter of Irving C. and Ethel C. (Arthur) Holdridge. The wedding ceremony took place in Pontiac, Oakland County, MI. Richard died in Swartz Creek, Genesee County, MI in Jan. 1984.
~ Daughter Alta (Duffy) Ross ~
Daughter Alta M. Duffy (1890- ? ) was born on Feb. 20, 1890 in Henry County, OH.
When Alta was 20 years of age, on Aug. 21, 1910, she married Roy N. Ross (July 17, 1889-1954), the son of Grant and Catharine (Laws) Ross, when she was age 20, and he 21. At the time of marriage, Roy was employed as a railroad brakeman.
One son produced by this union was Leroy Ross.
The couple moved to Springfield, Clark County, OH, where Roy earned a living as a railroad switchman. They are shown in Springfield in the federal census enumeration of 1920.
Roy was transferred again during the decade of the 1920s to Columbia, Hamilton County. As of 1930, he continued his longtime work as a switchman on the railroad. Their residence in 1930 was on Edith Avenue.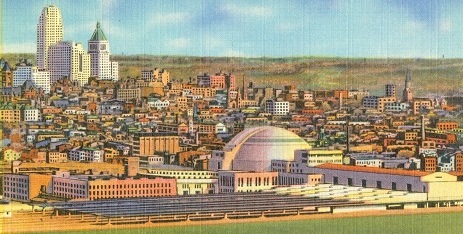 Rail terminal and skyline of Cincinnati
The Rosses took another transfer during the 1930s into the city of Cincinnati, with a home on Nine Street, and Roy still working as a switchman.
Roy died on Aug. 15, 1954. Burial of the remains was in Vine Street Hill Cemetery in Cincinnati.
Circa 1963, the widowed Alta lived in Flint, MI.
She appears to have returned to the Cincinnati area and to have made a home in English Woods. She passed into eternity at age 91 on Nov. 7, 1981. A death notice was printed in the Cincinnati Enquirer. She and her husband repose together in Vine Street Hill Cemetery.
Son Leroy Ross (1912- ? ) was born in about 1912 in Ohio. He grew up in Springfield and Columbia, OH. He was still alive in 1981.
~ Daughter Orwanda "Wanda" (Duffy) Morey ~
Daughter Orwanda "Wanda" Duffy (1896-1986) was born in April 1896 in Henry County, OH.
Circa 1915, Wanda was joined in the bonds of wedlock with Dale Morey (1888-1968).
The Moreys relocated to Ecorse, MI. They brought her widowed mother into their home where she remained until death in 1963 at the age of 103.
Sadly, Dale died in 1968.
Wanda passed into the arms of the angels in 1986. Interment was in Forest Hill Cemetery in Napoleon.
~ Presumed Son Dale Duffy ~
Presumed son Dale Duffy ( ? - ? ) was born in (?).
Dale dwelled in Wauseon in 1963.
Nothing more about him is known.
Copyright © 2011-2012, 2021-2022 Mark A. Miner