Sophia (Minard) Van Horn
(1804-1890)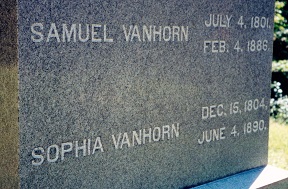 Beaver Creek Cemetery, Grand Rapids
Sophia (Minard) Van Horn was born on Dec. 15, 1804 in either Western Pennsylvania or Maryland, the daughter of John and Mary Magdalena (Kohl) Minard Sr.
As children, she and her future husband Samuel became pioneer settlers of Harrison County, OH, and, later as adults, of Wood County, OH.
Sophia was raised on her parents' farm near Scio, Harrison County, where she moved as a girl. In September 1823, her sister Elizabeth married Samuel Van Horn (1801-1886), but appears to have died after giving birth to a daughter, Rebeckah Ruth.
Very shortly thereafter, we believe 20-year-old Sophia married the grieving 23-year-old widower, on Oct. 14, 1824, and they began raising a family of their own.
Together, the couple produced a brood of 12 children -- James Van Horn, Catherine Oberdorf Dean Dunn, William Van Horn, Isaac Van Horn, Elias "Eli" Van Horn, Andrew Jackson Van Horn, Jemima Van Horn, Isabelle Blythe, Lydia Van Horn, Austin Coleman Van Horn, Sophia Van Horn and Rhoda France.
Samuel Van Horn
Samuel is seen here in a rare old image. No photographs of Sophia are known, although some surely must exist somewhere. Samuel was a farmer who was a native of Jefferson County, OH.
After seven years of marriage, and with their growing family, the Van Horns migrated to Wood County, OH. Their status as "pioneers" is confirmed by the fact that the word was inscribed on their grave marker. According to the 1897 book, Commemorative Historical and Biographical Record of Wood County, Ohio:
In 1831 they came to Wood county, traveling in a wagon, which contained all their household goods. They settled upon a tract of eighty acres of wild land, building a house, 16 x 18 feet, immediately upon their arrival, and went through all the experiences incident to pioneer life. They lived upon potatoes, corn, turkey, squirrel and deer, game being so plentiful that the family have known their dog to chase a deer out of the woods and up the lane leading to the house, where the boys would known the animal down with clubs. Turkeys they would shoot enough of in the morning for that day's supply; and as for squirrels, they were so numerous that Mr. Van Horn says he has gone out in the wheat field by the woods, and shot from ten to twenty of them before picking any up. In spite of the far advanced spring, Mr. Van Horn succeeded in clearing more than an acre of ground in time to raise a crop of potatoes that year, and the second year he raised an excellent crop of wheat without plowing the soil, his pair of oxen having been sacrificed to secure ready money.
Sadly, five of the Van Horn children died young -- Jemima (1838), Sophia (1847), Lydia (1849) and two sons named James (1847 and 1853). They are buried in a single row of graves beside their parents at the Beaver Creek Cemetery near Grand Rapids, Wood County. Their death dates are confirmed in the excellent 1991 book, Cemeteries in Grand Rapids Township, Wood County, Ohio, published by the Wood County Chapter of the Ohio Genealogical Society.



Grave markers of Sophia and Samuel's young children Jemima, Sophia and James, symbolic of the family's heartaches
The grave markers of children Jemima, Sophia and one of the Jameses are badly worn by time, with several broken off at their base. After some gentle cleaning with spray water and a soft brush, and then positioned just right in the sunlight, they were still visible when photographed in August 2002.
After settling in their new Wood County home, Sophia and Samuel joined the Methodist Episcopal Church. Samuel also took advantage of his rights by voting in the June 1831 election of justices of the peace. He also is known to have voted in the 1834 "fall election," casting his ballot for gubernatorial, commissioner, coroner and county assessor positions.
The Van Horns also were active in the development of the Methodist Church in northwest Ohio. Said the Historical Record of Wood County:
In 1833, the first Methodist class was organized, with Samuel Van Horn as leader. The other six members of the class, as recorded, were Jacob and Catharine Macklin, Mrs. Van Horn, Sarah Arnold, Annie Donaldson, and Mrs. Rice, who was the mother of Samuel and Thomas Junkins. This was the planting of the Methodist Church in Weston township, and the organization was known on Conference records as "the Gilead Mission," in charge of the Perrysburg circuit.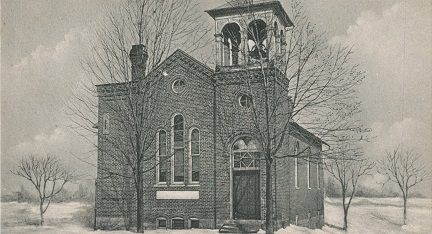 Methodist Church in Grand Rapids, circa 1900, a silent testament to the pioneering work of Samuel Van Horn and others

Samuel Van Horn
In 1860, when the federal census was taken, Samuel and Sophia were residing in the village of Gilead, Weston Township, Wood County, OH. Gilead later was re-named "Grand Rapids." Their children played with their Minerd cousins (children of Sophia's brother Samuel) who also lived in Wood County at the time. Together, they "gathered hickory nuts, went to parties and spelling schools and all places of amusements that young people thare refined would go to."
As with all families of the Civil War era, Sophia and Samuel worried as five of their sons and sons-in-law went off to war -- Isaac and Eli in the 144th Ohio Infantry, Austin in the 86th Ohio Infantry, Andrew in an Indiana regiment, and James France in the 180th Ohio Infantry.
Sadly, Samuel passed away on Feb. 4, 1886, at the age of 85. The funeral was held in the family home. He was buried in Beaver Creek Cemetery.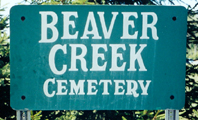 Where the Van Horns rest
In his will, written in 1883, he left everything to his widow, with the exception of funds for his daughter Catherine and grandchildren Nettie Van Horn, Samuel Oberdorf, Stamford Oberdorf and Emma (Oberdorf) Rochte (or ("Rochty").
At the time of Samuel's death, his children resided in the following places: William and Isabel in Napoleon, OH; Isaac in Grand Rapids; Andrew in Lima; Eli and Austin in Deshler and Rhoda in Grelton.
Sophia outlived her husband by four years, and died on June 4, 1890. She was buried beside her husband. Their prominent grave marker at Beaver Creek Cemetery has the large word "PIONEERS" marked directly below their names.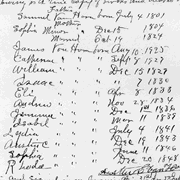 Van Horn family Bible inscriptions

National Archives
In 1914, elderly son Austin was asked by the federal government to prove his age so he could qualify for a pension for his Civil War service. With justice of the peace George W. Callin present, Austin brought out Samuel and Sophia's old family Bible. They looked at it together, and according to Callin, "the Bible was printed in 1851. That there are no erasures or alterations. And from the appearance of the writing in the record I firmly believe that the record is genuine, being yellow with age." The Bible not only listed Samuel and Sophia's birthdates but also all of their 12 children's names and dates. (Note -- Sophia's maiden name was written as "Minor.") Callin transcribed the entire list and sent it to the Pension Commissioner. Today the original is in the National Archives in Washington, DC, with a copy in the Minerd.com Archives.
Son Isaac Van Horn is profiled in the Commemorative Historical and Biographical Record of Wood County, Ohio. On his death certificate, his mother's maiden name was listed with the old Pennsylvania German spelling of "Mienert," further evidence of a family's German connection.
Several direct descendants of Sophia and Samuel have been researching their Van Horn family roots for many years and graciously shared their findings for this biography. They include, among others, Karl Oberdorf, Nelson Eddy and Earl T. Steiner.
During an August 2002 visit to Beaver Creek Cemetery, cousin and Wood County Genealogical Society volunteer Beverly (Hansen) Miner used water spray to gently brush away dirt and moss from the grave of one of the Van Horns' infant children.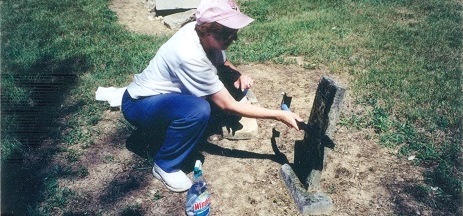 Cousin Beverly (Hansen) Miner cleaning Van Horn graves, 2002
Copyright © 2001-2003, 2007, 2021 Mark A. Miner