Catherine (Van Horn)
Oberdorf Dean Dunn
(1827-1914)

Catherine
Catherine Nancy (Van Horn) Oberdorf Dean Dunn was born on Sept. 8, 1827, likely near Scio, Harrison County, OH, the daughter of Samuel and Sophia (Minard) Van Horn. As a young girl, she migrated with her parents to western Ohio where they were pioneer settlers of Wood County.
Catherine was married three times -- to Samuel Stanwood Finley Oberdorf (1813-1865), James Harvey Dean (1838-1869) and James L. Dunn (1830-1897).
Her first spouse, Samuel Oberdorf, was said to have been born in Germany. They were wed in Wood County on Sept. 11, 1845, just a few days after Catherine had turned 18. John Spink, the mayor of Perrysburg, joined them in holy matrimony.
The Oberdorfs' three children were born between 1848 and 1855 -- Samuel Finley Oberdorf, Stanford E. Oberdorf and Emma C. Rochty Stocking.
After the birth of her third child, Catherine abandoned her family. "How she could leave her three young children remains a mystery," writes descendant Karl Oberdorf.
Samuel was left alone to raise the children. In 1860, he married Nancy Peany (1829-1879). They resided in Portage, Center Township, Wood County, and had two children -- John Andrew Oberdorf and Harriet J. Oberdorf.
Sadly, Samuel only lived a few years after his second marriage. Writes Karl, "Samuel, being ill, made his last will on January 14, 1865, and died of pneumonia on January 30, 1865, just short of his 52nd year."
In his will, Samuel gave his wife 120 acres of land in Hamilton County, IL; to son Stanford he bequeathed his "riflegun;" to son Samuel he left his "watch;" and to daughter Emma he left $25. He was buried in the Portage Cemetery south of Findlay.
"By 1868," says Karl, "the two brothers, Stanwood and Stanford were on their own... Sister Emma had moved in with her grandparents, the VanHorns..."
Catherine's Disappearance Explained
Catherine with sons Andrew
and Dr. Clarence Dean
One of Catherine's descendants, Nelson Eddy, has done extensive research into her fate after she left her first husband and three children. Within a few years, she married James Harvey Dean (1838-1869). They had two sons, seen here posing with Catherine (seated) -- James "Andrew" Dean (left) and Dr. Clarence Harvey Dean.
It's said that prior to the war, James left Ohio in the early 1860s and went to Oklahoma, thence to Missouri. Along the way, he may have met the notorious Jesse James Gang, but this is not yet confirmed.
Later, with the Civil War underway, James joined the Army. (His regiment is unknown.) According to family notes, he "almost died in Georgia." His military service is being researched more deeply. A man named James Dean served with the 22nd Indiana Infantry and the 11th Indiana Cavalry, but an examination of his Civil War pension records at the National Archives shows that he is not the same man as ours'.
After the war, James and Catherine decided to push further west into Indiana. According to Nelson's James H. Dean Family manuscript, upon arriving in Vigo County:
...they spent the night in Irishman's bridge that crossed over Honey Creek in southern Vigo County due to the rain and cold of the night. The next day James went about 600 yards west along Honey Creek to the high bank and there he built a lean to shelter for his family. In December 1865 James, bought 40 Acres of land in Pierson Township (Section 33) there he moved his family into a log cabin where he raised.
According to the Indiana Covered Bridge Society, the bridge was built in 1845, repaired due to flood damage in 1851, and is one of two Indiana covered bridges employing modified queen post truss construction.
Sadly, in 1869, James passed away, "possibly from war wounds that he received in the Civil War," writes Nelson. He was laid to rest in Taylor Cemetery in Vigo County, apparently in an unmarked grave.
Writes Nelson: "After the death of James, his widow remarried. She continued to live in this log cabin on Cabin Hill, How long she lived in this cabin is not known for sure." He adds: "I have been told that she was a roamer and knew all about the woods and plants and herbs that grew there."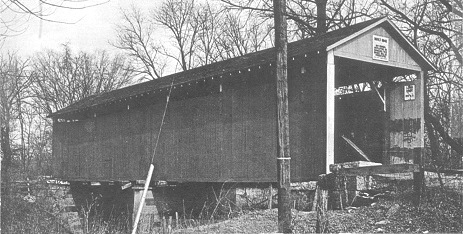 Irishman's Bridge over Honey Creek
Catherine's Third Marriage
After three years as a widow, Catherine remarried again, on Aug. 8, 1872, to James L. Dunn (1830?-1897), a native of Ohio. The ceremony took place in Vigo County, IN, with Rev. John W. Culner officiating.
They migrated to what is now Lewis, IN. They had no children, and were married for a quarter century.
Tragically, James L. was found frozen to death in 1897 in a North 4th Street doorway in Terre Haute. He was buried in Woodlawn Cemetery.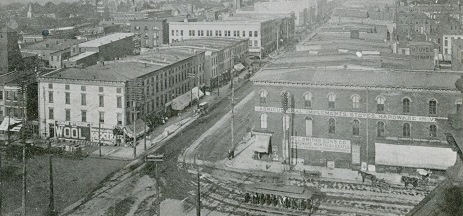 Terre Haute's Main Street
Widowed again, Catherine moved west and south to Oklahoma, where her son Clarence established a medical practice in Arapahoe.
When Catherine's father died in 1886, he made a special provision in his will to provide funds for her welfare. Three of her children were mentioned in the will -- Samuel Oberdorf, Stamford Oberdorf and Emma Rochte.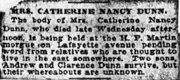 Catherine's obituary
In failing health, suffering from hardening of the arteries, Catherine returned home to Indiana. A great-granddaughter recalled Catherine taking her to Taylor Cemetery to place flowers on a grave only marked with a stump of a tree.
"Homeless [and] Friendless," she was admitted in 1909 to the Vigo County Poor Farm in Terre Haute. She was released later that year, but returned in 1911. A rare bird's-eye view of Terre Haute is seen here in an old postcard photograph, depicting Main Street, looking east.
Catherine passed away there at age 86 on June 3, 1914. An outline of the James H. Dean Family further states that her remains were ordered by the Poor Farm Superintendent to be taken to Taylor Cemetery in Pierson Twp., Vigo County, and buried in an unmarked grave.
James H. Dean
18__ - 1869
Catherine Van Horn
Oberdorf Dean Dunn
1827-1914
Grave marker inscription
Descendant Nelson Eddy said that he once:
...had the chance to visit the place where she had died and was shown the cell that she was locked in till her death... my what a site it was with the water running down the walls onto the straw on the floor for her to sleep on. It sure was heart breaking to see it and I am glad that it was torn down about ten years ago.
In 1998, Nelson and his cousin Karl Oberdorf combined forces to rescue the memories of Catherine and her second husband from obscurity. Together, they erected a grave marker for the couple in Taylor Cemetery.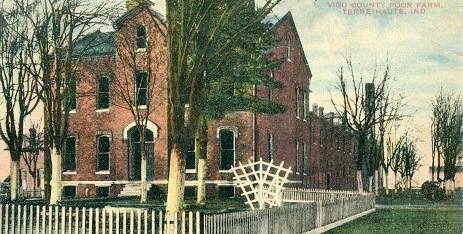 Vigo County Poor House where Catherine died in 1914
Copyright © 2003-2005, 2009, 2015, 2021 Mark A. Miner
Excerpts of Nelson Eddy's James H. Dean Family manuscript, and Karl Oberdorf's manuscript, The Oberdorfs in America, are used with permission. Select photos courtesy of Karl Oberdorf.