Dr. Clarence Harvey Dean
(1864-1952)

Dr. Clarence Dean
Dr. Clarence Harvey Dean was born on Dec. 13, 1864 near Terre Haute, Vigo County, IN, the son of James Harvey and Catherine (Van Horn) Dean. He was one of the earliest physicians in our family, and an early pioneer of the newly settled territory of Oklahoma before it became a state.
When Clarence was age five, his father died. Later, his mother married James Dunn.
Clarence graduated from medical school at Indiana University. His tuition was largely financed by his brother, James "Andrew" Dean. Andrew kept a diary, transcribed by descendant Nelson Eddy and published in the typescript, James H. Dean Family. In a diary entry for September 1890, Andrew wrote:
Loaned Clarence Deen thirty dollars to go to ladogoe school. I loaned him another five dollars to go to Terre hut, two dollars another time, and One hundred and fifty dollars to go to indianapolis school.
In January 1892, Andrew added: "I loaned Clarence another one hundred dollars to go to Georgia School."
On April 27, 1888, at Owen County, IN, Clarence married Clara Cordelia Clark (1867-1949). She was a native of Coal City, Clay County, IN.
Together, the couple produced one son, Harry Harold Dean, born in Indiana on Sept. 3, 1889.
In the 1890s, when the Oklahoma Territory was opened for residential settlement, the Deans migrated there, near the towns of Arapahoe (later shortened to "Arapaho") and Custer City, in Custer County. Clarence set up a medical office in Arapaho, and practiced there for some years. As she aged, Clarence's mother came to live with them.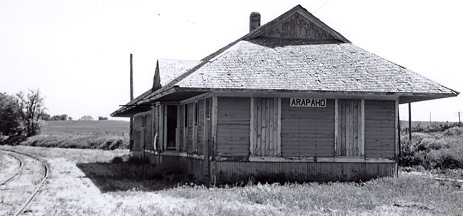 Landmark in Arapaho, OK: St. Louis and San Francisco "Frisco" Railroad depot
The federal census enumeration of 1900 shows Clarence, Clara and son Harry, as well as Clarence's 72-year-old mother, making their home in Grant Township, Custer County. Clarence's occupation was listed as "physician."
Clarence's mother often wrote letters home to Indiana, describing the family's comings and goings. In one, she wrote: "Clarence Said he would go out to John Blackletter and look a round and see if he could teach a scool sesion for pastor it is fifty miles north west out to the boyes clamines... Clarence planted fifty acres of corn last week."
In another letter, she wrote:
wee went over to clarences last friday to get some more close while we was thare a sick man came in and wanted to lay down clarence brought him in the back room and was fixing my bed to put him in when i went out i herd last eveing that the man had the smallpox i dont know if i will take it or not i think i had better go to martons and stay till i see if i get sick or not. They have had the Small pox this spring i never heard from Clarences all the time i was gone, they never came to see wither i was sick or well the neighbors are all talking about the way the treatment i get.
Sadly, Clarence and Clara separated and divorced during the decade between 1900 and 1910.
Clara lived for another 45-plus years after the divorce. She died in May 1949 in Worthington, Owen County, IN. She was laid to rest in the Farm Cemetery.
In about 1904 or 1908, Clarence married his second wife, Livonia Houston (1878- ? ), the daughter of B.M. and Emma (Huspeth) Houston of Missouri. He was 14 years older than his new bride.
One daughter was born into the second union, Margaret Louise.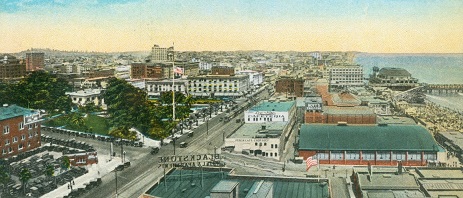 Long Beach, CA, where the Deans moved in the late 1930s
The 1910 census shows them making their home on 18th Street in Clinton, Custer County, beside what today is Interstate 40. By 1920, they had moved again, to Spruce Street in Custer City.
But by 1930, when Clarence was age 65, he and Livonia had separated. He remained in Custer City, continuing his medical practice, while she moved to Arkansas, making her home in Mena, Center Township, Polk County. The 1930 census shows her in Polk County, at age 50, with no occupation, and living alone.
The Deans appear to have reconciled during the second half of the decade of the 1930s. They moved to Southern California and settled in Long Beach, Los Angeles County. When the 1940 federal census enumeration was made, Clarence, Livonia and their married daughter, son-in-law and two grandchildren resided together under one roof. Clarence at the age of 75 had no occupation that year, while Livonia was employed as a clerk in a retail drug store.
He died in Torrance, Los Angeles County, CA on June 1, 1952, at the age of 88. He was buried in Roosevelt Memorial Park in Gardena, CA.
Livonia passed away in Gardena, Los Angeles County on Jan. 30, 1960. On her California death certificate, her birthplace was listed as Kansas, although all of the census records show the birthplace to have been Missouri.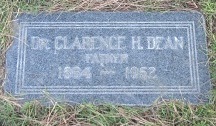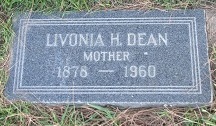 Roosevelt Memorial Park, Gardena, CA - courtesy "BJW"
~ Son Harry Harold Dean ~
Son Harry Harold Dean (1889-1986) was born on Sept. 3, 1889 in Coal City, Owen County, IN.
In adulthood, Harry stood 5 feet, 10 inches tall and weighed 176 lbs. He had grey eyes and brown hair, and bore a scar on his left forehead.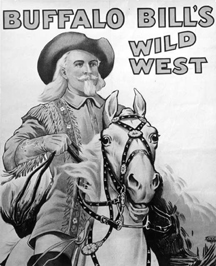 Buffalo Bill's Wild West show poster

Library of Congress
He toured the country as a young man, playing the trombone in circuses. He spent part of a summer touring season with Buffalo Bill Cody, but quit in a dispute over pay. For this experience, he was featured in a 1979 edition of the Daily Californian, headlined "Crest Man Blew His Horn with the Best of Them."
Harry married Nell "Emmeline" Stout (1892-1980), daughter of William L. Stout.
They bore at least two children, Wilbur Newell Dean and Mildred Catherine Krueger.
With World War I aflame, Harry was required to register for the military draft. At the time, he and Emmeline were in Jacksonville, FL, with him playing in a musical band, employed by Maggie Johnstone. On his registration card, he wrote that he was supporting his wife "but willing to serve my country."
He in fact joined the U.S. Navy as a musician first class. He enlisted on June 27, 1918 and completed service on Nov. 11, 1918. Immediately after returning home upon discharge in 1919, the family lived in Savannah, GA at 1404 Habersham Street.
The Deans eventually settled in the District of Columbia, where their daughter was born in 1923. Circa 1930, he was employed as an orchestra musician, and Emmeline as a bookkeeper for a bakery. That year, Emmeline's father lived under their roof, as did Robert A. and Clara Fones, located at 609 Kenyon Street Northwest.
When the federal census enumeration was made in 1940, the Deans continued to reside in Washington, DC. Harry earned a living at that time as a clerk in the Washington City post office. Boarders William and Lucille Helton boarded in their home.
Eventually the Deans migrated to the West Coast, putting down roots in San Diego.
Sadly, Emmeline succumbed to the angel of death in El Cajon, San Diego County on Jan. 29, 1980.
Harry passed away in El Cajon on March 26, 1986, at the age of 97.
Son Wilbur Newell Dean (1912-1988) was born on May 19, 1912 in Savannah, Chatham County, GA. He stood 5 feet, 6 inches tall and weighed 130 lbs. in young manhood. Circa 1940, having relocated with his parents to the District of Columbia, Wilbur at age 28 made his home on Spring Street in East Riverdale, Prince Georges County, MD. At that time, he was employed with Potomac Electric Power Company of Washington, DC. He joined the U.S. Navy during World War II, enlisting on March 23, 1944 and completing service on Jan. 11, 1946. He wedded May Fidella Clark (1914-1968), daughter of Daniel and Fidella Clark of Pennsylvania and the District of Columbia. The pair's only known son was Austin Newell Dean. Sadness cascaded over the family when Mae surrendered to death in 1968. Wilbur lived for another two decades and wedded again to Helen Ruth (Bonner) Boswell Ball (1927-2007), daughter of Elmer C. and Blanche (Judy) Bonner. Death swept him away in College Park, Prince Georges County, MD on Jan. 4, 1988. Evidence suggests that his obituary appeared in the Altoona (PA) Mirror. Burial was in Maryland Veterans Cemetery in Prince Georges. Helen died on Jan. 7, 2007 in Elkridge, Howard County, MD.
Grandson Austin Newell Dean (1934-1978) was born on Feb. 6, 1934 in the District of Columbia. On May 15, 1953, he entered into marriage with Ellen A. ( ? - ? ). The family residence in 1960 was in Silver Spring, Montgomery County, MD, at the address of 3505 Harrell. He worked as a lithographer for Haynes Lithograph Company in Washington. He earned Sadly, Austin died on Dec. 1, 1978 in Washington. Burial was in Fort Lincoln Cemetery.
Daughter Mildred Catherine Dean (1922-1990) was born on Sept. 17, 1922 in the District of Columbia. Her husband, George D. Krueger ( ? - ? ), was a World War II veteran who was wounded in the battle of Tarawa in the South Pacific. The James H. Dean Family history states that Mildred and George:
... had one of the first homes built by the U.S. Government for paraplegics whose disabilities resulted from the war. The home was completed in 1949. He died in 1963. Major Krueger was a college athlete and is in the Whittier College Football Hall of Fame.
She was employed as Director of the North County branch of the American Heart Association until retirement in 1980. Quoting from Mildred's newspaper obituary:
Mrs. Krueger was a founder of La Mesa Junior Womans Club in 1952, and she became charter president, serving 1952 to 1954, when she was elected president of the San Diego District Junior Membership. She was elected state president of the California Federation of Junior Womens Clubs in 1958.
Mildred died in San Diego on Jan. 17, 1990.
~

Daughter Margaret Louise (Dean) May ~
Daughter Margaret Louise Dean (1911- ? ) was born in about 1911 in Arkansas. She grew up in Mena, Polk County, AR.
On March 13, 1932, when she was 21 years of age, Margaret Louise entered into marriage with 28-year-old Don May (1905- ? ). Their nuptials were held in Mena.
The family of children born to this union included Don D. May and Madeline May.
Circa 1935, the Mays lived in Arkansas, likely in or around Mena. By 1940, the family pulled up stakes and moved with Margaret's mother and stepfather to Long Beach, Los Angeles County, CA. Don had no occupation as of 1940.
Son Don D. May (1933- ? ) was born in about 1933 in Arkansas.
Daughter Madeline May (1938- ? ) was born in about 1938 in Arkansas.
Copyright © 2003, 2009, 2021 Mark A. Miner.
Excerpts from Nelson Eddy's James H. Dean Family manuscript used with permission.