Samuel Minerd
(1815-1904)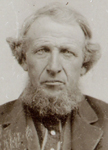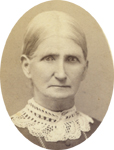 Samuel and Susanna Minerd
Samuel Minerd was born in February 1815 near Scio, Harrison County, OH, the son of John and Mary Magdalena (Kohl) Minard Sr. He and his wife Susan are acknowledged among the "First Families" of Wood County, OH.
The Minerds and their daughter Rebecca had an unusually close relationship with the family of General George Armstrong Custer, and Samuel took great pains to raise and protect his grandson (and the General's nephew), Thomas C. Custer.
Samuel also once faced a grand jury investigation for allegedly trying to defraud the federal government into paying pension benefits to his mentally ill son Alpheus, a Civil War veteran.
As with his father and brothers, Samuel was a farmer, and typically spelled the family name "Minert" or "Minerd."
Samuel Minerd
In July 1839, in Harrison County, Samuel married Susanna Hueston (1818-1893), with the license issued "on oath of Solomon Minard," Samuel's brother.
They together produced a brood of six children – Jemima Burditt, Sarah Shepard, Pera Jewell, Alpheus Minerd, Jacob Minerd and Rebecca Behme Kearns.
In about 1846, Samuel and Susanna migrated west with their children to a farm near Tontogany, Wood County. They no doubt were attracted to the flat, rich farmland that had once been known as the "Black Swamp" -- so named because in an early day, it would not drain. Early settlers had cleared the swamps into dry farmland by digging ditches and placing "tile" into the ground to drain away the stagnant water -- making the fertile earth ideal for raising crops such as wheat and oats.
That year, Samuel purchased a 40-acre farm "a part of the Erie & Wabash Canal lands," on Sept. 29 from Joseph Jeffries. The Minerds are enumerated in Washington Township, Wood County, in the 1850 census.
Samuel, interested in the public education of his family, was elected a school director in 1853. As a director, Samuel provided room and board for some of the teachers. In the summer of 1855, a sister of Wood County Commissioner Edward Beaverstock is known to have "taught school in the Minerd district" and to have "boarded in the Minerd family, with Samuel Minerd…"
Neighbor Mary J. Jeffers, on an adjoining farm, stated that she "taught school in the Minerd district during the summer of 1862…. I visited in the Minerd family occasionally...."
Among other visitors in the Minerd home over the years were Greenbury Burditt, Louisa Jeffers, Catharine Eddmon, Peter H. Van Valkenberg and Sarah J. Patterson. Samuel is known to have "done business" with neighbor Francis Franklin, who was a machine agent. The family physician was Dr. Joab Squire, who later moved to East Toledo, OH.
In 1856, when Samuel's father wrote a will, he directed that Samuel receive $80 in cash payments within 10 years of death. The father did not die until 1867, and it is not known if Samuel received the inheritance within the allotted decade.

Longtime neighbors Emanuel
and Maria (Ward) Custer
~ The Custer Connection ~
Among the Minerds' neighbors in Harrison County in the 1830s and '40s was the family of Emanuel H. and Maria (Ward Kirkpatrick) Custer and young children. Two of the Custers' sons would go on to great fame in American military history -- General George Armstrong Custer (1839-1876) and Thomas Ward Custer (1845-1876), who won the Medal of Honor twice during the Civil War. Both brothers lost their lives in the Battle of Little Big Horn, along with a third brother, Boston Custer, brother in law James Calhoun, and nephew Harry "Autie" Reed. In fact, a bronze statue stands on the site of Custer's birthplace in New Rumley, OH, just a few hundred yards from two churches where our cousins are buried.
As with the Minerds, the Custers also moved from Harrison County to Wood County, likely also attracted by the rich farmland. They emigrated in about April 1860, when Thomas W. Custer was at the age of 15. The family settled northwest of the town of Tontogany.
Tontogany neighbors Nevin
and Ann Custer
Emanuel and another son, Nevin J. Custer, purchased several farm tracts in the Tontogany area. (Nevin and his wife Ann are seen here.) these tracts are listed in the Wood County Recorder of Deeds office, and they include the following:
80 acres from John Bates and Henry Barnthistle on March 1, 1861 - site of the Custer farmhouse - Section 31, Township 6, Range 10
80 acres from David Gundy on May 28, 1866 - S29, T6, R10 - of which 20 acres were sold to Samuel Minerd on April 30, 1867; and of which 40 acres were sold to George Vollmer on Dec. 19, 1871.
20 acres from Benjamin F. and Martha Morris to Nevin J. Custer on Nov. 4, 1881 - S33, T6, R10 East - which was sold by Nevin to David Mitchel on March 12, 1887.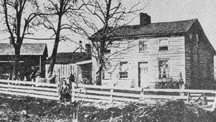 Custer farmhouse in Tontogany
The old Custer farmhouse is seen here in a vintage photograph. It was located at the southwest corner of the Tongogany Creek and the Cross Creek Roads. The house later was sold to Anton Williams, and they are in the photograph seen here. The house later was converted to a blacksmith shop.
In 1970, it was dismantled by the then-owner "after determining it was too rickety and too dangerous for visitors, many of whom were Boy Scouts," reported the Bowling Green Daily Sentinel Tribune.
Susanna was approached in late 1867 to support the case of her friend Lucy Ashley, widow of a Civil War veteran of the 182nd Ohio Infantry who had died leaving a number of underage children. In an affidavit, on file today at the National Archives in Washington, DC, she wrote that she well knew the Ashleys' son Daniel, having served as a midwife at his birth in Washington Township, Wood County on Oct. 7, 1851. She signed the document on Dec. 19, 1867.
~ Grandson "Tommy" Custer ~
Sometime in 1870 or 1871, with the Custers living just a short distance away, the Minerds' daughter Rebecca gave birth to a son. She named him "Thomas C. Custer," and called him "Tommy." She apparently did not raise the child, but her parents did so. The federal census for 1880 shows that in the household of Samuel and Susan Minerd was nine-year-old grandson "Thomas Custar." The census shows that Tommy had attended school within the year, and that his parents had been born in Ohio. Years later, the Wood County Sentinel said that he "was a nephew of General Custar, of Indian fighting fame…. Tom Custer, father of [Tommy], was also killed at the Battle of the Big Horn, where Gen. Custer was slain." Click to see a page of photo images of the Custers.
In the 1890s, Rebecca is known to have lived in Iowa and Washington State, including at Spokane, Everett/Seattle and Port Townsend. She wrote letters home to her sister and father, whom she adored. In one letter she wrote: "Kiss my father for me + tell him I said for you to do so + that I would work my nails off to help to take care of him if I could only do so." Another time, she wrote: "I wish I was where I could do something to make his old days a little pleasant. I would do all I could for him but here I am away out in this wooly west, many thousand miles away…"
~ Sons in the Civil War -- and One's Mental Illness ~

Susanna's rare signature, ca. 1867
Courtesy National Archives
During the Civil War, the Minerds worried as son Alpheus and future sons in law William J. Burditt and William H. Shepard joined the Army. Alpheus sent home part of his military pay, with an understanding that it would be saved for him. Alpheus and Shepard saw fierce action with the 34th OH Volunteer Infantry, and were taken prisoner by the Confederate Army.
Burditt and Shepard appear to have survived the war with few scrapes. But before and after the war, son Alpheus showed signs of mental illness, which got worse with time. As the condition grew more dark, Samuel and his family feared for their safety.
County Commissioner Beaverstock, whose sister boarded with the Minerds, reported that Alpheus "made his father much trouble, was violent toward him, often threatened him, took a club with him when he went to bed and showed in many ways that he was of unsound mind, that he was deranged, that he was insane."
Catharine Addmon, who resided on an adjoining farm, and "knew the Minerd family well," once recalled that "when at his parent's house, … [Alpheus] was up stairs, fastened up there for extreme ugliness."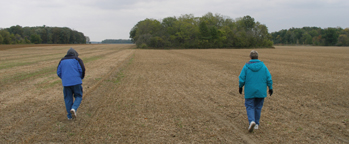 Site of the old Minerd farm, circa Oct. 2007. All that remains is the large clump of trees in the center of the property, cluttered with litter, some masonry foundations and filled-in wells.
In August 1862, the Minerds' daughter Jemima married William J. Burditt. Justice of the peace Edwin Fuller, who performed the ceremony, said that it was marred by Alpheus' bad behavior right before the ceremony was to begin:
… the soldier's father and some of the others present went out to find Alpheus … and to call him in to witness the marriage…. The father and the others returned without Alpheus, who was in an out-building, and who refused to come in. The father's troubled face caused me to ask him what the trouble was. He, the father answered me that Alpheus refused to come into the house and was secreted. I asked the father what was the matter of the boy. The father said that the boy was not right in his mind, that he had spells of insanity, that he was deranged, that he, the boy, caused the family a great deal of trouble, that he often hid himself away, that it was often difficult to find him, that they often feared him.
A month later, when Samuel and Susan's daughter Pera married William L. Jewell, Alpheus exhibited similar unsociable and troubling behavior. Recalled Fuller:
On that day, Alpheus Minerd [hid] himself in the chamber above where the marriage ceremony was performed. The father and the family tried to get him to come down to the marriage.… They failed to bring him down. The father then said that the boy was deranged and they could do nothing with him.
In late 1865, after returning home from the war, Alpheus asked Samuel for the money, but was refused. In a rage, Alpheus cut Samuel's new harness "to pieces." Thereafter, they had a long-running feud. By 1871, Alpheus' mental illness had grown so bad that he threatened to kill his father. Samuel later said that Alpheus had gotten to be "clean' crazy…"
Standing the abuse no longer, Samuel sought court protection. Alpheus was declared insane by the Wood County Orphans Court in a decision handed down in 1871. He was sent to an insane asylum in Newburg (Cleveland), OH. When Alpheus was captured after after an escape in 1877, his family successfully applied for him to be admitted to the Columbus Hospital for the Insane "as a state patient." He later was transferred to a mental health facility in Toledo, OH, remaining institutionalized for a total of 17-plus years. He was released at the end of 1888, and returned to Bowling Green, where he moved back in with the Jewells.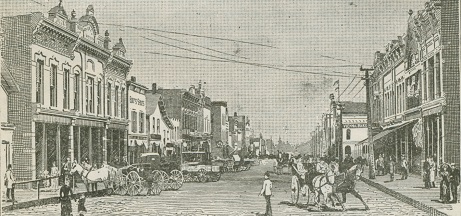 Sketch of Bowling Green circa 1887. From Howe's Historical Collections of Ohio.
~ Facing a Grand Jury Investigation ~
In February 1882, Jewell filed a claim to receive a federal pension for Alpheus' disabilities suffered as a prisoner of war, through exposure and starvation. It took more than 8 years for the government to reach a conclusion.
At around the same time, the U.S. Attorney for the Northern District of Ohio investigated charges that Samuel, son Jacob and son in law Jewell had conspired criminally to defraud the government by lying that Alpheus had been normal before the war. A grand jury was convened in Toledo, OH in December 1889, and apparently decided there was no grounds for a trial. Wrote Assistant District Attorney E.S. Cook, "The testimony before the grand jury certainly developed the fact that this man was sound and healthy, though with mental peculiarities, prior to his enlistment."
In 1890, when Alpheus' case was being probed, special examiner James M. Wells came to Samuel's home to question some of Samuel's testimony. Recalled Samuel, "in making his answers, [I] took time to consider what [I] swore to, which seemed to irritate the examiner greatly, so much so in fact that he acted in a very angry and boisterous manner, and threatened [me] with prosecution before a higher tribunal."
Union Hill Cemetery
The Minerds apparently suspected that neighbor David V. Gundy, a sworn enemy, was providing distorted information to federal investigators. Grundy lived on an adjoining farm, and saw members of the Minerd family "almost daily." Jewell said "there was a very bad feeling between [Grundy] and the Minerd family and my self for years…" Jacob Minerd said the feud was "most bitter." Neighbor Hiram Cunning added that Grundy's "unfriendliness toward the family was very pronounced and aggressive…"
In 1890, Samuel himself admitted that there was a feud with Grundy that had lasted more than 3 decades: "We have been enemies since before the war and are at the present time."

Union Hill Cemetery
~ Family Fates ~
Susan died on May 28, 1893, and is buried at Union Hill Cemetery. The specifics of her death are not known. The Wood County Sentinel simply reported: "Mrs. S. Miner, north of Tontogany, aged about 80 years, died Sunday, and was buried Tuesday. She was grandmother of Mrs. Thomas Farmer, of [Bowling Green]."
Samuel outlived her by 11 years. In 1900, he was residing in the home of son Jacob near Tontogany. By late 1904, he was living with daughter Jemima Burditt, on his old farm.
Around Christmas of that year, the Bowling Green Daily Sentinel said that "Grandpa Miner who has been sick for the last two weeks is no better." He passed away at Jemima's home on Dec. 29, 1904, and was buried beside his wife at Union Hill Cemetery. His grave marker is seen here circa 2005.
Copyright © 2001-2003, 2010 Mark A. Miner
Photographs of Emanuel and Maria Custer, and Nevin Custer, courtesy of the Little Bighorn Battlefield National Monument/National Park Service. Bowling Green sketch based on a photograph by R.P. Morrison and published as a sketch in Historical Collections of Ohio (1888) by Henry Howe.