Home

Rhoda (Van Horn) France
(1848-1941)

Rhoda and John France
Rhoda (Van Horn) France was born on Dec. 20, 1848 near what is now Grand Rapids, Wood County, OH, the daughter of Samuel and Sophia (Minard) Van Horn. She was a teacher prior to her marriage, and her husband was a veteran of an Ohio regiment serving in the Civil War.
According to a newspaper, Rhoda was "one of the first school teachers in Wood county and daily rode horseback to her duties in the early days." This makes her one of the earliest educators in our family in general and in Ohio in particular.
On June 16, 1870, at Bowling Green, Wood County, the 21-year-old Rhoda married 21-year-old Civil War veteran John C. France (1848-1932), the son of George and Sarah (Coyne) France, and a native of New Cumberland, Tuscarawas County, OH. The ceremony was performed by Rev. T.M. Barkdull.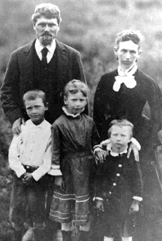 With children, L-R: Presley,
Jessie and Claude, 1875
The Frances produced a family of four children -- Jessie Henry, Presley Twining France, Claude C. France and Forest "Fay" France.
Prior to the Civil War, John stood 5 feet, 7 inches tall, and weighed 150 lbs. His complexion was fair, and his eyes were blue-grey. He was employed as a teamster.
During the war, John had served in Company K of the 180th Ohio Infantry. He enlisted at Lima, OH on Sept. 27, 1864, when he was 16 years old. He fibbed that he was actually 18 so that he could meet the Army's age requirements. He is said to have been the regiment's drummer. However, this is little in the records to show that his regiment saw any action.
John was discharged from the Army on July 12, 1865 at Charlotte, NC. He returned to his home in Custar, Wood County, and five years later married Rhoda.
John was a carpenter and building contractor. He and Rhoda resided at Custar until 1872. The Frances then moved to Deshler, Henry County, OH, where they stayed until 1878. The federal census enumeration of 1880 shows them back in Custar, with John earning a living as a laborer, and with three children then in the household.
From there the family relocated to Grelton, Henry County, staying until 1887; thence to Mungen, Wood County, remaining from 1887 to 1892; and finally to the village of Continental, Putnam County in 1892. The 1900 United States Census lists them in Continental. At that time, John was employed as a sawmill laborer.
Rhoda was talented at sewing. In fact, said a newspaper, "the day before her death, she had mended her own clothing."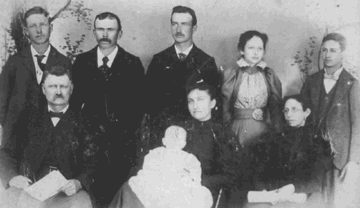 The Frances in 1887 -- back row, L-R: Claude France, Jurd Henry, Presley France, Jessie France Henry and Fay France. Seated, L-R: John France, Mary Robinson France holding baby Lynn, and Rhoda Van Horn France.
One of Rhoda's distant cousins also resided near Continental in the early 1900s -- Jesse A. and Sarah Josephine (Miner) Moore and several of their adult children.
As he aged, John began to suffer from ailments that he claimed were due to the hardships of Army life. These included diarrhea, stomach and bowel pain, "lame back" and rheumatism, heart disease, liver disease and slight deafness of both years.
Sometime after 1890, when the government expanded its benefits for Civil War veterans, John was awarded a pension of $6 as compensation for his increasing health problems. Rhoda often handled the paperwork for the large volume of documents needed to support his claim and convince bureaucrats in Washington, D.C.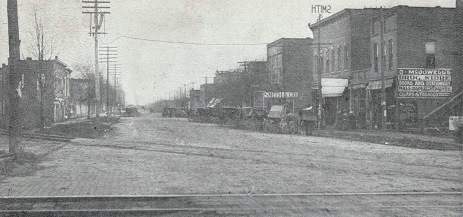 Continental, Ohio,
showing Main Street and tracks of the Nickle Plate Railroad.
The France home was two blocks east and a block and a half south of this site.
John added to his physical woes in March 1900. At the time, he was working as head-sawyer at a sawmill at Stryker, Williams County, OH, though he had returned for a few days to conduct business at home in Continental. Upon returning from Continental to Stryker, the weather was "a very rainy and sleety and disagreeable morning for any person to be out unless impelled from circumstances to do so," he wrote. He first went to the Collins House, where he was boarding, "where I changed my clothes prepatory to going to work." Further in his own words: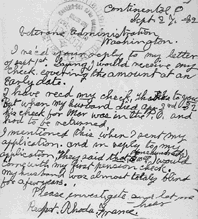 Rhoda's letter to pension officials
... I walked leisurely and carefully on the side-walk toward the said saw-mill, it still sleeting and the side-walk very sleek and icy, till I reached quite a distance, perhaps two or more squares, when I suddenly slipped and fell very hard on my right ankle and thus wrenching it and fracturing it in struggling to catch my equilibrium and save myself from injury... [As] no one was near to assist me I hobbled along the best I could till I found myself once more at the said Collins House whence I came and there found [the porter and clerk], when I showed how I was hurt and injured and how I incurred the injury of my right ankle which was then badly swollen and very painful...
Charles I. Walker, a 22-year-old Collins House clerk, later testified to helping John, and wrote: "He was so lame and disabled ... that he could do no more work at all. -- could not put his foot to the floor, and the P.M. of the third day following he left the 'House' and went home and was then barely able to hobble and drag along on crutches and by assistance of others."
John and Rhoda's names were published in the 1911 book, History of Seneca County, Ohio, by A.J. Baughman. They appear in a feature about John's brother in law, Samuel O. Felsted, on pages 837-838.
In 1920, the Frances celebrated their 50th wedding anniversary. A newspaper reported that:
The home of J.C. France and wife was the scene of a week end hilarity by the arrival of their children and grandchildren... Owing to the occupation of some members of the family, the celebration was postponed until the 20th.... The entire family except six grand children and the great-grand child were present, and were seated around one lengthy table to consume the Sunday dinner, which was not by any means "a quiet affair."
As part of the Army's requirements for documenting his physical disabilities, John was required to undergo thorough physical examinations by a board of surgeons, usually at Defiance, OH. Detailed reports are contained in his pension file in the possession of the US Veterans Administration, with a copy in the Minerd-Miner-Minor Archives. They show that he suffered from cataracts on both eyes. Wrote Rhoda: "One [eye] is so forgone that he can only discern light from darkness & that but very little. In Sept. last we had the cataract removed from the other eye, hoping for a sight, but it diden't prove a success."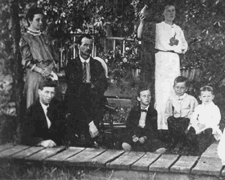 France reunion -- front row, L-R: Jessie France Henry (standing), Claude France (on ground), Claude France (on chair), Lynn France, Kathryn Quinlan France (standing), France Henry, Lyle Henry, Glenn France (on boardwalk), Rhoda France (holding pole), Mary Robinson France, Flossie France, John France (in lap), Claude France, Myrtle Bidlack France holding Cloyce, Rhoda France, Ruth France, Jurd Henry, Forest Faye France holding Gillea, and John C. France.
For his exam in 1923, John was requested to travel to an eye specialist in Fort Wayne, IN. He and Rhoda objected, due to the difficulty of getting there from their home. In an impassioned letter to the Pension Commissioner, dated April 25, 1923, Rhoda wrote:
Now I am in a quandary, how to do this. Defiance is only 18 miles distant & I got a taxi to get there, but Ft. Wayne is over an hours ride by rail, and a strange city to me, and I can't see how I am to get as (good as) a blind man there & find the location. You know a "Civil War" man is not very suple even if he could see... And it would be an expense also, as our trains doesn't run to convenience us in that direction.
The Pension Commissioner wrote a sympathetic reply, stating that they could indeed go to the Bureau's expert at nearby Lima, "which can be reached from Continental by trolley." Upon receiving this news, the Frances wasted no time in pursuing the exam, and it was held in May. The tests revealed that John was indeed blind. In the surgeon's words:
Eyes have been bothering for 6-7 years. Rt. eye went blind 4 yrs ago. Left eye went blind 2 yrs. ago. Had right eye operated last September... [He] is able to grope way around in office but it would be unsafe for him to try to get around in a strange place. He is able to dress, undress & feed himself. He is not feeble or decrepit.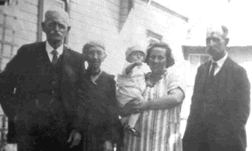 4 generations, L-R: John and Rhoda; James P. Steiner; Rhoda Ellen Steiner,; son Presley.
The Frances spent their winter months in Florida each year, perhaps to seek relief for their physical problems and to escape the harsh midwestern winters.
Seen here is a four-generation photo, taken in 1927. From left to right: John and Rhoda; great-grandson James P. Steiner, granddaughter Rhoda Ellen Steiner, and son Presley France. John likely was totally blind when this image was taken.
John also suffered from prostate difficulties as he aged. He passed away in Continental on April 3, 1932. Said the Putnam County (OH) Gazette, he "was Continental's last Civil War Veteran as well as one of the Pioneer citizens." He was laid to rest in a mausoleum in Sugar Ridge Cemetery in Leipsic, OH. At the end of his life, he was receiving $100 per month in veterans pension payments.
After his death, Rhoda requested that, under the law, she begin to receive his pension payments. In a letter to the Veterans Administration, dated Sept. 1, 1932, she wrote: "Everything has been filled out and sent, some time ago. Please let me hear, or better, send a check."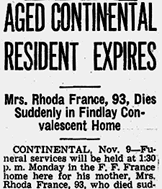 Obituary, 1941
Rhoda was awarded her husband's pension, but at a reduced rate. By 1941, the year she died, Rhoda was receiving $40 per month, and she appealed to the government that year for an increase to $50 per month. In a letter to the Bureau of Pensions, she wrote: "I am doing this writing myself. Did it for my husband's pension, and my own also." Her request was rejected because she had not been married at the time of John's military service.
Widowed and elderly, Rhoda moved into a convalescent home in Findlay, Hancock County. In her later years, it's said, she only drank rain water as she could not bear the thought of water filtering through the dirt that contained manure. The idea of being buried underground appalled her, for fear of worms, and the mausoleum had been her idea.
Rhoda died at the age of 92 in Findlay on Nov. 7, 1941. The cause of death was of hardening of the arteries. According to the Continental News-Review, at Rhoda's death, she had "resided in Continental for the past 47 years," and was survived by 20 grandchildren and 22 great-grandchildren. She is interred with her husband. Her son Forest, who was the informant on her death certificate, knew that Rhoda's mother was "Sophia" but not her maiden name of "Minard."
Great-grandson the late Earl T. Steiner conducted extensive research into the France-Van Horn branch of our family. He also is the official photographer for the Miami County (OH) Historical and Genealogical Society, affiliated with the Ohio Genealogical Society.
Copyright © 2003, 2008, 2013, 2019, 2021 Mark A. Miner
The late Earl T. Steiner graciously shared valuable content for this biography.