Forest 'Fay' France
(1880-1952)


Fay and Kathryn
Forest "Fay" France was born in Groton, Wood County, OH on May 4, 1880 (or 1881), the son of John C. and Rhoda (Van Horn) France.
Fay primarily used his middle name throughout his life.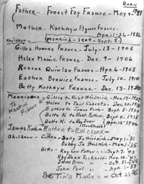 Fay's family Bible notes
In his family Bible, Fay kept a detailed handwritten record of France family births, marriages and deaths.
Fortunately, this irreplaceable Bible has been preserved, and an image of the record-pages is seen here, providing important details about this branch of our clan.
On Sept. 8, 1904, at the age of 24, Fay married 18-year-old Kathryn Quinlan (1886-1978).
They resided in Continental, Putnam County.
The couple produced a family of five children -- Gillea Honora Heidrick, Helen Mamie Roberts, Roscoe Quinlan France, Esther Bernice Clark and Betty Kathryn Rockhold.
Fay was a local laborer circa 1910.
Later, said the Continental News-Review, he "was a ... Continental restaurant operator and a member of the IOOF Lodge."

Roscoe
Heartache rocked the family in May 1922 when son Roscoe drowned while swimming with friends in nearby Powell Creek, the victim of "cramps." Roscoe's funeral services, said the News-Review, "were attended by the largest gathering ever witnessed in this village, showing the high esteem in which he was held by all."

Obituary, 1952
Thirty years after Roscoe's tragic death, in April 1952, heartache struck again when Fay was killed "in a two-car collision on route 108, five miles south of Holgate," said the News-Review. With massive chest injuries, Fay was taken to the Lima Memorial Hospital, where he died. Kathryn, who was a passenger in their vehicle, was injured, and remained in the hospital for two months.
Fay was laid to rest in West Monroe Township Cemetery near Continental.
Kathryn survived him by more than a quarter of a century.
She died at age 92 on Dec. 14, 1978. She is buried with her husband.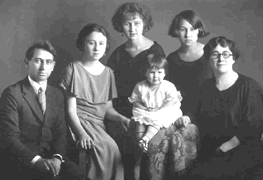 Fay (left) and Kathryn (right), back row, L-R: Gillea, Helen, Esther. Front: Bettie.
~ Daughter Gillea (France) Heidrich ~
Daughter Gillea France married Robert D. Heidrich.
They lived in Fort Wayne, IN, and in the 1940s moved to Santa Barbara, CA.
~ Daughter Esther (France) Clark ~
Daughter Esther France married Bert Clark.
They also relocated to California in the '40s, settling in Santa Ana and Laguna Beach. Later, they moved to Arizona.
~ Daughter Betty France ~
Daughter Betty France was a school teacher in California.
A great-grandson has served as a water conservationist in Kampala, Uganda.
Copyright © 2003, 2013 Mark A. Miner