William Van Horn
(1829-1889)
William Van Horn was born on Dec. 15, 1829 near Scio, Harrison County, OH, the son of Samuel and Sophia (Minard) Van Horn. As a young boy, he and his parents migrated westward and were pioneer settlers of near Grand Rapids, Wood County, OH.
According to the 1897 book, Commemorative Historical and Biographical Record of Wood County, Ohio: "...they came to Wood county, traveling in a wagon, which contained all their household goods. They settled upon a tract of eighty acres of wild land..."
When the federal census was taken in 1850, William was residing with his parents on their farm near Grand Rapids.
On March 21, 1854, when he was age 25, William married his widowed sister in law, Catherine (Cornell) Van Horn. She was the daughter of Gideon Cornell. She had been married to William's brother James Van Horn, but he had died the year before, on Jan. 30, 1853.
After brother James died, William purchased his farm at an auction.
Catherine had a daughter with her first husband, Annjanette Van Horn. Then with her second husband, they had a daughter Carrie Van Horn. They resided in the village of Gilead (Grand Rapids), Wood County.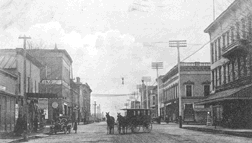 Little is known of William's adult life. In 1886, when his father died, William was residing in the town of Napoleon, Henry County, OH. His sister Isabel Blythe also lived in Napoleon at that time.
A view of Napoleon's Perry Street, looking southward, is seen here in a rare old photograph postcard.
William suffered from cancer. He passed away from its effects in Henry County, on May 13, 1889, at the age of 60.
Copyright © 2002-2003 Mark A. Miner