William Henry Van Horn
(1829-1889)
William Henry Van Horn was born on Dec. 15, 1829 near Scio, Harrison County, OH, the son of Samuel and Sophia (Minard) Van Horn.
As a young boy, he and his parents migrated westward and were pioneer settlers of near Grand Rapids, Wood County, OH.
According to the 1897 book, Commemorative Historical and Biographical Record of Wood County, Ohio: "...they came to Wood county, traveling in a wagon, which contained all their household goods. They settled upon a tract of eighty acres of wild land..."
When the federal census was taken in 1850, William was residing with his parents on their farm near Grand Rapids.
On March 21, 1854, when he was age 25, William married his widowed sister in law, Catherine (Cornell) Van Horn (1825- ? ), the daughter of Gideon Cornell. She had been married to William's brother James Van Horn, who had died the year before. Catherine brought a daughter into the second union, Annjanette "Jennett" Van Horn.
William purchased his deceased brother's farm at an auction.
Catherine and William bore two daughters of their own, Carrie Van Horn and Della Van Horn.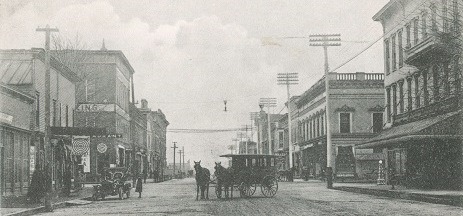 Napoleon's Perry Street, looking southward
They resided in the village of Gilead (Grand Rapids), Wood County. Then during the 1860s, they relocated to Napoleon, Henry County, OH, where in 1870 William earned his income as a day laborer. Circa 1870, the Van Horns kept two boarders in their residence, Frank Franks and John Seshler.
Evidence suggests that Catherine died during the decade of the 1870s. Details are not known.
The federal census of 1880 shows William and his 18-year-old daughter Della sharing a home in Napoleon, Henry County, OH.
In 1886, when his father died, William was still residing in Napoleon. His sister Isabel Blythe also is known to have lived in Napoleon at that time.
William suffered from cancer. He passed away from its effects in Henry County, on May 13, 1889, at the age of 60.
~ Daughter Carrie (Van Horn) Tyler ~
Daughter Carrie Van Horn (1859- ? ) was born on March 10, 1859, possibly in Napoleon, Henry County, OH. Other records incorrectly give her birth year as 1864.
When she was 11 years of age, she dwelled with her father and mother in Napoleon.
At the age of 17, Nov. 30, 1876, she was joined in wedlock with Alexander Creig "Alla" Tyler (Dec. 11, 1854-1923), a native of Napoleon and the son of Ora and Sarah (Creig) Tyler. On the marriage license, her name was spelled "Cary." The wedding ceremony was performed in Henry County by justice of the peace James A. Parker.
The couple together bore at least two offspring, Orla Tyler and Irma Ann Tyler.
Alla made a living in the boating industry in Napoleon in 1880 when the federal census enumeration was made.
By 1900, the family had relocated to Lyme, Huron County, OH, where they lived in a rented house, and with Alla employed as a railroad brakeman.
The Tylers appear to have resided separately in 1920. The U.S. Census of that year shows Carrie living as a tenant in a building owned by James B. Hudson in Toledo, Lucas County, OH. At that time, she had no occupation. In 1923, Alla made a home in the Lexington Apartments in Toledo and worked as manager of the Alhambra Theatre.
Alla was burdened with heart disease during his final year of life. When felled by a cerebral hemorrhage, he was admitted to Toledo Hospital and succumbed to death there at the age of 68 on June 20, 1923. Burial was in Toledo Memorial Park.
The 1930 census lists the 71-year-old Carrie as a roomer in a boarding house of James C. Bennitt on Toledo's Jefferson Avenue. She did not have work at that time.
Her final address was at 2023 Collingwood Street in Toledo. Suffering from chronic heart disease and hardening of the arteries, she died on the Fourth of July 1939. Interment of the remains was in Toledo Memorial Park. Mrs. Lewis Tucker of New York signed the official Ohio certificate of death.
Son Orla Tyler (1879- ? ) was born in June 1879 in Ohio. A bachelor at the age of 21, in 1900, he lived with his parents in Lyme, Huron County, OH and earned income as a day laborer.
Daughter Irma Ann Tyler (1880-1950) was born on Aug. 16, 1880 in Napoleon, Henry County. In young womanhood she lived in Bellevue, Huron County. When she was 20 years of age, on July 5, 1901, she was united in holy matrimony with Lewis Bott Tucker (July 9, 1879-1969), son of H.G. and Philimena (Miller) Tucker of Norwalk OH. Rev. W.E. Loucks officiated. At the time, Lewis was employed as a bookkeeper. Three children were born to this marriage -- Melville "Keith" Tucker, Virginia Tucker and Lewis B. Tucker Jr. The couple established their home in Toledo, Lucas County. Lewis went on to earn medical credentials and set up a private practice in Toledo as of 1910. For reasons not known, Lewis gave up his practice and decided to pursue a career in the financial markets. For a time he worked as a bond salesman for Sidney Spitzer & Co. Then in 1919, he and David J. Robison became principals of the bond firm Tucker, Robison & Co. of Toledo, a successor firm to David Robison Jr. & Sons. News of this transaction was published in the New York Times. The Tuckers' home in 1920 was in Waynesfield, Lucas County. Unfortunately, the partnership between Lewis and Robison was not a success. Their firm was "dissolved by mutual consent" in October 1923, as the two men announced in an advertisement in the Wall Street Journal. The Tylers made yet another change during the 1920s when they migrated to New York City. The federal census of 1930 shows the couple in Manhattan, with Lewis and Irma both selling insurance. The family pulled up stakes during the Great Depression and moved to Rye, Westchester County, NY, where Lewis -- now going by the name "L. Bott Tucker" -- earning a living as an insurance supervisor. Their married daughter Virginia and her young family lived under their roof in 1940.
Grandson Melville "Keith" Tucker (1904- ? ) was born in about 1904. Circa 1941, Keith was married and made a home in Rye, NY. The couple made news in the gossip columns of the

York (PA) Dispatch

when visiting John D. Graves of York in November 1941. As of 1950, he resided in Los Angeles. When visiting his parents in Mamaroneck, NY in July 1950, he was involved with an automobile collision on a one-way street in front of the Mamaroneck Post Office.
Granddaughter Virginia Tucker (1906-1984) was born in 1906 in Ohio. She entered into marriage with Edward Kness (1905- ? ), an Ohio native. Their one known daughter was Nancy Kness. As of 1940, the Knesses dwelled in the household of Virginia's parents in Harrison, Westchester County, with Edward serving as president of a rubber products company.
~ Daughter Della Van Horn ~
Daughter Della Van Horn (1862-1947) was born on or about Jan. 24, 1862.
She grew up in Napoleon, Henry County, OH. As a single woman of 18, in 1880, she lived in Napoleon with her widowed father.
Della appears not to have married. She eventually migrated to California and put down roots in Los Angeles County.
As of 1938, as shown in a city directory, she made a home at 958 Sunbury Street in Los Angeles and earned a living as a housekeeper.
She succumbed to the angel of death in Los Angeles on July 2, 1947.
Copyright © 2002-2003, 2021 Mark A. Miner