Home

Austin Coleman Van Horn
(1843-1925)
Beaver Creek Cemetery
Austin Coleman Van Horn was born on Dec. 19, 1843 at Gilead (now Grand Rapids), Wood County, OH, the son of Samuel and Sophia (Minard) Van Horn. His birthdate also has been given as June 19, 1843 and June 19, 1844. He was a veteran of the Civil War.
In 1914, when he was an old man, Austin was asked by the federal government to prove his age. With justice of the peace George W. Callin present, Austin brought out his fatherís old family Bible. Austinís date of birth was marked inside, and given as "Dec. 19, 1843." According to Callin, "the Bible was printed in 1851. That there are no erasures or alterations. And from the appearance of the writing in the record I firmly believe that the record is genuine, being yellow with age."
The Bible also listed the birthdates of Austinís parents and 11 siblings. Callin wrote out the entire list and sent it to the Pension Commissioner. Today the original of Callin's list is in the National Archives in Washington, DC, with a copy in the Minerd.com Archives.
While growing up, Austin was a playmate of his cousin Alpheus Minerd, who resided in nearby Tontogany, Wood County. Austin said he ďwas intimately acquainted with [Alpheus], youth up until the first of July 1863 when I enlisted in the service of the U.S. I have played with him, gathered hickory nuts, went to parties and spelling schools and all places of amusements that young people thare refined would go to."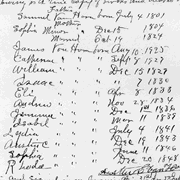 Family Bible inscriptions
As a young man, Austin stood 5 feet 8 inches tall, with black eyes and black hair. He once recalled that he had worked as a laborer "boy on [my] fatherís farm."
During the Civil War, he enlisted in the Union Army at Grand Rapids, on June 24, 1863. He was assigned to Company F of the 86th Ohio Volunteer Infantry. His brother Isaac also served in the war, with the 144th Ohio Infantry. Cousin Alpheus Minerd, and many others in the immediate family, also fought for the Union cause.
Austin's physical ailments began almost immediately. On the 4th of July, in camp at Cleveland, OH, he came down with "camp diarrhea," which led to severe hemorrhoids. He later was treated by the regiment's surgeon at Cumberland Gap. The sickness would plague him the rest of his life. During the "latter part of his service," a colleague later recalled, "[he] was not able to do any servise at all." Edward Wood, another fellow soldier, said "on our march from Cumberland Gap … he could not march and had to be halled to Nicholasville, Ky."
Austin was honorably discharged at Camp Cleveland, OH on Feb. 10, 1864, having served more than seven months. He returned home to Grand Rapids.

Sketch of Austin's Civil War wound.
National Archives
After the war, Austin worked performing manual labor. Eugene DeForest Hall, of Grand Rapids, said "During the year 1866 I worked with him every day for about eight months… He was employed on a farm and did general farm work." He also labored for John Guyer. Austin is thought to have had a toe crushed by a falling tree, and also suffering an accidental, deep knife cut on the inside of his right calf, causing a 6-inch scar. The wounds are seen here in a surgeon's sketch.
On Nov. 28, 1868, when he was 24 years of age, Austin married 17-year-old Calista Lucinda Rice (1851–1882), a native of Tongotany, Wood County. He was nearly eight years older than she.
Together, the couple bore five children – Stephen Gorrela Van Horn, Maggie May Anderson, Rosa Bell Van Horn, Daisy Elizabeth Willford and Newton Van Horn.
In about 1869, the Van Horns moved from Grand Rapids to Hoytsville, near Deshler, Jackson Township, Wood County. Austin remained there for 44 years.
Calista was a housekeeper and raised their children. Sadly, at age 31, she came down with a severe case of blood poisoning, and died of its effects in Wood County on Feb. 5, 1882.
Two years later, tragedy struck again when daughter Rosa, stricken with inflammation of the bowels, passed away at age 10 on Jan. 22, 1884, near Deshler. Calista and Rosa are buried on either side of Austin at the Beaver Creek Cemetery near Grand Rapids.
Austin suffered over the years with chronic diarrhea. He drew a pension in compensation for his wartime illnesses. The highest payment he received was $50 per month, at the time of his death.
After 14 years as a widower, Austin married Emily Elizabeth (Buttles) Phillips (1854-1929) near Milton Center, OH, on Sept. 8, 1896. The ceremony was performed by C.M. Walling, a justice of the peace. Twice widowed and once divorced previously, Emily was the daughter of Martin and Mary (Cronige) Buttles.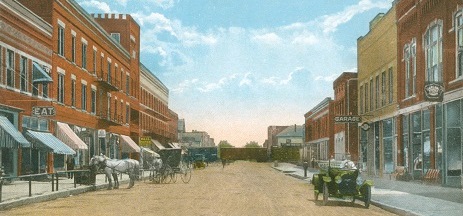 Main Street of Deshler, OH near where the Van Horns dwelled
According to an article in the Wood County (OH) Herald, Emily "was converted at the early age of 10 years, and affiliated with the Christian church for a number of years, being a great Bible student. She loved the word of God."
Emily had been married three times before, to George Harmon (a Civil War veteran, from whom she was divorced); Frank Casher (who died in 1881 in Seneca County, OH); and Samuel "Martin" Phillips (who died at age 32 in 1889 in Wood County). Emily brought to her union with Austin a daughter from a previous marriage, Mary "Alice" (Phillips) Challen.
The Van Horns first resided near Deshler in Jackson Township, Wood County. They are shown there in the 1900 federal census enumeration, among a cluster of Van Horn family residences including Lewis and Effie "Maude" (Van Horn) Harmon, John Kimberlin and Ida (Buchanan) Van Horn, Jay "Albert" and Ida (Newell) Van Horn, and Eli and Mary Ann (Kimberlin) Van Horn.

Graves of Austin Van Horn, his wife Calista and daughter Rosa, August 2002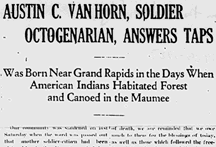 Deshler Flag
obituary
They remained in the Deshler area in 1910. Austin had no occupation that year. When the census-taker took their family information, Emily disclosed that she had borne five children but that only one was living at the time.
In 1913, they moved to Bowling Green, Wood County.
When Austin's brother Eli died in 1914, Austin and Emily traveled to Deshler for the funeral. This was reported in the Wood County Daily Sentinel.
By 1915, son Newton was deceased, of unknown causes.
As an elderly man, Austin suffered from bladder problems, as well as "old age and exhaustion." He passed away from uremic poisoning at age 81 on June 20, 1925. He was buried at Beaver Creek Cemetery in Grand Rapids. His lengthy obituary was published in the Deshler Flag.
Emily then attempted to obtain her late husband's pension, which would have provided her with a steady monthly income. T.B. King, cashier of the Corn City State Bank of Deshler, wrote several letters on her behalf.
On Christmas Day 1928, the Herald said, she "united with the Deshler Methodist church, and was a regular attendant at all services as long as her health would permit."
Emily passed away on Jan. 25, 1929, at the age of 74 years. Her obituary was carried in the Wood County Herald.
~ Son Stephen Gorella Van Horn ~
Son Stephen Gorella Van Horn (1870-1919) was born in April 1870.
He apparently never married. At the age of 30, in 1900, the bachelor Stephen lived with his father and stepmother in Jackson Township, Wood County, earning his keep as a farm hand.
Circa 1910, he boarded in the home of his widowed sister Maggie Anderson in Bartlow, Henry County, and worked as common laborer.
Later, he moved to Deshler, OH, and worked as a laborer.
He died of typhoid fever at the age of 49, on Oct. 14, 1919, with burial at Beaver Creek Cemetery.
~ Daughter Maggie May (Van Horn) Anderson ~
Daughter Maggie May Van Horn (1872- ? ) was born in Aug. 1872 in Deshler.
Circa 1896, she married New York native Henry O. Anderson (Oct. 1871- ? ).
The couple bore five children, of whom four daughters are known -- Vida Fern Grube, Stella Olive Butler, Jessie E. Anderson and Bessie Irma Johnson Swan.
Henry was employed in 1900 as an oil pumper in Henry Township, Wood County.
The federal census enumeration of 1910 shows Maggie heading a household in Bartlow, Henry County, OH. Living under her roof at that time was her bachelor brother Stephen. In that year, she supported herself as a weaver of carpets.
Maggie remained in Bartlow during the decade of the 1910s. The 1920 United States Census lists her there, having no income, and with daughters Jessie and Bessie in the home.
Then in about 1924, she and her daughters moved to Akron, Summit County, OH. Her address in the mid-1950s was 529 Lamont Street, sharing a home with her daughter Olive Butler. She remained in Akron for the rest of her long life. She was a member of the Evangelical United Brethren Church.
On March 1, 1958, the Akron Beacon Journal published a five generations photo showing Maggie, daughter Olive, granddaughter Mrs. Lawrence Moore, great-granddaughter Sharon Frasier and great-great granddaughter Constance Marie Frasier.
Maggie died in her daughter's home in Akron at the age of 92 on Nov. 8, 1964. An obituary and her photograph were published in the Beacon Journal, saying she "came to Akron 40 years ago." Survivors were numbered at nine grandchildren, 18 great-grandchildren and 11 great-great grandchildren. Interment was in Greenlawn Cemetery.
Daughter Vida Fern Anderson (1897-1981) was born on June 21, 1897 in Deshler. On Feb. 26, 1933, when she was 35 years of age, she was joined in matrimony with 38-year-old widower Edwin S. Grube (Jan. 13, 1895- ? ), son of Silas and Martha (Frederick) Grube. The wedding was performed by Rev. J. Harmon Dutton in Akron, Summit County, OH. Edwin at the time was a butcher and lived in Akron. He brought a son to the second marriage, Clair Grube. Vida and Edwin did not reproduce. Vida is known to have been in Akron in 1937 at the death of her sister Jessie. By 1964, she had migrated to St. Petersburg, FL. In time she returned to Akron and made a home at 529 Lamont Avenue. She held a membership in the Calvary Open Bible Church. She died at the age of 83 on Jan. 14, 1981. Rev. Dwight Baldwin preached the funeral sermon, with interment of the remains following in Greenlawn Memorial Park.
Clarence Butler's workplace, General Tire in Akron
Daughter Stella "Olive" Anderson (1898-1970) was born in Sept. 1898. On March 26, 1920 in Akron, she entered into marriage with Clarence Arthur Butler ( ? -1979), a native of Cambridge, OH. The couple adopted their first daughter, Mildred L. Butler, and then went on to bear three more children of their own, Wava J. Butler, Beverly Lu Butler and Charles Arthur Butler. In 1930, the Andersons lived in Tallmadge, Summit County, OH, with Stella's widowed mother in their household. Clarence was employed in 1930 as a stock man for an Akron rubber company. His employer likely was General Tire and Rubber, from which he is known to have eventually retired. During his years at General Tire, the company manufactured a products under the brands Squeegee Tires and Jumbo Jr. Tires. The Butlers were in Akron in 1937 at the death of Olive's sister Jessie in Chicago. She was a charter member and inaugural treasurer of Calvary Open Bible Church. The family's address in the 1960s and 1970s was 529 Lamont Avenue. As their golden wedding anniversary approached, plans were made for a party. But the celebration was not to be, Stella died at the age of 71 on March 22, 1970, in City Hospital, just four days shy of the landmark date. An obituary with her photograph portrait was printed in the Akron Beacon Journal. Burial was in Greenlawn Memorial Park. She was survived by 13 grandchildren and 17 great-grandchildren. Clarence endured as a widower for another nine years. During that time, he endured the untimely demise of his married daughter Wava June Moore. He died on May 7, 1979, at the age of 81.
Daughter Mildred L. Butler (1919- ? ) was born on Feb. 13, 1919 in Akron. Circa 1940, she dwelled in Fremont, Sandusky County, OH and earned income as a beauty instructor. When she was 21 years of age, on May 8, 1940, she wedded 22-year-old Edwin S. Zanes (April 16, 1918- ? ), son of Edwin S. and Betty H. (McCulloch) Zanes. Rev. Lawrence S. Price, of Grace Lutheran Church of Fremont, officiated the wedding. He was a native of Chester, PA but resided in Akron at the time and earned a living as a clerk. Mildred resided in 1970-1979 in Phoenix, AZ.
Granddaughter Wava June Butler (1920-1976) was born on June 22, 1920 in Akron. On March 27, 1942, the 21-year-old Wava married 23-year-old Lawrence E. Moore (Aug. 27, 1918-1980), son of Ellie J. and Alta Leoma (Snyder) Moore. Rev. B.E. Stevens, of Hayes Memorial Methodist Church of Fremont, presided at the nuptials. Lawrence's occupation at the time of marriage was as an explosive operator. The couple together produced two daughters – Sharon Jean Sakos and Karen Marie Berkenstock. Wava dwelled in Akron for years, with an address in the mid-1970s of 2792 Swinehart Road. Sadness cascaded over the family when, at age 52, Wava passed away into eternity on Sept. 23, 1976. Officiating her funeral service was Rev. Hobart Wick. Interment of the remains was in Northlawn Memorial Park, and an obituary appeared in the Akron Beacon Journal. Lawrence lived for another four years at 669 Carnegie Avenue, Akron. He died on Aug. 9, 1980. Rev. Leo Gregory preached the funeral sermon.
Great-granddaughter Sharon Jean Sakos
Great-granddaughter Karen Marie Berkenstock
Daughter Beverly Lu Butler (1929-2014) – nicknamed "The Bev" – was born on June 8, 1929 in Akron. She married (?) Stump ( ? - ? ). The brood of children produced by the couple were Donald Stump, Lewis "Marvin" Stump, Linda Carol Lansberry, Debbie Nunn, Richard Stump and James Stump. The Stumps lived in Akron circa 1970-1976. Said the Akron Beacon Journal, "Beverly had a beautiful voice and loved to sing hymns. In her later years, she spent her time making crafts and enjoyed eating Frosty's." Death swept her away into eternity on New Year's Day 2014. A memorial service was held in the Southeast Church of the Nazarene.
Great-grandson Donald "Don" Stump
Great-grandson Lewis "Marvin" Stump married Brenda.
Great-granddaughter Linda Carol Stump (1954-2020) was born on Dec. 21, 1954. She was an alumna of Central Hower High School. She was twice-wed. Her first husband was (?) Williams ( ? - ? ). Together, they bore a family of children including Jeffrey Williams, Michael Williams, Jason Williams and Karen Williams. Later, she was joined in wedlock with Howard Lansberry ( ? - ? ). He brought two stepchildren into the second marriage – Donald Roberts and Tammy Lansberry-Roberts. Linda and Howard stayed together for 38 years until the separation of death. Linda belonged to St. Augustine Catholic Church in Barberton, OH, where she volunteered her time to help with Christmas dinners and taught in the Parish School of Religion. Sadly, at the age of 65, Linda died at home on Nov. 15, 2020. A funeral mass was held at the family church.
Great-granddaughter Debbie Stump wedded (?) Nunn
Great-grandson Richard Stump entered into marriage with Linda.
Great-grandson James "Jim" Stump
Grandson Charles Arthur Butler (1937-1994) was born on May 8, 1937 in Akron. In young manhood he obtained a job as a clerk. On Aug. 10, 1958, he was joined in marriage with 18-year-old Alberta Pearl O'Conner (Aug. 5, 1940- ? ), daughter of Andrew E. and Sofie Elizabeth (Myers) O'Conner of Akron. Presiding over the service was Rev. James A. Howell. Alberta's parents were divorced at the time, and the mother had custody of her. The pair is believed to have borne three offspring -- James Allen Butler, Sandra Montgomery and Donna Butler. Charles and Alberta eventually divorced, with both choosing to stay in Akron. Later, he wedded Nydah Joyce Cottrell ( ? - ? ), the widow of Harold Ray Cottrell Sr. ( ? -1972), a longtime shipping and receiving employee for Firestone Tire and Rubber. She thus brought two stepchildren into the marriage with Charles – Harold Cottrell Jr. and Renee Price. For decades, Charles dwelled in Akron. He belonged to the Akron Springfield Assembly of God Church, while Nydah attended Living Waters Ministries. He earned a living for many years with Akron Standard Mold, eventually retiring from the company. The family was plunged into grief when Charles died at the age of 56 on April 30, 1994. Pastor Joseph B. Serbin presided over the funeral service, and the Akron Beacon Journal printed an obituary. Nydah survived her second husband by 24 years and took back her first married name, "Cottrell." She died on Feb. 28, 2018. In her Beacon Journal obituary, Charles was named, but not his children from the first marriage.
Great-grandson James Allen Butler
Great-granddaughter Sandra Butler married (?) Montgomery
Great-granddaughter Donna Butler
Daughter Jessie E. Anderson (1902-1937) was born in about 1902. She grew up in Bartlow, Henry County, OH and never married. She relocated to Chicago and was there in the mid-1930s. Grief blanketed the family when Jessie died in the Windy City at the age of 36 on July 15, 1937. A death notice was printed in the Akron Beacon Journal.
Daughter Bessie Irma Anderson (1905- ? ) was born on July 14, 1905 in Jerry City, Wood County, OH. She grew up in Bartlow, Henry County, OH. When she was 22 years of age, on Aug. 20, 1927, she was united in wedlock with 26-year-old steelworker James Johnson/Johnston (Sept. 13, 1921- ? ), son of John and Virginia (Kelley) Johnson and a native of Grantsville, WV. The nuptials were held in Akron, Summit County, OH, led by Rev. Ira D. Warner. John was previously married and divorced. Two known daughters to this pair were Nadine Johnson and Virginia Johnson. Bessie's marriage ended in divorce, with the decision handed down in Summit County. During her years as a divorcee, she dwelled at 372 University Place in Akron. Then on June 15, 1938, she married a second time, at the age of 32, to 33-year-old farmer Perry G. Swan (June 1, 1905-1973), son of Edward and Leota (Grant) Swan of Wilmot, OH. Rev. J. Harmon Dutton presided at the wedding. Perry's two children to a previous marriage were Perry Swan and Elizabeth Adkins. When the federal census enumeration was made in 1940, the Swans dwelled in Tuscarawas Township, Stark County, OH. At that time, Perry earned a living through employment with the Works Progress Administration. The WPA is widely considered one of President Franklin Delano Roosevelt's largest and most ambitious undertakings of his "New Deal" to get the nation back on sound economic footing. Over the years, the WPA hired millions of out-of-work individuals to build public works projects, such as roads, bridges, retaining walls and buildings. Many of these structures still exist today and continue to benefit society. Bessie and Perry are known to have been in Massillon, OH in 1964-1981, with an address of 1214 Oak Street Southeast. There, he operated Swan's Greenhouse. Perry became seriously ill in the winter of 1973 and was admitted to Massillon City Hospital, where he died at the age of 67 on Feb. 12, 1973. Burial was in Brookfield Cemetery, with an obituary appearing in the Dover (OH) Daily Reporter.
Granddaughter

Nadine Johnson

(1929- ? ) was born in about 1929. She entered into marriage with Charles B. Conley ( ? - ? ). The brood of their offspring included Charles R. Conley Sr., Diana Lee Tice, Alma Conley, Mrs. Vickie Fulmer, David Conley and David Allen Fulmer. By 1974, the Conleys had separated, with Nadine making a home in Akron and Charles in Uhrichsville. They endured unspeakable heartache at the accidental drowning death of their son Charles in May 1974.
Great-grandson Charles R. Conley (1951-1974) was born in about 1951. He wedded Debra Doutt ( ? - ? ). The couple made a home at 609 Gardner Road. Their only child was Charles R. Conley Jr. Charles Sr. suffered from epilepsy but was on prescription medication and able to learn the trade of welding. At one time he was employed by Diversified Manufacturing Company of Lockport, NY, but in the spring of 1974 he was without work. On the fateful evening of May 26, 1974, while at the home of Debra's parents, the 23-year-old Charles stopped playing a game of cards to go fishing in a small pond on the property, about 200 feet from the Cuyahoga River. The next morning, his mother in law Elinor Doutt discovered his body in the pond, which was recovered by fireman and rushed to the Summit County morgue, where he officially was pronounced dead on arrival. His death was headline news in the Akron Beacon Journal, which said "Conley's fishing gear was tangled in nearby brush, police said." The remains were transported to Glenville, WV for burial.
Great-granddaughter Diana Lee Conley wedded (?) Tice. They were in Akron in 1974.
Great-granddaughter Alma Conley made her home in Uhrichsville, OH.
Great-granddaughter Vickie Conley married (?) Fulmer. The Fulmers lived in 1974 in Uhrichsville.
Great-grandson David Conley put down roots in Massillon, OH.
Great-grandson David Allen Fulmer resided in Uhrichsville in the early 1970s.
Granddaughter Virginia Johnson

(1931- ? ) was born in about 1931.
Step-grandson

Perry V. Swan ( ? - ? ) was born in (?). He was a 1961 graduate of Washington High School and in young manhood worked at Danner Press in Canton. On March 5, 1965, he was joined in wedlock with Sally Ann Strine ( ? - ? ), daughter of James Strine of 2414 Deerford Avenue Southwest. They

made a residence in Massillon, OH. Sally Ann was a 1960 alumna of Washington High and worked at Massillon State Hospital at the time of marriage.
Step-granddaughter Elizabeth Swan Adkins

lived in Massillon, OH circa 1973.
~ Daughter Daisy Elizabeth (Van Horn) Willford ~
Daughter Daisy Elizabeth Van Horn (1876-1951) was born on May 2, 1876 in Henry County, OH.
Circa 1895, at the age of about 19, Daisy married Samuel J.V. Willford (Sept. 1872- ? ), son of Matilda Wilford.
Children born into this family were Daisy Opal Lee, Earl P. Willford, Roy L. Willford, Edith M. Willford, Norris J. Willford and Dorothy H. Willford.
When the federal census enumerations were made in 1900, 1910, 1920 and 1930, the Willfords lived on a farm near Deshler in Jackson Township, Wood County, OH.
By 1940, Daisy had made a move into the village of Deshler and resided on West Elm Street. At that time, her son Norris, daughter Dorothy and grandson Samuel C. Markwood lived under her roof.
Suffering from cancer of the bowels, and chronic asthma, Daisy died at the age of 74 on March 31, 1951, in Findlay Hospital. She was laid to rest in Woodlawn Cemetery in Deshler. "Edith Hobart" was the informant on her death certificate.
Daughter Daisy Opal Willford (1896- ? ) was born on June 10, 1896. Unmarried at the age of 23, in 1920, she made a home with her parents near Deshler in Jackson Township, Wood County. She migrated to Akron, Summit County, OH, where she lived in the early 1960s at 24 South Balch Street. On Jan. 6, 1963, at the age of 66, and in nuptials held in Summit County, OH, she was joined in marital union with 66-year-old retiree Willie Clayborn Lee ( ? - ? ), son of Harry and Oma (Harden) Lee. J. Franklin Beck officiated the wedding. Willie was a native of Winchester, TN and had been married twice before.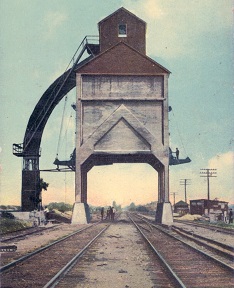 Rail and coal chute operations in Deshler
Son Earl P. Willford (1898- ? ) was born on April 8, 1898. The couple dwelled in Tontogany near Bowling Green, Wood County. His spent his career as a railroad employee, working as a section foreman. Their address in the late 1970s was on North Broad Street. Roy was burdened with hardening of the arteries and heart disease. When he suffered a ruptured aorta in his abdomen, leading to an aneurysm, he died in Tontogany on Feb. 12, 1979. Burial of the remains was in Deshler. On his Ohio death certificate, sourced by Daisy Current, his "origin or descent" was listed as "English-German."
Son Roy Willford (1900- ? ) was born on April 8, 1900 in Wood County, OH. He earned a living in young manhood as a railroader in Deshler. When he was 26 years of age, on Sept. 7, 1926, he wedded Edna Lucille Matthews (Nov. 9, 1906-1975), daughter of Fred and Lena (Young) Matthews. Justice of the peace Frank A. Reid, of Bowling Green, OH, presided over the marriage ceremony. Roy fibbed on his marriage license, stating that he was only 20. The couple established a residence in Tontogany near Bowling Green and lived there for years on Broad Street. One known daughter born to the couple was Donnabelle Rose Current. Edna made a living in a hospital as a nurse's aide. But on the fateful day of Aug. 12, 1975, Lucille took her own life by a gunshot to the head. Burial was in Woodlawn Cemetery in Deshler.
Granddaughter Donnabelle Rose Willford (1929-1993) was born on Sept. 15, 1929 in Deshler. She was united in marriage with (?) Current ( ? - ? ). She was employed as a licensed practical nurse in a local hospital. In her widowed years, she lived at 18435 Broad Street in Tontogany. Sadly, stricken with cancer of the esophagus, she died at the age of 64, on Dec. 18, 1993, in Bowling Green's Wood County Hospital. Allan C. Current was the informant for her certificate of death. Burial was in Tontogany Cemetery.
Daughter Edith M. Willford (1903- ? ) was born in about 1903 near Deshler in Jackson Township, Wood County.
Son Norris J. Willford (1907-1987) was born on July 14, 1907 near Deshler in Jackson Township, Wood County. In 1930, when he was age 22 and a bachelor, he lived with his parents and earned a living as a railroad trackman. He continued in this work as of 1940, still unmarried. At some point he wedded Elizabeth Graeter ( ? - ? ). The couple made their home on Main Street in Hoytville, Wood County. With his health in decline, Norris' left leg was removed by surgeons. But also burdened with chronic obstructive pulmonary disease, leading to obstructed airflow from the lungs, he was carried away into eternity in Bowling Green's Wood County Hospital, at the age of 79, on March 29, 1987. His remains were donated to the Ohio State University Medical College in Columbus.
Daughter Dorothy H. Willford (1911-1981) was born on Oct. 22, 1911 near Deshler in Jackson Township, Wood County. When she was in her early teens, Dorothy bore a son with Noble Markwood. The couple did not marry, and the child was named "Samuel C. Markwood." Dorothy resided at the age of 28 with her parents and son in Deshler, Henry County, OH. She never married. At the time of her death, Dorothy resided in Deshler at 111 West Elm Street. She fractured her right hip at the age of 69 and, after surgery, lapsed into a coma. The angel of death spirited her away in Wood County Hospital in Bowling Green on Feb. 15, 1981. Burial was in Woodlawn Cemetery, Deshler.
Grandson

Samuel C. Markwood

(1924-2016) was born on April 15, 1924 in Fostoria, OH. His mother may only have been age 13 or 14 at the time. When he was 15 years of age, he lived with his mother and grandmother Daisy Willford in Deshler. He graduated in 1943 from Deshler High School. On June 14, 1943, at the age of 19, he entered into marriage with Mary L. Hill ( ? -2002). Together, the couple produced a family of three -- Robert E. Markwood, Marilyn Marchal and Larry Markwood. His working career included jobs at Stauffer Chemical in Adrian, MI; Campbell Soup Company in Napoleon, OH; and Lima Tank Factory in Lima, OH. His final position was as plant manager with Owens-Illinois of Toledo OH. He loved the out-of-doors, whether he be mowing grass, boating, fishing or plowing snow. He also was a talented woodworker and fashioned many pieces for his loved ones and friends. Their final residence together was in Quincy, Branch County, MI. Sadly, Mary died on Feb. 25, 2002, bringing to a close their marriage which had endured for 58-plus years. The widowed Samuel remained in Quincy. On Jan. 23, 2016, he passed away at the age of 91 in Maple Lawn Medical Care Facility in Coldwater, MI. The remains were returned to Deshler for burial in Woodlawn Cemetery, with Rev. Ruth Carter-Crist leading the funeral. An obituary was printed in

The Daily Reporter

.
Great-grandson Robert E. Markwood was deceased by 2016.
Great-granddaughter Marilyn Markwood wedded (?) Marchal. She dwelled in Lima, OH in 2016.
Great-grandson Larry Markwood married Jane. They planted themselves in Toledo, OH.
~ Stepdaughter Mary "Alice" (Phillips) Challen ~
Stepdaughter Mary "Alice" (Phillips) Challen (1886-1981) was born on March 23, 1886. Her father, Samuel Martin Phillips, died when she was but a young girl.
Mary grew up in Jackson Township, Wood County, OH. Unmarried at the age of 23, in early 1910, she dwelled with her mother and stepfather in Jackson, and had no occupation.
Then on Sept. 22, 1910, in Wood County, she was joined in holy matrimony with Wallace Warren Challen (Aug. 23, 1883-1942), a native Wood Countian and the son of George Edward and Ida Jane "Jennie" (Kitchen) Challen, the father an immigrant from England.
Together, the couple produced two known sons -- Howard Lee Challen and Don Orville Challen.
Federal census records for 1920 show the Challens near Deshler in Jackson Township, Wood County. At that time, Wallace earned a living as a carpenter.
Over the time period of 1930-1940, still in the Deshler area, Wallace labored as a farmer.
For the last year of his life, Wallace suffered from heart disease. Then when he contracted a urinary tract infection, he was admitted to Findlay Hospital in nearby Findlay, Hancock County. There, at the age of 58, passed away on June 4, 1942. Interment was in Woodlawn Cemetery.
Mary outlived her spouse by nearly four decades. Sadly, she died in 1981. She sleeps beside her husband for all of eternity in Woodlawn Cemetery in Bartlow Township, Henry County.

Bank of which Howard was president
Son Howard Lee Challen (1912-1975) was born on March 28, 1912 in Deshler, OH. On Aug. 16, 1936, at the age of 24, he entered into marriage with Gineth L. Henning (1917-1994). Two children born to this union were Lorena Schwab and Larry Challen. Howard made a living with Deshler Builders Inc. and was named secretary of the company in 1962. He was elected to Deshler's village council and served for a dozen years. They were members of Deshler United Methodist Church. At one point he was tapped to be president of the local Corn City State Bank and remained in this role until death. Their home in the 1970s was 302 East Elm Street. As his health failed, Howard was admitted to Blanchard Valley Hospital in nearby Findlay, Hancock County, OH. There, he succumbed to death at the age of 63 in 1975. Interment was in Woodlawn Cemetery in Deshler, following a funeral service officiated by Rev. George Font. Gineth outlived her spouse by 19 years. Death swept her away in 1994.
Granddaughter Lorena Challen ( ? - ? ) married James Schwab. The couple dwelled in the village of North Baltimore, Wood County in 1975 and in Rudolph, OH in 2008. They are known to have been supporters of the North Baltimore Public Library.
Grandson Larry Lee Challen (1939-2021) was born on Dec. 8, 1939 in Deshler, OH. He was a member of the 1957 graduating class of Deshler High School. In 1963, he earned a bachelor's degree in business from Tiffin University. At the age of 23, on Oct. 4, 1963, he wedded Constance "Connie" Haas ( ? -2017), daughter of Harold and Helen (Copus) Haas. The couple did not reproduce over their 54-year marriage. They resided in Findlay, OH for decades. Larry was employed for Cooper Tire & Battery for more than three decades, retiring in 1994 as a credit manager. He spent his free time tinkering with automobiles and computers. "Over the years, he particularly enjoyed owning Chevrolets, specifically a Corvette, Tahoe and SSR," said an obituary. "Currently he was passionate about his 2006 Unlimited Jeep Wrangler." Constance liked to bake, cook, read and care for her home. The family grieved at the death of Constance in Findlay's Birchaven Bridge Hospice on April 23, 2017. After a year as a widower, he married again to Ruth (Haas) Alexander ( ? - ? ). She brought a daughter to the union, Morgan Alexander. As his health declined, he went to live in St. Catherine's Manor of Findlay. Death swept him away at the age of 81 on March 24, 2021.
Son Don Orville Challen (1914-1996) was born on April 5, 1914 near Deshler in Jackson Township, Wood County. He was united in the bonds of wedlock with Dorene Doris Van Sant (1918-1993), a native of Midland County, MI. They were farmers and dwelled next to Don's parents near Deshler in 1940. The pair provided a home in 1940 for Don's elderly grandfather, English immigrant George Challen. He is known to have been in Deshler in 1975 at the death of his brother. Dorene passed away on June 19, 1993 in Wood County, at the age of 74. Don survived her by three years. He died in Findlay, OH at the age of 82 on July 18, 1996. The remains were lowered under the sod of Woodlawn Cemetery in Deshler.
Copyright © 2002-2003, 2007, 2012, 2021 Mark A. Miner
Minerd.com thanks William H. Gerdeman Jr. and Mary Bowles for their research contributions to this biography.