John Kimberlin Van Horn
(1857-1935)


John Kimberlin Van Horn was born on June 23, 1857 near Grand Rapids, Wood County, OH, the son of Eli and Mary Ann (Kimberlin) Van Horn.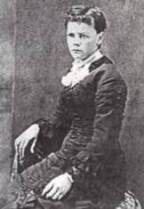 He married Ida Maud Gaston Buchanan (1860-1933), the daughter of Robert W.C. and Hanna (Fish) Buchanan and a native of Shelby County, OH. They were together for more than 50 years.
Ida is seen at right as a young woman, in an old carte de visite type photograph common to that era, mounted on a standard size, light cardboard backing.
They had six children -- Vernon B. Van Horn, Darrell D. "Chub" Van Horn, Ida "Maude" Pore, Glen Aubry Van Horn, Nellie Beryl Thatcher and Bessie Grace Van Horn.
In 1900, when the federal census was taken, the Van Horns made their home in Jackson Township, Wood County, near John's brother Albert Jay Van Horn and uncle Austin Coleman Van Horn.
The Van Horns later migrated to Deshler, Henry County, OH, where John worked as a carpenter.
Deshler's West Main Street, circa 1909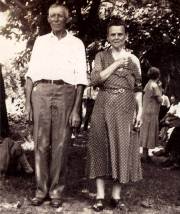 When John's father died in 1914, John signed the death certificate, and provided family related information.
At left, John and Ida celebrate their golden wedding anniversary with a family gathering on their farm near Deshler.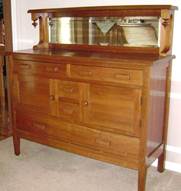 John used his carpentry skills as a talented woodworker and furniture maker. He handmade the handsome buffet seen at right with three levels of drawers, carved spindle decorations and a beveled glass mirror.
Ida suffered for many years from diabetes and chronic nephritis (kidney problems) and myocarditis (heart disease).
She died of the effect of these illnesses at the age of 73 on July 28, 1933. She was laid to rest in the Woodlawn Cemetery in Deshler.
Tragically, in October 1935, John suffered an "accidental fall from a roof," which resulted in a compound fracture of his pelvis.
He died a day later, at age 78, on Oct. 15, 1935. He was interred beside his wife at the Woodlawn Cemetery.
In 1941, at the death of his brother Austin Frederick Van Horn, John was mentioned in the obituary, but only in passing reference to the fact that he had died previously.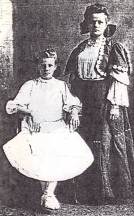 Left to right: Maude Pore and Nellie Thatcher (seated), Glen A. Van Horn, Vernon Van Horn, Darrell "Chub" Van Horn and his 2nd wife Grace, and Nellie as an adult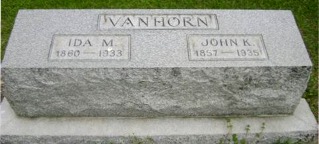 John and Ida's grave in Deshler's Woodlawn Cemetery. Photo by Larry and Daliece Frederick.
Copyright © 2003, 2006, 2008, 2011 Mark A. Miner