Home

Jay 'Albert' Van Horn
(1868-1949)
Albert married Ida Irene Newell (June 1870-1920), the daughter of Abraham V. and Sarah A. (Dronberger) Newell.
The couple together bore a brood of five children -- Keith Van Horn, Clarence Raymond "Skinner" Van Horn, Clyde Wilbur Van Horn, Harry Lee Van Horn and Ida Pearl Sutton.
Sadly, son Keith may have died young.
When the federal census was taken in 1900, the Van Horns lived on a farm in Jackson Township, Wood County. Their next-door-neighbor was Albert's uncle, Austin Coleman Van Horn.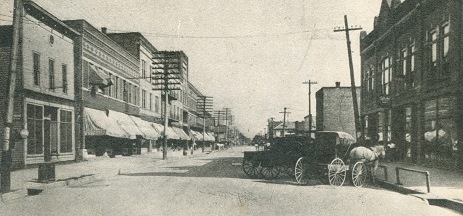 Deshler's Main Street. Note the telephone poles and horses and buggies
In 1941, at the death of his brother Austin, Albert was residing in Deshler, Wood County.
Ida passed away in 1920. She was laid to rest at Beaver Creek Cemetery in Grand Rapids.
Nothing is known of Albert's life, other than that he lived for another 30 years after Ida's death.
He died on Dec. 28, 1949 and was buried with his wife.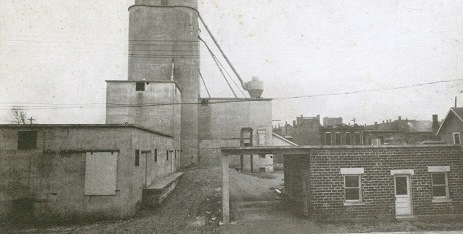 Farmer's grain elevator in Deshler
~ Son Clarence Raymond "Skinner" Van Horn ~
Son Clarence Raymond "Skinner" Van Horn (1895-1982) was born on Aug. 2, 1895 in Wood County.
At the age of 19, circa 1914, he was joined in wedlock with Mary "Louisa Jane" Spence (Dec. 26, 1895-1980).
Together, the couple produced a family of eight children -- Francis Earl Van Horn, Orley Kyle Van Horn, Alta Berniece Benedict, Helen Irene Wolf, Mildred Viola Gerdeman, Carl Raymond "Bud" Van Horn, Clarence Robert Van Horn and Phyllis Maxine Van Horn.
When the federal census enumeration was made in 1910, the family were farmers in Hoytsville, Jackson Township, Wood County. Their home was among a compound of family dwellings including the households of Eli's grandparents as well as Austin C. and Emily Van Horn, John Kimberlin and Ida Van Horn and Lewis and Maud Harmon.
By 1930, with many young mouths to feed, Clarence went to work as a railroad trackman, with Hoytsville continuing to be their residence. The family grieved when daughter Phyllis Maxine was diagnosed with a lesion on her heart valve and a bacterial skin infection ("erysipelas") , and died on May 25, 1933, at the age of 23 months. Her tender remains were lowered into the sacred soil of Beaver Creek Cemetery.
Clarence was a longtime laborer for the Hay Mill Company of Hoytville. Circa 1940, census records show his occupation as hay bailing, while Louisa earned income as a restaurant waitress.
He belonged to the Knights of Pythias in Hoytville and the Fraternal Order of Eagles, in North Baltimore.
Sadly, Louisa died on Sept. 8, 1980, bringing to a close their marriage which had lasted for an exxtraordinary 61 years.
Clarence lived as a widower for about 16 months. Toward the end, he became a patient in Bowling Green's Wood County Hospital. Death overtook him at the age of 86 on Jan. 11, 1982. A newspaper obituary numbered his survivors as 26 grandchildren and 56 great-grandchildren. Preaching the funeral sermon was Rev. Everett Mills. The remains were lowered under the sod of Ten Mile Cemetery in North Baltimore.
Their grandson, William H. Gerdeman Jr., has been researching the Van Horn genealogy for many years and graciously provided content for this biography. Also contributing to the research has been Mary Bowles.
Son Francis Earl Van Horn (1914-2010) was born on Aug. 4, 1914 in Hoytville, OH. He was a member of the 1932 graduating class of Jackson Township-Hoytville High School. After high school, as the nation remained in the grip of the Great Depression, Francis earned wages with the Civilian Conservation Corps from 1934 to 1936. In time he became employed by the Baltimore and Ohio Railroad. A bachelor at the age of 25, in 1940, he lived at home and worked as a railroad laborer. Later in 1940, on Aug. 25, he was united in holy matrimony with Martha Marie Hoops (March 20, 1918-2015) of Henry County, the daughter of Fred G. and Erna (Brandt) Hoops. The couple's wedding vows were made in Deshler's Immanuel Lutheran Church. Their marriage endured for an extraordinary 70 years. Three offspring born to this union were Jerald Van Horn, Douglas Van Horn and Sandra Cooper. The family resided for decades in Deshler. Francis' activity with the B&O included freight train services in Defiance and Willard, OH, and passenger service on the Akron to Chicago route. He retired in 1977. A member of the Immanuel church for six-plus decades, Francis once held a seat on the church council. In his free time, he liked to camp, fish, hunt and tell stories as well as support the Deshler Band Boosters and Athletic Boosters. He also was a co-founder of the Corn City Festivals. Francis was admitted to The Heritage in Findlay, OH as his health began to fail. At the age of 96, he died in Findlay on Christmas Eve 2010. The remains were shipped to Deshler for interment in Woodlawn Cemetery. His pastor Rev. Meg Knape preached the funeral sermon. Martha outlived her spouse by a little more than four years. She succumbed to death on Jan. 28, 2015.
Grandson

Jerald Van Horn

was joined in wedlock with Mary. They migrated to Michigan and settled in Temperance, MI.
Grandson

Douglas Van Horn

entered into marriage with Carol. The couple has lived in Greenwood, IN.
Granddaughter

Sandra Van Horn married Dennis Cooper

. Their home in 2010 was in Findlay, Hancock County, OH.
Son Orley Kyle Van Horn (1916-2010) was born on Feb. 25, 1916 in Deshler, Henry County. Circa 1940, not married, Orley made a living as a gasoline filling station attendant. When he was age 24, on May 5, 1940, he was joined in holy wedlock with Vira Gaynelle Thomas ( ? -1989). The couple's trio of children were Larry J. Van Horn, Edward Van Horn and Phyllis Tate. Sadly, newborn son Larry died at age one day on Sept. 5, 1941. Orley is known to have served in the U.S. Army Air Corps during World War II. For years, the Van Horns dwelled in Deshler and McComb. Orley earned a living for 15 years as a setup man at Deshler's Metal Forge. Gaynelle added to their income through her work as a machine operator at Deshler Products spanning a decade. On the side, he farmed and served as a fireman. He supplemented his income as a bus driver for 25 years with the Hoytville School and McComb Local School, retiring in 1971. He belonged to the Deshler post of the American Legion and liked to watch baseball and football games. She was active in Hoytsville's Ladies Literary Club. Orley was a member of First Presbyterian Church of McComb while Gaynelle belonged to the Oakdale United Methodist Church in Deshler. Sadness enveloped the family when Vira died on Aug. 3, 1989, terminating their marriage which had lasted for 49 years. For the last three years of his life, Orley was a resident of The Heritage of Findlay. There, the spectre of death whisked him away into eternity at the age of 94 on Nov. 5, 2010. Burial was in McComb Union Cemetery in McComb, Hancock County. Pastor Janeane Hopkins led the funeral service.
Grandson

Edward Van Horn

married Suzie. They have lived in Findlay, Hancock County, OH.
Granddaughter Phyllis Van Horn wedded Lynn Tate

. The pair has dwelled in Van Buren and Stow, OH.
Daughter Alta Berniece Van Horn (1918-1956) was born on April 11, 1918. She wedded John George Benedict Sr. (April 24, 1914-1956), son of Martin and Pauline (Tomcek) Benedict of Archbold, OH. They produced four children, among them John George Benedict Jr., James Benedict, Jerry Benedict and Patricia Benedict. The family resided on a farm about two miles southwest of North Baltimore, OH. John earned income as a checker for an automotive company, while Berniece was employed as a clerk in a drug store in North Baltimore. She belonged to Our Lady of Miraculous Medal Church and was a member of its Holy Name Society. On the tragic day of Sept. 23, 1956, Berniece and John argued in the kitchen of home. John took hold of his 22. caliber rifle and shot her and then pointed the gun at his own head and pulled the trigger. Both were found dead at the scene -- she at age 38 and he 42. The news was reported by the United Press and Associated Press and published in newspapers statewide. The AP story said that "None of the couple's four children, ranging in age from 10 to 16, witnessed the shooting, the sheriff said." Berniece's brother Orley was the informant for their respective death certificates. Rev. Martinian Snopek presided at their joint funeral service. They repose in the sleep of eternity in New Maplewood Cemetery in North Baltimore.
Grandson James Benedict ( ? - ? ) was born in (?). Age 14 at the time of his parents' tragic deaths, he appears to have been close with his Uncle Orley Van Horn and family. James married Trudy. The couple relocated to Omaha, NE.
Granddaughter Patricia Benedict
Daughter Helen Irene Van Horn (1919-2006) was born on Oct. 30, 1919. On June 2, 1940, when she was 20 years of age, she was united in matrimony with Albert Wolf (July 6, 1917-1994). Together, the pair produced a brood of three -- Roger A. Wolf, Robert C. Wolf and Rhonda Darlene Sherick. Albert had served a term in the U.S. Army, attaining the rank of seregeant. The family made a home in Hamler, OH circa the 1950s-1980s. While in Defiance, Defiance County, OH, Albert surrendered to the spirit of death on Dec. 3, 1994. Helen lived as a widow for another nearly dozen years and moved to her daughter's home in Shawtown, OH. She passed away on Aug. 7, 2006, at the age of 86. Her obituary was published in the Findlay (OH) Courier. Their remains are at each other's side in Woodlawn Cemetery in Deshler.
Grandson

Roger A. Wolf

dwelled in Gahanna, OH.
Grandson Robert C. Wolf

migrated to Kentucky and resided in 2006 in Louisville, KY.
Granddaughter Rhonda Darlene Wolf (1951-2016) was born on May 31, 1951 in Napoleon, Henry County. On June 16, 1973, at age 22, she wedded John K. Sherick ( ? - ? )

. They became the parents of three children -- Travis M. Sherick, Tyson A. Sherick and Sabrina Lynn Sherick. Grief swept over the family at the death of their infant daughter. Their home was in Shawtown near McComb, OH. Rhonda generated income as a supervisor of child support for the Department of Human Services. They attended Mt. Cory United Methodist Church. In her spare time she loved to camp, cook and sew. Death swept her away in Findlay's Bridge Hospital at the age of 64, on April 25, 2016. Interment was in Knollcrest Cemetery in Arcadia, OH, with Pastor Mark Fuerstenau leading the funeral service.
Daughter Mildred Viola Van Horn (1921-1985) was born on Sept. 10, 1921 in Henry County, OH. In about 1940, she entered into marriage with William Holmes Gerdeman Sr. (July 20, 1916-1990), a native of Bartlow Township, Henry County, and the son of Joseph Leo and Lola Marie (Holmes) Gerdeman. Together, the couple bore a brood of 10 children -- William H. Gerdeman Jr., James Gerdeman, David Gerdeman, Thomas Gerdeman, Daniel Gerdeman, Ronald Gerdeman, Joseph Gerdeman, Barbara Steele, Judith Gerdeman and Bonita Baden. The family belonged to the Emanuel Lutheran Church of Napoleon. For 22 years, she made a living in the production department of Campbell Soup Supply Company in Napoleon. Sadly, Mildred died at the age of 64 in Toledo's Medical College of Ohio Hospital on Nov. 17, 1985. Rev. Norman Ritterling led the funeral service. A newspaper obituary counted her survivors as 25 grandchildren. William endured for another five years as a widower. Death swept him away at age 74 on Nov. 19, 1990. Their remains sleep for eternity in Riverview Memory Gardens in Defiance, Defiance County, OH.
Grandson

William Holmes Gerdeman Jr.

(1940-living) was born in about 1940. Circa 1961, as a resident of Deshler, he married Sylvia Jean Moore ( ? - ? ), a resident of Florida City, FL. News of their marriage license was published in the

Miami News

. They first dwelled in Napoleon, OH and later established their residence in Pensacola and Milton, FL. They are the parents of William Holmes Gerdeman III, Daniel Gerdeman, Ronald E. Gerdeman, James Gerdeman and Cynthia Eileen Cork.
Great-grandson William Holmes Gerdeman III graduated in 1982 from the U.S. Air Force class for electronics computer systems.
Great-grandson Daniel Gerdeman resided in Liberty Center, OH in 1975.
Great-grandson Ronald E. Gerdeman - On June 14, 1975, he wedded Sherie Anne Woodworth ( ? - ? ), daughter of M.Sgt. Robert E. Woodworth of Shalimar, FL. Their ceremony was held at Eglin's Chapel. A related story appearing in the Fort Walton Beach Playground Daily News reported that the bride "wore an all-lace gown. Lace ruffles edged the long sleeves, the hemline, and the U-shaped neckline. Her Camelot cap covered with Alencon lace and seed pearls held illusion which extended to chapel length." The newlyweds made their first home in Clovis, NM.
Great-grandson James Gerdeman held the rank of captain and stationed at Fort Rucker, AL in 1975.
Great-granddaughter Cynthia Eileen Gerdeman - As a young woman, she graduated from Pensacola Junior College and received a degree from the University of South Alabama. Circa 1998, she was employed by West Florida Regional Medical Center as a biomedical technician. On July 18, 1998, in nuptials held in Grace Lutheran Church of Pensacola, she entered into marriage with Andrew Jurgen Cork ( ? - ? ), son of Walter M. Cork Jr. of Pensacola. Pastor Craig Bickell officiated. The wedding was announced in the Pensacola News Journal. At the time, a fellow Pensacola Junior College alum, Andrew worked for Loop Vending Company.
Grandson

James "Jim" Gerdeman

wedded Beverly.
Grandson

Thomas "Tom" Gerdeman

entered into marriage with Bonnie.
Grandson

Daniel "Dan" Gerdeman

married Karen.
Grandson

Ronald "Ron" Gerdeman

was united in wedlock with Sherie.
Grandson

Joseph "Joe" Gerdeman

was deceased by 2017.
Granddaughter Barbara

Gerdeman

wedded Donald Steele. Their home in 1985 was in Napoleon.
Granddaughter

Judith

Jo Gerdeman

(1944-2017) was born on Oct. 8, 1944. She was twice-wed. Her first spouse was (?) Bullock ( ? - ? ). Then on April 4, 1987, when she was age 42, she married widower Lawrence Dale "Larry" Walters (Dec. 9, 1938-2012), a native of North Branch, MI and the son of Carrol and Beatrice (Chase) Walters. He was widowed from his first wife, Emily. The Walterses made their residence in Napoleon and were the parents of eight in what apears to have been a mixed family -- Laura Weeden, Carrie Rosenberger, Elizabeth Walters, Brenda Dulaney, Rey Bullock, Ryan Bullock Walters, Elliot Bullock and Eric Walters. Lawrence earned a living through his work for Campbell Soup for 27 years, retiring in 1989. He also generated income by working at Libbeys, McDonald's and Pizza Hut. Judith Jo worked for Campbell Soup Company and Truckers Paradise over the years. They held memberships in Napoleon's Sharon United Methodist Church and she in the Women of the Moose. Sadly, Larry passed away in Maumee, Lucas County, OH on March 19, 2012. Funeral services wee held in the family church, led by Pastor Lindy Maurice-Saum. Judith Jo died in CHP Defiance Area Inpatient Hospice Center at age 72 on April 10, 2017. Her survivors included 10 grandchildren and a dozen great-grandchildren. Rev. Susan St. Peter preached the funeral sermon, with burial in Napoleon's Forest Hill Cemetery.
Great-granddaughter Laura married Charlie Weeden. In 2012, they lived in Hartford, MI.
Great-granddaughter Carrie wedded Merle Rosenberger. They settled in Napoleon, OH.
Great-granddaughter Elizabeth Walters made her home in 2012 in Napoleon.
Great-granddaughter Brenda Dulaney was in Pandora, OH in 2017.
Great-grandson Rey Bullock made his residence in Bluffton, OH.
Great-grandson Ryan Bullock Walters dwelled in 2012 in Napoleon.
Great-grandson Elliot Bullock was stationed at Fort Jennings in 2017.
Great-grandson Eric Walters resided in Napoleon.
Granddaughter

Bonita

"Bonnie" Gerdeman

married William "Bill" Baden

. The couple put down roots in Malinta, OH.
Son Carl Raymond "Bud" Van Horn (1925-2014) was born on May 20, 1925 in the village of Bloomdale, Wood County, OH. He grew up working on the family farm near Hoytville, Wood County. He joined a marine company and worked as a seaman on the Great Lakes aboard the Fontana. While his ship was in port in Oswego, NY, he met his future wife, Theresa ( ? - ? ). The two tied the knot six months later, in St. Mary's Church, on Jan. 26, 1946. Their marriage survived the ups and downs of an extraordinary 67 years. They settled in Oswego and were there for decades. Their two daughters were Teresa Teifke and Holly Perfetti. Carl earned a living in a variety of ways over the years -- farming, in factories and on waterways -- as well as employment as a machinist foreman with Oswego Castings and a position with the Nestle Company in Fulton, NY. In retirement, he enjoyed carpentry, working with wood, bowling, gardening and reading. The couple volunteered their time at the Oswego Harborfest, and as officers in the local lodge of the Moose. Said Oswego County Today, "He is remembered as a kind, loving, loyal man with a crooked smile and a twinkle in his eye. He was never without his trademark snap-front cap and sweet story to share." Toward the end, he received professional care at St. Luke Nursing Home. He passed into eternity at the age of 87 on March 25, 2014. He was survived by seven grandchildren and 14 great-grandchildren.
Granddaughter

Teresa Van Horn was joined in matrimony with David Teifke.
Granddaughter Holly Van Horn was united in wedlock with Ernest Perfetti
Son Clarence "Robert" Van Horn (1928- ? ) was born in about 1928. At the age of about 21, on April 7, 1950, he wedded Doris N. Kline (Feb. 15, 1929-2016), a native of Hoytville and daughter of Floyd L. and Monetta Mae "Nettie" (Wall) Kline. Together, the Van Horns bore two offspring -- Randy Van Horn and Mona Lu Wymer. Doris had been a cheerleader and actress at Jackson Township High School. Their home in 1985-2010 was in North Baltimore, OH. Doris was involved with her house of worship, St. James United Methodist Church as a church choir singer and women's group member. Doris died in Toledo's St. Luke's Hospital at the age of 87 on Nov. 8, 2016. She was survived by four grandchildren and eight great-grandchildren. Rev. Rick Adams led the funeral service, with burial following in New Maplewood Cemetery, North Baltimore. Said an obituary, she would "forever be remembered for her spunky in-charge demeanor and her never ending love of her family."
Grandson

Randy Van Horn was united in matrimony with Donna. They have dwelled in Columbus, OH.
Granddaughter Mona Lu Van Horn (1956-2014) was born on Jan. 16, 1956 in Bowling Green, OH. On May 3, 1975, the 19-year-old Mona Lu was joined in wedlock with Timothy Wymer

( ? - ? ). The couple planted themselves in North Baltimore and were the parents of Joshua Wymer and Trisha Lu Shultz. As Mona Lu's health plummeted, she was admitted to the University of Toledo Medical Center. There, she surrendered to the angel of death at the age of 58 on Feb. 16, 2014.
~ Son Clyde Van Horn ~
Son Clyde Van Horn ( ? - ? ) was born in (?).
He was a veteran of the Army medical corps in World War I and World War II, and was a member of the American Legion post in Deshler.
He worked for Railroad Express Company for a quarter of a century. After retiring, he spent a decade as a tour guide for the Chicago Museum of Arts and Sciences.
He died in Monterey, CA on March 25, 1984.
~ Son Harry Van Horn ~
Son Harry Van Horn (1902-1982) was born in 1902.
He resided in Findlay, Hancock County, OH, and was a "section supervisor for the Baltimore and Ohio Railroad," said a newspaper. "He was a member of St. Paul United Methodist Church."
In 1941, he married Olive Spence ( ? -1971). They did not reproduce.
He passed away in 1982.
Copyright © 2003-2004, 2007, 2021 Mark A. Miner