Elias 'Eli' Van Horn
(1833-1914)


Eli and Mary Ann
Elias "Eli" Van Horn was born on April 8, 1833 near Grand Rapids, Weston Twp., Wood County, OH, the son of Samuel and Sophia (Minard) Van Horn. He was a wounded veteran of the Civil War.
On Sept. 1, 1855, when he was 22 years of age, Eli was joined in the bonds of holy wedlock with 18-year-old Mary Ann Kimberlin (1837-1902), the daughter of David and Isabella Kimberlin. The ceremony was performed by justice of the peace Gabriel Guyre.
Mary Ann was a resident of Scotch Ridge, Wood County, but was said to have been born at Juniadia (Juniata) River, PA.
Eli and Mary Ann together produced a family of 11 children, born over a 23 year span, between 1857 and 1880. The offspring included John Kimberlin Van Horn, Alzona Austin Van Horn, George Clinton Gilmore Van Horn, Edward Jacob Van Horn, Austin Frederick Van Horn, Sabina Lucretia "Lou" Callan, Jay "Albert" Van Horn, Jesse Leroy Van Horn, David Samuel Van Horn, Adrin Eliot Van Horn and Effie "Maude" Harmon.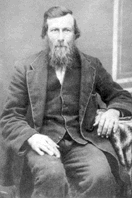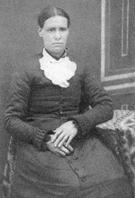 Carte de visite images of Eli and Mary Ann
Eli and his brother Andrew were active in the development of the United Brethren Church. According to the book, Historical Record of Wood County:
The United Brethren Society, the first church body in Weston or Grand Rapid township, was organized at Henry Kimberlin's house in 1832, by Henry Kimberlin, John Crom, Sr., and Jacob Crom, who were local prachers. [In] 1850 the building on the Weston and Grand Rapids road, west of Beaver Creek, was erected. The names of the members, in 1856, were ... John, Jacob, Sally and Mary Kimberlin, ... Sabina Kimberlin, ... [and] Eli and Andrew Van Horn...:
In 1860, the Van Horns resided in Damascus Twp., Henry County, OH, where Eli was a farm laborer.
During the Civil War, on May 2, 1864, he and his brother Isaac both joined the 144th Ohio Infantry (National Guard). At the time, he was age 30, and stood 5 ft., 8 in. tall, with brown eyes and dark hair. Brother in law George Kimberlin, a 2nd lieutenant in the regiment, recalled that Eli was "of good physical health and able to do heavy labor & hard day's work and ... his habits were good."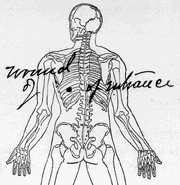 Sketch of Eli's war wound
Just a little over two months later, while in battle at Monocacy Junction, MD on July 9, 1864, Eli was shot through his breast. Seen here is surgeon's sketch, showing a dark spot where the bullet was removed from Eli's back, about seven inches from his spine.
In the words of a surgeon who examined him many years later: "Ball entered 3 inches below left scopula and passed through and injured the ... muscles, and fracturing the 6th rib, and coming out as marked on diagram. Scar of entrance about 1 inch in diameter, circular in form..."
A day later, on July 10, 1864, Eli was admitted to a general hospital in Frederick, MD. He did not stay for long, and shortly afterward was transferred to Baltimore on Aug. 1, where he entered McKim's Mansion General Hospital.
Eli was moved again on Aug. 3 to Camp Parole Hospital in Annapolis, MD, a facility serving invalid soldiers. On Aug. 15, 1864, he returned to duty, knowing full well that his enlistment obligation of 100 days was about to expire.
On Aug. 31, 1864, having been sent to Columbus, OH, Eli was mustered out of the Army. He received a large "Certificate of Honorable Service." The document, on heavy paper stock, includes the pre-printed signatures of President Abraham Lincoln and Secretary of War Edwin M. Stanton. Eli must have folded it to place in a pocket or other small protective place, as it contains heavy folds and creases. Eli's original certificate today is in the National Archives in Washington, DC, with a photocopy in the Minerd.com Archives.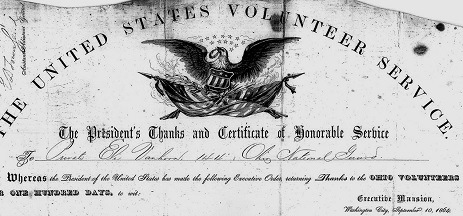 Eli's military discharge certificate (top), featuring pre-printed signatures of President Lincoln and Secretary of War Stanton

After Eli returned home, he and Mary Ann moved back to the Grand Rapids community of Wood County. When the federal census of Wood County was taken in 1870, Eli's occupation was listed as "farmer." That year, they were next door neighbors to Eli's brother Austin.
In October 1877, he was awarded a federal pension of $3 for his disability.
The Van Horns left Grand Rapids and moved to Deshler, Henry County, OH in 1886.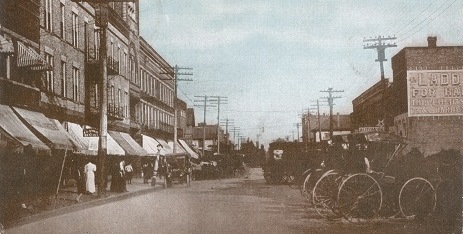 Deshler's Main Street with buggies parked along the right hand curb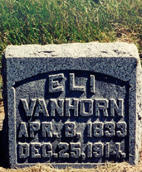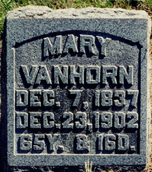 Beaver Creek Cemetery
When examined by a government surgeon in 1888, to ascertain the severity of his wartime wound, the physician wrote that Eli: "... has more pain in his side and often experiences a grating pain & catch in the left side as though the ribs caught in contact whenever he turns or stoops quickly."
Sadly, Mary Ann passed away two days before Christmas 1902, at the age of 65.
Eli outlived her by almost exactly a dozen years. In his later life, he suffered from cystitis and an enlarged prostate.
At age 81, Eli died in Deshler on Christmas Day 1914. The news was telegraphed to family members, including son Edward, who was residing in Southern California at the time.
Commenting later in life, Edward's daughter Ruth wrote: "I remember the telegram coming re: this tho' I was only 1 yr. 9 mos." The Wood County Daily Sentinel reported that Eli's brother Austin and his wife traveled from Bowling Green to attend the funeral.
The Van Horns are buried in Beaver Creek Cemetery in Grand Rapids, in the general vicinity of his parents and adult brothers Isaac and Austin.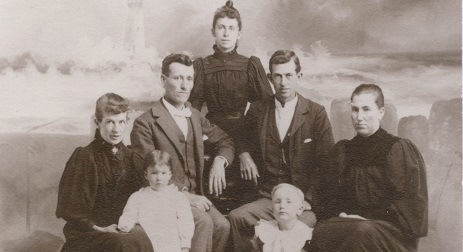 Eli and Mary Ann's children (and perhaps grandchildren). Known adult faces are, L-R: Sabina "Lou," Edward, 2 unknowns and Effie "Maude."
Copyright © 2003, 2006, 2007, 2021 Mark A. Miner