Sabina Lucretia 'Lou'
(Van Horn) Callan
(1866-1949)
Sabina Lucretia (Van Horn) Callan was born on June 7, 1866 near Grand Rapids, Wood County, OH, the daughter of Eli and Mary Ann (Kimberlin) Van Horn.
Lou married Charles Callan (1869-1905). They had four children born between 1890 and 1898 -- Kyle Carlos Callan, Ruth Esther Hack, Hazel Mae Callan and Alvin Burl Callan.
Sadly, daughter Hazel died at the age of 1. The cause of her passing is not yet known.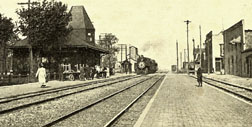 According to a manuscript written by cousin Ruth (Van Horn) Snyder, "It is my understanding that [Charles] died quite young and that my father helped support her until her children were 11, 16 and 19. Then she managed somehow -- until she lived with her married daughter Ruth Hack when I visited her in 1919."
Seen at right, a locomotive approaches the Baltimore & Ohio Railroad depot at North Baltimore in the early 1900s.
Records show that Charles died in 1905 in Cygnet. He is buried in North Baltimore, Wood County.
In 1941, at the death of her brother Austin Van Horn, Lou was residing in Cygnet, Wood County. Her first cousin Jessie (France) Henry lived in Cygnet as well.

Cygnet's Main Street in a rare old postcard, ca. 1908
Lou passed away of a stroke at the age of 82. Her death occurred at Findlay Hospital in nearby Hancock County on Aug. 21, 1949. She also was buried in North Baltimore.
~ Daughter Ruth (Callan) Hack ~
Daughter Ruth Callan (1893-1979) was born in 1893.
She married Gerald Ashton Hack (1895-1951).
They had two children, Alvin Gerald Hack (who died in February 1980) and Ruth "Evelyn" Swope.
Circa 1917, they resided in Powell, WY. She died in Glendora, CA on March 8, 1979, as per old family notes.
Granddaughter Evelyn Hack married Herman E. Swope. She was a family historian, and collected a lot of information on the Van Horns, which she shared with her cousin Ruth Snyder. Later, Ruth again wrote: "She and her husband visited us when they were considering retiring in Calif. He was a career Army man, and spent most of his time since WWII in Germany... The last I heard [they] were living in San Luis Obispo." In a 1988 letter, Evelyn wrote: "I joined the Wood Co. genealogical society and found the names of two people who are researching Van Horn in Wood Co. One is from Illinois and one from El Monte, Ca. I've written to her and will write the other one." The Swopes had two sons, Karl Herman Swope and James Russell Swope.
~ Son Kyle Callan ~
Son Kyle Callan (1890-1928) apparently died young, at age 38. Nothing more about him is known.
~ Son Alvin Callan ~
Son Alvin Callan (1898-1980) died in Sarasota, FL on Aug. 28, 1980, according to family papers.
Copyright © 2003, 2005-2006, 2012 Mark A. Miner