Sabina 'Lucretia'
(Van Horn) Callan
(1866-1949)

Lucretia Callan
Sabina "Lucretia" (Van Horn) Callan was born on June 7, 1866 near Grand Rapids, Wood County, OH, the daughter of Eli and Mary Ann (Kimberlin) Van Horn.
Lucretia was united in matrimony with Charles Callan (March 1861-1905).
They produced a brood of four children, born between 1890 and 1898 -- Kyle Carles Callan, Ruth Esther Hack, Hazel Mae Callan and Burl Alvin Callan.
Sadly, daughter Hazel Mae died at the age of one. The cause of her passing is not yet known.
Census records for 1900 list the family in Cygnet, Bloom Township, Wood County. Charles worked as a day laborer to generate income.
Records show that Charles died in 1905 in Cygnet. He is buried in Old Maplewood Cemetery in North Baltimore, Wood County.
According to a manuscript written by cousin Ruth (Van Horn) Snyder, "It is my understanding that [Charles] died quite young and that my father helped support her until her children were 11, 16 and 19. Then she managed somehow -- until she lived with her married daughter Ruth Hack when I visited her in 1919."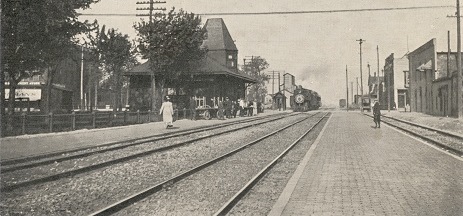 L
ocomotive approach
ing the Baltimore & Ohio Railroad depot at North Baltimore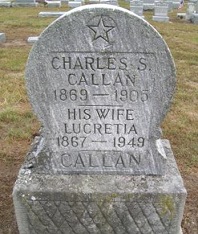 Old Maplewood Cemetery

Courtesy "Calling~All~Angels"
When the federal census enumeration was made in 1910, the widowed Lucretia headed a household of her three surviving children. Their home at that time remained in Bloom Township. She is marked as having her own income.
Lucretia relocated during the 1910s decade to Cygnet, Wood County. Census records for 1920 show her residing alone, with no occupation.
She endured the tragic death of her son Kyle in Virginia in 1917 when a vehicle he was repairing crushed him to death.
During the 1920s and into 1930, son Burl Alvin shared a home with Lucretia, and in 1930 the worked together, with him as proprietor of a restaurant and her as a cook. Living under their roof in 1930 was Lucretia's 12-year-old granddaughter, Ruth Evelyn Hack.
In 1941, at the death of her brother Austin Van Horn, Lucretia dwelled in Cygnet. Her first cousin Jessie (France) Henry also is known to have lived in Cygnet as well.
Lucretia passed away of a stroke at the age of 82. Her death occurred at Findlay Hospital in nearby Hancock County on Aug. 21, 1949. She was buried beside her husband in North Baltimore.
~ Son Kyle Carles Callan ~
Son Kyle Carles Callan (1890-1927) was born on Feb. 5, 1891.
A bachelor at the age of 19, in 1910, he lived at home and generated income through labor at odd jobs.
After the outbreak of World War I, Kyle joined the U.S. Army and served with Company E of the 310th Engineers.
He entered into marriage with Mary E. Atkins (Nov. 3, 1900-1989).
Together, they produced a son, Kyle William Callan.
Kyle later suffered from wounds or illnesses he had contracted as a soldier. In 1923, he was admitted to the National Military Home.
The couple made their residence in the 1920s in Marion, Smyth County, VA. Mary earned a living as a physio-therapy aide at the Central Branch.
Tragedy struck on the fateful day of Sept. 1, 1927. Kyle, who "had been ill for a long time," said the Dayton (OH) Daily News, was killed in a freak accident. While "trying to repair a wheel on his automobile," the jack collapsed and the vehicle fell on top of him. Reported the Staunton (VA) News Leader, "It crashed backward on to the neck and shoulders of the man." Added the Daily News, "Mrs. Atkins [sic] was unaware that her husband was hurt until she found him crushed beneath the wheels of the car."
Mary outlived her spouse by more than six decades.
The angel of death swept her away on Feb. 13, 1989. Reunited in immortality, the couple sleeps together in Round Hill Cemetery in Marion, VA.
Son Kyle William "Bill" Callan (1927-2021) was born in 1927 and grew up in Marion, Smyth County, VA. He was united in wedlock with Mary Willie Poe (1925-2013), a native of Smyth County and the daughter of Camet and Elizabeth (Watson) Poe. Their union endured the ups and downs of an extraordinary 66 years. Three offspring born to this marriage were Charles William Callan, Mary Charlotte Vinson and Elizabeth Pemberton Sells. During World War II, he joined the U.S. Marine Corps and served with the 1st Division as a member of the 1st Tank Battalion in both the Pacific and China Theatres. For years, he was employed as plant manager for American Furniture Company in Callan, VA. Exceptionally active in the community, he was a leader with the Smyth County post of the American Legion, charter member of the Jaycees in Marion and a co-founder of the Marion Little League. He also held posts with the Holston Hills Country Club, Order of the Elks, and deacons of the Royal Oak Presbyterian Church. Mary passed away in Marion on Jan. 27, 2013. Her pastors Rev. Alan Gray and the Rev. Neville Mozingo co-officiated the funeral service. Her remains were placed into eternal repose in Round Hill Cemetery. Kyle lived as a widower for another eight years. He died on May 6, 2021.
Grandson

Charles William Callan

married Connie. They have lived in Powhatan, VA.
Granddaughter Mary Charlotte Callan wedded (?) Vinson. Her home in 2021 was in Cartersville, GA.
Granddaughter

Elizabeth Pemberton Callan was joined in matrimony with Wiley Hayward Sells Sr. ( ? -2018), son of Samuel R. and Ellen Sells II. The couple remained together for 40 years until cleaved apart by death. The pair put down roots in Knoxville, TN and were the parents of Wiley Hayward Sells Jr. and Lauren E. Sells. Wiley made a living as owner of Sells Painting Company, operating the business for 33 years. He served as an elder with Ebenezer Presbyterian Church and was a devoted Christian, percussionist, Denver Broncos and NASCAR racing fan, and tennis player. Sadly, Wiley was diagnosed with cancer and was treated by a Tennessee cancer specialist. He surrendered to death on Aug. 10, 2018. The widowed Elizabeth has remained in Knoxville.
~ Daughter Ruth Esther (Callan) Hack ~
Daughter Ruth Esther Callan (1893-1979) was born on Dec. 5, 1893 in Ohio.
When she was 23 years of age, in about 1916, she married 21-year-old Gerald Ashton Hack (1895-1951), a native of Pennsylvania.
They had two children, Ruth "Evelyn" Swope and Alvin Gerald Hack.
Circa 1917-1918, they resided in Powell, WY, where their daughter was born. Federal census enumeration records for 1920 show the family back in Cygnet, Wood County. Gerald's employment at that time was as an oilfield gauger.
By 1930, following the oil patch, the Hacks had migrated to Oklahoma and made a home in Duncan, Stephens County. Gerald's occupation in 1930 was as a fireman in an oil refinery. While their son made the move, their daughter at age 12 stayed behind and lived in 1930 with her grandmother Callan in Cygnet, Wood County.
Remaining in Duncan as of 1940, Gerald now earned income as an oilwell machinist.
As of 1942, the family had moved once more, this time to Texas, settling in Kermit, Winkler County..
Sadly, Gerald was gathered away by the spectre of death on Dec. 6, 1951. The cause of his passing is not yet known. Burial was in Duncan Municipal Cemetery in Duncan, Stephens County, OK.
Ruth migrated to California where she spent her final years. She died in Glendora, Los Angeles County on March 8, 1979.
Daughter Ruth "Evelyn" Hack (1918- ? ) was born on Feb. 24, 1917 in Wyoming. At the age of 12, in 1930, she dwelled with her widowed grandmother and bachelor uncle Burl Alvin Callan in Cygnet, Wood County, OH. Evelyn wedded Herman Enos Swope (Sept. 16, 1917-2009), a native of Jerry City, Wood County, OH and the son of Guy and Faye Swope. Their marital union endured for an extraordinary 69 years. The Swopeses together bore two sons, Karl Herman Swope and James Russell Swope. A 1935 graduate of Cygnet High School, Herman sereved in the U.S. Army during World War II, achieving the rank of second lieutenant and taking part as an artillery officer with the 82nd Airborne Division, including a parachute jump into Holland. His unit saw action in North Africa, Sicily and Holland and in the Battle of the Bulge. He received two bronze stars and a host of other decorations. He remained with the Army during the Korean War and Vietnam War, retiring in 1966 as a lieutenant colonel after three decades of service. Evelyn was a family historian, and collected a lot of information on the Van Horns, which she shared with her cousin Ruth Snyder. In turn, Ruth once wrote: "She and her husband visited us when they were considering retiring in Calif. He was a career Army man, and spent most of his time since WWII in Germany... The last I heard [they] were living in San Luis Obispo." In a 1988 letter, Evelyn wrote: "I joined the Wood Co. genealogical society and found the names of two people who are researching Van Horn in Wood Co. One is from Illinois and one from El Monte, Ca. I've written to her and will write the other one." Herman died in San Diego at the age of 92 on Oct. 24, 2009. Placement of the cremains was in Fort Rosecrans National Cemetery. An obituary appeared in the Bowling Green (OH) Sentinel Tribune. Evelyn endured as a widow for two years. Death enveloped her on Feb. 24, 2011.
Grandson

Karl Herman Swope

( ? - ? )
Grandson

James Russell Swope

(1943-2005) was born on Sept. 17, 1943 in Toledo, Lucas County, OH. He was married and a father. His final time on earth was spent in Long Beach, Los Angeles County, CA. Death came to him at the age of 61 on Aug. 16, 2005. His remains sleep at Rose Hills Memorial Park in Whittier, CA.
Son Alvin Gerald Hack (1919-1980) was born on Sept. 5, 1919 in Cygnet, Wood County. He moved in childhood with his parents to Oklahoma and grew up in Duncan, Stephens County. In adulthood he stood 5 feet, 10½ inches tall, weighed 150 lbs. and had brown eyes and dark brown hair. He appears to have been twice-wed. His first marriage took place on Sept. 28, 1939 with 19-year-old Rosa Faye Walker ( ? - ? ), also of Duncan. Rev. Percy E. Haley Jr., a Baptist minister, led the nuptials, with Harvey Blalock and Virginia English serving as witnesses. When the marriage ended, he made a living as a taxicab driver and worked for Montgomery Ward company in Duncan. Then on July 23, 1942, in Jackson, OK, the 22-year-old Alvin wedded a second time to 18-year-old Duncan resident Lena Faye Mooney (April 15, 1924-1995). News of their marriage license was printed in the Neosho (MO) Daily News. Justice of the peace J.W. McLemore, of Duncan, presided over the wedding, witnessed by Iva Teague and Sherman S. Jones. For reasons not yet known, they tied the knot again in Neosho, MO on May 29, 1943, by the hand of Rev. James W. McMillan. Alvin is known to have served in as a corporal in the U.S. Army during World War II. Newspaper evidence hints that the couple may have dwelled in Abilene, TX in 1957. Alvin died in San Dimas, Los Angeles County, Ca on Feb. 13, 1980. Burial was in Los Angeles National Cemetery. Lena Faye surived for 15 more years and appears to have wed again to L.D. Kennedy (1921-1999). She died in 1995.
~ Son Burl Alvin Callan ~
Son Burl Alvin Callan (1898-1980) was born on June 19, 1898 in Ohio.
He grew up in Cygnet, Bloom Township, Wood County, OH.
A bachelor at the age of 32, in 1930, he made a home with his widowed mother and 12-year-old niece Ruth E. Hack in Cygnet. He and his mother worked together during that era in a restaurant, with him as proprietor and her as cook.
Circa 1932, he entered into marriage with Alice Kenney ( ? - ? ) of Richmond, IN. News of their marriage license was announced in the Richmond (IN) Palladium-Item.
He died in Sarasota, FL on Aug. 28, 1980, at the age of 82.
Copyright © 2003, 2005-2006, 2012, 2021 Mark A. Miner