Home

Jesse Leroy Van Horn
(1872-1952)
Jesse Leroy Van Horn was born on Aug. 22, 1872 near Grand Rapids, Wood County, OH, the son of Eli and Mary Ann (Kimberlin) Van Horn.
When the federal censuses were taken in 1900-1910, Jesse was unmarried and made his home with his parents in Jackson Township, Wood County, making a living as a farmer.
In 1941, at the death of his brother Austin, Jesse resided in nearby Toledo, Lucas County, OH. He would have been age 69 at the time.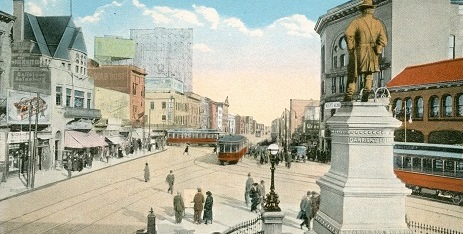 Corner of Cherry and Summit Streets in Toledo, near the Steadman monument
Circa 1948, he was admitted to the Colvin Rest Home in Sandusky County, where he spent the final four years of his life. Suffering from cancer of the stomach, layered on top of senility and hypertension, Jesse died at Colvin on Oct. 31, 1952 and was age 80 at death. His remains were buried or cremated at Four Mile House in Fremont, OH.
As additional research uncovers more tidbits, they will be added to this biography.
Copyright © 2003, 2005, 2007, 2010, 2012, 2021 Mark A. Miner