Effie 'Maude'
(Van Horn) Harmon
(1880-1964)

Thought to be Maude
Effie "Maude" (Van Horn) Harmon was born on March 13, 1880 near Grand Rapids, Wood County, OH, the daughter of Eli and Mary Ann (Kimberlin) Van Horn.
Circa 1898, when she was age 18, Maude was united in holy wedlock with 25-year-old Lewis T. Harmon (1873-1953). He was a farmer and a resident of Deshler, Henry County, OH.
Together, the couple bore one daughter, Florence "Flossie" Baughman.
When the federal census was taken in 1900, the Harmons were residing on a farm in Jackson Township, Wood County, as neighbors neighbors near Maude's parents, brothers John Kimberlin Van Horn and Jay Albert Van Horn, and uncle Austin Coleman Van Horn.
By 1910, the Harmons had migrated to Deshler, Bartlow Township, Henry County, OH. When enumerated for the census in 1920, in Bartlow Township, the Harmons had their married daughter Flossie and her husband Hobart Baughman residing under their roof on Sycamore Street along with young granddaughters Effie and Mary Ruth Baughman. That year, Lewis worked as a marshal in the city office, while Hobart was a barber who operated his own shop.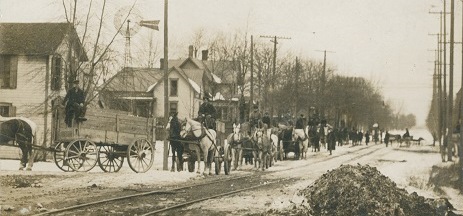 Traffic on Keyser Avenue, Deshler, looking north from the B&O Railroad station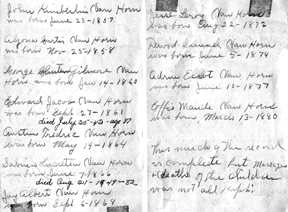 Letter with records from the family Bible
The 1930 census shows Lewis and Effie making their home in Deshler, with him working as a teamster. Effie, Hobart and the two granddaughters continued to reside with them. Hobart was still active as a barber in a Deshler barbershop at the time.
In 1941, at the death of her brother Austin, Maude was still residing in Deshler. She would have been age 61 at the time. Nothing further of their lives or fates is known.
The family was plunged into grieving when Lewis died in 1953. His remains were lowered into the sacred soil of Woodlawn Cemetery in Deshler.
Maude was the keeper of the old Van Horn family Bible. At some point, she wrote out all the names and dates in a letter to her sister-in-law, Lucy (Zimmerman) Van Horn. In the letter, she wrote: "[I] thought I would send you the record from the old bible as far as it is complete... This much of the record is complete but marriages & deaths of the children was not all kept."
Maude survived her spouse by a little more than a decade. She succumbed to the angel of death at the age of 83 on Leap Day 1964.
~ Daughter Flossie (Harmon) Baughman ~
Daughter Flossie P. Harmon (1898-1977) was born in about 1898.
In 1916, she was joined in matrimony with Hobart Orville Baughman (Oct. 31, 1896-1954), a native of Deshler, Henry County and the son of Lawrence and Viola (Kline) Baughman.
The only known daughters born to this couple were Effie Baughman and Mary Ruth Baughman.
When enumerated for the census in 1920, in Deshler, the Harmons dwelled with Flossie's parents on Sycamore Street. At that time, Hobart worked as a barber who operated his own shop. The family continued to live under the roof of Flossie's parents as of 1930.
By 1940, the Baughmans established their own hom in Deshler, with Hobart remaining as a barber, operating his own business.
Hobart died at the age of 57, in nearby Findlay, OH on March 21, 1954. Burial was in Woodlawn Cemetery in Deshler.
Flossie outlived her spouse by 23 years. Death swept her away on Aug. 18, 1977.
Daughter Effie Viola Baughman (1916-1937) was born on Aug. 21, 1916 in Deshler. As a young woman, she resided in Grand Rapids, Wood County, OH. On the fateful day of Sept. 4, 1937, while in the vicinity of a child shooting a gun in target practice, the weapon accidentally fired in her direction. The bullet penetrated her abdomen. Effie was rushed to the W&C Hospital in Toledo, but nothing could be done. She appears to have died the same day as the shooting. A brief blurb was published in the Dayton (OH) Daily News. The remains were lowered under the sod of Woodlawn Cemetery, Deshler.
Daughter Mary Ruth Baughman (1918- ? ) was born in about 1918. Nothing more about her life is known.
Copyright © 2003, 2007, 2021-2022 Mark A. Miner