Effie "Maude"
(Van Horn) Harmon
(1880- ? )
Effie "Maude" (Van Horn) Harmon was born on March 13, 1880 near Grand Rapids, Wood County, OH, the daughter of Eli and Mary Ann (Kimberlin) Van Horn.
The photo seen here is believed, but not proven, to be of her.
Maude married Lewis Harmon (1873- ? ) in about 1898, when she was the tender age of 18. He was a farmer and a resident of Deshler, Henry County, OH.
They had one daughter, Florence "Flossie" Baughman.
When the federal census was taken in 1900, the Harmons were residing on a farm in Jackson Township, Wood County, as neighbors neighbors near Maude's parents, brothers John Kimberlin Van Horn and Jay Albert Van Horn, and uncle Austin Coleman Van Horn.
By 1910, the Harmons had migrated to Deshler, Bartlow Township, Henry County, OH. When enumerated for the census in 1920, in Bartlow Township, the Harmons had their married daughter Effie and her husband Hobart Baughman residing under their roof on Sycamore Street along with young granddaughters Effie and Mary Ruth Baughman. That year, Lewis worked as a marshal in the city office, while Hobart was a barber who operated his own shop.
The 1930 census shows Lewis and Effie making their home in Deshler, with him working as a teamster. Hobart, Effie and the two granddaughters continued to reside with them. Hobart was still active as a barber in a Deshler barbershop at the time.
Horses and wagons on Keyser Avenue looking north from the Baltimore and Ohio Railroad station in Deshler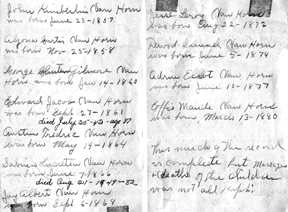 In 1941, at the death of her brother Austin, Maude was residing in Deshler. She would have been age 61 at the time. Nothing further of their lives or fates is known.
Maude was the keeper of the old Van Horn family Bible. At some point, she wrote out all the names and dates in a letter to her sister-in-law, Lucy (Zimmerman) Van Horn. In the letter (seen here), she wrote: "[I] thought I would send you the record from the old bible as far as it is complete... This much of the record is complete but marriages & deaths of the children was not all kept."
Daughter Flossie (1898- ? ) is lost to history, but will be reported here when learned.
As additional research uncovers new findings, they will be added to this brief biography.
Copyright © 2003, 2007 Mark A. Miner