Home

Edward Jacob Van Horn
(1862-1942)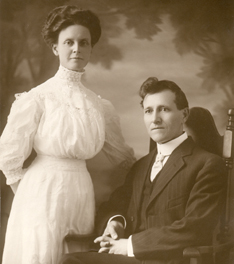 Lucy and Edward Van Horn
Edward Jacob Van Horn was born on Sept. 27, 1862, presumably in Wood County, OH, the son of Eli and Mary Ann (Kimberlin) Van Horn.
Edward's years as a young adult are not known, though he suffered from epilepsy, which may have delayed his education.
He was a teacher when in his 20s, perhaps in a grade school setting, and is said to have been "quite a math whiz."
As a 30-year-old bachelor in Ohio, Edward enrolled in the Commercial College of Ohio Normal University (today's Ohio Northern University) in Ada, Hardin County.
One of his student identification cards is reproduced below, with the name of the university's president, H.S. Lehr, printed at the bottom. Edward's commencement speech was entitled "Ambition Necessary to Success."
A physician once told Edward that his medical condition would improve if he'd move to warmer climates. Thus, in about 1902, at the age of 40, he relocated to Southern California.
Because of his epilepsy, he and his future wife Lucy Melia Zimmerman (1869-1962), agreed not to get married for fear that they might pass along this trait to children.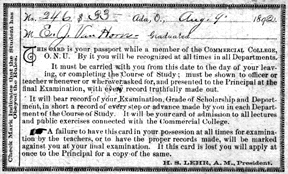 Edward's student ID card at Ohio Northern
However, after an absence of many years, Lucy finally came from Ohio to join him in California in about 1909, and they were wed later that year, on Oct. 25, 1909, in San Bernardino. He was age 47 at the time, and she was 40.
Together, they produced one daughter, Ruth Genevieve Snyder, born when her mother was age 44.
The family resided for many years in Pasadena, Los Angeles County, famed for its annual Tournament of Roses Parade on New Year's Day. They were members of the Lake Avenue Congregational Church.
When the federal census enumeration was made in 1910, Edward earned a living as a laborer in a Pasadena-area laundry. On Christmas Day 1914, Edward's father Eli passed away back home in Ohio. The news was telegraphed to the Van Horns in California. Commenting later in life, daughter Ruth wrote: "I remember the telegram coming re: this tho' I was only 1 yr. 9 mos."
By 1920, Edward had changed jobs and worked as a hotel gardener. He continued his trade as a gardener during the decade of the 1920s and circa 1930 was providing his services for private families.
Their home in Pasadena in 1930 was on North Mar Vista Avenue.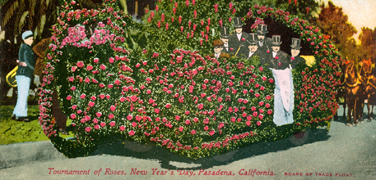 Above: famed New Year's Day Tournament of Roses Parade in Pasadena. Below: Edward and Lucy with daughter Ruth and fiance Donald Glenn Snyder.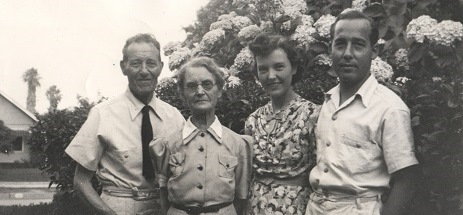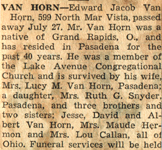 Obituary, 1942
When their daughter Ruth announced her engagement to Pasadena native Donald Glenn Snyder, in December 1936, the two couples were photographed together.
Edward at age 78 in 1940 was no longer working. He and Lucy remained in their residence on North Mar Vista Avenue at that time.
Edward passed away on July 27, 1942 in Pasadena. The Pasadena Star News noted in the obituary that Edward had "resided in Pasadena for the past 40 years."
Lucy outlived her husband by two decades.
She died at age 93 on Jan. 6, 1962, in Alhambra, CA. They are buried at Mountain View Cemetery.
~ Daughter Ruth Genevieve (Van Horn) Snyder ~
Daughter Ruth Genevieve Van Horn was born on March 19, 1913.
She grew up in Pasadena, Los Angeles County. In the early 1930s, she attended the University of Redlands and became a teacher in a one-room school in Dagget, in the Mojave Desert.
On July 24, 1937, Ruth married Donald Glenn "Don" Snyder (1912- ? ). The wedding took place in Glendale.
They bore two daughters together, Sally Snyder and Carol McGann.
The family enjoyed "a normal suburban life" in Pasadena, wrote a daughter. Circa 1940, Donald earned a living in advertising for a trade association, and Ruth continued her career as a school teacher.
At some point in time, Ruth wrote her memoirs about her parents and their early lives in Southern California.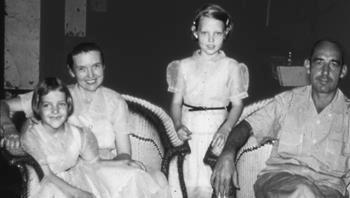 Above: the Snyders in La Dorada --l-r: Carol, Ruth, Sally and Don, 1950s. Below, their hacienda in the jungle.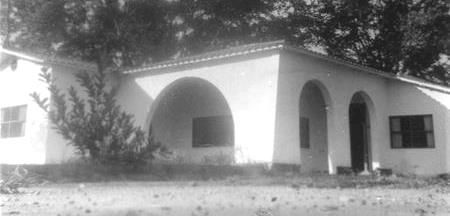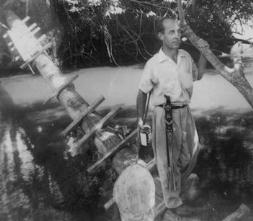 Don hunts butterflies in the jungle, armed with a net and a heavy-duty machete
Circa 1953-1955, the Snyders relocated to Colombia in South America, where Don helped manage a contract to construct a 500-mile section of railway lines. Their hacienda was in the town of La Dorada, in the jungles near the Pontoná River.
Ruth later wrote a private memoir of that experience, entitled A Housewife in the Jungle: A 1950s Pasadena Family Goes to Colombia [McGann Publishing, Amazon Kindle ebook only].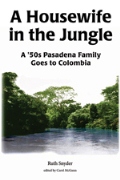 Ruth's book
According their daughter Carol McGann:
Don ... and his family, unaware of what they were getting into, traveled with him. Ruth labored for almost two years to create some semblance of a normal life for her suburban Pasadena family, cooking with balky primitive stoves that could squire black oil all over the kitchen without notice, searching outdoor markets, wrestling with generators, home-schooling her daughters and in a thousand other ways dealing with an entirely different world that challenged her ingenuity. All the while there were snakes, parrots, bulls, floods, voracious insects, and impassible roads that were often reduced to long stretches of mud. Still, Ruth, a veteran teacher who had taught in a one-room schoolhouse in the Mojave desert, faced it all with good humor and kept her family healthy and happy as she learned to adapt to her second home.
The project was not entirely completed by the time the Snyders departed back to the United States. They traveled to home on a semi-freighter through the Panama Canal en route to New York City.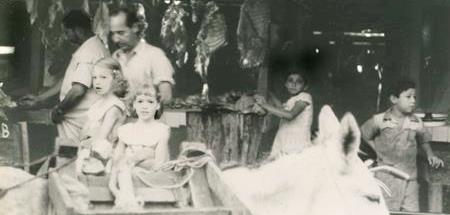 Above: Don and the girls in an open-air butcher shop on La Dorada. Below: traveling home on a steamer, and going through the Panama Canal.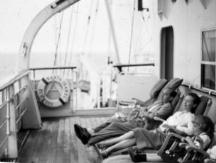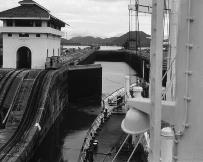 Ruth and Don enjoyed their remaining years together in Pasadena. He died in Pasadena on Aug. 30, 1984.
Ruth survived her husband by 23 years, and endured the passing of her adult daughter Sally on June 18, 1994, in Long Beach.
On Jan. 19, 2007, at the age of 93, Ruth succumbed to the angel of death in Altadena, Los Angeles County, CA.
~ Granddaughter Sally Snyder ~
Daughter Sally Snyder ( ? -1994) was born in (?).
She passed away in Long Beach, CA on June 18, 1994.
~ Granddaughter Carol (Snyder) McGann ~
Granddaughter Carol Snyder ( ? - ? ) was born in (?).
She wedded Bill McGann ( ? - ? ). Their first date was a bike ride, and they say that "their lives are inextricably tied up with bicycles."

Their logo
Carol is a former college biology instructor and is an accomplished rider. Bill is a former Category 1 racer and has contributed articles to several cycling magazines and is widely acknowledged as an expert on road bikes and cycling history.
In 1981, they founded Torelli Imports, a firm in Camarillo, CA that specializes in high-performance bicycles and related accessories.
Today they own McGann Publishing, a small publisher of bicycling and bike racing books in North Central Arkansas, and maintain the BikeRaceInfo.com website. The website featured non-product content including race results database, Italian cycling trip diaries, oral history interviews, history of the Tour de France, and much more. Circa 2015, the BikeRaceInfo site had more than 3,000 pages of content.
Among the titles Carol and Bill have co-authored are The Story of the Tour De France (Volume 1: 1903-1964 and Volume 2: 1965-2007, published by Dog Ear Publishing) and The Story of the Giro d'Italia (Volume 1: 1909-1970, published by McGann Publishing).
The couple resides in the Willamette Valley in Oregon near pastures and vineyards.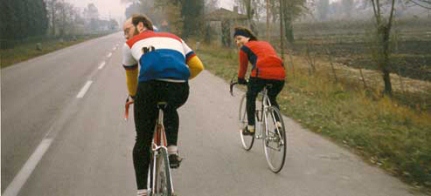 Above: Carol and Bill McGann circa 1983 on the road from Monselice to Padua, near Venice, Italy. Below: titles authored by the McGanns: The Story of the Tour de France and The Story of the Giro d'Italia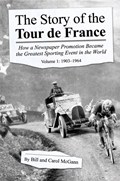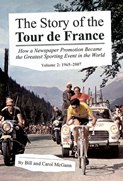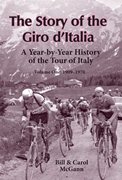 Copyright © 2003, 2010, 2012, 2021 Mark A. Miner