Henry 'Ross' Blythe
(1880-1944)
Henry "Ross" Blythe was born in February or March 1880 in Henry County, OH, the youngest child of Henry and Isabelle (Van Horn) Blythe. He was 23 years younger than his elder brother, Jay Orlando Blythe.
A bachelor at the age of 20, in 1900, he was the last child remaining in his parents' household near the town of Napoleon in Harrison Township, Henry County, OH. At that time, he earned a living as a farm laborer.
On Nov. 2, 1902, when he was 22 years of age, he married 18-year-old Anna Victoria Reichard (1884- ? ). The nuptials were held in Napoleon by the hand of Rev. M. Pritz of St. Augustine Catholic Church.
Evidence suggests that the marriage may have ended by 1910. Ross appears to have been hired by a railroad company and, in 1910, lived in a boarding house in Minneapolis, MN, where he labored as a locomotive fireman.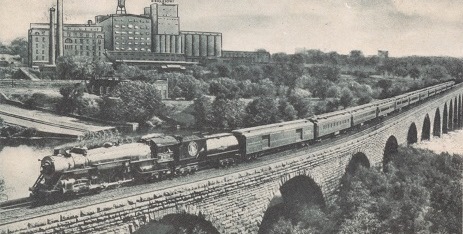 Rail operations in Minneapolis, with the Pillsbury building in the background
Other research suggests that he remained in Minnesota during the 1910s. When he was age 32, on Jan. 7, 1913, he wed again to 27-year-old Minnesota native Harriet A Jacobs (1882-1953), daughter of Louis and Flora (Wheeler) Jacobs. Their marriage ceremony was held in Hennepin County, MN.
The couple bore two known children, Ross Blythe and Janette Sherohman. Sadly, their son died at birth on Sept. 18, 1915.
The Blythes in 1920, 1930 and 1940 resided in Columbia Heights, Anoka County, MN. There, he was employed as a locomotive engineer.
Harriet is known to have been active with the Silver Lake School Mothers Club. At New Year's Eve 1927, she chaired arrangements for the club's masquerade dance. She is known to have proposed creation of the Columbia Heights City Library in 1928, an organization housed in the Heights Theatre. She was involved circa 1937 with the Woman's Benefit Association.
Sadly, at the age of 64, Ross died in Minneapolis on Dec. 17, 1944. Burial was in Crystal Lake Cemetery. A one-line notice of his passing was published in the Minneapolis Star.
Harriet outlived him by nine years and dwelled at 3953 Reservoir Boulevard in Columbia Heights. Death swept her into eternity at the age of 79 on Jan. 6, 1953. An obituary in the Minneapolis Star Tribune, which included her photograph portrait, said that funeral services were held at the Community Methodist Church at the corner of Gould and Central Avenues Northwest.
Harriet was named in a Star Tribune feature story on Aug. 16, 2006 about the Columbia Heights City Library.
~ Daughter Jeannette (Blythe) Sherohman ~
Daughter Jeannette Blythe (1922-2012) was born on Sept. 29, 1921 in Columbia Heights, Anoka County, MN.
At the age of 18, in 1940, she worked in an insurance office in Columbia Heights.
Jeannette was joined in the bonds of matrimony with Joseph Louis Sherohman (June 22, 1921-1993), also a native of Columbia Heights.
They became the parents of six children -- Joseph "Ross" Sherohman, Guy Sherohman, Michael Sherohman, Mark Sherohman, Carol Sherohman and William "Bill" Sherohman.
During the Korean War, Joseph served in the U.S. Air Force, attaining the rank of major. When he was stationed in Texas, circa 1953, the couple related to South Houston, TX.
In time they migrated back to Minnesota.
Sadly, Joseph passed away at the age of 71, in Anoka, Anoka County, on April 9, 1993. On the anniversary of his death over the following years, his family published a memorial notice in the Minneapolis Star Tribune.
Jeannette lived for another 19 years and endured the untimely death of her son Ross.
She died in Fridley, Anoka County at the age of 91 on Dec. 5, 2012. Her remains are in repose in Fort Snelling National Cemetery in Minneapolis.
Son Joseph "Ross" Sherohman (1941-1997) was born on Aug. 13, 1941. He died on Sept. 13, 1997, at the age of 56.
Son Guy Sherohman ( ? - ? ) served in the U.S. Army during the Vietnam War. He took part in a mission in March 1967 where he operated a radio-telephone during an infantry patrol in South Vietnam. Reported the Minneapolis Star, "In an area of known enemy activity, the patrol came under heavy fire from camouflaged fortifications. Sherohman moved toward the forward artillery observer across a fire-swept area. Although a grenade exploded near him, knocking him to the ground, he reached the observer and helped direct an air strike on enemy positions..." In recognition of his action, he was awarded a Bronze Star. Guy wedded Gail ( ? - ? ).
Son Michael Sherohman ( ? - ? ) married Rhonda ( ? - ? ).
Son Mark Sherohman ( ? - ? ) is believed to be a 1967 graduate of Fridley High School. He was united in wedlock with Diane ( ? - ? ).
Daughter Carol Sherohman ( ? - ? )
Daughter William Sherohman ( ? - ? )
Copyright © 2011, 2021 Mark A. Miner