Francis Yelaine Crosby
(1910-1991)

Francis Crosby
Francis Yelaine Crosby was born on March 19, 1910 at Buckeye near Mt. Pleasant, Westmoreland County, PA, the son of Lewis and Marietta (Minerd) Crosby.
He was only two years of age when his mother died.
In 1933, at the age of 22, Francis married 18-year-old Viola Ann Koble (Dec. 7, 1914-1981), whom he had met in Scottdale, Westmoreland County. They resided in Scottdale and had no children.
Francis was a coal miner, and labored for U.S. Steel Coal Mining Inc., including work at Maple Creek Mine in Washington County, PA. He was a member of the United Mine Workers of America, Local 1248.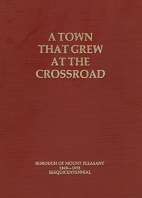 Book picturing Francis
The Crosbys belonged to the Mt. Pleasant Church of God, a house of worship where Francis' grandparents had belonged in the 1870s.
Over the years, he was active in the International Order of Odd Fellows, Kiwanis Club, Shriners and Cedars.
In 1977-1978, as a member of the Moss Rose Lodge No. 350 of the IOOF, he served as an officer, holding the position of vice grand. The group met in the its own room in the town hall building. He and his fellow IOOF officers are pictured and named in the book, A Town That Grew at the Crossroad: Borough of Mount Pleasant 1828-1978 Sesquicentennial.
Sadly, Viola passed away in October 1981.
Francis Crosby
Francis survived his wife by a decade. He spent his final years at the Harmon House retirement facility in Mt. Pleasant, where on one pleasant day he entertained a visit from the founder of this website.
He died at Frick Community Health Center in Mt. Pleasant on Aug. 11, 1991, at the age of 81. He was buried at Westmoreland County Memorial Park.
Copyright © 2001, 2017 Mark A. Miner