Home

Emanuel Emerick
(1830-1920)
Emanuel Emerick was born in Oct. 1830 in Southampton Township, Somerset County, PA, the son of Jonathan and Rachel (Sturtz) Emerick Sr.
In about 1856, at the age of 26, he married Elizabeth Boderfield (1837- ? ), also spelled "Bodifield." A profile of Emanuel in the 1911 book History of Poweshiek County, Iowa says that they were "natives of Somerset county, Pennsylvania, but of German descent."
They together bore a family of three known children: Josephine Whelan, Margaret "Maggie" Baxter Rugh and Daniel Franklin "Frank" Emerick.
Within a year of their marriage, in about 1857, the couple migrated to Iowa. They settled in Warren Township where the future village of Carnforth would be established.
Said the Marshalltown (IA) Evening Times Republican, "He operated a blacksmith shop there for a number of years and shod horses for the old stage coach line which plied its way across the prairies in those early days." In 1886 they relocated to Ida County, IA and later migrated to Hartwick, Poweshiek County, IA, where he continued his working as a smith.

Tornado damage in Grinnell, Iowa, where Emanuel Emerick lived in his final years. Harper's Weekly, July 8, 1882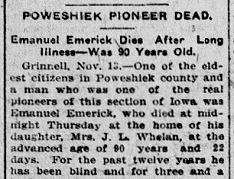 Marshalltown Evening Times-Republican
Library of Congress
The federal census of 1870 shows the couple and their family dwelling in Jefferson Township, Poweshiek County, and in 1880 they were in Brooklyn, Poweshiek County, where Emanuel labored as a blacksmith.
As Elizabeth's health was in a long decline, rendering her an invalid, her unmarried daughter Josephine provided for her care. Sadly, Elizabeth passed away on Sept. 8, 1882.
Widowed at the age of 52, Emanuel survived his wife by 38 years. He moved into the home of his married daughter Josephine Whelan even as they moved from Brooklyn to Galva, Ida County, IA and later to Grinnell, IA. In about 1908, he became blind and for the final three and a half years of his life "has been practically confined to his room," reported the Republican.
The 1911 History of Poweshiek County said that "Mr. Emerick belongs to a long-lived family. He had twelve brothers and sisters and in 1907 ten of the thirteen members of their family were living at an average age of seventy-three years; nine are now surviving at an average age of seventy-seven years."
Emanuel died 22 days after his 90th birthday on Nov. 12, 1920. In an obituary, the Republican said he was "old of the oldest citizens in Poweshiek county and a man who was one of the real pioneers of this section of Iowa."
~ Daughter Josephine (Emerick) Whelan ~


Josephine and John L. Whelan
History of Poweshiek County, Iowa
Daughter Josephine Emerick (1856-1924) was born on Nov. 13, 1856 in Somerset County. She traveled as an infant to Iowa with her parents, and she grew there to womanhood.
As a young lady she joined the Episcopal Church. In 1880, unmarried at age 24, she lived with her parents in Brooklyn Township, Poweshiek County.
When she was age 25, she traveled to visit her grandparents in Somerset County, and kept a diary of her experiences, entitled Such Times: A Diary Kept by Josephine Emerick While Visiting Relatives in Pennsylvania and Maryland in 1881. The diary spans the time period from late September 1881 to late March 1882. It later was transcribed by her son, with a copy of the typescript deposited in the Somerset (PA) Historical Center. It was re-discovered in 2021 and then edited and added to the Minerd.com family website.
The diary recounts an extensive variety of activities in which she took part. It seems most every day she went somewhere with someone. She describes landmarks and towns she saw – Wills Mountain, Mt. Savage, Kennells Mills, Cumberland, Pompa Smash, Dans Rock, Wellersburg, Meyersdale, Salisbury, Pocahontas, the Casselman River, Palo Alto and Stringtown. She recounts seeing the old houses where she had been born and her mother raised, and touring a coal mine. She attended camp meetings and church services, often where the preaching was entirely in German, and after one she wrote she "could not understand any." Social activities included apple cuttings, singing school, spelling school, candy parties, boiling sugar and butcherings. She also spent time making dresses for cousins of whom she was especially fond.
Christmas Day was spent at church, then lunch at home, and then singing that evening in the Kennell's Church House. New Year's Day supper was held at her grandparents' home, followed by evening Sunday School. To pay her respects to deceased relatives, she visited at least three cemeteries during her visit. She also transcribed a list of births and baptisms of her father, uncles and aunts.
Mountain travel in Pennsylvania was difficult, especially in the winter. She describes a ride in a buck wagon where "the mud flew right and left." On walks through the rough mountain paths, a far cry from the Iowa flatness, she said "I thought my feet would come off stumbling over the rocks." Sometimes the snows were so deep that she remained housebound for the day.As always, she experienced a host of deaths and funerals, among them her first cousin Emanuel T. Emerick, age 15, of lung fever. Others she cited were of "old Mr." Daniel Leydig, her Uncle John Beal's father, two of George Wilhelm's children and Henry Dorns' baby.
Frequently homesick, she yearned for letters from her Iowa family. She finally left for home on March 28, 1882, embarking at the rail station in Cumberland, MD, having purchased a railroad ticket for $21.00.
Four-plus years after her return home, on Sept. 29, 1886, when she would have been 30 years of age, she was united in matrimony with 33-year-old John L. Whelan (March 2, 1853-1933), also spelled "Whelen." He was a native of Walworth County, WI and the son of Joseph P. and Catharine (Fuller) Whelan, and had come to Iowa in a covered wagon.
Four known offspring were born into this family -- Dr. Ralph S. Whelan, John Eri Whelan and an unnamed infant twin, and Mary Eva Whelan.
Tragically, three of the four offspring succumbed to death young. The family was plunged into grief when son John died at the age of two and his twin brother in infancy, prior to 1900. Daughter Mary Eva passed away at the age of seven in 1906.
Early in the marriage, the Whelans dwelled in Brooklyn, Poweshiek County, IA. The federal census enumeration of 1900 lists the family in Eureka, Sac County, IA and in 1902 they were in Galva, Ida County, IA before moving that year back to Brooklyn.
By 1910, census records show the family making a home in Madison Township, Poweshiek County, with John and their son working on the home farm, and Josephine's aged father living under their roof. They migrated once more in 1911 to Grinnell, Poweshiek County.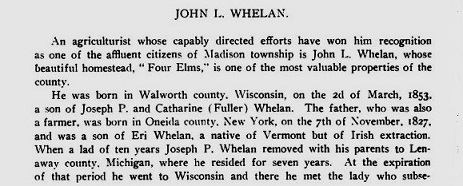 John's profile in the 1911 History of Poweshiek County book
Josephine and John held memberships in the Methodist Episcopal Church of Brooklyn, IA as well as the Order of Eastern Star in Brooklyn, IA. Josephine is known to have been "a most faithful and consistent Christian." John also belonged to the Masons lodge in Brooklyn, the Independent Order of Odd Fellows in Schaller, IA and the Modern Woodmen of America lodge in Brooklyn. John was profiled over the span of three pages in the 1911 book History of Poweshiek County, Iowa, authored by Leonard Fletcher Parker. The profile read that John was an:
...agriculturalist whose capably directed efforts have won him recognition as one of the affluent citizens of Madison Township... whose beautiful homestead, "Four Elms," is one of the most valuable properties of the county.... After the completion of his education, which was acquired in the district schools, John L. Whelan remained at home assisting his father in the cultivation of his farm until the latter's demise. Two years thereafter he returned to Iowa, locating in Ida county, where he farmed as a renter for eleven years, then bought a quarter section which he operated for nine years. Disposing of his land at the end of that time he came to Poweshiek county, buying two hundred and forty acres of land in Madison township. He has since sold eighty acres of this but still remains the remainder of his original purchase, which is located on section 26. Mr. Whelan calls his homestead "Four Elms" from four large elms which stand in his front yard. The idea of so calling it occurred to him after he had read J.G. Holland's story of "Seven Oaks." He and his son cooperate in the work of the farm. The latter also breeds and raises registered Shropshire sheep, while the father makes a specialty of feeding cattle and hogs for the market. His farm is one of the very valuable properties of the township, the land all being under cultivation, thoroughly tiled and capably supervised, while the improvements are all good and substantially constructed.
His political support Mr. Whelan accords the republican party, his views coinciding with the more progressive faction of that body. He served for four terms as school director and was twice elected township trustee but never qualified for that office, as he has never aspired to public honors or the emoluments of office. One of the most interesting occurrences in the life of Mr. Whelan was a visit to Nashville, Tennessee, with his father and brother, Leslie, when a lad of eleven years [in 1864]. They were in the city at the time General Hood attempted to drive General Thomas from his position and were most interested witnesses of the battle. Mr. Whelan has ever worked earnestly and persistently, which fact has made him one of the successful agricultural representatives of Poweshiek county.
The 1920 census shows the family in Grinnell, with 30-year-old niece Ella Canon in the household.
Sadly, at the age of 67, Josephine was stricken with pneumonia and died at their home on Fourth Avenue in Grinnell on Jan. 23, 1924. Burial of the remains was in the old section of the Brooklyn Memorial Cemetery, following a funeral service held in their home. Rev. W.J. Todd officiated.
John outlived his bride by nine years and resided for a time with his son Ralph in Belle Plaine, IA. In 1927, after three years as a widower, he married a second time to his wife's cousin, widow Emma M. (Troutman) Powers (1866-1939), daughter of Daniel Benjamin and Catherine (Emerick) Troutman.
Their final years were spent in Emma's home region of the Pacific Northwest in Tacoma, Pierce County, WA. There, burdened with hardening of the arteries, he succumbed to death at the age of 80 on Aug. 7, 1933. His remains were transported back to Iowa. Following a funeral preached by Rev. W.J. Fowler, burial was made next to Josephine. An obituary was printed in the Grinnell (IA) Herald. Now widowed for a second time, Emma lived for another six years. The grim reaper of death claimed her away at the age of 73 in Tacoma on June 24, 1939. She sleeps for all time beside her first husband in Tacoma Cemetery.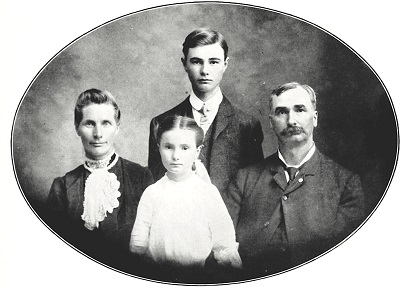 The John and Josephine Whelan family. History of Poweshiek County, Iowa, 1911.
Son Dr. Ralph Lewis "R.L." Whelan (1890-1991) was born in 1890 in Galva, Ida County, IA. He was first married on June 1, 1915, in Harlan, IA, to Alice Horton Chambers (April 30, 1890-1918), a Wisconsin native and the daughter of Rev. George Robert and Nellie (Horton) Chambers. One daughter born to this union, Chambers Whelan, died at birth on June 9, 1916. Reported the Chariton (IA) Leader, Alice "was a sweet, charming young lady, and during her residence here made warm friends of all with whom she came in contact." Their marriage was short lived, as Alice became seriously ill and was treated in Bishop Clarkson Hospital in Omaha. After three weeks of suffering, she passed away on April 13, 1918. Her remains were taken to her parents' home for funeral services at St. Andrew's Episcopal Church, led by her uncles, Rev. Henry F. Horton and Rev. Thomas Horton. The remains were buried in Chariton Cemetery. In an obituary, the Leader said that "Her sudden passing away when life seemed full of promise, has brought sadness to many hearts, and the sympathy of the community will go out to the greif-stricken relatives." Ralph became a chiropractor. Circa 1920, a widower and living with his parents, he operated his own practice in Grinnell, Poweshiek County, IA. Then in about 1923, at age 33, he wed 30-year-old Gertrude (1892-1980). The couple established a home in Vinton, Benton County, IA. There, in 1930, Ralph was now working in a completely different field of endeavor -- as sheriff at the local jail. By 1933, Ralph was in Cedar Rapids, IA. Ralph passed away in Belle Plaine, Benton County on Jan. 2, 1991. Burial was in Oak Hill Cemetery in Belle Plaine.
~ Daughter Margaret Ann (Emerick) Baxter Rugh ~
Daughter Margaret Ann "Maggie" Emerick (1861-1927) was born in 1861 in Poweshiek County, IA.
She was married twice. Her first spouse was Edward Amos Baxter ( ? - ? ).
The Baxters made a home in Iowa in 1883 and Belleville, KS circa 1889. They were the parents of two known sons, Arthur Baxter and Earl Emanuel Baxter.
Their marriage was troubled, and the pair divorced at Rock Island, IL in December 1896.
On Jan. 31, 1895, perhaps not yet legally free from her first spouse, Margaret wed a second time to Civil War veteran William Oregon Rugh (Jan. 31, 1847-1935), son of Henry Rugh -- possibly pronounced "Rue." Their nuptials were held in his home on 16th Street in his hometown of Rock Island. Reported the Moline Dispatch, "William O. Rugh invited about thirty friends to dine with him yesterday, and when all had assembled he sprung a surprise on them, calling on the Rev. T.W. Grafton to do a certain duty assigned him. The bride was Mrs. Maggie Baxter, who quickly became Mrs. Rugh. A sumptuous spread was done justice to, and congratulations were profuse." The bride was 14 years younger than the groom.
William stood 5 feet, 3½ inches tall and had a light complexion, blue eyes and light hair. He had been married previously, to Henrietta Glenn (1849-1883), who had died at Rock Island on New Year's Day 1883 from bowel inflammation. He thus brought five known sons into the second union -- Jacob Henry Rugh, William Arthur "Billy" Rugh, Charles Lurk Rugh, Glenn Rugh and Harry Craig Rugh Stearns.
Margaret and William together produced two additional children -- Mildred Pearl Rugh and Genevieve Rugh.
During the Civil War, William had served in the 126th Illinois Infantry, Company H. He enlisted at Colona, IL on Oct. 1, 1864 and spent most of the war at Pine Bluff, AR. Historians have said that his regiment spent almost its entire tour of duty in a rear echelon role. There is no evidence that he was involved in any battles, engagements, skirmishes or expeditions or that he suffered any wounds. His only malady was contracting an infection of "swamp fever."
He received his honorable discharge at Pine Bluff on July 12, 1865 and returned home. For some years after the war, he was a farmer. Circa 1883, he is known to have been employed in Rock Island as a policeman.

William's employer, the Chicago, Rock Island and Pacific Railway
Their residence in 1895-1900 was in Rock Island, where William earned a living as a railroad switchman for the Chicago, Rock Island and Pacific Railroad. On the night of July 12, 1894, he recalled, he received a frightful injury at work, "while in the act of coupling cars, I was accidentally caught by the right hand and lost my two fore fingers and part of my hand." Co-workers Perry Chapman and M.J. Griffin saw the accident take place, watching as the hand was "caught between the draw bars of the engine an the car... We saw Rugh step out from between the cars holding his hand and saying 'I am pinched.' His hand was bleeding and the glove on it torn to pieces. He was brought to the company physician, Dr. S.C. Plummer. The doctor observed the "right hand badly smashed" and after quickly administering chloroform "found it necessary to amputate the first and second fingers and a part of the corresponding metacarpal bones. The hand was very badly bruised in addition to the crushed bones."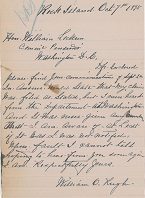 William letter to the
pension office, 1895.
National Archives

Later in 1895, the year of his marriage to Margaret, he applied for and began receiving a military pension as compensation for his wartime service. [Invalid App. #1.169.938 - Cert. #913.822 - C2563049]

William again injured injury to the right hand on March 19, 1896, with Dr. Plummer removing the tip of the thumb. History repeated itself once more on May 24, 1900 when, reported the Rock Island Argus, "W.O. Rugh, a brakeman, while making a coupling this morning in the Rock Island yards, had the palm of his right hand painfully pinched."

Circa 1901, the Rughs relocated to Cherryville near Portland, Multnomah County, OR. There, William joined the Portland chapter of the Grand Army of the Republic, a veterans organization. When filing for increases in his pension payments, in addition to his hand injury, he claimed he suffered from chronic rheumatism, stiff joints and kidney disease. As of 1902, their post office was Sandy, Clackamas County, OR; in 1913 in Cherryville; and in 1926 at 5231 68th Street, Portland.

Margaret died in Portland on Nov. 17, 1927. Her remains were laid to rest in Lincoln Memorial Park in Portland.

William lived for another eight years as a widower. In 1930, dwelling at the corner of Grand Avenue and Sixth Street in Portland, he claimed his prostate was badly swollen, making urination difficult, and that he had hernias on both sides of his groin. His final address was 223 Mission Street.

Sadly, on June 8, 1935, William surrendered to the spirit of death at the age of 89 in Pendleton, OR. A notice of his death was printed in his old hometown newspaper, the Rock Island Argus. An obituary in the Salem (OR) Statesman Journal said that he had died "after a short illness" and the Rock Island Argus noted his Civil War service. Burial of the remains was in Echo Memorial Cemetery in Echo, Umatilla County, OR. His official Oregon death certificate gave the cause as "senile decay" and named his deceased spouse as "Henrietta Glen."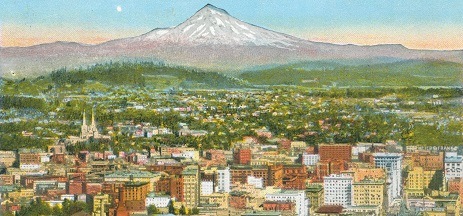 Portland, Oregon, home of the Rughs, with Mt. Hood in the distance
Son Arthur Baxter (1885- ? ) was born in May 1885 in Iowa. It is possible that he also went by his stepfather's surname, "Rugh," but this is not confirmed. He made a home with his mother and stepfather in Rock Island, IL at the age of 15 in 1900, working in special delivery for the local post office.
Son Earl Emanuel Baxter (1890- ? ) was born on Jan. 2, 1889 (or 1888) in Belleville, Republic County, KS. His middle name also has been spelled "Manuel." He never married. He migrated to the Pacific Northwest with his mother and stepfather. When required to register for the military draft during World War I, he disclosed that he lived at 5231 68th Street in Portland, OR and earned a living as a laborer for Holman Fuel Company. In 1920, he lived with his parents in Portland and worked as a meat cutter in a butcher shop. Later he was employed by an ice company. As he aged, he developed cancer of the thyroid which spread throughout the body. His final decades -- including in 1940 and 1950 as spelled out in the U.S. Census -- were spent residing in Veterans Administration Hospitals in Fort Lewis, WA and Roseburg, OR. As his health worsened, he was transferred to the VA Hospital in Portland. After a stay of 62 days, he succumbed to the spectre of death at the age of 74 on July 24, 1963. Burial was in Willamette National Cemetery, Portland.
Daughter Mildred Pearl Rugh (1898-1988) was born on May 8, 1898 in Illinois. At the age of two she migrated with her parents to Oregon. She appears to have been twice-married. Circa 1935, her married name was "Hickson," and she lived in Portland. In time her second married name was "Worden." Neither marriage resulted in children. Mildred died in Willamina, OR at the age of 89 on Jan. 3, 1988. Burial was in Lincoln Memorial Park in Portland. An obituary listed her surviving nephews and nieces as Elmer Andre of Portland, Howard Andre of Oregon City, Melvin Andre of Forest Grove, Blanche Tissue of Arlington, WA and Rosemary Giercis of Illinois.
Daughter Genevieve Rugh (1900- ? ) was born on April 19, 1900 in Rock Island, IL. She was joined in wedlock with (?) Andre ( ? - ? ). They are believed to have been the parents of Elmer Andre, Howard Andre and Melvin Andre. Her residence circa 1935 was in Gresham, OR.
Grandson Elmer Andre resided in Portland, OR in 1988.
Grandson Howard Andre put down roots in Oregon City, OR.
Grandson Melvin Andre made his home in 1988 in Forest Grove, OR.
Stepson Jacob Henry Rugh (1869- ? ) was born on Nov. 3, 1869. He is believed to have entered into marriage in 1892 with Bertha G. Downes ( ? - ? ) in Rock Island. He was the father of Ruth Shafer. Jacob resided in Pendleton, OR in 1935-1954, with an address in 1935 of 119 Mission Street.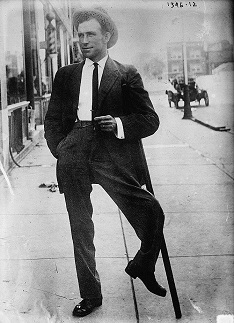 William "Billy" Rugh
Library of Congress
Stepson William Arthur "Billy" Rugh (1872-1912) was born on March 8, 1872 on the Jacob Glenn farm about one-and-three quarter miles north of the town of Sunny Hill near Moline, IL. In infancy his left leg became paralyzed, an issue which shaped his life and ultimely his death. He was 10 years of age when his mother died, and he appears to have been raised by foster parents who were cousins, H.C. and Ida McCabe. From Sunny Hill, he relocated to Rock Island, IL and made a home there until about 1910, when he moved to Gary, IN. In Gary, he made a living selling newspapers, referred to as a "newsboy." In the fateful year of 1912, he learned of the story of 18-year-old Ethel Smith, a young woman who had suffered horrible burns in a gasoline explosion while riding a motorcycle. Doctors said she might die unless they could find enough skin to graft over the burns. Her father, brother and boyfriend all donated skin. Billy thought that he could sacrifice his useless leg for this purpose, and went to Gary General Hospital to make the offer. At first it was declined. The news of his intention became public, and offers of encouragement and support rolled in. The hospital finally relented and agreed to the surgery. Said the Chicago Tribune, "he has received $600 in money, a free life insurance, offers of enough artificial limbs to supply a centiped, and felicitations from all parts of the country." Citizens of Gary nominated him to receive a Carnegie Medal from the Carnegie Hero Fund Commission. After the amputation, as he sat in his hospital bed, he received an envelope from the Tribune containing $62 received at the office. Local women athletes organized an indoor baseball game for his benefit. "I can't understand it," he remarked to a reporter. "Why are people so good to me? There isn't a man who has had the heart to send these gifts but would have done just as I did, had he been placed in the same position." He said he planned to use his newfound money to open a newspaper stand where he would be protected from inclement weather. Newspapers across the country voiced their support. One, the Pittsburgh Press, wrote this in an editorial.
When we come to think of it, Mr. William Rugh, you are not only a hero but you are also a gentleman. In the exclusive homes of the West End, London; of Fifth ave., New York, and of the aristocratic quarters of our own city of Pittsburg, there are many carefully nurtured and expensively "educated" and elegantly attired claimants to that latter title who are not capable of such gallantry as that shown by your offer. With all their advantages of ball-rooms and drawing-rooms, you are their superior in manners.
While 160 square inches of skin was taken from his removed leg, and grafted to Miss Smith, a recovery was not to be. The stump began to heal. But his lungs and bronchial passage, damaged by the ether inhaled just prior to the surgery, became infected with pneumonia. And on Oct. 18, just 15 days after his surgery, he died. His final words, said the Moline Dispatch, were "Guess I'm some good -- after all." As the news of his passing became known, Gary's Mayor Thomas Knotts named a committee to consider how best to memorialize his name and legacy, including the possibility of a statue. A wreath was placed at Sixth Avenue and Broadway where he once had hustled to sell papers. The St. Louis Globe-Democrat reported that "for the first time in their history the steel mills of Gary will be idle to-morrow. All stores will be closed. There will be no crowds in the theaters and concert halls. In every church there will be said a prayer for the soul of a crippled newsboy. Every minister will speak of the city's greatest deed of heroism. Thousands of people will try to catch a last glimpse of the face of the man who had died with a happy smile on his lips..." Honorary pallbearers included Mayor Knotts, Capt. H.S. Norton, president of the Gary Commercial Club; W.P. Gleasson, general superintendent of Illinois Steel Company; George M. Hunter, general manager of the American Bridge Company; John A. Gross, general manager of American Sheet and Tinplate Company; A.B. Keller, president of the YMCA of Gary; W.A. Wert, superintendent of schools in Gary; banker William Feder; and H.H. Molyneaux, commander of the Knights Templar. The cortege to the cemetery was a mile long. The funeral was so widely attended -- by 15,000 people, according to estimates -- that it was held out of doors, with Rev. J.M. Avann preaching the service standing on the seat of a fire vehicle. His remains were lowered into eternal sleep next to his mother's at Briar Cliffs Cemetery in Rock Island. In death, he was dubbed widely as the "newsboy hero who sacrificed a leg and his life that a young woman might live." Inscribed on his grave marker was the scripture verse from John 15:12 -- "Greater love hath no man than this, that a man lay down his life for his friends." Many years later, in April 1954, he was pictured in a Moline Dispatch story about the incident.
Ethel Smith, whose life was saved by William's self-sacrifice, suffered greatly as not all the grafts took. From her home in Gary, she eloped in January 1914 to Chicago to marry 21-year-old clerk Leon/Edward Cline. Leon faced more controversy within a few months of their wedding when he was accused of embezzlement and grand larceny in Lake County, IN. Circa 1915, living in Lima, OH, she contracted typhoid fever, and was thought to be near death. More will be added about her when learned.
Stepson Charles Lurk Rugh (1873- ? ) was born on Oct. 27, 1873. He made his home in Oregon in 1912, possibly near his father and stepmother in the Portland area. His home in 1935 was in Arlington, OR.
Stepson Glenn Rugh (1875- ? ) was born on Dec. 11, 1875. He dwelled in Denver in 1912.
Stepson Harry Craig Rugh (1881- ? ) was born on May 10, 1881. He was 19 months of age at the death of his mother. He was raised by an uncle and aunt, John William and Louisa (Glenn) Stearns and took their surname as his own. He lived in Orion, IL, using the name "Harry Rugh Stearns." Harry wedded Ellen Brodine ( ? - ? ). The couple's seven offspring were Warren Stearns, Glenn Stearns, John Stearns, Harry Stearns, Robert Stearns, Louise Carriere and Rosemary Davidson.
Step-grandson

Warren Stearns lived with his brothers Glenn and John on the Stearns homestead farm near Orion in 1954.
Step-grandson

Glenn Stearns made his home on the old family farm near Orion.
Step-grandson

John Stearns dwelled on the old Stearns farmstead near Orion with his brothers Warren and Glenn.
Step-grandson

Harry Stearns moved to Davenport, IA, and was employed across the Mississippi River at the Rock Island Arsenal in Illinois.
Step-grandson

Robert Stearns relocated to Andover and in 1954 worked at the Rock Island Arsenal.
Step-granddaughter

Louise Stearns married lawyer Leonard Carriere. Their home was in Blue Island. In 1939, she became an attorney when admitted to the bar. She also was an artist.
Step-granddaughter

Rosemary Stearns wedded (?) Davidson. She was in Chicago in 1954.
~ Son Daniel Franklin "Frank" Emerick ~
Son Daniel Franklin "Frank" Emerick (1863-1935) was born on July 29, 1863 in Pennsylvania (or Iowa).
On April 26, 1887, when he was 24 years of age, he wedded 19-year-old Michigan native Margaret McNally (Feb. 26, 1866-1954), daughter of Joseph and Elizabeth McNally of Niles, MI. The ceremony was held in Malcolm, Brooklyn Township, Poweshiek County, IA.
Their offspring were Edna Mae Stineburg, Lester Emerick, Kathryn Johnson, Hazel Crider, Earl Emerick, Joseph Emerick and Genevieve Wiese.
The Emericks made their home in Rock Island, IL at some point and by 1920 were in Orion, Henry County, IL, where Frank was employed as a clerk in an gasoline filling station. They relocated to Geneseo, Il in about 1920, where they were members of Grace Evangelical United Brethren Church. Their postal address was 115 South Williams Street.
In September 1935, the 72-year-old Frank complained that he did not feel well, but went to work anyway on the fateful day of Sept. 28, 1935. He suffered a massive heart attack and fell to the floor of the gasoline station, dead. An ice delivery man discovered the body and notified authorities. An inquest was held lby deputy coroner Dr. J.H. Ellingsworth. Margaret outlived her spouse by many years.
For decades, Margaret believed that her actual birthdate was Feb. 22, but at age 77 she received a copy of her birth certificate showing the correct date. The human interest story was covered in the Moline (IL) Dispatch. In February 1943, for her 77th birthday, she was profiled in the Dispatch, which noted that she was "in good health; arising at 4 a.m. every morning, she does all of her own work. Her hobbies are raising chicks and growing flowers. This spring she plans to plant her own garden."
She was seriously ill for the last six months of her life and died in Gradert Nursing Home in Geneseo at the age of 90 on Dec. 9, 1954. An obituary in the Dispatch said she was survived by 10 grandchildren, a dozen great-grandchildren and sisters Mrs. Charles Chapman and Mrs. Tress Collum. Funeral services were led by Rev. E.A. Schmidt of the family church, with interment in Western Cemetery in Orion. Clyde Walter performed a song, with Mrs. Dale Sieben accompanying him. Pallbearers included William Armstrong, Edward Biddison, Eugene Whitmyer, D.S. Nicely, William Durack and Jay Durack.
Daughter Edna Mae Emerick (1888-1933) was born on May 30, 1888 in Belle Plaine, IA. She married Edgar "Ed" Stineburg ( ? - ? ). The couple did not reproduce. In about 1919, the Stineburgs relocated to Bartlett, near Chicago, IL. Sadly, at the age of 45, Edna Mae died at home on Nov. 22, 1933. An obituary in the Moline Dispatch ntoed that funeral services were officiated by Rev. F.F. Gordon, and burial was in Lake Street Cemetery. Edwin survived his bride, and in February 1942 attended a birthday party for his mother-in-law.
Son Lester Emerick (1890-1918) was born in 1890. He died on Dec. 15, 1918, at the age of 28.
Daughter Kathryn Emerick (1892- ? ) was born in about 1892. She was joined in marriage with Lester Johnson ( ? - ? ). In 1935-1943, their home was in Geneseo, IL. They were the parents of Kenneth Johnson, Rosalie Johnson and Lyle Johnson.
Daughter Hazel Emerick ( ? - ? ) married Clair Crider (or "Krider"). Together the couple produced two children, Lester Crider and Helen Crider. In 1935-1942, their home was in Brooklyn, IA. By 1954, she had relocated to San Diego, CA.
Son Earl Emerick (1899- ? ) was born in about 1899 in Illinois. He was single and lived at home in 1935. By 1942, he was married and had sons. In 1943, they dwelled in Annawan, IL.
Son Joseph F. "Joe" Emerick (1904- ? ) was born in about 1904 in Illinois. When he was about age 30, he was employed with the Rock Island Railway at Green River as a foreman. On Nov. 21, 1934, he was joined in matrimony with Alice May Wahlheim ( ? - ? ), daughter of Charles Wahlheim of Geneseo. The ceremony was held in the parsonage of Grace Evangelical church, with Rev. E.G. Vaubel officiating. Their initial address was with Alice's father at 322 North Vail Street. They lived in Geneseo, IL in 1943.
Daughter Genevieve Emerick (1908-1960) was born in about 1908 in Illinois. On June 27, 1927, in nuptials held in Geneva near Chicago, IL, Genevieve married Lysle Wiese (July 7, 1902-1988), son of William Wiese of Geneseo. The couple did not reproduce. Their first home was on East Exchange Street in Geneseo, where Lyle worked at the Tracy Garage. Later, they made a residence in Sterling, IL. Lysle earned a living for many years as a meter reader with Commonwealth Edison in Sterling, IL, followed by work at Sauk Valley College in Dixon as a maintenance man. Genevieve passed into eternity on March 28, 1960. Lysle maintained a home as a widower in Geneseo and survived his wife by more than a quarter of a century. He died at the age of 85 on March 22, 1988, while a patient in Hillcrest Nursing Center in Geneseo. An obituary was printed in the Moline Dispatc.
Copyright © 2000, 2011, 2015-2017, 2021 Mark A. Miner
Minerd.com thanks to the late Gilbert R. Gaumer for his contributions to this biography.