Home

Rachel (Sturtz) Emerick
(1805-1885)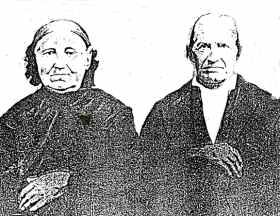 Rachel and Jonathan Emerick.
Courtesy Courtney Moen
Rachel (Sturtz) Emerick was born on Dec. 4 or 14, 1805 in Gladdens, Southampton Township, Somerset County, PA, the daughter of John "Adam" and Maria "Catherine" (Gaumer) Sturtz Sr. She grew up on the family farm with her eight brothers and sisters.
Rachel married Jonathan Emerick Sr. (1799-1887), the son of Andrew and Christena (Heller) Emrich. Jonathan had been born on the home farm on Nov. 15, 1799.
Jonathan's father Andrew Emerick, a.k.a. Andreas Emmerich (1754-1838) was a German immigrant from Langendiebach in the state of Hesse Cassel. While a young man in Germany, he was a member of the Evangelische Kirchengemeinde of Langendiebach, known in English as the Evangelical Church parish of Langendiebach. Andrew sailed to America on the ship Charming Molly, arriving at the port of Philadelphia with his cousin Casimir May and friend Caspar Adam. Having taken an oath of allegiance to King George III on Oct. 22, 1773, he would have been considered a Tory during the American Revolution. Records suggest that he served as a soldier during the American Revolution, perhaps on the side of the British. Jonathan's mother, Christena (1765-1835?), was a native of Reading, Berks County, PA.
The bride was 15 years younger than the groom, and it's possible he had been married previously. Their baker's dozen children were Nathan Emerick, Jacob Emerick, Catherine Troutman, Lydia Beal, Emanuel Emerick, Louisa Korns, Christina "Teena" Burkett, Josiah Emerick, Jonathan Emerick Jr., Solomon Emerick, Rebecca Knieriem, Lafayette Emerick and John J. Emerick.
In May 1847, Jonathan was named as a grand juror in Somerset County Court, and was listed in the Somerset Herald and Farmers' and Mechanics' Register newspaper. The family made its home in Southampton Township in 1850 when the census was taken, living in close proximity to a host of related families -- Andrew and Rebecca Emerick, Rebecca and Israel Emerick, John and Louisa (Emerick) Korns, Joseph and Barbara Emerick and Jacob and Lena Emerick.
The Emericks were members of Gladden's Run Reformed and Lutheran Church, founded in 1846. The Waterman Watkins & Co. book of 1884, History of Bedford, Somerset, and Fulton Counties, Pennsylvania, states that in November 1872:
...the congregation was regularly organized by Rev. [Benjamin] Knepper, the pastor, who is still in charge. The first church officers were Israel Emrich and Andrew Everlain, elders; Bailey Shumaker and Samuel Shumaker, deacons. The oldest members were Jonathan Emrich, Benjamin Baker, A. Getz, Frederick Hasselroth, Solomon Shumaker, Nathan Emrich and D. Liebau. The church edifice, erected at a cost of about two thousand dollars, was dedicated November 24, 1872. Present membership of the church, eighty-four; sabbath school, forty-five. The preaching is alternately in English and German. It was formerly wholly in German.

Farms of "J. Emerick" and "A. Emerick" in the Comp District of Southampton Township, just west of the Allegheny Mountain top in Somerset County, 1876\
When the federal census enumeration again was made in 1870, the family dwelled on a farm in Southampton Township, with the census-taker spelling the name "Emrick." Also in the household were 46-year-old Nathan Emrick, 23-year-old Lafayette Emrick as well as Martha E. Emrick (age 2) and Sarah Emrick (one month old). Emma Burket lived under their roof as a domestic servant. Residing nearby were the families of John and Elizabeth Emrick, Solomon and Ellen (Albright) Emrick, and Alexander and Elizabeth Emrick.
The Emericks' farm tracts included one of 176 acres in Londonderry Township, Bedford County and the other of 92 acres in Southampton. By the end of Jonathan's life, his holdings had expanded to 320 acres.
The census of 1880 shows the aged couple living with their married son Lafayette and his wife Mary in Southampton.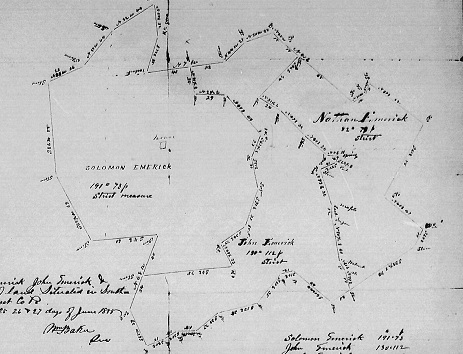 Hand-drawn survey map showing the outlines of the farms of Solomon Emerick and sons John and Nathan situated in Southampton Township. Courtesy Register of Wills, County of Somerset, PA.

Never having learned how to write, Jonathan signed his name with an "X."
Rachel passed into eternity in Somerset County at the age of 79 years, 10 months and 27 days on Oct. 5, 1885. Her remains were placed into repose in the Emerick burying ground. The cemetery is located at what today is known as the "Jack Lantz farm," 590 Ridge Road in Hyndman.
In the final months of his wife's life, Jonathan wrote his last will and testament on July 13, 1885. It was a three-page document witnessed by M.L. Tauber, Emanuel Korns and John L. Emerick. He stated that he was "a farmer being of good health, sound and disposing mind and memory." His first request was that "I receive a decent Christian burial and that there be erected over my grave a medium good tombstone to be paid for out of my own property..." His first bequest was to his sons Nathan and John, who were to receive the "Home farm," two tracts which had been warranted in the name of Rhoads and Emerick. The sons were to equally divide the property and jointly share the barn, house cellar and fruit trees, with Nathan to hold ownership of the house. Son John was to retain ownership of a separate house in which he was living, which he had built at his own expense. Son Solomon was to receive 100 acres of land from the tract on which he was living. Jonathan also wrote that "it is my desire that Nathan, John and Solomon ... in view of the fact that the body of land which I desire to bequeath to [them] lies now in one solid tract containing about 320 acres that they divide this 320 acres equally between them in a manner best suitable to themselves." Another 100-acre tract, which Jonathan had purchased from Daniel Leydig, was to be inherited by son Josiah. Son John was to receive the house and lot where he was then living near Kennell's Mill. Each son was to have the price of his tract deducted from the cash inheritance he was to receive. As he had sold the mineral rights to his tracts to a company from Somerset, Jonathan directed that should the minerals be mined, and should the company need the surface for roads, coal or iron sheds, the company was to be assessed $40 per acre. The balance of any other assets in Jonathan's estate were to be divided equally among all 13 of his children.

Jonathan's last will and testament - Will Book 7, pages 20-22 - Estate #57 of 1887.Courtesy Register of Wills, County of Somerset, PA.
Jonathan lived for just two years as a widower. He succumbed on Sept. 26, 1887 at the age of 87 years, 10 months and 11 days. Interment was in the private Emerick Cemetery on the home farm in Southampton Township. In September 1889, the Somerset Herald published a notice stating that his sons Nathan and Solomon were serving as administrators of the estate and were expected to file a first and final account.
The many varied contents of his farmhouse and barn were auctioned on Nov. 19, 1887. His sons and sons-in-law were among the buyers. A copy of the complete list is preserved today in the Minerd.com Archives.
He is named in a short reference in the 1912 book by John W. Jordan and James Hadden, entitled Genealogical and Personal History of Fayette County, Pennsylvania, Vol. III. In 1993-1994, this family was chronicled in the Emerick Family Newsletter, author unknown.
Most of their offspring lived into old age. A profile in the 1911 book History of Poweshiek County, Iowa said that their son Emanuel "belongs to a long-lived family. He had twelve brothers and sisters and in 1907 ten of the thirteen members of their family were living at an average age of seventy-three years; nine are now surviving at an average age of seventy-seven years."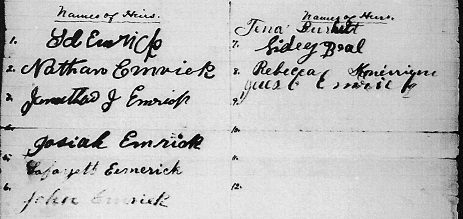 Signatures of Rachel and Jonathan Emerick's surviving heirs. Courtesy Register of Wills, County of Somerset, PA.
~ More ~
We are grateful for records provided by Gilbert R. Gaumer of Glendale, MO (compiled 1973-1980), Paul K. Gaumer and Mary L. Shirer in the preparation of this biography.
James Perry Emrick is believed to have compiled The Records Gathered of True Record of Andrew Emrick and of His Descendants from 1744 to 1928, put into booklet form by George Christian Schempp of Melbourne Beach, FL.
The Gaumer and Hoyman clans are profiled in the 486-page book Some Notes, Quotes, and Quips of the Hoyman Clan and Related Lines, authored by David LeRoy Baldwin and published by Gateway Press in 1993.
Copyright © 2000, 2011, 2015-2017, 2021 Mark A. Miner
Minerd.com extends gratitude to the Somerset (PA) Historical Center, Register of Wills for the County of Somerset PA, James Perry Emerick, Josephine Toellner Emerick, George Christian Schempp, Donna Londeen, Courtney Moen, James Phebus, Barbara (Moss) Wardsworth, Keith Sturts, Robert "Bud" Evans and the late Gilbert R. Gaumer for their contributions to this biography.