Lafayette Emerick
(1847-1944)
Lafayette Emerick (or "Emrick") was born on Jan. 6, 1847 in Southampton Township, Somerset County, PA, the son of Jonathan and Rachel (Sturtz) Emerick Sr. His birth took place on the old homestead of his grandparents, Andrew and Christina (Heller) Emerick and was recorded in the papers of St. Luke's Lutheran Church of Cumberland, MD.
As a boy, he learned how to operate his father's sawmill, gristmill and fuller mill.
Lafayette was twice wed. His first wife was Mary Clites (1845-1899), who was three years older. She was the daughter of Samuel and Sarah Ann (Shroyer) Clites.
Their seven known children were Martha Ellen Emerick, Sarah Cordilla Emerick, Levi Franklin "Frank" Emerick, Charles Emerick, George Emerick, Effie Geneva "Nettie" Shaffer and Russell Calvin Emerick.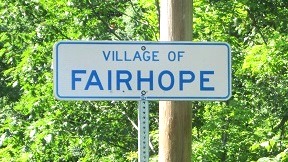 Fairhope, Lafayette's home circa 1910
They were longtime farmers. Circa 1879, Lafayette and his brothers, Gaumer cousins and others helped erect a new house of worship for the community, known as Comp's Lutheran and Reformed Church.
In 1880, the Emricks lived in Southampton Township, also providing a home for Lafayette's aging parents and his 56-year-old unmarried brother Nathan. In 1880, they lived next to Lafayette's married brother John and sister Mary E. Emerick and their families.
Tragedy rocked the family in about 1899 when Mary, age 56, is said to have been struck by a bolt of lightning and died. Her remains were placed into rest in the Comp's Cemetery in Southampton Township.
As a widower, Lafayette eventually moved a short distance north to the town of Fairhope, Somerset County. He purchased a home near the Fairhope Church. After some years alone, he married again, to Emma Johnson Thomas (March 1878-1956), reputedly an immigrant from Sweden.
In 1911, they produced one son, Gilbert Emerick.
Lafayette was named in the 1913 Meyersdale Republican obituary of his brother Nathan as living in Glen Savage, Somerset County.
Lafayette and his youngest son Gilbert relocated to Indiana. They sold their property in Allegheny Township for $800 and then purchased in 1928 a residence in Helmer, Stueben County, said to have been a mile northwest of town on the South Milford Road. His nephew George W. Emerick also owned a farm in Helmer about a mile east of Lafayette's.
Lafayette died in Gilbert's home two days after his 97th birthday on Jan. 8, 1944. Interment was in the Wright Cemetery in Hudson, Steuben County. An obituary in the Angola (IN) Herald noted that funeral services were held in the United Brethren Church in Helmer, officiated by Rev. M.E. Burkett.
Evidence suggests that Emma spent her final years in Canton, Stark County, OH and died there on June 7, 1956.
~ Daughter Martha Ellen (Emerick) Shroyer ~
Daughter Martha Ellen Emerick (1868-1941) was born on March 27, 1868 in Kennels Mill, Somerset County.
She married Silas Walter Shroyer (1863-1931), son of Joseph and Catherine Ann (Smith) Shroyer.
They were longtime farmers and lived in Fairhope, Somerset County and had these known children -- Clara (Shroyer) Emerick Burley, Mamie Hurt, Nettie Smith, Elmer Shroyer, Cora Diehl, Joseph Shroyer and Raymond Shroyer.
Sadly, Silas passed away at age 68 in Fairhope on May 28, 1931. After funeral services held in the home, his remains were placed into repose in the Madley Cemetery near Hyndman, Bedford County. The deputy coroner wrote: "Had suffered with asthma and dropsy for a number of years. For the past month limbs were so swollen he was unable to walk. Which would indicate dropsy caused his death." The Bedford Gazette published an obituary.
Martha Ellen outlived him by a decade. In later years, suffering from heart disease and hardening of the arteries, she made her home with her married daughter Clara Shroyer in Fairhope. Martha Ellen died at the age of 73 on July 19, 1941. An obituary was printed in the Cumberland (MD) Sunday Times.
Daughter Clara Shroyer married twice, once to (?) Emerick and second to (?) Burley.
Daughter Mamie Shroyer wedded (?) Hurt.
Daughter Nettie Shroyer was joined in wedlock with (?) Smith.
Son Elmer Shroyer
Daughter Cora Shroyer was united in matrimony with (?) Diehl.
Son Joseph Shroyer
Son Raymond Shroyer
~ Daughter Sarah "Cordilla" (Emerick) Mills ~
Daughter Sarah "Cordilla" Emerick (1870-1907) was born on April 29, 1870.
She was married to Benjamin Mills ( ? - ? ).
They dwelled in Fairhope, Somerset County.
At the age of 37, while suffering a miscarriage, septic shock set in, and her health collapsed. She died on Dec. 2, 1907. Burial was in Comp's Church Cemetery.
Benjamin has faded from history's view for now.
~ Son Levi Franklin "Frank" Emerick ~
Son Levi Franklin "Frank" Emerick (1873-1945) was born in Jan. 1873.
When he was 24 years of age, in about 1897, he was united in holy wedlock with 18-year-old Laura Ellen Shroyer (1877-1931).
They were the parents of Nellie Emerick and Charles William Emerick plus one other who died young prior to 1910.
The United States Censuses of 1900 and 1910 shows the family in Allegheny Township, Somerset County, PA. They owned their own farm in 1900 but by 1910 were residing on a farm where they sharecropped.
They grieved on Oct. 4, 1909 at the untimely death of their 11-year-old daughter Nellie.
Circa 1920-1945, they and their son Charles shared a home on the family farm near Madley, Bedford County, PA.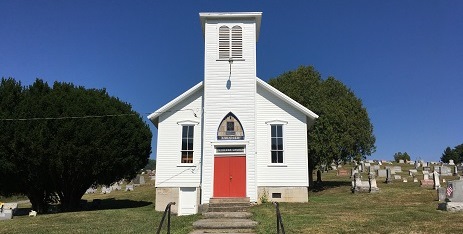 Lybarger Lutheran Church, site of Frank Emerick's funeral and burial
Frank earned a living over the years as a farmer and blacksmith.
Grief blanketed the family when Laura Ellen died at the age of 53 on March 13, 1931. Burial was in Madley Cemetery in Buffalo Mills.
Frank outlived her by 14 years. Tragically, on the fateful day of April 11, 1945, he was badly burned while laboring on the home farm. Reported the Bedford Gazette, "he was working at his blacksmith shop and dropped a piece of iron upon the leaves near the forge. The flames spread to a nearby barn and Mr. Emerick was severely burned as he was attempting to save a horse that was trapped inside the blazing structure.... [He] suffered third degree burns of the face, skull and both hands...." He was rushed to Cumberland's Memorial Hospital, and the Gazette said that "His condition is serious." He died that evening. The body was transported to Hyndman for funeral services held in the Lybarger Lutheran Church. Rev. Petrea of Schellsburg presided over the service. Burial was in the church cemetery.
Daughter Nellie Irene Emerick (1898- ? ) was born in about April 1898. She died at the age of 11 on Oct. 4, 1909. The cause of her untimely passing is not yet known.
Son Charles William Emerick (1911- ? ) was born in about 1911. He was widowed by 1940, and shared a home with his widowed father near Madley, Bedford County. The federal census enumeration of 1940 shows that Charles earned a living as a laborer with the Works Progress Administration.
~ Son Charles Emerick ~
Son Charles Emerick (1875- ? ) was born in 1875. He was deceased by 1944, and conceivably could have died in childhood or young manhood.
~ Son George E. Emerick ~
Son George E. Emerick (1877-1937) was born on Sept. 20, 1877 in Glenn Savage, Somerset County.
He married Mary Ada Miller ( ? - ? ).
They resided at 1122 Vine Street in Connellsville, Fayette County. Reported the Connellsville Daily Courier, he "had been in the service of the Baltimore & Ohio Railroad for 36 years -- five years as a brakeman and 31 years as a conductor." He was a member of the Order of Railroad Conductors and of the local orders of the Eagles and Knights of Pythias.

George E. Emerick's workplace, the B&O Railroad yards, Connellsville, PA
For two years before his death, he endured hypertension and "cardiac insufficiency." He contracted a deadly case of influenza in early January 1937 and was forced to stay home from work a few days later.
Unable to rally, he succumbed on Jan. 19, 1937 at the age of 60. After funeral services at the residence, which included rites by the Eagles, his remains were returned to Somerset County for interment in Pleasant Ridge Cemetery, led by Rev. E.A. Schultz, of the United Brethren Church. Ada Emerick signed his death certificate.
~ Daughter Effie Geneva "Nettie" (Emerick) Shaffer ~
Daughter Effie Geneva "Nettie" Emerick (1883-1944) -- also more commonly known as "Jeannette" -- was born on April 14, 1883 in Somerset County.
On or about Dec. 23, 1909, at the age of 26, she wedded 25-year-old farmer William "Henry" Shaffer (Oct. 28, 1884-1965) of Connellsville, Fayette County and the son of Solomon B. and Clarissia (Christner) Shaffer.
Together, this couple bore four known children -- Kenneth Solomon Shaffer, Evelyn Mae McCune, Rosella Mildred Shaffer and Martha Evelyn Cramer. The family mourned at the loss of infant daughter Rosella in 1914.
Upon marriage, they immediately established a residence near Dawson, Fayette County, at times considered part of the community of Scottdale, Westmoreland County, PA, and remained for good. William was employed as a teamster in a planing mill in 1910. By 1920, he had turned to farming.
Jeannette was mentioned in her father's Indiana newspaper obituary in 1944. Their home at that time was in rural Dawson, Fayette County.
Having contracted influenza and acute kidney disease, Jeannette surrendered to death just a few weeks shy of her 61st birthday on March 29, 1944. Burial was in Shaffer Cemetery near Indian Head, with Rev. J.J. Wimmer officiating, and an obituary appearing in the Somerset Daily American.
Son Solomon "Kenneth" Shaffer (1911-1997) was born on Jan. 20, 1911 in Scottdale, East Huntington Township, Westmoreland County. In young manhood he stood 5 feet, 8 inches tall and weighed 132 lbs., with blue eyes and brown hair. He entered into the union of marriage with Emma Josephine Stouffer (1920-1993). The children born to this couple were Shirley Marie Hiles Thomas, William Kenneth Shaffer, Judy Shaffer, Donald George Shaffer and perhaps two others. The family put down roots in Bear Rocks in the rural outskirts of Mount Pleasant, Westmoreland County, PA. Their house was near the Kreinbrook school. Circa 1940, with the nation still in the lingering grip of the Great Depression, Kenneth earned a living through employment with the Works Progress Administration in Clinton, Fayette County. Sadly, the spectre of death visited the family twice in 1943 and 1944. Daughter Judy died at birth in 1943. A year later, three-year-old son William fell at home and was badly injured, with an infection of peritonitis setting in. He passed away while riding home from a physician's examination on Feb. 23, 1944. The boy's remains were lowered into eternal peace in Shaffer Cemetery in Indian Head.
Granddaughter Shirley Marie Shaffer (1938-2010) was born on April 25, 1938. At the age of 19, she is known to have eloped to Winchester, VA in May 1957 to marry 26-year-old Lewis M. Hiles, son of Edward and Helen (McIntyre) Hiles of Ruffsdale. Later, she wedded (?) Thomas ( ? - ? ). She died in Connellsville on Nov. 15, 2010.
Grandson Donald George Shaffer (1947-1994) was born on Jan. 6, 1947 in Mount Pleasant, Westmoreland County, PA. He resided in Adelaide near Connellsville, Fayette County. He passed away on Jan. 28, 1994. His remains are in repose in Stouffer Cemetery.
Daughter Evelyn Mae Shaffer (1912-1979) was born in 1912. She wedded (?) McCune ( ? - ? ). She dwelled in Ruffsdale, Fayette County in 1944.
Daughter Martha Evelyn Shaffer (1916-2000) was born in 1916. She married (?) Cramer ( ? - ? ). She resided circa 1944 in Scottdale, Westmoreland County.
~ Son Russell Calvin Emerick ~
Son Russell Calvin Emerick (1886-1961) was born on March 27, 1886 in Glen Savage, PA.
He married Florence May Baker (Oc. 15, 1891-1969), daughte of Albert M. and Georgiana (Beal) Baker.
Their known children were Irene Valentine, Vernon R. Emerick, Victor Emerick, Lester C. Emerick.
Russell labored as a machine runner in a coal mine in Wellersburg, Southampton Township during the 1930s. Circa 1940, they resided on Old Plank Road in Wellersburg and provided a home for their three-year-old grandson, Teddy Theorig.
Daughter Irene was employed as a twister in a silk mill in 1940, and Russell continued to labor as a coal miner. When his brother Frank died of burns suffered in a farm accident, Russell was named in the Bedford Gazette obituary.
His final home was in Wellersburg. In May 1961, stricken with cancer of the bladder, Russell was admitted to the Somerset County Home in Berlin. There, despite treatment, he died at age 75 on July 31, 1961. His remains were placed into eternal rest in Cook Cemetery in Wellersburg, with Rev. Charles Raley presiding, and an obituary appearing in the Cumberland Evening Times.
Florence lived for another eight years. Death carried her away on Oct. 5, 1969. The Meyersdale Republican and Cumberland News published obituaries, saying she was survived by 10 grandchildren, 11 great-grandchildren, three step-grandchildren and four step-great-grandchildren. Officiating was Rev. John Weaver of the Grace United Methodist Church in Hyndman.
Son Victor A. Emerick (1911- ? ) was born in about 1911. He served in the U.S. Navy during World War II, and was stationed in 1944 in Norfolk, VA. He was deployed to the South Pacific Theatre. Victor was pictured in a Cumberland Sunday Times story in May 1944 about how tall he and his brother Vernon were. Victor dwelled in 1961-1969 in Rockville, MD. He is believed to have been married first to Geneva ( ? - ? ). He sued her for divorce in May 1948 in Allegany County Circuit Court. Evidence suggests that his second bride was Roberta R. ( ? - ? ). He filed for divorce in Oct. 1954, again in the Allegany circuit court.
Son Lester C. Emerick (1915-1967) was born on Feb. 22, 1915 in Connellsville. He made a home in adulthood in Wellersburg and worked in Cumberland at the Kelly Springfield Tire Company plant. Evidence suggests that he married Florence Lowery ( ? - ? ). The couple's brood of offspring included Donald Emerick, Leslie Emerick, Fay Emerick, Patricia Ann Perdew, Paulette McCoy and Beverly Sue Kiefer. The couple divorced, and Florence then wedded Lester's brother Vernon. Sadly, he suffered a debilitating illness for the last eight years of his life. He was admitted to Cumberland's Sacred Heart Hospital and passed away there, at the age of 52, on Aug. 22, 1967. His remains were lowered under the sod in Rest Lawn Memorial Gardens, following a funeral presided over by Rev. John A. Klindt. An obituary in the Meyersdale Republican failed to name his ex-wife or brother but did say he was survived by 13 grandchildren in addition to his brother Victor and sister Irene.
Grandson

Donald "Sackum" Emerick lived in Wellersburg in 1967.
Granddaughter Patricia Ann "Pat" Emerick (1940-2012) was born on Nov. 20, 1940 in Wellersburg, Somerset County. She was a member of the 1959 graduating class of Meyersdale High School. In young womanhood she earned a living as a secretary with Diehl's Esso Station. On Jan. 6, 1962, she wedded Melvin Perdew ( ? - ? ) of Cumbereland, MD. Their home in 1967 was at Patrick Air Force Base in Florida. The couple's two sons were Gary Perdew and Eddie Perdew. Patricia was employed later with the U.S. Civil Service. Their final home together was in Montgomery, AL. As Patricia's health failed, she was admitted to the Baptist Medical Center in Montgomery. There, on Dec. 2, 2012, she passed away at the age of 72. Her ashes were placed into rest in Greenwood & Serenity Memorial Gardens, Montgomery.
Granddaughter Paulette "Gerb" Emerick married Robert McCoy. Circa 1967-2020, they were in Hyndman. Three offspring born to this marriage were Gail Turner, Tracie Matthews and Darren McCoy.
Great-granddaughter Gail McCoy ( ? - ? ) - On March 18, 1983, she wedded Brent Alan Turner (Jan. 27, 1957-2020). Their union endured for 37 years until cleaved apart by death. Brent was a member of the 1975 graduating class of Allegany High School. The pair made a home in Hyndman and together bore two children, Daniel Turner and Kelsey Suter. During his career, Brent was employed by Potomac Edison/First Energy. The family attended Cooks Mills United Methodist Church, and he held a membership in the Kennells Mill Sportsmen's Club, Cumberland Outdoor Club and Quack Pack camping group. He loved vacations at Myrtle Beach, attending concerts performed by the Cramer Brothers and Tim Haines, hunting and fishing, and rooting for the Pittsburgh Steelers. Sadly, stricken with cancer, Brent died at home at the age of 63 on April 9, 2020. His remains were laid to rest in Cooks Mills Cemetery near Hyndman.
Great-granddaughter Tracie McCoy married Chris Matthews. They have produced three daughters. The family dwells in Cumberland.
Great-grandson Darren McCoy ( ? - ? ) was deceased before 2010.
Granddaughter Beverly Sue Emerick ( ? -2015) was born on (?). On June 20, 1964, she entered into wedlock with Claude William Keifer ( ? - ? ). The Keifers were the parents of Billi Jo Diehl Mueller-Heubach. She dwelled in rural Bedford.
Great-granddaughter Billi Jo Keifer ( ? - ? ) has been married twice. Her first spouse, whom she wed on Aug. 18, 1992, was David E. Diehl Jr. ( ? -1994). Their only daughter was Maria Diehl. After David's untimely death, Billi Jo was joined in wedlock on Feb. 2, 2007 with Oliver Mueller-Heubach. The couple parted ways in September 2010.
Daughter Irene Emerick (1917- ? ) was born in about 1917. She was employed as a twister in a silk mill in 1940. She married Charles Valentine ( ? - ? ). They lived in Barrelville, MD in 1961-1968 and in Hyndman in 1969.
Son Vernon R. Emerick (1919-1968) was born in 1919 in Wellersburg. He served in the U.S. Armed Forces during World War II, standing 6 feet, 6 in ches tall. He wedded Florence Lowery ( ? - ? ). Having been married before to Vernon's brother, she brought six children into the second union -- Donald Emerick, Leslie Emerick, Fay Emerick, Beverly Sue Kiefer, Patricia Perdew and Paulette McCoy. Vernon became seriously ill and was admitted to the Veterans Administration Center in Martinsburg, Berkeley County. A week later, he died there at the age of 49 on Dec. 1, 1968. His obituary was printed in the Meyersdale Republican. Rev. Kenneth Korns led the funeral, with interment in Rest Lawn Memorial Gardens. The Bedford Honor Guard and Hyndman post of the Veterans of Foreign Wars provided rites at the graveside.
~ Son Gilbert C. Emerick ~
Son Gilbert C. Emerick (1911-1988) was born in 1911. He was 43 years younger than his eldest half-sister.
He and his father relocated to Indiana by 1937, making a home in Helmer, Steuben County in 1928. The father died in Gilbert's residence in Hamilton, IN in January 1944.
On Jan. 6, 1940, Gilbert was joined in wedlock with Dorothy Herma (Lower) Stourse (1907-1986), a native of Clare, Clare County, MI and the widow of George Lyman Strouse (1905-1937). The wedding was led by Rev. William Wenger in the parsonage of the Lutheran Church in West Fairfield, IN. In announcing the marriage, the Angola Herald said that "They will reside in Helmer."
Dorothy is believed to have brought a daughter into the marriage, Betty Strouse.
Sadly, Dorothy succumbed to the spectre of death in 1986. Gilbert survived her by about two years. He died at the age of 76 or 77 in 1988. Burial of the remains was in Wright Cemetery in Hudson, Steuben County.
Stepdaughter Betty Strouse ( ? - ? ) grew up in or near Angola, Steuben County, IN.
Copyright © 2000, 2011, 2015-2017, 2021 Mark A. Miner
Minerd.com thanks the late Gilbert R. Gaumer for his contributions to this biography.