Nathan Emerick
(1824-1913)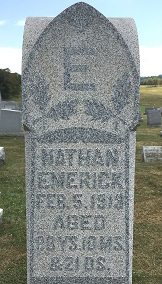 Comp's Church Cemetery
Nathan Emerick was born on Feb. 15, 1824 and grew up on a farm in Gladdens, Somerset County, PA, the son of Jonathan and Rachel (Sturtz) Emerick Sr.
He never married and spent his life in the Gladdens/Southampton Township area, toiling as a farmer.
In 1870, he resided with his parents, and in 1880 lived with them under the roof of his married younger brother Lafayette.
Reported the Meyersdale Republican, Nathan "was of amiable disposition and loved and was esteemed by all for his noble qualities of mind and heart."
Circa 1879, Nathan and his brothers, Gaumer cousins and others helped erect a new house of worship for the community, known as Comp's Lutheran and Reformed Church.
Then in March 1894, as reported by the Somerset Herald, he initiated a legal complaint against John Emerick (his brother?) and won damages of $96.33.
The actual farm where Nathan dwelled comprised 90-plus acres in Southampton. His neighbors included his brother John, the Buffalo Company, and Charles and Lidy Boyer.
Comp's Church, erected 1879 by Nathan, his brothers, Gaumer cousins and others.
Nathan's post office in 1913 was just across the state line in Ellerslie, Allegany County, MD, even as he made his residence at the old homestead in Gladdens.
Nathan died at the age of 88 years, 10 months and 21 days on Feb. 5, 1913. An obituary in the Republican said he was survived by five brothers and two sisters. "He was the oldest of the Emerick family of eight brothers and five sisters. His father was in his 89th year when he died and his grandfather was in his 93rd year."
Rev. J.C. Knable, of the Wellersburg Reformed Church, "preached an appropriate sermon," said the Republican. Burial was in Comp's Cemetery in Southampton Township. The inscription from his grave marker was recorded by Works Progress Administration laborers in the 1930s.
No record of his passing has been found in Pennsylvania death records.
In his last will and testament, he bequeathed his "entire estate among his brothers and sisters and 50 nephews." He willed his farm to his nephew George H. Emerick -- son of Solomon and Mary Ellen (Albright) Emerick -- and left $25 each to his surviving sublings and $10 each to his nephews and nieces whose parents were no longer living.
Copyright © 2000, 2011, 2015-2017, 2021 Mark A. Miner
Minerd.com thanks James Phebus and the late Gilbert R. Gaumer for their contributions to this biography.