Cora Isabella
(Evans Burns) Phelan
(1873-1957)

Cora Phelan
Cora Isabella (Evans Burns) Phelan was born on March 9 or 16, 1873 in Pittsburgh.
As an infant, on June 29, 1873, she was baptized in St. Theresa of Avila Roman Catholic Church in Perrysville, near Pittsburgh, sponsored by Henry and Margareta McHenry. Her name was written in Latin in the church records as "Coram Isabellam."
Cora was but a girl of age two when her father began to suffer from mental disabilities and six when he died. To ease the burden at home, she was taken into the family of her mother's first cousin and wife, William J. and Elizabeth (Buettler) Burns, who were childless and eager to adopt and raise the little girl. Cora was not told that she had been adopted until well into adulthood. Some of Cora's brothers went to live in an orphanage for a time.
In about 1881, when Cora was age eight, her mother married George Henry Minerd, and Cora's siblings rejoined the Minerd/Evans household.
~ Cora's Adoptive Parents, William J. and Elizabeth (Buettler) Burns ~
At the time of the adoption, Cora's new father was not a man of means. He had left carpentry work to establish a livery on Pittsburgh's Grant Street, and created a horse-drawn trolley line which evolved into an electrified streetcar business as the technology became available. He and John C. Reilly formed West End Traction Company which, said the Daily Post, "grew to be one of the best paying lines in the city, and fortunes were realized by the owners. Over the years, he became known as a "traction king."
With his earnings, he invested capital into ownership and roles with City Savings Bank, City Insurance Company and the Excelsior Express Company. He and Elizabeth and Cora were members of St. Paul's Cathedral.
All of the responsibilities of the work took their toll, however, and William's health suffered. Their winters were spent in Florida, where they had a "beautiful summer villa," noted the Pittsburgh Daily Post, and in Southern California. Cora and her parents sailed to Europe in the summer of 1898, where they toured Paris and Vienna and spent Christmas in Jerusalem. They pushed on to visit the Nile region of Egypt, but "the heat was so excessive and the climate so stupefying that the party soon returned to Italy, and later arrived at Paris, where Mr. Burns had decided to undergo treatment with a famous German specialist." But upon arriving in Paris, William became stricken, and word was sent to his brother John in Pittsburgh to come at once. Said the Daily Post, "He died peacefully and without a struggle at the Hotel Brighton."

Above: stock share from the Pittsburgh company owned by Cora's adoptive father, William J. Burns. Below: Hôtel Brighton in Paris, France, where the father died, across the street from the Tuileries Garden.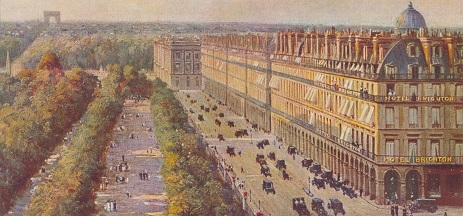 ~ Marriage and Family ~
Cora spent the years of 1898-1899 traveling with her parents in Paris and Vienna and other European cities.She was age 26 in 1899 when her adopted father died. When the father's last will was made public, she learned of the adoption and that she had inherited about $600,000. Family friends also were shocked when learning of the adoption as it had been a very well-kept secret.
On Oct. 23, 1900, at the age of 27, Cora was united in wedlock with Alexis X. Phelan (1873?-1923). The wedding was held in New York City at St. Leo's Roman Catholic Church. The Pittsburgh Press noted that in addition to Cora's parents, among the Pittsburghers traveling to attend the wedding were J.C. Reilly and family of Fifth Avenue and Darrah Street, Elizabeth Butler, Mrs. Thompson and Will Phelan of Fifth Avenue. The Press reported that "The wedding will be a quiet affair on account of the somewhat recent death of the bride's father, but will be elegantly appointed." Following a honeymoon in Boston, the newlyweds established a home in New York City. Alexis also owned "The Pines" estate on Round Island in New York's Thousand Islands region, and thus were neighbors of Cora's distant step-cousins, William Buck and Matilda (Langdon) Hayden, owners of "Fairyland."
In announcing the marriage, the Pittsburgh Daily Post noted that the couple made a remarkable offer to St. Paul's Orphanage in Pittsburgh -- where her naturally born brothers had resided for a time, a fact which she may not have known. They asked that the 600 resident orphans enjoy "a feast and gala day in whatever manner they might deem most enjoyable without reference to the outlay involved... The day will begin with religious services at which the children will sing and special prayers will be offered by them for the future welfare of the bride and bridgroom. Florists and caterers will take possession of the orphanage later in the day and the rooms will all be gaily garlanded and an elaborate banquet served later in the afternoon."
The couple produced six children -- Collette Burns Shanahan, Elizabeth Keally, William Burns Phelan Jr., Margaret Bartels, Alexis Xavier "Duke" Phelan Jr. and Cora Belle Stouffer Sutphen.
Alexis was a 1903 graduate of Fordham University and served as president of the Fordham alumni club in Western Pennsylvania circa 1907-1911. He became a partner and board member of the City Insurance Company of the City of Pittsburgh. Fellow officers included President John C. Reilly and Secretary A.S. Bishop. Circa 1906, he was referred to in news stories as a "member of one of the oldest business firms of Pittsburg." He was considered by his partners as "an efficient, courteous and strictly honorable official, a wise and prudent counselor, a kind and genial companion."
Cora's mother died in New York's Hotel Majestic on June 25, 1906, Cora was bequeathed another 60 percent of her mother's estate, with each of her four then-living children receiving $25,000 each. News of the inheritance was published nationally, including in the Rochester (NY) Democrat and Chronicle. When questioned about Cora's real parents, a family friend told a news reporter, "There has been too much printed about this already, and besides it would not interest the public." To that the reporter added in his story, "But Pittsburg insists on being interested."
Other funds from the Burns estate were set aside for Cora's adopted aunt Katherine A. Thompson, Eugene Beuttler, Rev. Eugene De Romo of St. John's Rectory in Lafargville, NY, Rev. John Guinan of All-Hallows College in Salt Lake City, Rev. John E. Gunn of Atlanta with which to perform masses, the rector of the Catholic Cathedral of Pittsburgh, also to be used for saying masses, and Calvary Cemetery for maintenance of the family mausoleum.
The Burnses made their primary home in Pittsburgh on Bartlett Street in 1910 and later at 6139 Jackson Street. Alexis was a member of the Pittsburgh Athletic Club, Duquesne Club, New York Athletic Club and Manhattan Club of New York City.
Sadly, at the age of 50, Alexis' health began to decline from a combination of hardening of the arteries and "edema" of the brain. Admitted to Allegheny General Hospital, he died on Aug. 10, 1923, ending their marital union which had lasted for 23 years. An obituary in the Pittsburgh Press noted that among his survivors were his brother R. Victor Phelan of Virginia and three sisters -- Mrs. R.W. Steward of Dublin, Ireland and Mother Xavier and Sister Evangelist of the Sisters of Mercy convent in Cresson, PA.
Cora survived her spouse by more than three decades. Her home in 1924 was on Pittsburgh's Raleigh Street and in 1927 on Forward Avenue. In about 1946, she suffered a "cerebral vascular accident" with bleeding of some sort in her brain. She made her home in her final years at 1614 Parkline drive in the Whitehall section of Pittsburgh's South Hills. At the age of 86, she succumbed on Aug. 29, 1957. He remains were placed into rest in Calvary Cemetery with her husband and adopted parents. Daughter Collette Shanahan of 910 Waldheim Road in Pittsburgh signed the official Pennsylvania certificate of death.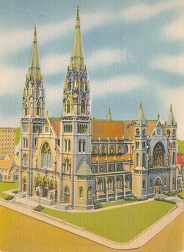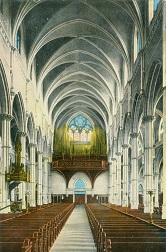 St. Paul's Cathedral in the Oakland section of Pittsburgh
~ Daughter Collette Burns (Phelan) Shanahan ~

Collette's passport photo
Daughter Collette Burns Phelan (1901- ? ) was born on Nov. 17, 1901 in New York City.
As a single woman, she resided in Pittsburgh. In June 1922, she embarked on an extended travel tour of Europe, intending to visit Italy, Switzerland, Germany, Belgium, France, Great Britain andHolland.
On Aug. 18, 1924, she was united in matrimony with Walter Linn Shanahan Sr. ( ? - ? ), son of Dennis Francis and Margaret (Cleary) Shanahan of Bayard Street. Her wedding shower was held in the Hotel Schenley, hosted by Mrs. Herbert Mansmann, and the ceremony was held in St. Paul's Cathedral.
The couple dwelled in Fox Chapel and bore three children, among them Walter Linn Shanahan Jr. and Denise Shanahan.
Walter worked in a firm founded by his father, Shanahan Transfer and Storage Company, which had warehouses in Point Breeze and Oakland. Circa 1944, they lived at 6535 Bartlett Road.
Collette made news in September 1944 when she took her three children to Stanton Heights Golf Club and then disappeared. A missing persons alert was issued, and a story appeared in the Pittsburgh Post-Gazette, with a comment from Walter that she had been ill, and stating that she had been wearing a grey and yellow check suit with a matching hat and purse.
Her address in 1946 was at 910 West Waldheim Road in Aspinwall. Walter's name was in headlines in July 1950 when he shot a hole-in-one at the Pittsburgh Field Club.
Sadly, Collette died on June 26, 1963. The Pittsburgh Press death notice named her daughters as Mrs. John J. McCarthy Jr. and Mrs. Frank T. Donnelly. A funeral mass was sung at St. Scholastica's Roman Catholic Church.
Walter survived his wife by a number of years. By 1959, he was elected vice president for the mid-Atlantic district of the Mayflower Warehousemen's Association, and his photograph appeared in the Press. The related story said that the association comprised 550 member companies in the moving and storage industry, in every state. In October 1966, having previously been secretary-treasurer, he was elected president of the family firm, succeeding his brother, Paul H. Shanahan, who had retired.
Son Walter Linn "Walt" Shanahan Jr. ( ? - ? ) graduated from Valley Forge Military Academy, where he played football, and attended the University of Pittsburgh. On April 28, 1956, he was joined in marital union with Ann Elizabeth Byrnes ( ? - ? ), daughter of Edward G. and Sarah "Sally" (Graham) Byrnes of Edgerton Place. Nuptials were performed in St. Bede's Church. The newlyweds then traveled by helicopter to Greater Pittsburgh Airport and flew to Nassau, the Bahamas. Ann had received her education at Our Lady of Mercy Academy and Georgian Court College in New Jersey. News of the marriage was published in the Pittsburgh Post-Gazette. Walter joined his father in the family-owned moving business.
Daughter Denise Shanahan
Daughter (?) Shanahan
~ Daughter Elizabeth (Phelan) Keally ~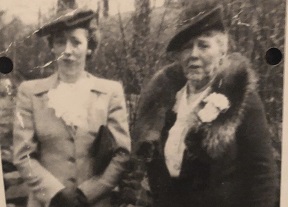 Elizabeth and her mother
Daughter Elizabeth Phelan (1903-1978) was born on March 16, 1903.
She received her education at Mount DeChantal Academy in Wheeling, WV.
On July 23, 1924, at the age of 21, she married 26-year-old William Farnam Keally Sr. (1898?-1936), son of Charles L. and Bertha (Loeffler) Keally. Just a month after her nuptials, she served as matron of honor for her sister Collette's wedding in 1924.
The Keallys were the parents of William Farnam Keally Jr., John Burns "Bo" Keally and Elizabeth Flaherty.
William was employed as a salesman in his father's produce business. He also was a well-known bridge player in the city..
Sometime between 1928 and 1930, the family relocated to Oklahoma, making a home in Black Dog Township on the Osage Reservation, with William earning a living as a real estate salesman.
The Keallys returned to Pittsburgh in the early 1930s and are believed to have divorced.
William dwelled in the Avalon neighborhood. Sadly, stricken with stomach cancer, he suffered for four months and died in Mercy Hospital at the age of 38 on Jan. 16, 1936. Following a solemn high mass of requiem held at St. Paul's Cathedral, burial was in Calvary Cemetery. An obituary was printed in the Pittsburgh Post-Gazette.
In 1931, she lived on King Avenue in Pittsburgh and sailed from New York to Bermuda, where she began planning a novel with Bermuda playing a role. Circa 1953, Elizabeth made her home in Pittsburgh -- in 1953 was in Cathedral Mansions in Pittsburgh -- and in 1963 was in Boston, MA.
Elizabeth passed away on Sept. 30, 1978, with a mass of Christian burial held in St. Paul's Cathedral. Interment was in Calvary Cemetery. The Pittsburgh Post-Gazette said in a death notice that she was survived by 23 grandchildren and two great-grandchildren, and that the family requested that any memorial donations be made to the Greater Pittsburgh Guild for the Blind.
Son William Farnam Keally Jr. (1925-2007) was born on June 18, 1925 in or around Pittsburgh. He resided in Chicago in 1978. His final home was in Woodridge, DuPage County. He passed away on April 25, 2007.
Son John Burns "Bo" Keally (1927-2010) was born in about 1927. At the age of nine, he attended a boarding school. After the outbreak of World War II, John joined the U.S. Navy in January 1944, with his name printed in a list in the Pittsburgh Sun-Telegraph. He married Alice McConnell ( ? - ? ). They produced seven children -- Patrick Keally, Kathleen Ballina, Timothy Keally, Kevin Keally, Michael Keally, Colleen Fitzgerald and Maureen Leistner. Again during the Korean War, John rejoined the Navy. John earned a living with Chrysler Corporation as a Pittsburgh Zone parts and service manager, joining the company in 1956 and then retiring on May 31, 1984. In retirement, they made a home in 1978 on Julian Drive in Penn Hills near Pittsburgh. He was a life member of the Veterans of Foreign Wars post and belonged to a number of military organizations -- the Destroyer Escort Sailor Association, Great Pittsburgh VHF Society, Boat US, the Korean War Veterans Association, Destroyer Escort Historical Society, Escort Sailor Association, Association of Gunners Mates and the U.S. Navy Memorial in Washington DC. He had an aptitude for mechanical projects and is said to have had a "hearty laugh and twinkling eyes." John passed away on Feb. 12, 2010. A funeral mass was sung in St. Joseph Church of Verona.
Grandson

Patrick Keally, married MaryAnn.
Granddaughter Kathleen Keally wedded Jeff Ballina.
Grandson Timothy Keally was joined in marriage with Cathy.
Granddaughter Colleen Keally was united in wedlock with Tyler Fitzgerald.
Granddaughter Maureen Keally married (?) Leistner

.
Daughter Elizabeth Jane "Betsy" Keally (1928- ? ) was born in about 1928 in Pittsburgh. At a young age, with her parents divorced, she went to California where she was raised by an aunt. She eventually returned to Pittsburgh and made a home in the Morningside section. On June 20, 1953, Elizabeth wedded Capt. Edward Leo Flaherty Jr. ( ? -2002), a graduate of the U.S. Military Academy at West Point and the son of Allegheny County Republican chair Edward Leo and Gertrude (Clark) Flaherty of Ivy Street. The nuptials were held in Sacred Heart Chapel, followed by a breakfast at the Pittsburgh Athletic Association. In announcing the wedding, the Pittsburgh Press published her bridal photograph. The couple were the parents of six children -- Edward Leo Flaherty III, Thomas Keally Flaherty, Patricia L. Flaherty, Denise F. Streppa, Carol C. Flaherty and Lynn M. Flaherty. After the war, Edward joined the adjustant general's office in to Japan to be an advocate for soldiers who were accused of crimes. Said the Pittsburgh Post-Gazette, "In 1949 the Army sent him to law school at the University of Pennsylvania." Elizabeth and Edward initially established a home in Washington, DC where he was employed in the Pentagon. At some point he was a law instructor at West Point, his alma mater, and among his students was future General Norman Schwarzkopf. They eventually returned to Pittsburgh where Edward began in 1959 to practice law in East Liberty with colleague Gregor F. Meyer. Their firm was known as Meyer & Flaherty and focused on estate planning, probate and real estate matters. In 1981, the Flahertys lived on Mount Royal Boulevard in Hampton Township, where he served on the Hampton Municipal Authority. Grief blanketed the family in May 1989 when son Thomas was killed in a speedboat accident at the Highland Dam on the Allegheny River. Over the years, Edward was active in trying to transform Penn Circle in East Liberty into a two-way road to help spur neighborhood activity. Said the Post-Gazette, he "was committed to bringing back business lost after the city's failed urban renewal efforts in the 1960s and 1970s." He was a president of the Pittsburgh East Rotary Club and the East Liberty Quarter Chamber of Commerce. He also was a member of the board of directors of Federated Investors. After his law partner retired, Edward practiced with Miller, Ament, Henny & Kochuba. Sadly, stricken with kidney failure, Edward died on Feb. 10, 2002 at Forbes Hospice. The Post-Gazette and Pittsburgh Tribune-Review published feature obituaries.
Grandson

Edward Leo Flaherty III

( ? - ? ) was born in (?). As a young man, he joined the public relations firm of Ketchum, MacLeod & Grove and held the position of account manager. On Aug. 15, 1981, he was united in matrimony with Julie Ann Lisanti ( ? - ? ), daughter of Samuel and Edith Lisanti of Bellevue. Their wedding was held in the Divine Providence Motherhouse Chapel, led by Rev. Mark Papan, with the news printed in the

North Hills News Record

. At the time, she worked for the Crucible Spring Division as a personnel administrator. The couple bore three children, among them Chelsey Lynn Nostro. Edward joined the Della Femina PR firm and then in 1991 moved to The St. George Group, a marketing and PR firm in Pittsburgh. One of the firm's largest accounts, for which Edward was involved, was Transitions Comfort Lenses, a PPG Industries brand of lit-sensitive plastic eyeglasses. He was promoted to executive vice president of St. George in 1992. They dwelled in Wexford, Allegheny County in 1989-2002 and in Allison Park in 2011.
Grandson Thomas Keally Flaherty

(1958?-1989) was born in about 1958. He graduated from Valley Forge Military Academy and attended Clarion University. At the age of 31, he was employed at the Fox Chapel Yacht Club as dockmaster and marina operations manager. On the fateful day in May 1989, while riding in a speedboat with friend John "Jock" Brand, the boat went over the Highland Park Dam on the Allegheny River, and both men drowned. A funeral mass was sung at St. Ursula's Church in Allison Park, with an obituary printed in the

Pittsburgh Press

.
Granddaughter Patricia L. "Patty" Flaherty

resided in Chicago in 1989. On June 23, 1990, she was joined in wedlock with William George Freudenberg III ( ? - ? ) of Chicago. The wedding ceremony was held in Sacred Heart Roman Catholic Church in Pittsburgh's East End, with Patricia's couisin Rev. Lucian Clark presiding. In 2002, she lived in Chicago.
Granddaughter Denise F. Flaherty married (?) Streppa.

Her home in 1989-2002 was in Chicago.
Granddaughter Carol C. Flaherty

made a home in Shaler, near Pittsburgh. She married (?) Schweitzer ( ? - ? ). Her home in 2002 was in Cranberry Township in the city's northern suburbs.
Granddaughter Lynn Marie Flaherty

( ? - ? ) was born in (?). On July 23, 1994, in nuptials held in Sacred Heart Church in Shadyside, she was wedded to Timothy Erik Kessel ( ? - ? ), son of Richard Lee Kessel of Bradford, McKean County, PA. Lynn's cousin Rev. Lucian Clark officiated, with the news covered in the

Pittsburgh Post-Gazette

. The newlyweds resided in Winston-Salem, NC and then in 2002 in Richmond, VA.
~ Son William Burns "Bo" Phelan Sr. ~
Son William Burns "Bo" Phelan Sr. (1904?-1953) was born in about 1904.
He married Irene Tennyson (June 16, 1917-2012), a native of Boonville, IN and the daughter of Curren and Hazel (Dewey) Tennyson. She and her divorced mother eventually moved to Detroit, where Irene met her future husband.
Their two children were Patricia "Pat" Wimsatt and William Burns "Burley" Phelan Jr.
Fascinated by aviation, he spent 25 years developing the industry in Pittsburgh and the Eastern United States. He received his education at Staunton Military Academy and in his early career was employed by Wace Airplanes as a distributor of aircraft on the east coast, working at Bettis Field airstrip in West Mifflin near Pittsburgh. In about 1926, in partnership with Clifford Ball and Barr Peat, they formed the Cleveland and Pittsburgh Air Mail and Express Line. This firm "brought the first air mail into Pittsburgh" in April 1927, reported the Pittsburgh Press. Later in 1927, the company was reorganized into Clifford Ball Airlines, which later became Pennsylvania Airlines and then Pennsylvania Central Airlines and eventually Capital Airlines. Said the Press, "He held positions with these airlines at Pittsburgh, Harrisburg, Buffalo and Washington before joining All American Aviation in Pittsburgh in the early days of that firm's air mail pick-up organization. When the line began carrying passengers as All American Airways [in 1950], he moved to its new headquarters in Washington," D.C.
Tragically, William died in Alexandria, VA at the age of 48 on Jan. 3, 1953. At the time of death, he was working as a dispatcher for All American Airways. A death notice was printed in the Post-Gazette. His remains were returned to Pittsburgh for a requiem mass at St. Paul's Cathedral.
Irene spent her widowed years in Owensboro, KY and earned a living working at Texas Gas Transmission Corporation, a company from which she retired. Toward the end, she became a patient at Wellington Parc. She succumbed there at the age of 94 on March 2, 2012. Funeral services were led by Dr. Jonathan Carroll, and burial followed at Maple Grove Cemetery in Boonville. An obituary in the Owensboro Messenger-Inquirer noted that her survivors included eight grandchildren, 11 great-grandchildren and three great-great grandchildren.
Daughter Patricia "Pat" Phelan married Philip D. Wimsatt (Aug. 14, 1934-2003). Their marriage endured for 45 years until cleaved apart by death. The Wimsatts lived for many years in San Antonio, Bexar County, TX. Sadly, Phil died in San Antonio on July 3, 2003. Patricia then moved to San Antonio, TX to be near her family of grandchildren and great-grandchildren.
Son William Burns "Burley" Phelan Jr. Is believed to have worked for Texas Gas Transmission Corporation as an accountant circa 1966. He wedded Beverly and dwelled in Owensboro, KY. They had at least one son, William Burns Phelan III.
Grandson William Burns Phelan III ( ? - ? ) was born in (?). Circa 1994, he studied secondary education and English at the University of Kentucky. At the age of 35, in about 2005, he married 25-year-old Amanda Renae Hicklin, with news of the engagement printed in the Owensboro Messenger-Inqurier.
~ Daughter Margaret "Peggy" (Phelan) Bartels ~
Daughter Margaret "Peggy" Phelan (1906- ? ) was born in about 1906 in Pittsburgh. She served as maid of honor for her sister Cora Belle's 1927 wedding in Pittsburgh.
At the age of about 21, in September 1929, she married Hugh "Wilson" Bartels (April 5, 1908-1980), son of F. Edward Bartels of Stanton Avenue in Pittsburgh.
The couple is believed to have produced two children, Margaret "Peggy" Bartels and Hugh Wilson Bartels Jr.
The couple established a home at the Wilson Arms on Neville Street and in 1934 announced plans to relocate to Miami. Wilson established his own business, Bartels Construction Company, with offices at 658 Northeast 58th Street. In his newspaper advertising, he promoted that he provided "free architectural plans" for prospective builders. While in Florida, they were members of the Canter Club and enjoyed trail rides with Peggy's mother and brother A.X. Phelan Jr. Peggy was a member of the Miami Junior Women's Club.
The 1940 federal census shows the family living on Northeast 58th Street, with Wilson's occupation listed as "mill work - building construction." By 1946, their home was at 913 North Palafox Street.
Their residence in the 1960s was in Boston, MA.
Later, Wilson was wedded to Ruth Mary Brader (Sept. 15, 1920-1998). She had been married previously and brought three offspring to her union with our Wilson.
At the age of 72, on Dec. 11, 1980, Wilson died in Miami. Burial was in Woodlawn Park North Cemetery and Mausoleum in Miami.
Ruth Mary lived for another 18 years after her husband's death. She succumbed on July 2, 1998.
Daughter Margaret "Peggy" Bartels (1931- ? ) was born in about 1931 in Pittsburgh. After moving to Miami with her parents, she enjoyed raising horses and was a member of the Canter Club. She rode in a club horse show in November 1946 and was pictured in the Pensacola News Journal.
Son Hugh Wilson Bartels Jr. (1933-2015) was born on Oct. 2, 1933 in Pittsburgh. He eventually moved to Marathon, FL. There, Hugh was a member of the Jehovah's Witnesses for 44 years and an elder in the Oceanside congregation of the church in Marathon. He dwelled in Key Colony Beach, FL in 2015. Hugh Jr. died at the age of 81 on June 17, 2015, with an obituary printed in the Miami Herald.
~ Son Alexis Xavier "Duke" Phelan Jr. ~
Son Alexis Xavier "Duke" Phelan Jr. (1908-1987) was born in about 1908 in Pittsburgh.
He married Pauline Rogers ( ? -1987), daughter of Clara Rogers of New Castle, Lawrence County, PA.
The couple produced two known children -- Pauline Rogers Anderson and Alexis Xavier Phelan III.
Their residence in 1953-1972 was in Dallas, TX.
Alexis Jr. passed away on April 14, 1987. After a blessing service in a Pittsburgh funeral home, interment was in the family mausoleum in Calvary Cemetery.
Pauline followed him into death just two days later, on April 16, 1987. Death notices for both appeared in Pittsburgh newspapers.
Daughter Pauline Rogers Phelan ( ? - ? ) was born in (?). She wedded (?) Anderson ( ? - ? ).
Son Alexis Xavier Phelan III ( ? - ? ) was born in (?). As a young man, he lived in Charleston, SC and served in the U.S. Navy circa 1972. On Oct. 13, 1972, he was united in matrimony with Joanne Marie Finger ( ? - ? ), daughter of Paul D. Finger of Clearwater, FL. The ceremony took place at St. Cecelia's Church of Clearwater.
~ Daughter Cora Belle (Phelan) Stouffer Sutphen ~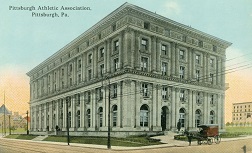 Stately Pittsburgh Athletic Association, where
the Stouffer wedding breakfast was served
Daughter Cora Belle Phelan (1909-1996) was born in about 1909 in Pittsburgh.
At the age of about 18, on May 24, 1927, she was joined in wedlock with Elwin A. Stouffer ( ? - ? ), daughter of Lester Stouffer of Akron, OH. The ceremony was held at St. Paul's Cathedral, with Rev. Carl Sanderbeck officiating, and with a breakfast following at the Pittsburgh Athletic Association Clubhouse.
They were the parents of one son, William P. Stouffer.
The newlyweds made their first home in Akron. In 1930, reported the Pittsburgh Press, Elwin went to Florida and married a second woman, Elizabeth Webster of Kent, OH. Cora Belle sued for divorce, and adding embarrassment to injury, was pictured in a June 30, 1934 edition of the Press. By that time, she had moved back to Pittsburgh and was living in Peacock Manor in East Liberty.
She married a second time to Edward A. Sutphen (1909-1974) of Pittsburgh. He is believed to have been a son of Howard S. Sutphen, originally of East Orange, NJ who had come to Pittsburgh in about 1919, when Edward was a boy.
Edward was employed for a long time as business mamber for Lambert Jones Lumber Company of Blawnox near Pittsburgh. Their home in the early 1970s was in Chapel Downs Apartments along Guys Run Road in Harmar Township.
Sadly, Edward died at the age of 65 on Nov. 1, 1974. Interment was in Calvary Cemetery, and an obituary was printed in the Pittsburgh Post-Gazette.
Circa 1978, Cora Belle was named in the Pittsburgh Press death notice of her sister Elizabeth Keally.
She died the day after Christmas 1996. Following a mass of Christian burual at St. Paul Cathedral, burial was in Calvary Cemetery. In an obituary in the Post-Gazette, the family asked that any remembrance donations be made to the Junior Diabetes Association.
Son William P. Stouffer ( ? - ? ) was married and had one daughter, Jane Grant Stouffer. William lived in Cincinnati in 1974.
Copyright © 2000, 2003, 2006, 2010, 2017, 2018-2019 Mark A. Miner
Many thanks to Mary "Ann" (Haacke) Haegele and the Archives and Records Center of the Diocese of Pittsburgh.