When Matilda was young, her father died. Her mother moved to Columbus, Franklin County, OH and married Daniel Minor Jr., and had five more children.
In 1865, when she was age 25, Matilda married William Buck Hayden (1839-1917), the son of prominent New York and Ohio businessman Peter Hayden and Alice (Booth) Hayden. As a boy in about 1845, William moved with his parents and family from Auburn, NY to Columbus, where his father formed many profitable industrial and financial firms which created what the New York Times once called a "fortune."
[Note -- William's brother and business partner Charles Halleck Hayden (1837-1920) married Louise Irving and had three children -- Charles Leverett Hayden of New York, Mrs. R.E. Fenton of New York and Mrs. F.W. Prentiss of Columbus.]
During the early months of the Civil War, the Hayden manufacturing works in Galveston, SC were confiscated, and "large accounts belonging to the Cincinnati business throughout the south were lost," said the 1915 book, History of Ohio, Vol. 6, by Emilius O. Randall and Daniel J. Ryan.
At that time, William's father Peter Hayden, a Columbus industrialist, received military contracts to produce supplies of artillery, cavalry and infantry equipment. The business was located on Scioto Street, and formerly had been a foundry owned by Joseph Ridgway.
Then, in July 1863, trustees from the different wards in Columbus gave notice "requiring all persons between the ages of 18 and 45, eligible for military service, to meet at places designated ... and elect one caption and two lieutenants for each military district," said the 1892 History. At that election, William was elected colonel of the Third Regiment of Ohio Militia, and captain of Company A.
Eighteen years after the war's end, when a soldiers and sailors reunion was held in Franklin County in 1883, William was elected to a finance committee charged with raising $5,000 for the event. Among the other committee members were the employers of his brother in law Oliver H. Perry -- Clinton D. Firestone and Oscar G. Peters of Columbus Buggy Co. In 1887, William was named to the finance committee, and C.D. Firestone elected chair, of the 22nd National Encampment of the veterans of the Grand Army of the Republic (GAR), held in Columbus.

Busy Columbus street, as published in the mid-1800s in Gleason's Pictorial Drawing-Room Companion
~ A Manufacturing and Finance Empire in Columbus ~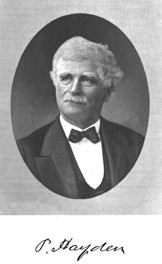 William's father Peter Hayden
William and his brother Charles were partners in several businesses in Columbus founded by their father Peter Hayden -- seen here -- who originally was from New York. The 1892 History of the City of Columbus noted that upon arriving in Ohio from New York in 1835, Peter:
... was quick to observe that Central Ohio abounded in timber useful for certain kinds of manufacturing, and immediately made propositions for employment of the Penitentiary convicts, most of whom were then idle. The propositions were accepted, and resulted in Mr. Hayden's settlement in Columbus. Thus he began a business which soon became important. Meanwhile his New York interests developed rapidly, and in due course of events he started an additional factory at Newark, New Jersey, and made engagements for employment of prison labor in California. For the sale of his large product, resulting from these various enterprises, Mr. Hayden opened wholesale stores in the principal cities, east and west. In order to obtain a regular and reliable supply of fuel for his factories, he bought considerable tracts of coal land in the Hocking Valley, and thus became extensively engaged in mining.
Among the family's Columbus companies were the Columbus Iron Works; The P. Hayden Saddlery Hardware Company, organized in 1854; the banking house of Hayden, Hutcheston & Company, established in 1866; and Home Building and Loan Association, begun in 1868. Two other related businesses, the Hayden Automatic Block Machine Company and Hayden Automatic and Equipment Company, were launched in about 1904 to build cement mixers and other machines for manufacturing cement blocks.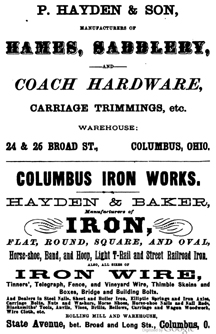 Ad from the 1873 book about Columbus
An advertisement, seen at right, was printed in the 1873 volume, Columbus, Ohio: Its History, Resources, and Progress, authored by Jacob H. Studer.
The block company had primary offices in Columbus and at 26 Cortlandt Street in New York City. Other Hayden offices were in Chicago in the mid-1870s, at 45 Lake, with William listed in the 1875-1876 Lakeside Annual Directory.
The iron works was the core business of the family, and was known as the "Birmingham Works" along State Avenue on the east bank of the Scioto River. In describing its physical size, the 1892 History said:
The main building is built of limestone, 196 feet long, consisting of a centre building 46 feet, 4 stories high, surmounted by a handsome cupola, and two wings, each of 75 feet long. In the rear of the centre building is the engine house, in which are two engines, one of 50 horse power, the other of 100. Adjoining the engine house, in the north yard, is a mill for rolling scrap iron into bars and rods, capable of producing six or eight tons of bar iron and three tons of rods daily. In this yard is also a smith's shop, 115 feet long by 32 wide, for making chains, &c. In the south yard is a tannery, 80 by 30 feet, three stories high, designed principally for the manufacture of saddlery hardware and drawing wire. The first floor in the centre building is fitted with machinery for the latter purpose, and about three tons of wire, a part drawn to the smallest size, is made each week. In the north wing, on the same floor, are machines for making buckles and rivets. The two upper rooms are used for filing, placing and finishing iron and brass work. Over the wire room, in the centre building is machinery for spinning, carding, &c. Mr. Hayden employs from 100 to 150 hands.
The family's iron works and saddlery produced 13,000 gross tons of iron and metal products annually. The factory was comprised of single and double puddling furnaces, heating furnaces and trains of rolls, producing "merchant bars, light T rails and iron for harness and saddlery work and for all kinds of chains," said the 1896 Directory of the Iron and Steel Works of the United States and Canada, published by the American Iron and Steel Association.
Powering the family's manufacturing plants was a substantial supply of coal that William and his father owned in Athens County, OH. To house laborers in the Hayden mines, father and son built a small town which was named in their honor -- "Haydenville." Said the Report of the Geological Survey of Ohio, Vol. III, printed in 1878, "On the east side of the Hocking River the Nelsonville seam is easily traced from the hills back of Haydenville, down past the town of Nelsonville to the mouth of Monday Creek. The coal is everywhere successfully mined... Several years since, Wm. B. Hayden, Esq., conducted, in Columbus, a series of experiments with this coal to determine, in the usual working practice, the relative evaporating power of the coal from different parts of the seam"
One of the saddlery's key products was "trace chains" -- made "in the rolling mill from cold wound links on forming machines which Mr. Peter Hayden, the father of this industry, built from his own designs," reported the Hardware Dealers' Magazine in June 1906. The article went on to say:
Mr. Hayden took his former to England expecting to induce the English manufacturers to use his forming machine in the manufacture of Trace Chains, the links being wound cold, but the workmen there refused to have chain made except in the old fashioned way. Some years [later, the company] transferred the manufacturer of chain to the penitentiary at Columbus. After operating there for a number of years, they transferred their chain department to a separate building adjacent to their rolling mill where they manufactured not only Trace Chains but proof coil chain and high grade dredge chain. The rolling mill and chain department ... were transferred to and became a part of the Standard Chain Company in 1900.
William was an active inventor. Said a newspaper article, he "inherited wealth to which he added as a mechanical-inventor, having taken out many patents and made a fortune by his own fingers and brain." In 1905 alone, he registered patents for an explosive engine flywheel, sparking device and attachment, propeller, and automatic back-stop for automobiles.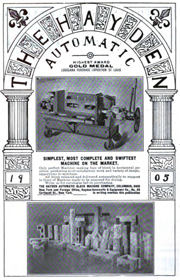 Ad in Municipal Engineering
~ Hayden Stone Block Machine Company ~
Among the spinoff companies of the Hayden's closely held business empire was the Hayden Stone Block Machine Company, also known as the Hayden Automatic Concrete Block Machine Company or the Hayden Automatic & Equipment Co. (in New York only).
The company manufactured a device said to be the "simplest, most complete and swiftest machine on the market," according to advertisements placed by the company in the early 1900s. It was the "only perfect machine machine face of block in horizontal position, producing most satisfactory work and variety of design, impervious to moisture." It weighed three-quarters of a ton, and was "designed and constructed to withstand the wear and tear that block machines are subjected to. It is not a toy or a mould box, but a machine that is made by the highest mechanical skill, and built to last."
1906 advertisement
Two of the company's advertisements are seen here, as published in Municipal Engineering magazine in 1905 (left) and a not-yet identified publication (in 1906).
Its offices were located in Columbus and at 26 Cortlandt Street near Broadway, across the street from the Singer Building and a half block away from the World Trade Center demolished in the 9/11 attacks in 2001.
Some of their relatives in Columbus were employed by the firm:
William's nephew in law Frederick William Prentiss (1855- ? ), married to niece Belle Irving Hayden, was president of the Hayden-Clinton National Bank, director and president of the Hayden Automatic Block Machine Company, director, secretary and treasurer of The Hayden Company and director of The P. Hayden Saddlery Hardware Company. Prentiss's son Stanton Greene Prentiss, from a previous marriage, was paying teller at The Hayden-Clinton National Bank.
William's half-brother in law Charles "Herbert" Minor was a bookkeeper with the P. Hayden Saddling Hardware Company (circa 1895) and vice president of the Hayden Block Machine Company (1940).
A September 1908 article in Cement World, a trade journal, reported that "Herbert Miner" along with W.B. Simpler, George Fuil and Walter McGlenchy attended the Ohio State Fair to demonstrate the technology's capabilities. They "were there to look after the machine, but they had little to do but talk with the people, for the machine did it all with an alacrity that made even the chickens take notice."
Matilda's mother owned a number of shares in Hayden Stone Block Machine Company at the time she died in 1909. The stock later was inherited by Charles "Herbert" Minor.
~ Development of Ohio Railroads ~

Smoky railroad passes through a covered bridge in Columbus, near the Ohio Penitentiary, circa 1857, as printed in Ballou's Pictorial.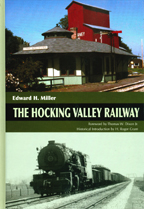 Book naming the Haydens
Father Peter Hayden, to assure the delivery of coal from his Athens County mines to his Franklin County manufacturing plants, served between 1866 and 1871 as president and director of the Columbus & Hocking Valley Railway Company. In 1875, William himself was an investor and incorporator of the Scioto Valley Railroad Company. The nearly 129-mile line stretched between Columbus and Portsmouth, Ohio, with Chillicothe, Circleville and Waverly as stops in between, with the first official run taking place on June 1, 1876. After nine years of operation, the railroad failed to meet its financial obligations, and was purchased by New York interests. The new owners renamed it the Scioto Valley and New England Railway Company, and later it became part of the Norfolk & Western system.
In January 1885, William was elected to the board of directors of the Columbus and Xenia Railroad Corporation, with the news and his name printed in the New York Times. His fellow directors included John W. Andrews, Henry C. Noble, P.W. Huntington, R.A. Harrison, Robert S. Smith, George W. Parsons, Alfred Thomas, Henry Hanna, Thomas D. Missler, James Andrews Swan and C.P. Cassilly.
Over time, the Columbus and Xenia became known as the Hocking Valley Railway, which later merged with CSX Corporation. A history of the railroad mentionig the Haydens was published in 2007 by Edward H. Miller, entitled The Hocking Valley Railway.
~ The Hayden, Hutcheson Bank ~
Regarding the bank, the book History of the City of Columbus, by Alfred Emory Lee, reports that "Peter Hayden died April 6, 1888, but the firm name and the business of the bank were not thereby changed. The Company began business at Number 13, South High Street, in the rooms formerly occupied by the State Bank of Ohio, but subsequently removed to the present location on East Broad Street."
Canceled check, 1867
At the death of father Peter in 1888, newspapers reported that he was worth millions. A canceled bank check, dated 1867 and bearing the pre-printed names of Peter and son William, is seen here.
The bank merged into the Hayden-Clinton Bank in 1901. The new entity then operated on its own for 22 years until 1923, when it merged into Huntington National Bank. This change gave Huntington its first savings department.
~ Community Service in Columbus ~
When the History of the City of Columbus was published in 1892, none of the Haydens was pictured or extensively profiled, despite their great prominence and influence. It seems that William preferred to let his actions speak for themselves. In fact, William and his father Peter are mentioned in no less than 34 pages in the two-volume history, but revealing only very little personal information .
As a testament to his growing influence, William was voted in April 1870 as a trustee of the Columbus Water Works, an important role in assuring that the city's residents and businesses had an ample supply of clean water. He held this seat until 1885. In February 1889, he sold a seven-acre tract of ground to the city to serve as a new pumping station. Located on the west bank of Alum creek, it had excellent water-bearing qualities and by 1891 was producing 7.5 million gallons per day.
In January, 1882, William served on a committee in connection with the relocation of the site of the annual state fair, held on the grounds of the Franklin County Agricultural Society in Columbus. As reported in the Thirty-Eighth Annual Report of the Ohio State Board of Agriculture, William and the committee guaranteed that they would underwrite $10,000 "to secure the location of the State Fair in Columbus for the next twenty-five years." Among the other signers was Clinton D. Firestone, owner of Columbus Buggy Company, who employed William's brother in law Oliver Hazard Perry.
William also was among a large group of prominent businessmen who, on Nov. 9, 1872, met to begin organizing the Columbus Board of Trade. (Brother in law, O.H. Perry, later would serve as president of that board circa 1909.)
With Columbus needing a public library and reading room, William in February 1872 was elected by city council as an inaugural trustee. He served in this role until 1873. That same year, he was elected to the board of directors of the newly formed Humane Society "to enforce existing and future laws for the prevention of cruelty to animals."
Quietly active in politics, behind the scenes, William served on an executive committee in 1879 which brought former President Ulysses S. Grant to Columbus upon returning from travel around the world. William chaired the County and City Officials Committee for the event, which included a parade, banquet and entertainment.
William was a member of the Wyandot Club in Columbus, "a social organization with an archaeological bearing," said the 1892 Columbus history. The club in 1891 purchased a historically significant property, a 42-acre Wyandot Grove, to be used for "pleasure and recreation."
When his friend Allen G. Thurman celebrated his 77th birthday in November 1890 with an "Old Roman" Banquet in Columbus, William attended as an invited guest, among several hundred other business and community leaders, including Grover Cleveland and Ohio Governor James E. Campbell.
~ Summer Retreat in New York's "Thousand Islands" ~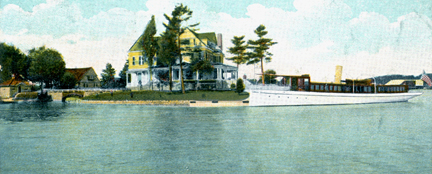 Postmarked 1909, a view of the tip of the Haydens' "Fairyland Island" residence called "Estrallita." The white vessel is the Haydens' magnificent yacht.
For many years, the Hayden brothers William and Charles owned at least two adjacent islands and maintained a summer home on one in Alexandria Bay in the Thousand Island region of New York. The islands were named Fairyland and Nett's Island, south of Alexandria Bay, Jefferson County. Nett's may also have been known as "Little Fraud" although this needs to be confirmed.
Reported a local newspaper in Catskill, "When the Hayden brothers came to the thousand Islands in 1873, they went all around the Thousand Islands in a canoe, with a guide, and selected the island where they both have lived during the summer for 47 summers, and had summer homes built. Both Hayden brothers were in business with their father, and they prospered wonderfully... The home of [Charles] is one of the most beautiful of the villas at this resort." They were named in an 1878 article in Scribner's Monthly, headlined "Among the Thousand Islands." Fairyland also was named in Harper's New Monthly Magazine in a September 1881 article entitled "Summering Among the Thousand Isles."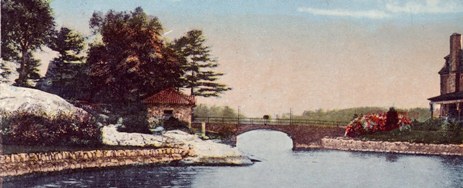 Tip end of Fairyland Island, with "Estrallita" barely in view at right
There were two large houses on Fairyland island and one on the adjoining Little Fraud island. Father Peter's house was on the west end of Fairyland island. Brother Charles' dwelling was in the middle of the island, and was considered the grandest, known as "Fairyland." William's residence, called "Estrallita," was on Little Fraud island, which was just large enough to accommodate the large, eight bedroom and five bathroom house. Estrallita was connected to Fairyland island by a small footbridge. William's boathouse, servants' quarters and other outbuildings sat across the footbridge on Fairyland island. The Estrallita estate on Fairyland also included a "Folly" -- a house used for guest and entertaining. According to Peter Charron, who owns Folly today, "Legend has it that after dinner at the main house on Little Fraud the women would retire to the drawing room for tea and the men would go to the Folly for billiards, cards, cigars and strong drink."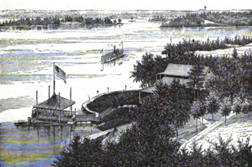 Sketch of Fairyland, 1887 promotional booklet
Fairyland is just to the east of Westminster Park, and in the vicinity of Boldt Castle, on Hart Island, at one time owned by George C. Boldt, proprietor of New York's famed Waldorf-Astoria Hotel.
Said the New York Daily Times, "The cottage on Little Fraud is ... where all of the Haydens passed their summers ... and where much delightful hospitality was dispensed during the life time of Mr. and Mrs. William B. Hayden. There was, in those days, a continual house party to progress during the season and the immense dining room held a spacious dining table which was generally set for 50 persons all during the season."
The Hayden properties in the islands were mentioned and pictured in an 1887 promotional booklet of the Rome, Watertown and Ogdensburg Railroad, entitled Routes & Rates for Summer Tours. The booklet says that "One of the chief causes of the sudden development of this region as America's greatest summer resort has been the purchase of many of the islands, and erection thereon of elegant residences and villas by private residents for their summer homes." A sketch of the 20-acre Fairyland is seen here, from the Routes & Rates publication.
In a souvenir directory of the Thousand Islands, printed in 1895, William and his brother Charles H. Hayden were listed as members of the Thousand Islands Club in their capacity as co-owners of Hayden Island. Other members of the club owning local properties included railroad magnate George M. Pullman (Castle Rest) and Royal C. Vilas (Resort Islands, and whose daughter Elsie would later marry William's youngest son, John Harold Hayden.)
William and son Allen were active in the newly formed Motor Boat Club of America in 1905. William served o n the Ways and Means Committee, and Allen on the Membership committee. William also was a member of the New York Athletic Club. He owned several yachts and motorboats, and in early August 1908 made news in the New York Times when his Katydid finished third in a handicap race of 21 miles in the yacht club's annual regatta. The two faster boats in the race were the Governor, owned by Mrs. George C. Boldt Jr., and the Japansky, owned by E.S. Perot of Yonkers, NY.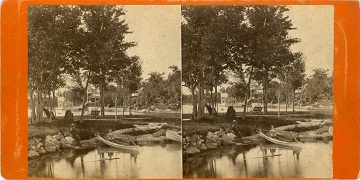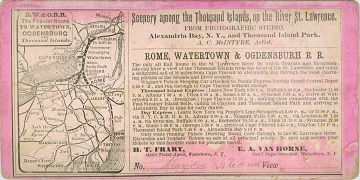 19th century stereoview card, labeled "Hayden Island, advertising tours on the Rome, Watertown & Ogdenburgh Railroad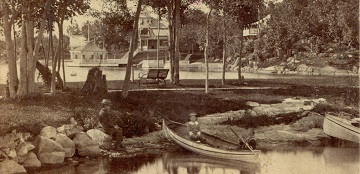 ~ Move to New York City ~
By 1900, the Haydens sold the saddlery hardware business to the Standard Chain Company, significantly adding to their fortune, and they moved their primary residence to New York. William may have used this as an opportunity to transfer responsibilities to others. A 1916 article in the Watertown (NY) Daily Times estimated that William was worth $20 million at the time of the move.
While dividing their time between Columbus and New York City, the family lived at the Valencia Apartments at 150 West 59th Street (later known as 150 Central Park South). The apartment was located along the very center of the edge of Central Park South, and just east of Columbus Circle. The family apparently shuttled back and forth to Columbus as needed, as evidenced by a 1916 article in the Watertown (NY) Daily Times which referred to William as "Colonel" and reported that he was "of New York and Columbus, Ohio."
Of course, they continued spending summers on their Fairyland Island in Alexandria Bay.
The 1900 census shows William at age 60 and Matilda at 55. His occupation was listed simply as "saddlery hardware." Their widowed daughter Jane Quintard, age 29, lived with them that year, as did their sons Allen and Harold. Five servants, one from Sweden and four from Ireland, also resided in the Hayden household. Their telephone number was "1071 Col."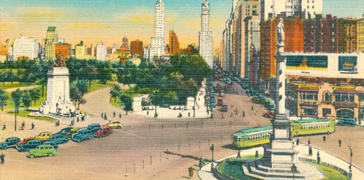 West 59th Street along Central Park South, where it joins Columbus Circle, and where the Haydens made their home in The Valencia apartments upon moving there in the early 1900s.
Circa 1907, William purchased the Titus property on Prospect Avenue in Catskill so "that he might be near his daughter, Mrs. Calvin Burr," said the Catskill Recorder.
Mr. Hayden soon formed a large circle of acquaintances. He had indeed a genius for friendship, and even those of us who knew him least will miss his cheery greeting, his genial presence, his kind sympathy at the first call for help. His great, warm heart went out to those in distress, and it was his delight to shower benefits upon all about him.
When her mother died in 1909, as "a token of … esteem," Matilda inherited $500 and a "Pansy" picture. When she received her cash bequest, in February 1910, Matilda was in Catskill.
The Haydens were grief-stricken in 1901 at the death of their daughter Jane's husband William Isleworth Quintard, and then again a few years later, when Jane herself died, leaving a young daughter also named Jane. The grieving William decided to erect a memorial cross at Fairyland, and to light it on Sunday nights, as was the custom in the Thousand Islands. A July 1916 article in the Watertown (NY) Daily Times disclosed that the cross would be placed in between the homes of William and his brother Charles. "The working of the cross is now being tried out in the Catskill mountains," said the Daily Times. "There are 15 lights in this cross, which measures eighteen by ten feet. The lights will take current from a storage battery, which is easily charged from a small generator. The cross will arrive at Alexandria Bay within a fortnight and will be erected at once. This cross is the largest at the Thousand Islands, and when completed will be most illuminating and very beautiful."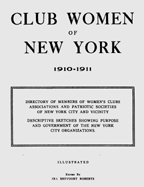 Book in which Matilda is
mentioned, 1910
~ Matilda's New York Social and Cultural Activities ~
The board of the Home for Aged Women in Catskill. In 1915, Matilda and William, son Allen and wife Ida, and grandson Hamilton Hayden were named in a Catskill Recorder article for having attended a society ball benefiting the Home for Aged Women. Attending the ball at the State Armory, the family sat in their reserved Box No. 1. The Recorder observed that Matilda wore "peacock blue chiffon velvet" while Ida was dressed in "flesh-colored satin, tulle waist, trimmed with opalescent spangles."
Matilda was a collector of fine and rare books and artworks, amassing a substantial and expensive library over the years. She must have been advised by a reputable dealer, who supplied her with the choicest and rarest of items, but his identity is not yet known. The collection contained many first editions of American, English and French authors, as well as manuscripts of written works by well-known authors.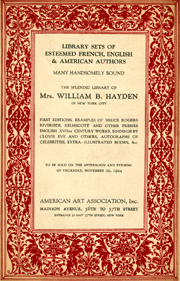 Rare auction catalogue of
Matilda's book collection
Toward the end of Matilda's life, when a decision was made to liquidate the library, the task fell to the American Art Association, Inc., of New York. An auction was held on the afternoon and evening of Nov. 20, 1924, with a handsome catalogue published giving detailed listings of the 470 individual items up for bidding. It is not known how many of the sets sold at the auction, or what the proceeds were, or who the current owners are now. See a list of highlights.
The ornately decorated cover page of the rare catalogue is seen here, with an original copy preserved in the Minerd- Minard- Miner- Minor Archives. One other copy is known to be housed at the New York State Library (McKay number 8759).
It's possible that a collection of Matilda's artworks, including etchings and mezzotints in color, were auctioned eight days earlier, on Nov. 12, 1924, also by the American Art Association. There is a reference to this auction's catalogue, mentioning Matilda, in the book American Art Auction Catalogues, 1785-1942, by Harold Lancour. Originals of the catalogue are in the American Antiquarian Society (Worcester, MA); Museum of Fine Arts (Boston), Art Institute of Chicago, Cleveland Museum of Fine Art, Library of Congress (Division of Fine Arts), Metropolitan Museum of Art (New York) and New York Public Library.
One of Matilda's possessions that has survived to today is the 16-volume set entitled The Queens of England, From the Norman Conquest, authored by Agnes Strickland. It was one of just 26 sets produced by George Barrie & Son in Philadelphia in 1902-1902. A bookseller today describes it as a magnificent extra-illustrated edition with an abundance of very fine plates, each protected with lettered tissue. The set was bound in full crimson crushed morocco, with ornate multi-colored leather doublures with family crests, red silk moire endpapers and gilt edges, and printed on Japanese vellum. Circa 2009, the set was on sale via a New York City bookstore and list-priced at $8,500.
Another is the limited edition, The Chefs-d'oeuvre - Applied Art by V. Champier; Art and Architecture by W. Walton; Centennial and Retrospective by A. Saglio. It is a 10-volume set of just 100 copies printed in Philadelphia, also by George Barrie. An original set today is in the Cooper-Hewitt National Design Museum Library, a branch of the Smithsonian Institution Libraries. The Cooper-Hewitt copy indicates that it was "Printed for Mrs. William B. Hayden" and subsequently was owned and donated by the Larry Zim World's Fair Collection. (Call number N4804 .A53 1900)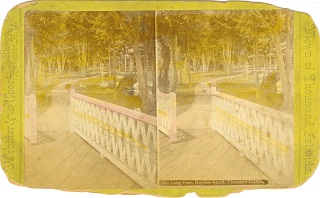 Stereoview captioned: "Long View, Hayden Island, Thousand Islands." Webster & Albee, Rochester, NY.
~ Final Years in New York ~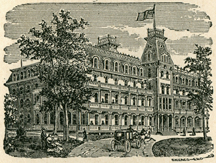 Battle Creek Sanitarium
In the summer of 1911, Matilda traveled from their home on Catskill on the Hudson to Battle Creek, MI to receive treatment in the famed health resort known as Battle Creek Sanitarium. The following June 1912, William joined her there for "taking treatment." Their visit was mentioned in The Battle Creek Idea newspaper.
They would have gone to the sanitarium under the medical care of Dr. John Harvey Kellogg, who promoted a health regimen featuring vigorous exercise, a vegetarian whole-grain diet, abstinence from smoking and alcohol, limited sexual relations even among married couples and regular cleansing of the bowels. Kellogg may be best known for creating in 1906 the Kellogg Company, which later produced what became world-famous "Kellogg's Corn Flakes." He was portrayed by actor Anthony Hopkins in the 1994 Columbia Pictures film, The Road to Wellville.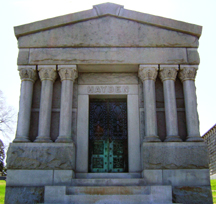 The Hayden mausoleum at Kensico
William died in August 1916, at the age of 78. Following a funeral led by Ref. A.R.M. Van Meter, dean of the Cathedral of Erie, he was interred in the family mausoleum at Kensico Cemetery near White Plains, Westchester County. Glowing tributes were published in the New York Times, Syracuse Post, Watertown Daily Times and Catskill Recorder, among many others. The entire village of Alexandria Bay was invited to attend the funeral and "ample means of transportation to the Hayden summer home were provided for all who desired to attend, and the very general response on the part of the villagers was a sufficient proof of the love and esteem in which he was held here," said the Daily Times.
In mourning, son Langdon closed the family's popular Little Fraud cottage. It remained so for a decade.
As a widow, Matilda maintained a home in Norfolk, CT. She made news in the New York Times in August 1919 when she announced the engagement of her orphaned granddaughter Jane Quintard to Cyrus Clark Sr.
In her final years, Matilda resided with her widowed daughter, Mabel Elise Burr, on Prospect Avenue in Catskill. She passed away there at the age of 65 on June 17, 1925. Her remains were laid to rest in the Hayden mausoleum in Kensico Cemetery, with a private railcar provided for family and friends which was to leave Grand Central Station at 2 p.m. on the day of the funeral.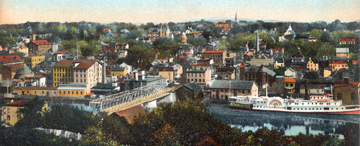 Catskill on the Hudson, early 1900s, where the Haydens lived near their widowed daughter Jane Quintard on Prospect Avenue, and where Matilda spent her final years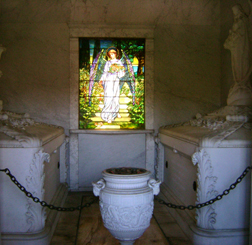 A look inside the Hayden mausoleum
Their final resting place, side by side in ornately carved marble crypts, with intricate statuary standing atop, is seen here.
In eulogizing Matilda, the Catskill Recorder published this tribute: "She was so lovable a character, so gentle, generous and kindly as to endear herself to all who knew her, and her death is a loss to the community, no less than a heavy blow to her family."
Son Langdon and his wife reopened the Little Fraud cottage the following summer, in June 1926, after it having been closed for 10 years. An article in the New York Daily Times ran a headline story, "Haydens Open 'Little Fraud'."
One of the family owned properties in Thousand Islands later was sold to the Sisters of St. Francis, said the New York Times, and was used as a nursing home, which "operated as Paray Rest, overlooking the Hudson." Among their other real estate holdings in the area were Florida Island, also known as "Fairyland," and the one-acre "Netts."


2009 article in Thousand Islands Life
authored by Kim Lunman
In the 1980s, the "Folly" property was split off from the main Estrallita tract. The Folly was featured in 2008 in Elle Décor magazine, "as the getaway of its previous owner, a New York City interior designer," said Thousand Islands Life magazine. Folly later was sold to Peter Charron.
Estrallita still stands, and is as grand as ever. Father Peter's home on the west end of the island is maintained meticulously. Unfortunately, brother Charles' house, Fairyland, burned many years ago. Says Charron: "All that is left is a charming live-in boathouse called Brookstick Castle and the stone foundation of the original big house. The boathouse is hardly a castle, but is very charming with a turret, arched doors and two large chimneys. I suspect it gets its name from the chimneys that look like broomsticks running up the side of the building."
On Oct. 12, 2009, Thousand Islands Life published "Broomstick Castle in Fairyland," authored by Kim Lunman. It observes that "Fairyland ... is now only a pile of rocky ruins on the island." [Full text] Also in 2009, the magazine Island Reflections printed an article, "Fairyland's Folly," that provided several color photos of the property. The Estrallita house was listed for sale at $1.675 million.
Copyright © 2001, 2008-2012 Mark A. Miner
Hayden company advertisement in Municipal Engineering, Peter Hayden portrait, Routes & Rates sketch and Club Women of New York page images courtesy of Google Books. Kensico mausoleum photographs courtesy of Linda Burton Kochanov. Columbus railroad sketch originally published in Ballou's Pictorial, Dec. 12, 1857.